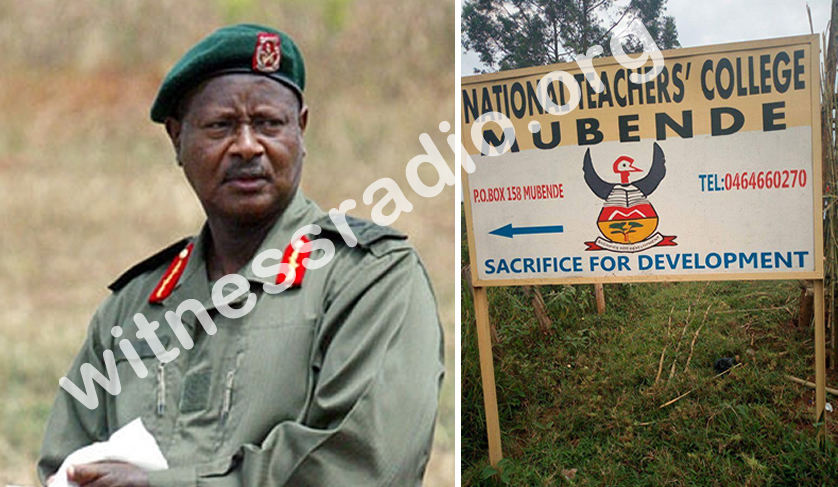 By Witnessradio.org Team
As sizes of prime public land in Uganda's capital Kampala decrease in giveaways, President Museveni is increasingly targeting strategic rural land for his 'investors'. Museveni's latest target is Mubende National Teachers' College on which he issued a directive to the ministry of Lands to cave out 20-acres to be given out to one Sherrif Ahmed Abduwalli of Tunasco, a Kenya investor.
Mubende National Teachers College located 10 kilometers from Mubende town along Mubende-Kampala highway, was founded in 1972 as a primary Teachers' College before being elevated to National Teachers' College in 1981.
It sits on 323-acre piece of land and passes out not less than 500 (five hundred teachers) every academic year. Apart from academic usage, the administration uses the land to grow food to feed students.
In his letter to the minister of lands seen by witnessradio.org, Museveni argued that the investor would use the land donation to put up a maize mill and animal feeds plant.
Whereas Article 237 of the 1995 Constitution of the Republic of Uganda states that land in Uganda belongs to the citizens of Uganda, president Museveni has been involved in numerous land giveaways across the country to investors.
Among the huge chunks of prime lands in the capital Kampala that have been parceled out to investors include; Shimon Demonstration School that had both a primary school with over 1500 pupils and a Primary Teachers' Training College, Kitante Primary school, Lubiri Nabagereka Primary school, Nakasero market, Nakivubo Park Yard Market, and Kyaggwe Road Primary School  among others. However, all lands that have been given out are still unused.
According to witnessradio.org findings, the land president Museveni targets does not belong to central government, but rather Buganda Kingdom.
The giveaway thus met stiff resistance from both locals and Buganda Land Board, an agency that oversees the Kingdom's land.
A copy of the letter obtained by witnessradio.org from the legal department of Buganda Land Board (BLB), cautions management of the NTC against any involvement in the giveaway.
"It has come to our notice that there is an attempt by certain persons who may or may not include yourselves that are attempting to sell off a large tract of land which your institution is housed," reads the letter in part.
"This is to bring it to your notice that any involvement in the giveaway would not only be void at law but would also raise criminal liability on the part of the seller,'' the letter also warns.
According to inside sources, the giveaway has shifted and now targeting Uganda Peoples' Defence Forces (UPDF)' National Rehabilitation Centre barracks in Mubende.