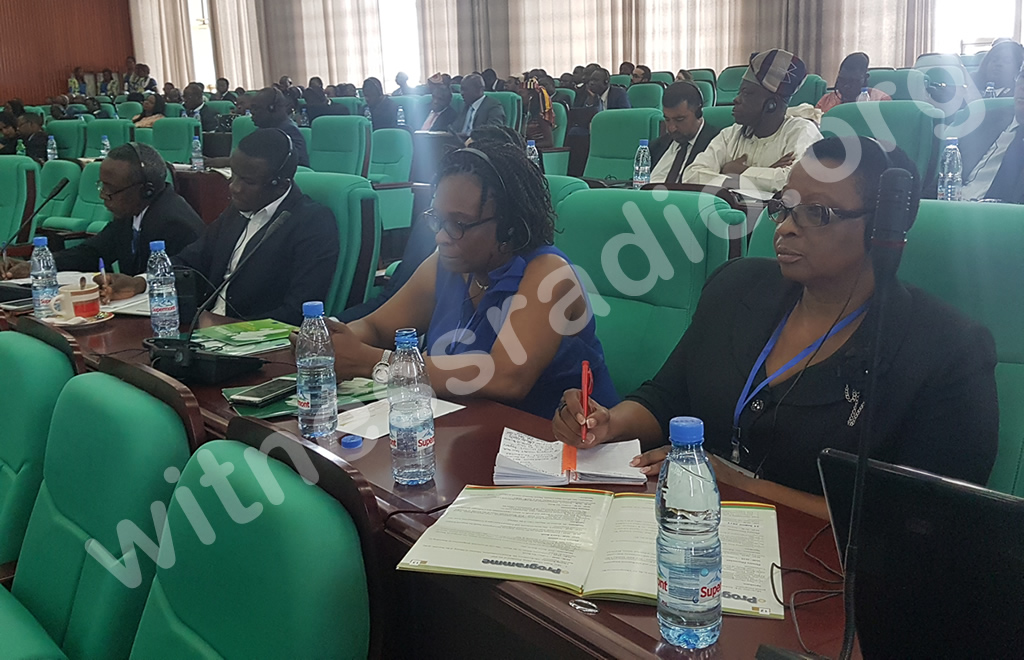 By witnessradio.org team
As almost all African Countries' leaders are involved in secretive deals with foreign mining companies due to pervasive corruption that allows only corrupt elites to profit at the expense of ordinary citizens, African MPs, Civil Society and academia have embarked on a push for a common mining laws across the continent.
 Meeting from Yaounde, Cameroon during a four-day conference under the theme; "The issue of political and socio economic integration of the African continent: The role of the Pan African Parliament" participants are concerned over natural resource governance and economic development thus pushing for transparency and accountability by the governments and mining companies.
"The model mining law would give pointers that would, for example, strengthen the negotiating capacity of Parliaments; ensuring meaningful collaboration between key players and providing support for the required social dialogue," Dr. Paul Jourdan, one of the panelists, said.
He elaborated that the African Mining Vision, adopted by African heads of state during their July, 2009 meeting in Kigali, is seen as a solution to the poor governance, lack of strong institutions and weak policies in African states.
He explained that the African Mining Vision framework is currently being used in several countries such as Mozambique, Ethiopia, Lesotho, and Tanzania and provides for a transparent, equitable and optimal exploitation of mineral resources to underpin broad-based sustainable growth and socio-economic development.
Jourdan noted that AMV is also supporting countries to develop world class geological survey system so that they can negotiate from a point of knowledge. He said they hope to work with the Pan African Parliament to train parliamentarians on contract negotiations.
While legislators appreciated the need for a model law to regulate mining on the continent, they noted that there are some hurdles that need to be overcome.
Geoffrey Lungwangwa, a Zambian MP was concerned that some colonial land laws still exist in Africa.
"If you have title to land, you are only confined to the surface and anything under the surface belongs to the state. That land law still prevails in our countries today and it is a contributing factor to poverty," he said.
He added that "many of our people are being removed from land once minerals are discovered. They are not even given shares in the mining companies. Is this really socio-economic transformation?"
This comes barely a month after over 70,000 gold artisanal miners in Mubende were forcefully evicted from the mines by UPDF soldiers under the command of 1st division commander Col. Joseph Balikkuddembe.
The eviction which was conducted on President's orders was made to pave way for the investor running Gemstone International Ltd to operate alone on grounds that it obtained a mining lease on such huge land covering villages in Mubende district.
Now MP Lungwangwa said that there is need to have a model law will eventually empower local communities to have shares in the mining companies so that they are economically empowered.
Hailing from Sierra Leone, a country endowed with diamond, but grappling with excessive exploitation, and child labour, MP Bernadette Lahai said that there is an urgent need for African states to enter into open Memorandum of Understanding with mining companies.
"Children as young as six years work in the mines. We don't want mining to affect education," she said adding that "Mining agreements are conducted between government and the mining companies [secretly] leaving MPs and the local population in the dark." She added.
She argued that there is need for capacity building for MPs to monitor and oversee the mining activities in their countries so that they can approve or reject mining deals that come to Parliament.
According to the African Development Bank, minerals account for an average of 70 percent of total African exports and about 28 percent of the gross domestic product. It notes that earnings from the recent oil, gas and mineral discoveries in Uganda, Mozambique and Tanzania could lead to an increase in government revenues of between 9 percent and 31 percent in the first 10 years of production.
Legislators noted that because of the structure of Africa's extractive industries, most countries remain exporters of unprocessed commodities. They proposed that Africa needs to add value to her exports so as to unlock the full economic potential of its natural resources.
According to Hon. Anifa Kawooya (Uganda), the diversity in Africa may not be in asset in having a uniform law.
"We have different land laws and policies. Having one unified model will be complicated," she said.
She explained that "There is also the issue of who owns the land where the minerals are found. The land tenures in African countries are different. Some land is owned by the government, individuals, and others owned customarily. We also don't know how much natural resources we have."