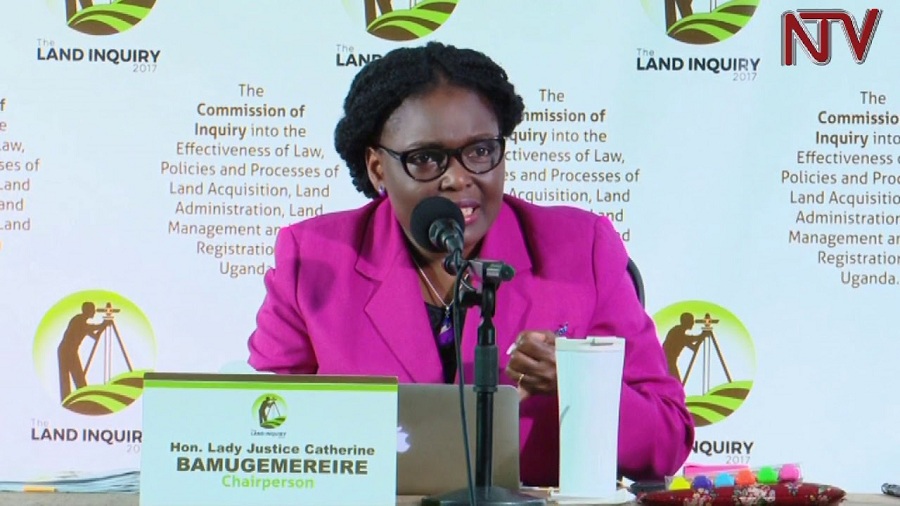 By witnessradio.org Team
Over 600 families in Kayunga district are facing eviction by gun wielding men yet to be identified. The affected families sit on public land in Gariraaya, Bbaale Kitimbwa and Kayonza sub counties.
This was revealed by a member of the Kayunga District Land board, Mr. Ronald Kyagaba as he led a team from the commission investigating land matters in Uganda led by Justice Catherine Bamugemereire.
Kyagaba appealed to the commission to protect over the 600 families some of whom have tasted the wrath of the gun wielding men.
"In Kayonza, I found someone claiming to own five villages. That is how land grabbers have been taking land, they come with orders from above." He said.
 "We received a number of applications from people targeting public land in Galiraaya, Bbaale, Kitimbwa and Kayonza Sub Counties but before we could allocate land , we requested National Forestry Authority to tell us whether it didn't belong to the but before NFA could write back to us, another group of people came up claiming the land". Mr. Kyagaba said.
He defended Kayunga District land board saying it does not have a hand in the giveaway of 2000 acres of 10,000 acres of Kayunga forest reserve.
He said some parts of Kinamawanga and Namavundu in Bbaale Sub County and Makukulu in Kayonza Sub County and Nakabango in Katayimbwa sub county, residents are being threatened with eviction.
While in Kitimbwa Sub County in Kitimbwa town, someone has been claiming ownership of land since 1992.
"What the grabbers do is to identify the land and once they get tittles from wherever, they come to the ground to claim the same without involving the area land committees or district land board" Mr. Kyagaba said.
 "We want the commission to halt these evictions until the investigations are complete. The last time president Museveni came here, he stopped them but when he left, within two days, the same grabbers returned to Kinamawanga and Misanga and started throwing the residents out". He added