More than 600 families face eviction in Kayunga district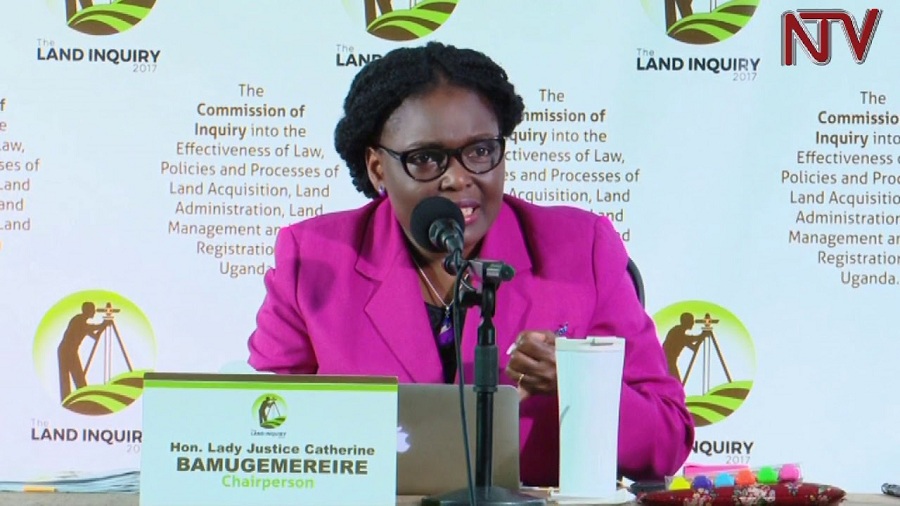 By witnessradio.org Team
Over 600 families in Kayunga district are facing eviction by gun wielding men yet to be identified. The affected families sit on public land in Gariraaya, Bbaale Kitimbwa and Kayonza sub counties.
This was revealed by a member of the Kayunga District Land board, Mr. Ronald Kyagaba as he led a team from the commission investigating land matters in Uganda led by Justice Catherine Bamugemereire.
Kyagaba appealed to the commission to protect over the 600 families some of whom have tasted the wrath of the gun wielding men.
"In Kayonza, I found someone claiming to own five villages. That is how land grabbers have been taking land, they come with orders from above." He said.
 "We received a number of applications from people targeting public land in Galiraaya, Bbaale, Kitimbwa and Kayonza Sub Counties but before we could allocate land , we requested National Forestry Authority to tell us whether it didn't belong to the but before NFA could write back to us, another group of people came up claiming the land". Mr. Kyagaba said.
He defended Kayunga District land board saying it does not have a hand in the giveaway of 2000 acres of 10,000 acres of Kayunga forest reserve.
He said some parts of Kinamawanga and Namavundu in Bbaale Sub County and Makukulu in Kayonza Sub County and Nakabango in Katayimbwa sub county, residents are being threatened with eviction.
While in Kitimbwa Sub County in Kitimbwa town, someone has been claiming ownership of land since 1992.
"What the grabbers do is to identify the land and once they get tittles from wherever, they come to the ground to claim the same without involving the area land committees or district land board" Mr. Kyagaba said.
 "We want the commission to halt these evictions until the investigations are complete. The last time president Museveni came here, he stopped them but when he left, within two days, the same grabbers returned to Kinamawanga and Misanga and started throwing the residents out". He added
Government orders arrest of notorious land grabber in Mubende district.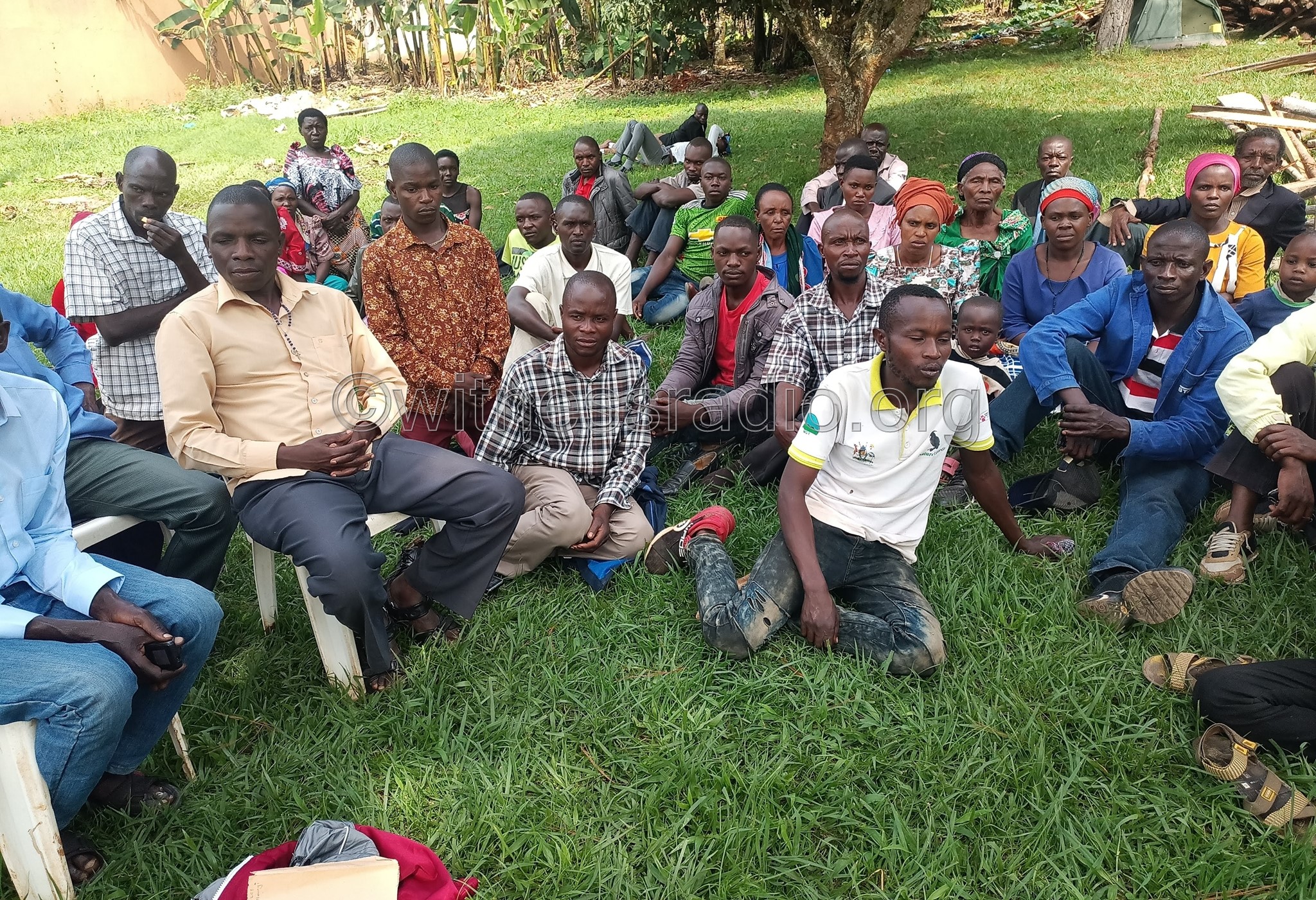 By Witness Radio team
The government of Uganda has ordered the Police in Mubende to oversee the arrest of a  land grabber in the Mubende district whose evictions have caused suffering to residents in Mubende for over a decade.
The Prime minister of Uganda, Rt Hon. Robina Nabbanja while meeting the affected residents at her home in Kakumiro district ordered the arrest of Milly Naava Namutebi and halted all activities carried out by a land grabber on people's land. She further made it clear that all residents remain on their land till her visit to ascertain the true owner of the land.
For over a decade, Naava has been carrying out forced evictions in the area with the assistance of the area police which has rendered people homeless. People have lost land, lack food, children are not schooling and families have broken as a result of her unending violent evictions. Defenders have been framed and arrested, whereas others have been beaten in evictions.
Over 3.5 square miles belonging to 4000 residents have all been taken by the wealthy investor without consent from the owners.
Over 60 residents of Kirwanyi in Kiruma sub-county led by their Chairman Bangirana Innocent pitched camp at the Prime minister's home in protest of the increased and violent evictions of Naava and her men and wanted the prime minister's intervention to save them from being evicted.
According to the residents, Naava with the protection of police officers was harvesting people's crops including maize claiming she wanted to use the land. The residents informed Witness Radio that they have been on the said land for generations and wonder how Naava came to own it.
One of the victims, Mr. Lubuuka Godfrey who had over 20 acres of maize told the Prime minister that casual laborers attached to Naava and guarded by the police officers slashed all his plantation and ordered him to leave the land immediately.
"I direct the District Police Commander (DPC) of Mubende and the Resident District Commissioner (RDC) to withdraw the four police officers guarding Naava, and thereafter arrest her for causing distress to the people." The Rt Hon Prime minister said.
At least 30 houses and hundreds of hectares of crops especially maize were destroyed in the recent violent evictions, according to a community land rights defender, Mr. Ssesazi Christopher.
Naava has on several occasions been arrested and charged for violently evicting people without compensating or resettling them. In July 2022, Naava together with his people at large were arrested, arraigned before the magistrate court in Mubende, and charged with 20 counts including forgery, malicious damage, fraud, and criminal trespass among others.
The Rt Hon Prime minister's order comes after Naava defied directives of not evicting people on land that were given by the Minister of Lands, Hon Judith Nabakooba. Last year, Nabakooba visited the affected communities and directed no further evictions citing investigations into the land ownership.
Land grabs: Officials in Mubende district are colluding with economically powerful and politically connected people to grab local communities' land.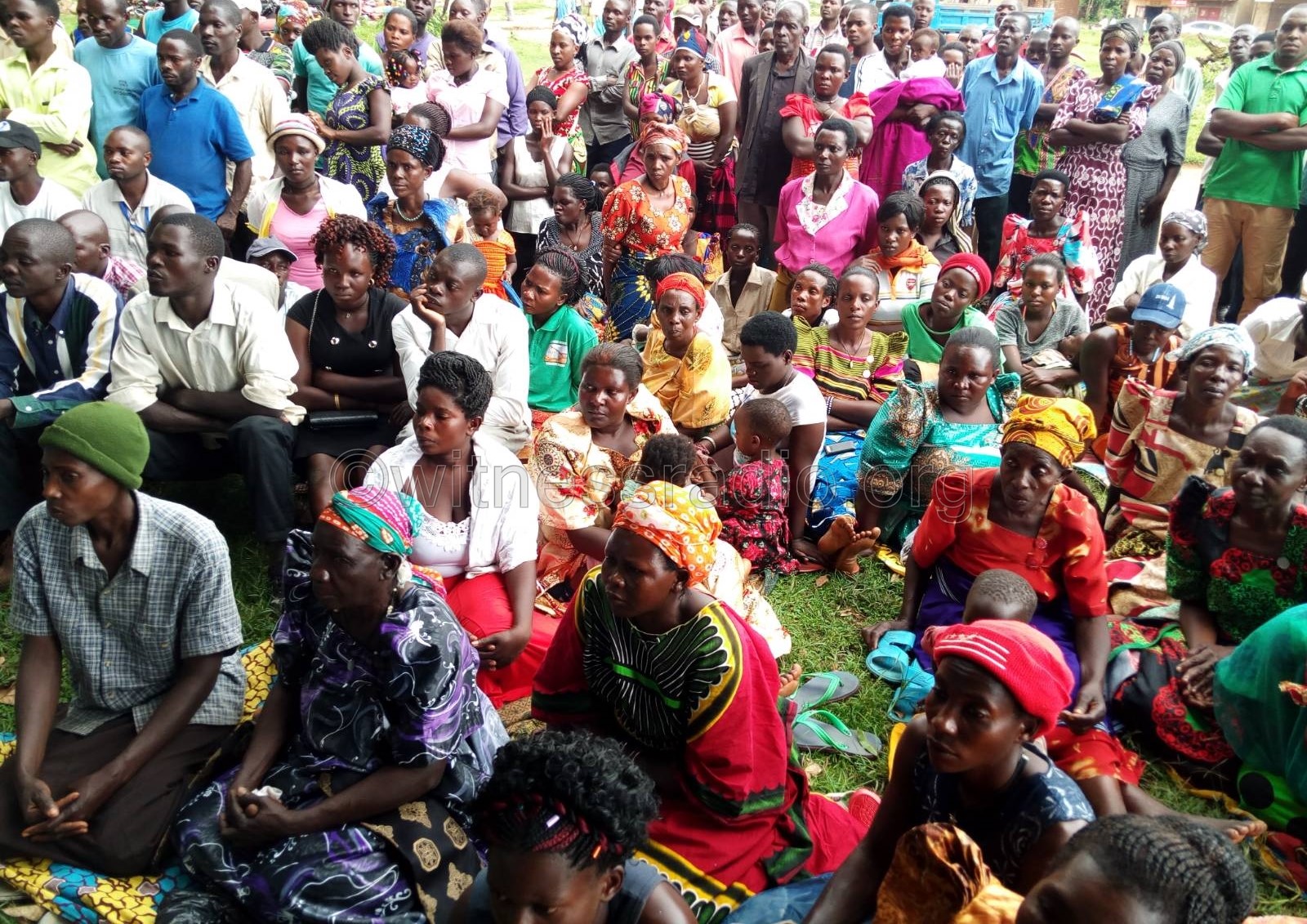 By Witness Radio Team
Justine Nakachwa (not her real name) had never thought of losing land she and her family had happily lived on for decades. Her dream of owning farmland had come true.
The land passed down to generations of descendants from the late 1970s was now being claimed by a renowned businessman. She got staggered.
"I was shocked by this news because I have spent most of my life here. Am wondering how he could acquire the land without the knowledge of the whole village." She painfully revealed this while speaking to a Witness Radio-Uganda reporter.
The sixty-year-old is one of the community members of over 800 smallholder farmers in the three villages; Biwaalwe, Kabaale, and Kyagaranyi in Kanyogoga parish, Butologo sub-county in Mubende district currently facing eviction by Tubikaku Uganda Limited, a company owned by City businessman Desh Kananura.
The smallholder farmers have been practicing subsistence farming on this land to earn a living since the 1970s.
Intending to secure ownership and legalize it, they conducted a search and due diligence, which revealed that the land had no encumbrances.  In 2012, they applied for a lease. Sadly, the Mubende District Land Board declined to grant their request and instead awarded the lease of 906.4 hectares to a ghost company Tubikaku Uganda Limited.
The economically powerful and politically connected to grabbing the downtrodden land with the assistance of land board officials is rapidly growing in Uganda. With the aid of district land boards, cartels are increasingly disposing of smallholder farmers. This practice is now predominant in many districts in the country, especially Mubende district.
It is alleged that the District Land Board has previously leased people's land to tycoons without following proper legal land acquisition procedures.
Seven years ago, a community's land in Lwebigajji village in Mubende district of 226.5 hectares were grabbed by a local investor with the help of district land board officials. The community had lived on their land for over 30 years.
When the community showed interest in acquiring a leasehold on the land, the district land board of Mubende hurriedly offered the title to one Deo Semwogerere Mutyaba, a local businessman, who does not even own a decimal on the land.
Consequently, over 2000 families were affected. "In 2014, we requested the Mubende district lands board for a lease on this land, got surveyed using our efforts and resources, however upon returning the leasehold title in 2015, it had Semwogerere's names as the owner of the land." Grace Nantubiro, one of the community leaders said.
Samuel Wambi Mamali, a local businessman was also helped by the Mubende district land board officials to allegedly steal local community's land covering three villages. These include Kyamukoona, Kijojolo, and Kalagala in Mubende District that have been occupied by locals for decades. The villages accommodate over 800 families.
The villagers indicated that Maamali fraudulently acquired a lease title he never applied for, did not consult community members on the land, nor at parish, or sub-county land committees that should have advised and guided on whether the land was lawfully being occupied and cultivated.
The few listed cases above are among several cases of grabbed land by wealthy and politically connected people in the Mubende district.  The trend of district land boards facilitating land grabs has left many local and indigenous communities landless.
A community of over 300 smallholder farmers conned as their land is sold to a local investor without their consent.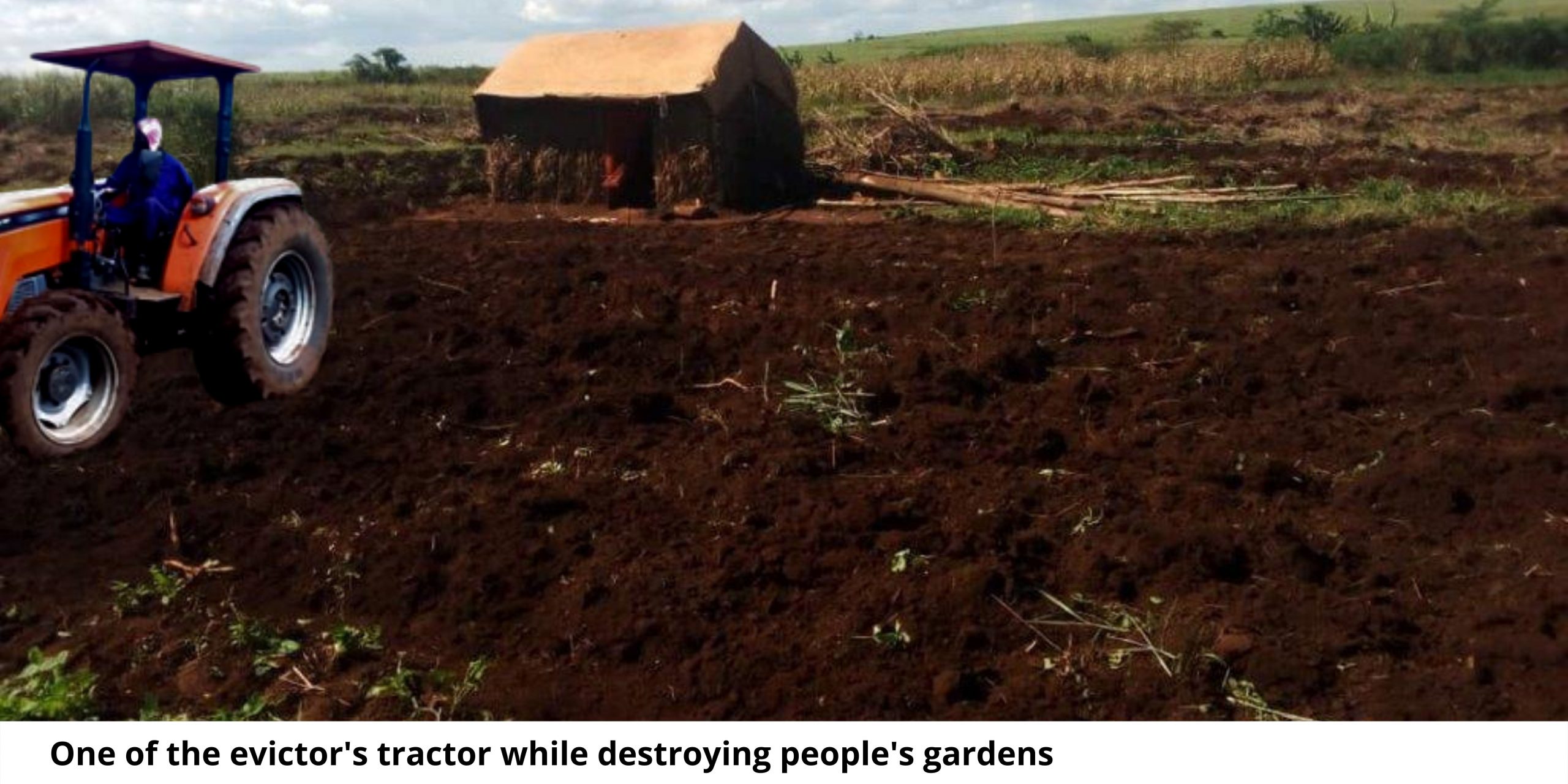 By Witness Radio Team
As foreign agribusinesses take over Kiryandongo communities' fertile land, other local investors are also eyeing the remaining land occupied by the poor families in the southwestern district of Uganda to grab their land.
A community of over 300 smallholder farmers in Ranch 22, Nyamuntende village in Kiryandongo district is being evicted by a local businessman Maseruka Robert who claims ownership of the land some have lived on for decades. Mr. Maseruka connived with some leaders in the community to grab land from the poor.
The evictions that started in August this year have caused the displacement of over 50 households so far on land measuring over 2000 acres without consultations or being fairly compensated. Crops belonging to residents, and houses were razed.
When evictions by multinationals soared in Uganda, the community acted swiftly to protect the interest on the land and avert a land grab. And in 2015, they applied for a lease of 49 years on the land from the Kiryandongo district land board which was granted to them.
However, unbeknownst to them, schemers would take advantage of this opportunity to grab their land. Earlier, the residents whose land is located on Ranch 22 Block 8 Bunyoro Ranching Scheme entrusted Wilson Sikhama, Ochema Richard, and a few other community members as their leaders in 2016 during the requisition of the land.
According to the residents, initially, the application processes unfolded as they had planned, however, Sikhama and Ochema allegedly connived with other people not known to the community to drop the names of some of the community members whom they had entrusted and replaced them with Julius Isingoma, Gerald Tumusiime, Messanger Gabriel Wabwire, Musokota William John and Simon Mwesige.
Residents further added that the land was titled in the names of the seven people who excluded the villagers. In 2019, when the community expected the location forms of the land per person, they understood that the land they had acquired was sold to one Maseruka Robert without their notification by Sikhama and the group.
In the same year 2019, the community ran to court seeking its intervention to regain the ownership of their land. The community was led by one of their own Mbabazi Samuel. In a blink of an eye, Mbabazi allegedly reached an agreement with the aforementioned group. On the 22nd of October 2020, he allegedly sold the said land to a group of people (Mr. Sikhama's group) at One Hundred Million Shillings (100,000,000 equivalent to USD 26,483.79) without the approval of the community he represented.
After completion of the sale, the group of schemers sold the land to Maseruka who is now evicting the community.
In our interview with Maseruka, he failed to explain how he acquired the land but, insisted that he wanted the community to leave his land. "These people should leave my land because I want to use it, this is my land." He maintained.
Some of the evictees whose houses were destroyed had relocated to their neighbors' homes for fear of what would befall them. A 42-year-old widow and a mother of 10 said Maseruka's accomplices destroyed her house leaving her destitute.
"These people wanted to give me 700,000/= (185.39) for the 15 acres of my land. When I resisted, they began destroying what they found including my house. They told me the money they were giving me was enough for me to vacate." She explained.
The chairperson of the affected community, Mushija Caleb said his people are being forcefully evicted because they refused the peanuts given to them as compensation. He reiterated that his people don't want to leave their land.
"They should not think of compensation irrespective of the amounts they are willing to offer because people are not interested in surrendering their land," he added.