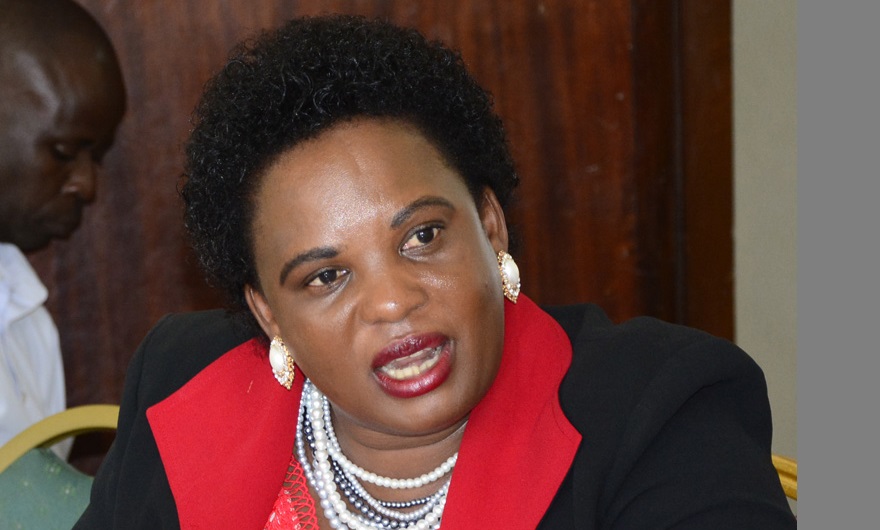 Betty Amongin, the Minister for Lands, Housing and Urban Development has been pinned before the commission of inquiry into land matters for using her office to grab land and property worth billions of shillings belonging to Indians.
Tashak Mandakini Patel (53), a grandson to the former speaker to the parliament of Uganda testified before Bamugemereire's commission that in 1968, his mother Mondakini Manubai Patel received a 99 year lease number 235 on plot 29 Acacia Avenue Kololo Kampala.
Patel testified that her mother developed the land and built a commercial building on it.
Patel said that in 1972, when the late president Idi Amin expelled Asians from Uganda, Patel travelled with his mother to United Kingdom while other relatives of his went to India and Canada. In 1992, her mother gave powers of attorney to her brother to manage her buildings in Uganda. Patel said that her mother had buildings in Makindye and Luzira.
Patel revealed that in 1995, he come back to Uganda to manage her mother's property. They went to court where they changed the powers of attorney from his uncle who stays in United Kingdom. He told the commission that he even officially applied to the custodian of Uganda departed Asians property board as the new custodian of his mother's property and his application was granted. He said that he started managing his mother's property.
He testify that in 2017, while in Austria with his family, he received a letter from a one Henry Mubiru who introduced himself as the executive director of Amobet investment company limited. In the letter, Mubiru informed Patel that he has given his tenants of Midcom telecom company limited one-month to vacate his building. Mubiru indicated in his letter that Patel used fraudulent means to get the building.
Patel said that he immediately contacted his friends here in Uganda who advised him to get a lawyer to handle his matter. He said that he instructed his lawyers of Bitangalo and company advocates who wrote to Mubiru. Patel said that his lawyers wrote to Amobet to bring to their law firm evidence showing that they are the rightful owners of the property. He said that Mubiru wrote back to them telling them that the fraudulent acts of Patel were handled by the Uganda departed Asians custodian board.
Patel said that he received another letter from Mubiru showing that the minister for lands Betty Amongin wants him to appear before her in the ministry board room to explain how he got the said property. Patel said that he instructed his lawyers to go to the registrar of companies and find out who the owner of Amobet Investment Company limited.
Patel said that his lawyers discovered that the said company belongs to minister Betty Amongin (with 60% shares) and Cate Odongo (with 40% shares). His lawyers wrote back to Amongin telling her that Patel was not going to attend her meeting because she had interests in the matter. Amongin started looking for Patel and when they met in a private place, she promised him that she was going to handle the matter.
"My lord, that lady is a thief, she is deceiving the president that she is cleaning that custodian board when she is just using it to grab peoples' property. Thousands of Asians my lord are crying because their property is being stolen by those people," Patel said.
Bamugemereire told Patel that very soon, the minister will be summoned to explain herself.
Extracted from businessguideafrica
…