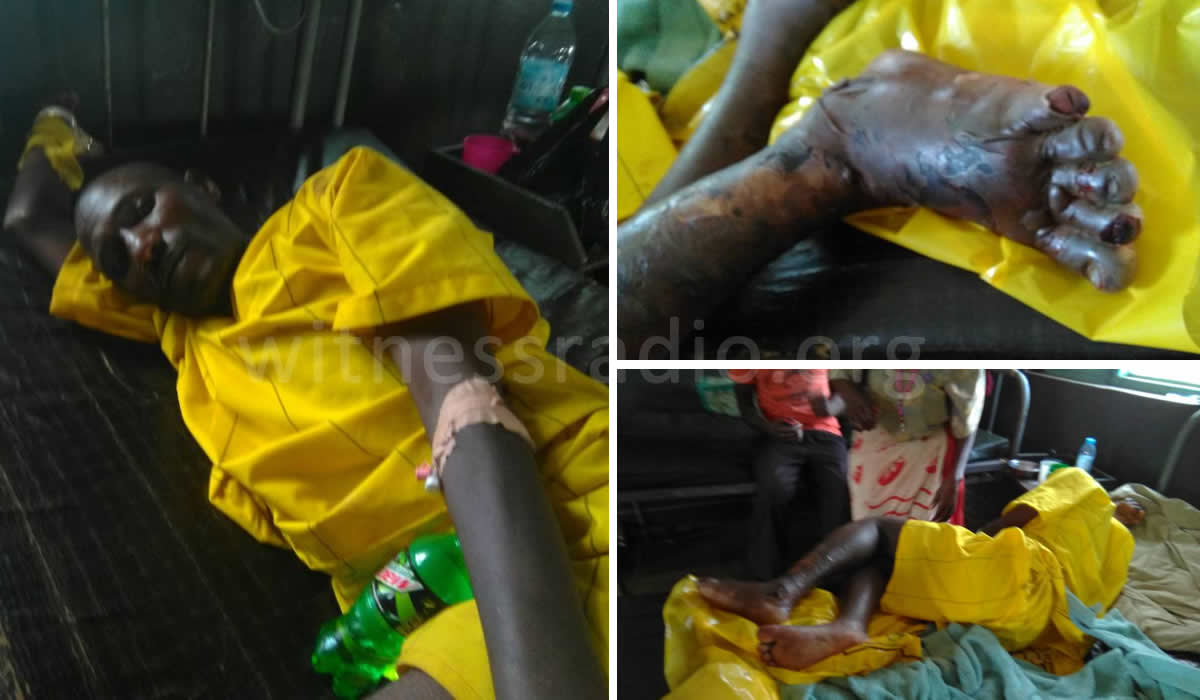 By witnessradio.org Team
A prisoner in Kyabisenge prison, Kakumiro district has been tortured and abandoned to rot with bullet wounds. Kakumiro district is found in Mid-Western region of Uganda. Aloysius Wasswa, 22,a resident of Kisiita sub county in Kakumiro district claimed that he has been undergoing torture, inhuman and degrading treatment for some good time orchestrated by Fednand Beka, the officer in charge of the prison.
Article 24 of the Constitution of the republic of Uganda states that; No person shall be subjected to any form of torture or cruel, inhuman or degrading treatment or punishment.
Wasswa who has been on remand on allegations of theft and malicious damage to property, was arrested by police on 8th April, 2018 after getting disagreement with his uncle by the names of Musisi Jimmy. Speaking at his sickbed at Mubende regional referral hospital, Wasswa who was handcuffed and being guarded by two warders explained that the arrest occurred shortly after his uncle demanded for about UGX 300,000 equivalent to USD 81 as compensation for some crops that were destroyed by a truck transporting his bricks. "We have had family-land wrangles as a heir to our grand-father, Musisi had refused all of us (other members of the family) from cultivating family land saying that the 100 acres of land were left for him" said Wasswa.
Source of the problem; since Wasswa was arrested, he is reported to have been mistreated from the day he was remanded to the prison. He said as soon he got into the prison, he was ordered to sleep in the toilet. "Its in this unclean environment that I contracted dysentery." Wasswa says that he was passing out a bloody stool and yet no one was giving him medical attention.
Prison authorities continued to take him out to work in big farms. "As I was in the farm digging, I was attacked by diarrhea. I decided to scot and ease myself since we are not allowed to move away from our work. The warders thought I was attempting to escape and started beating me up" Narrated Wasswa
First, Wasswa was taken to Kakumiro Health Center IV for treatment, however, his condition overwhelmed their capacity and transferred him to Mubende regional referral hospital.
At Mubende hospital, Wasswa said he was shot in the leg after prison warders arrested him accusing him for attempting to escape.
Zakalia Sekyanzi, Wasswa's father explained that on hearing that his son had been shot, he visited the prison and officers lead him to Kakumiro Health Center Four (4) where he found his son in critical condition. "I found him nearly dying; he had been tortured with wounds and houseflies around him" Sekyanzi said.
On 30th of April 2018, Wasswa was been transferred to Luzira Murchison prison hospital but they lacked remand warrant thus rejecting him. It's alleged that Wasswa is being hospitalized at Mulago National Referral Hospital