Land Probe cancels police spokesperson Enanga's land title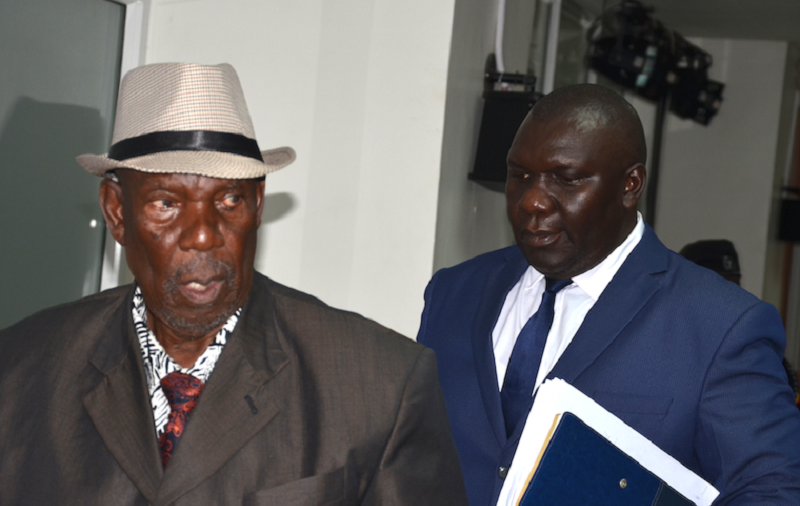 The Commission of Inquiry into land matters has canceled the land title belonging to police spokesperson Fred Enanga and his father George Econga Okabo, a retired superintendent of police because it is shrouded in irregularities.
The disputed four square miles of land covers four parishes of Amun, Ayago, Apoi, and Alaru with over 1,740 households and is located in Maruzi Block 2, plot 66 at Oreta village, Akokoro sub county in Apac district.
Enanga and Econga were summoned after clan members including Enanga's 96-year-old grandfather, Naphtali Enanga and his aunt Lilly Alwedo petitioned the Commission, accusing father and son of attempting to grab the customary land that belongs to the Okabo clan.
On Wednesday Enanga and Econga appeared before the Commission chaired by Lady Justice Catherine Bamugemereire and asked the Commission to facilitate mediation with the clan and other residents, saying they never had the opportunity to negotiate over the dispute.
Econga accused the residents of encroaching on land that belonged to his late father Enoci Okabo. He told the Commission that the occupants have no rights over the land and must vacate for his family to set up a privately owned mixed farm and mechanized agriculture project.
Enanga said their family has been a victim of unclear intrigues, propaganda and fabrications. Enanga and his father face accusations of illegally registering the customary land as freehold in the names of Awilodyang Mixed Farm, a company they jointly own in total disregard of the interests of the occupants. Awilodyang is a Langi word for 'I bought a cow'.
The witnesses; Naphtali and Lilly Alwedo, Econga's brother and sister respectively accused Enanga of perpetrating the dispute from the background using police officers that he occasionally draws from Apac central police station.
Enanga denied the accusations saying his parents only reported criminal activities targeted at their family and property to local leaders which led to some occasional arrests and detention of those behind those criminal activities.
He also refuted allegations that they are claiming the entire 10 square miles of the land, a complete departure from his father's position that he owns the entire land.
The duo claims they inherited the land from Enoci Okabo, Econga's dad after he migrated and settled in the area in 1949 after suffering the misfortune of losing three children from Okabo clan land located in Alia village in Akokoro sub-county, some eight miles from the disputed piece of land.
The two said Okabo pacified the area from a complete jungle inhabited by wildlife using hunting skills they practiced. He later distributed the land among his children with George Econga Okabo taking 3 square miles, his brothers Johnson Angala and Naphtali Enanga getting 149 acres and 2.5 square miles respectively. Simon Okwir got 100 acres while Benjamin Enanga received 3 square miles.
Enanga explained that his grandfather migrated to the area from Alia village citing witchcraft in the death of his three children. Commissioner Robert Ssebunya implored Enanga and father to negotiate with the clan members claiming the land to protect their family legacy.
The Commission told Enanga and father that the land was illegally registered in the names of Awilodyang Mixed Farm because the company is separate from George Econga Okabo who had asked for it in 1978.
Herbert Byenkya, the Commission lead counsel said the company does not qualify to secure the customary land as freehold because it was registered as a non-citizen company. In response, Enanga said their lawyer Oper and Company Advocates could have made mistakes in registering the company.
Bamugemereire indicated that the title will be canceled because it is shrouded in illegalities. Enanga's testimony was interrupted by a repeated power outage which forced the Commission to prematurely adjourn the matter.
Clan members accused Enanga and Econga of using police to forcefully evict them or block them from accessing water from a community borehole sunk by the government in the area.
The Commission later established that the land measuring 824.28 hectares located in Oreta village in Akokoro sub county in Apac district, has been registered as freehold in the names of Awilodyang Mixed Farm, owned by Econga and his son Enanga. They registered the Company in 2018.
Appearing before the Commission earlier, Naphtali and Alwedo said they were shocked at how Enanga, who according to them rarely went to the village and was only given a small portion of land to erect a house and also do some farming in line with the clan's objectives has now turned into a land grabber. Alwedo, told the Commission on October 7, that Enanga turned against them and began forcefully evicting them.
"Enanga and his father Econga, rarely came home. Enanga grew up in Kampala with his father and they didn't even have any single hut in Oreta village" Alwedo narrated.
"Now, one time, his daughter died and he brought the body home for burial. Since he had no home to bury his daughter, his uncle Benjamin Enanga, offered to bury the daughter in him home. All seemed well. As a clan, they decided during the meeting after the burial that Enanga also be given some land to build a home"
Alwedo further narrated that "Enanga was given about six acres of land. He started building a house and I was even the one preparing food for the workers at the site. But to my surprise, Enanga chased me from the area and went on to chase all the clan people including his grandfather and uncles."
The Okabo clan members are very bitter with Enanga's actions saying he has brought blasphemy to Okabo.
In memory of land and investment women victims in Uganda on the International Women's Day 2021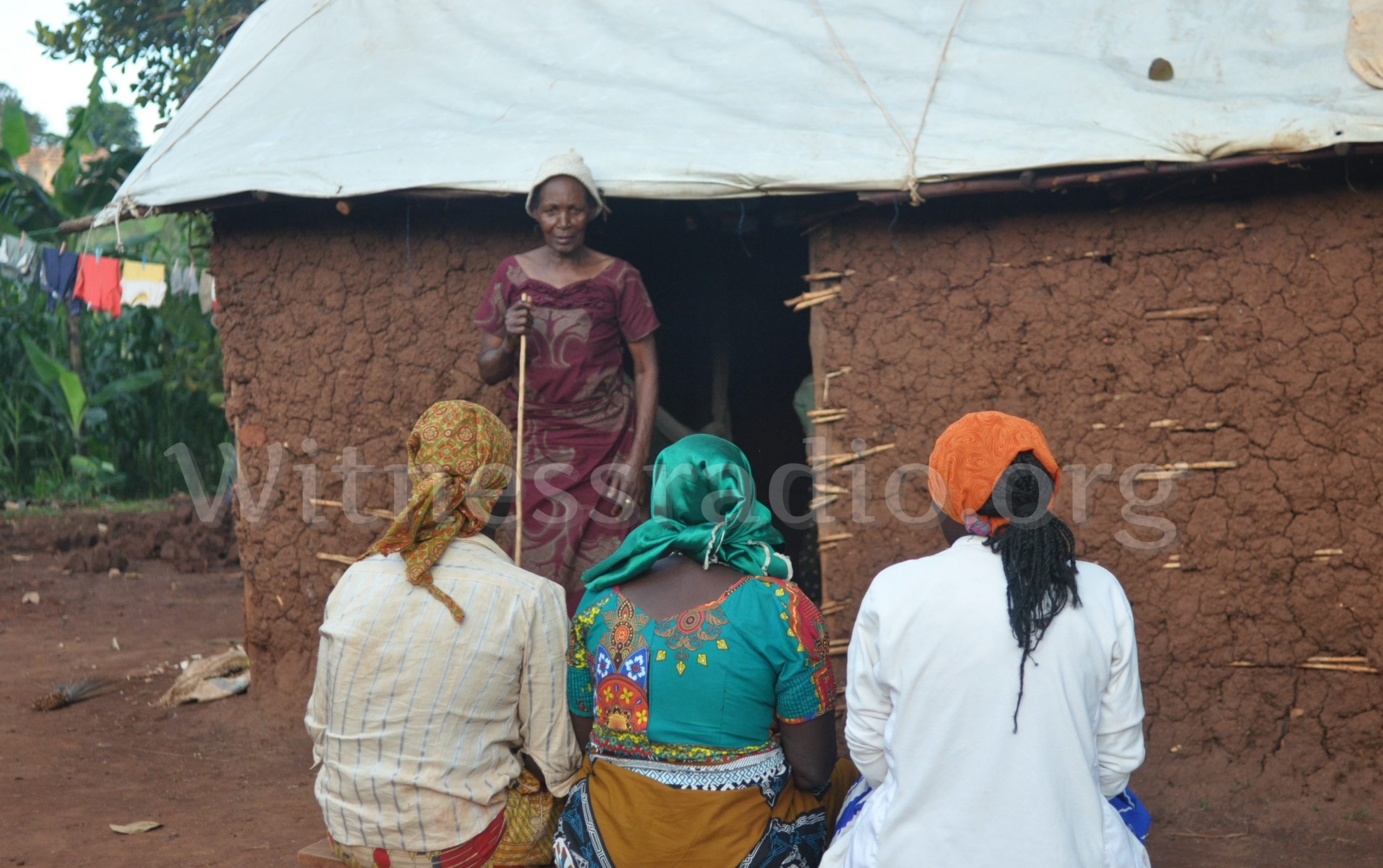 Good dreams shattered as forced land evictions breed child marriages in Hoima districts…
By witnessradio.org Team
Atimago Prisca, at the age of 11 years, was among the many children that lost their dreams of a good life when her families and the entire Rwemutonga village were invaded by anti-riot police and other security agencies and got evicted on orders of a rich man.
The evictor was Joshua Tibagwa who grabbed land to be used by an American company, McAlester Energy Resources, from Texas as a petroleum wastewater facility.
Uganda discovered commercially viable oil deposits in the Albertine Graben region in 2006. Uganda has approximately 6.5 billion barrels of oil reserves, with at least 1.4 billion estimated to be economically recoverable. In addition to producing and exporting crude oil, Uganda plans to build a refinery to produce petroleum products for the domestic and EAC markets. However, many citizens continue to ask whether oil discovery is a curse or a blessing…?
The 1000 villagers on a fateful day woke up to screaming, a hail of live bullets and teargas followed by the setting of fire onto people's homes and looting of properties. Families fled to the nearby bush because armed personnel was threatening to kill whoever would resist vacating the land.
"Before we heard one of our neighbors screaming out loud that, please forgive me, do not burn my house, now where do you want me to go, please have mercy. At first, we thought that they were being attacked by thieves. Shortly, in less than 10 minutes, a group of more than 10 armed policemen to our home and asked us what we were still waiting for, my mum replied to them that this is our land. They ordered us to immediately leave. Our father too tried to resist but one of the armed men told him that he would be killed if we don't leave our home" Said Atimago.
Atimago, now a single mother of one at the age of 17 years, dropped out of school on a day of forceful eviction since her parents were rendered financially weak to meet the basic needs of 10 children.
Atimago who wanted to become a midwife narrated that after surviving a deadly land eviction, a well-wisher identified as Atien Oketch offered a 40×40 piece of land where they camped as a community and built some temporary structures and life became very hard.
"You imagine a family of 10 to sleep in that small structure, it was terrible that we could not manage the situation, some of us decided to get married. "At the age of 13, I decided to go for marriage since we had nowhere to sleep, nothing to eat, and no privacy, and I hoped that marriage would give me peace but that did not come" added Atimago.
She further explained that her marriage did not last long since his husband was not caring.
"After getting pregnant he told me to leave that he had nothing to do with me. He used to beat me which forced me to leave our home to a friend's. Up to this time, he does not offer any help which forced me to stay with my parents," she added.
Atimago's story is not different from over 40 young girls in Rwamutonga who lost their education because of evictions in 2014 and they have since married been off.
"We were not even served with eviction notices, we didn't know that we were going to be evicted, and police just came with four trucks full of police officers. They started firing bullets in the air and tear gas. Police together with the deputy RDC [Ambrose Mwesigye] burnt down houses, destroyed our properties, and even looted some," some residents claimed.
 In an interview with Nelson Atich, Bugambe sub-county Councilor and representative of the evictees, he said the eviction was an advantage to the Boda Boda men who opted to marry these girls since many did not have wives.
"Of the over 1000 people, 700 were children and 60% were girls who could not tolerate this situation. For three years we were staying in a camp which is a deadly scenario for the girl child. What is annoying is that most of them after being used or impregnated were dumped," he said.
However, after the eviction, the victim community ran to court and in 2015, Masindi high court ruled in their favor that the eviction was illegal. "The Eviction was unlawful and should not have happened in the first place because at the time of the execution of the warrant of vacant possession, there was an ongoing suit to determine true ownership of the land," ruled Justice Simon Byabakama.
Whereas in 2017, the evictees were resettled back to their original land, but the lost dreams of a good future will never be recovered as the court did not consider awarding them for such damages.
CSOs urge banks and other IFIs not to finance E.Africa oil pipeline project…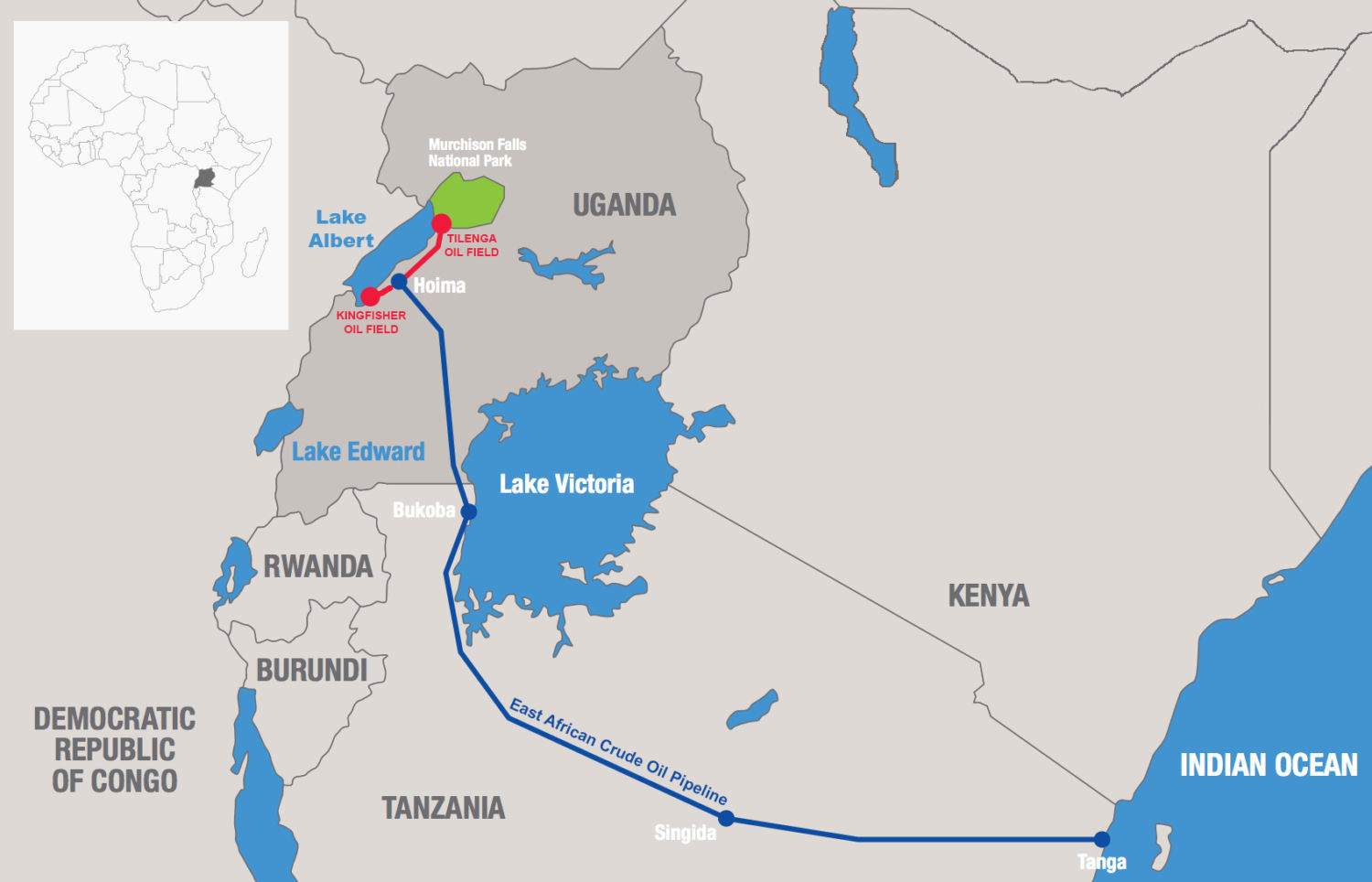 By witnessradio.org Team
Kampala – Uganda – More than 260 charities on Monday, the 1st/March/2021 urged banks and international financial institutions throughout the World not to finance a $3.5 billion oil pipeline in East Africa, concerned the project could lead to the loss of land for poor communities and livelihoods, environmental destruction and surging carbon emissions.
In a signed open letter 263 charities, estimated that once the project financing is availed, it will displace 14,000 households across Uganda and Tanzania will lose their land and hundreds of families will need to be resettled as a result of the pipeline and oil development.
As currently planned, the East African Crude Oil Pipe Line (EACOP) will pass through 178 villages in Uganda and 231 in Tanzania, leading to massive physical and economic displacement.
The proposed 1,445-kilometer crude oil pipeline worth $2.5 billion will stretch from Hoima in Uganda to the port of Tanga in Tanzania and expected to carry 216,000 barrels of crude oil per day (10.9 million metric tons per year) at 'plateau production' 
South Africa's Standard Bank, Japan's SMBC, and China's ICBC are all advising the parties behind this pipeline, and are likely to be working to arrange the project finance loan. They'll need other financiers to join them.
However, the undersigned CSOs from across the world who stand in solidarity with the directly affected communities and local CSOs defending community rights have urgently demanded financial institutions of the project to halt its funding that would displace tens of thousands of people, endanger the critical ecosystems of the Lake Victoria basin area and also putting in danger the climate catastrophe.
 In another part of the open letter to the financiers of the project explain that the project has already caused the large-scale displacement of local communities and poses grave risks to protected environments, water sources, and wetlands in both Uganda and Tanzania, including the Lake Victoria basin, which millions of people rely upon for drinking water and food production
According to the organizations, the same company has not yet compensated over 5,000 people in Uganda whose land was acquired to develop the pipeline project between 2018 and 2019.
"These people were stopped from cultivating on their land and setting up new developments. This has left people impoverished. The impacts of this increased poverty are being felt by women, parents, children, the elderly and others who were mainly using the land to grow income-generating (cash) and perennial crops," reads the part of the letter.
According to calculations based on the specific fuel density of the EACOP blend, the emissions from the burning of this fuel would be at least 34.3 million metric tons of CO2-equivalent (CO2e) per year. These emissions will dwarf the current annual emissions of its two host countries combined, and will in fact be roughly equivalent to the carbon emissions of Denmark.
In addition to significantly contributing to the climate crisis, the project poses serious environmental and social risks to protected wildlife areas, water sources, and communities throughout Uganda and Tanzania.
Extraction at the oil fields in Albertine Graben will jeopardize the Murchison Falls National Park, which is important for tourism as Uganda's second most visited national park. In addition, the mangroves at the coast of Tanzania which the pipeline puts at risk support approximately 150,000 people, in addition to the ecological services they provide. The 300 permanent jobs the pipeline is expected to create will not compensate for the loss of jobs in agriculture, tourism, and mangroves.
Nearly a third of the planned pipeline (460 kilometers) will be constructed in the basin of Africa's largest lake, Lake Victoria where more than 30 million people depend on Lake Victoria for water and food production. The pipeline also crosses several rivers and streams that flow into the lake, including the Kagera River.  Possible spills from the pipeline due to bad maintenance, accidents, third-party interference or natural disasters, risk freshwater pollution and degradation in this area – a likelihood that is even greater since the area around Lake Victoria is an active seismic area.
As a result of these risks, the project is facing significant local community and civil society resistance. 
In November 2020 in Uganda, over 877 petitioners – including 810 directly affected people – signed a petition to Total and the other EACOP project developers. They called on the oil companies to prioritize environmental conservation and community livelihoods over the EACOP project.
The CSOs, therefore, call on all banks and all financial institutions with a business relationship to Total and CNOOC to publicly commit not to participate in financing the EACOP project or associated oil projects, engage with the governments of Uganda and Tanzania and other financiers to promote an energy future for East Africa that, does not rely on oil or other fossil fuels, but rather on clean energy alternatives; and to demand that Total acts immediately to compensate people already affected by the pipeline for the impacts to their land.
A government project is pushing hundreds of families off the land without re-settlement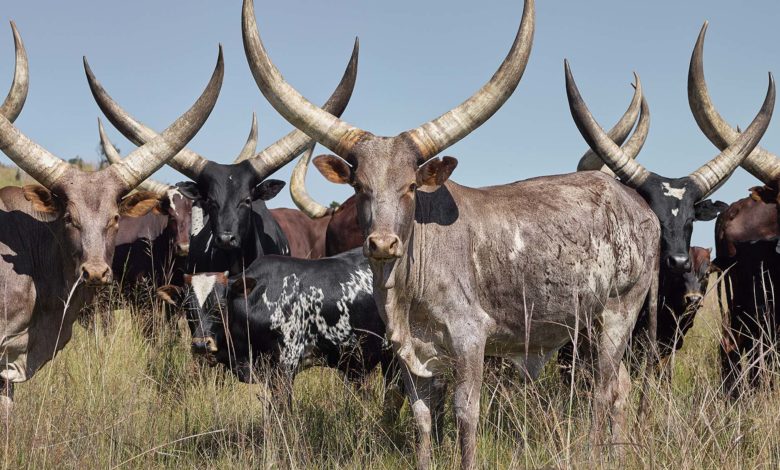 By witnessradio.org Team.
Lyantonde – Uganda – without any informed consultations or community engagements, the government of Uganda is constructing a world-class pre-export quarantine facility for animals on a piece of land which has been feedings hundreds of native families for more than three decades.
Once the project takes off, a source of food, employment, education, and a provider of finances to meet basic needs for hundreds of families will be no more.
According to the Ministry of Agriculture, Animal Industry, and Fisheries, the facility will act as a quarantine ground for animals before export for a specified period of time for veterinary observation, sampling, testing, and vaccination among others.
The project which targets land measuring approximately 98.2 Hectares, shall facilitate the export of animals and meat in bulk from Burundi, Rwanda, and DR Congo, and other neighboring East and Central African countries.
But, Grace Batine, 57 years and a mother of 12 children who has been deriving a livelihood from the targeted land says, the project is shattering the future of her family as it will deprive them of the right to food and other basic rights.
"I settled on the land in 1994, which has been a source of everything. When the government decided to develop it, why do they fear to consult us and whose responsibility is it to protect and care about our wellbeing? Do they want the European governments to care for us if they can't," a poor Batine questioned.
Benon Musinguzi, a resident of Makukulu Village, says they only want the government to compensate if not, resettle them because they have nowhere to go.
"We respect the government's move to construct the facility but it would not be fair if they evict us from our only livelihood. We think if they have no money for the compensation they should allocate to us part of the land for us to continue thriving. We admit this is not our land but for more than 30 years we have been on this land," adds Musinguzi a father of 8.
In an interview with the land desk officer at the Ministry of Agriculture, Bruce Turyatunga, claimed the move to evict residents is ready and the government shall not even compensate a single coin to them since they illegally occupied the land.
"This is a government land that was surveyed and we have a title on it, how do you compensate someone on your land, we are even consulting from the Attorney General and Administrator-General to see how these people can compensate us for using our land for all that time," Mr. Turyatunga added.