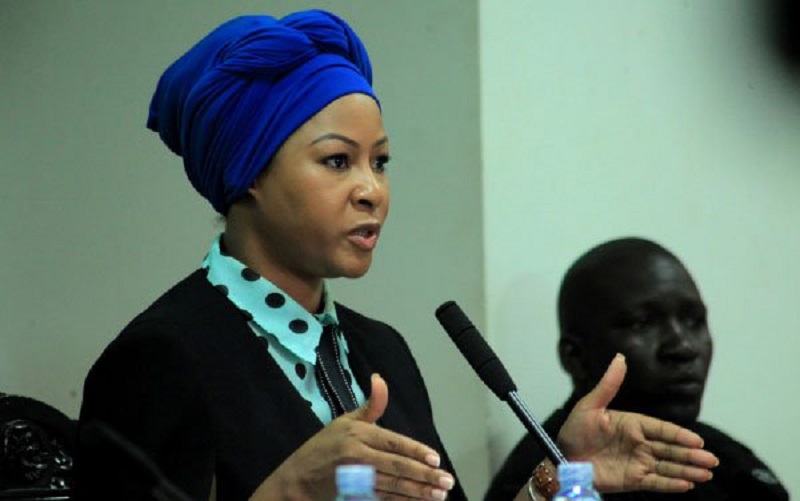 Ms Nancy Oryema, appears before the land probe team, over the 6,500 acres of family land allegedly grabbed by Maj Gen Charles Otema and others at large in Nwoya District. PHOTO BY RACHEL MABALA 
Two senior UPDF officers and the NRM deputy Secretary-General have been named among people who have grabbed and are occupying the late Wilson Erinayo Oryema's land in Pabit West Village, Pabit Parish, Purongo Sub-county in Nwoya District.
Maj Gen Charles Otema, the UPDF reserve force commander, his brothers Lt Col Patrick Omona, and Mr Richard Todwong, were named before the land probe for allegedly grabbing the late Oryema's land.
The late Oryema was Uganda's first African Inspector General of Police and worked as a Minister of Lands before he was murdered alongside Archbishop Janani Luwum and minister Oboth Ofumbi.
Ms Nancy Oryema, the granddaughter of Oryema, told the land probe chaired by Justice Catherine Bamugemereire yesterday that her grandfather owned 6,500 acres of land but most of it is occupied by Maj Gen Otema and his relatives.
"He first claimed that my Auntie (Gertrude Oryema) had stayed in his hotel (Acholi Inn) and could not pay her bills so she decided to pay with 700 acres of land," Ms Oryema told the commission.
Later Maj Gen Otema is reported to have claimed he owned 900 acres but of recent, he is claiming 2,000 acres of the land.
Mr Todwong has been accused of grabbing 380 acres. While Lt Col Omona was accused of trying to grab part of the remaining 650 acres.
Ms Oryema informed the commission that she first learnt of the occupancy of the land in 2014 during the reburial of her grandfather.
"During the burial, President Museveni invited the family and ordered that the land is returned to us," Ms Oryema said.
In his statement to the land probe, Mr Todwong said he bought 280 acres from Mr Peter Ochaya and his brother Gen Otema gave him 100 acres.
However, Ms Oryema denied knowledge of any alleged purchase of the land.
She blamed the invasion of the land on her auntie, Ms Getrude Oryema. Ms Oryema asked the land probe to help the family regain their land.