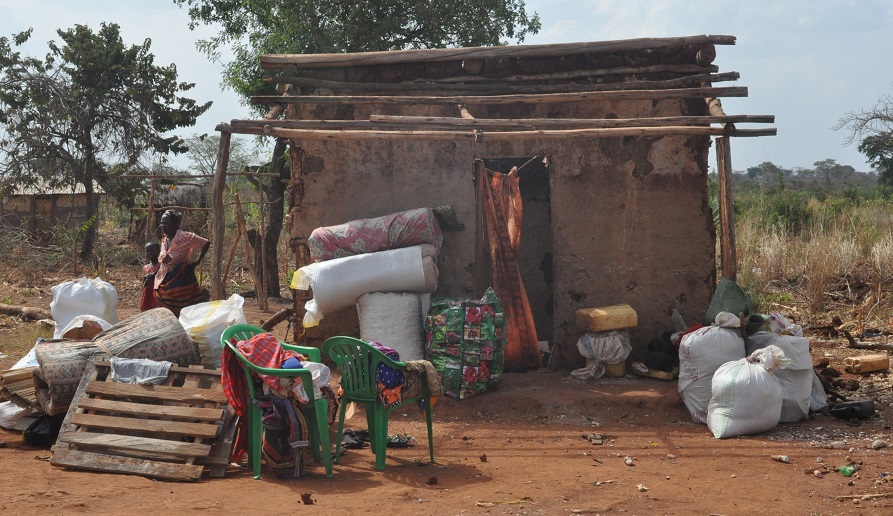 By witnessradio.org Team
Faded hope: over 1500 Families that were part of 2,300 violently evicted and their land was dispossessed by Agilis Partners limited, cannot find resettlement as their new home is now Internally displaced Camps.
Since November, 2017, Agilis partners a full subsidiary of Joseph Initiatives limited with the help of Kiryandongo police has violently been evicting natives off 2000 hectares to grow cereals including maize, soya beans and sunflower among others.
The violent eviction has been reported to president's office in-charge of land matters, parliament and recently to the Commission of Inquiry into land matters but nothing has changed.
This land is part of  the former government ranches in Bunyoro sub region that was given to the landless Communities in Nyamalebe Landless by government between 2000- 2002. The land in particular being targeted is located on ranch 20 and 21 respectively with majority lawful occupants being smallholder farmers involved in substance agriculture
witnessradio.org findings indicate that Joseph Initiative limited is a dealer in grains which has benefited financial support from United Kingdom's Department for International Development (DFID), Netherlands' based Common Fund for Commodities (CFC) and its one of major supplier of food to World Food Program among other entities.
Kabera James, the community's chairperson said under the watchful eye of Kiryandongo police and Uganda People's Defense Forces, workers of  Agilis Partners Limited burnt down their houses, razed down dozens of schools and hospitals, cut down people's crops, illegally detained outspoken community leaders, used excessive force and live ammunition to grab their land.
"The eviction exercise was being carried out while a court case was being heard at Masindi High Court. What the company and its agents used to do was to invade people's home, put them on gunpoint and force you to sign for as low as Uganda Shillings 200,000 equivalent to US$ 54 as compensation for your five (5) acres of land and give 3 days to leave" Said Kabera, adding that most houses were pulled down even when lawful owners were still occupying them.
Kabera explained that the situation worsened after victims could not find accommodation in the nearby communities due to big numbers of people compared to small land.
"We are registering a reasonable number of deaths because there's no food and no proper shelter to mitigate the poor weather. We are ready to move to IDPs if that's where we can find food and shelter" Kabera explained.
Kabera recalls a rally which was held at Canan trading centre in November, 2017 convened by the police, Kiryandongo Resident District Commissioner, Local government officials, army and area member of parliament Taban Amin that ushered in their suffering.
According to official documents seen by witnessradio.org's investigations Agilis partners intends to empower 50,000 farmers through community mobilization in sustainable commercial agriculture and a one billion Uganda Shillings equivalent to about USD 250,000 has been reserved to drive community development activities through extension services, establishing training centers, construct schools, hospitals and community roads among others.
In the meantime, a new company, Kiryandongo Sugar limited is also evicting over 3,000 families off former ranch 23, 28, 30 and 31 to grow sugarcane.