Solar power capacity to hit 50MW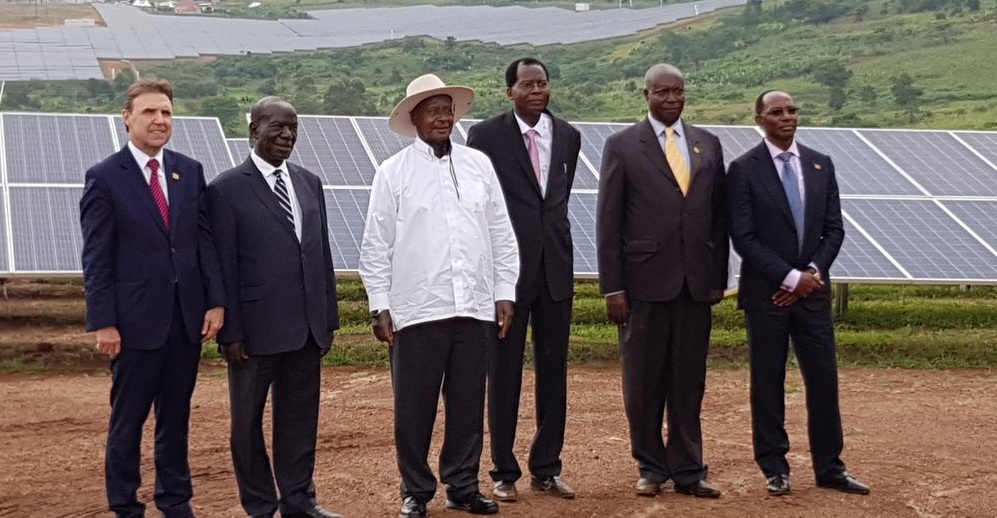 Gomba. Uganda's solar energy generation capacity connected to the national grid will soon hit the 50MW mark within this year as new plants are being established.
The latest addition of solar generated energy to the national grid is the 20MW Kabulasoke pilot solar power plant in Gomba District that was commissioned yesterday by President Museveni.
Developed and Installed by Dr David Alobo, a Ugandan scientist based in Germany under the auspices of Xsabo Group of Companies in conjunction with Great Lakes Energy Company N.V from the Netherlands, the $24.5 million (Shs91 billion) is becoming the largest plant in the East African region.
It also becomes the third to be installed in Uganda after Soroti Solar plant and Tororo solar power plant, each producing 10MW.
The Chief Executive Officer of Electricity Regulatory Authority, Ms Ziria Tibalwa Waako, revealed that another 10MW solar plant is near commissioning in Mayuge District. These four will contribute 50MW of solar energy to the national grid.
With the country's electricity power generation capacity currently at 851.53MW, there is hope for a major boast when the Karuma dam's 600MW and Isimba dam's 183MW are added to the national grid.
Power prices reduce
Speaking at the commissioning ceremony of the Kabulasoke Pilot Solar Power Plant yesterday, President Museveni said the government has plans to extend both hydro-electric and solar power to all sub-counties countrywide.
"We are planning to extend electricity to all sub-counties. Some sub-county headquarters already have and what is remaining is to extend power to the villages," Mr Museveni said.
The President urged solar power companies to put down power prices for more rural Ugandans to be connected to the home solar system so that they can enjoy the peace ushered in by the National Resistance Movement (NRM) government.
Mr Museveni, however, warned the people of Kabulasoke against stealing solar panels from the plant saying he has already received reports from the investors.
He congratulated Xsabo group and their partners upon fulfilling the promise to install a solar plant in Kabulasoke.
Patriotism
The initiative to install the Kabulasoke solar power plant was hatched by Dr Alobo after being challenged by the President to use the spirit of patriotism to invest in Uganda.
"I want to congratulate the investors and I thank the people of Kabulasoke for hosting the project," he said.
Mr Museveni challenged the people of Gomba to use the chance of receiving electricity to create wealth.
He said that the government plan for transformation of the country through commercial agriculture, industrialisation, services and information and Communication Technology (ICT).
He said everyone should work hard to achieve prosperity through any of the four sectors.
According to the Xsabo Group Managing Director, Dr Alobo, his company targets establishment of five solar power parks in the country with a projection of 150MW in a total investment of $200 million (about Shs747 billion).
New plants
He listed other areas as Kasese (20MW), Lira (20MW), Soroti (50MW) and Mubende (50MW) as the new plants to be established.
The plant covers 98 acres in the 128acres of land.
"We hope to provide cheap and affordable power to communities in Gomba and its neighbourhood especially in Greater Masaka and Katonga regions.
We are here to help diversify the national energy pool. We ask for the government to continue supporting us (investors in the energy sector) through putting up right policies and improve infrastructural framework." Dr Alobo said.
He said throughout the five projects, the company is projected to employ the local people adding that in Gomba alone, 400 people got jobs.
According to ERA, the solar energy resource in Uganda is high throughout the year with mean solar radiation of 5.1 kWh/m2 per day on a horizontal surface, the country has a potential of 11.98 x 108 MWh gross energy resources.
Ms Waako yesterday said the government is planning to install another 10MW solar power plant near Tororo and the wind power generation plant with a capacity of 20MW in Karamoja.
-Daily Monitor
Forests fall, animals die, desert looms: Uganda's burning problem – in pictures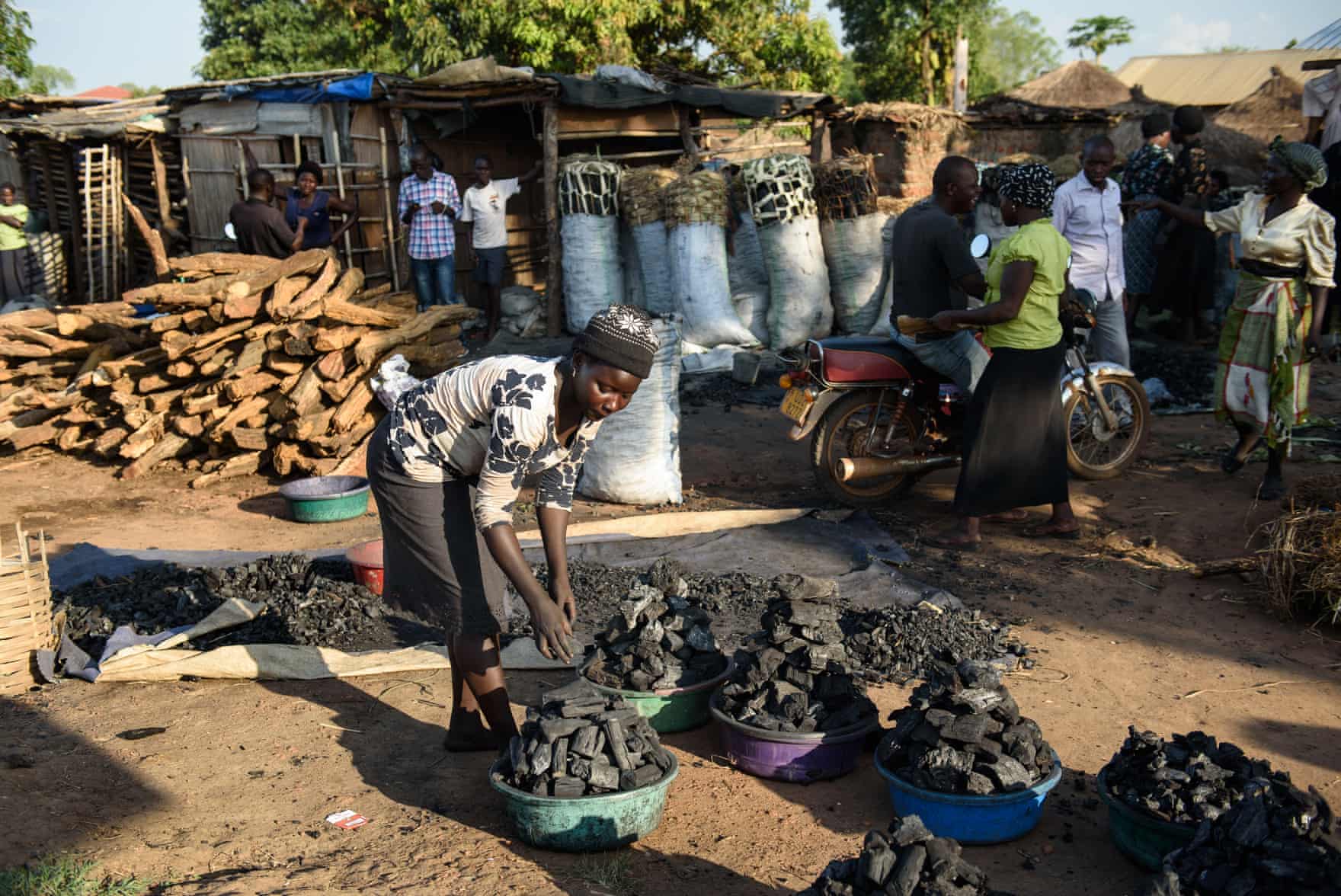 Charcoal is an integral part of everyday life in Uganda, where most people rely on some form of wood fuel to cook or boil water. For many, the sale of trees also provides a valuable income. Yet this levelling of the landscape, which causes loss of habitat for wildlife and leads to climate change, is unsustainable
All photographs by Jennifer Huxta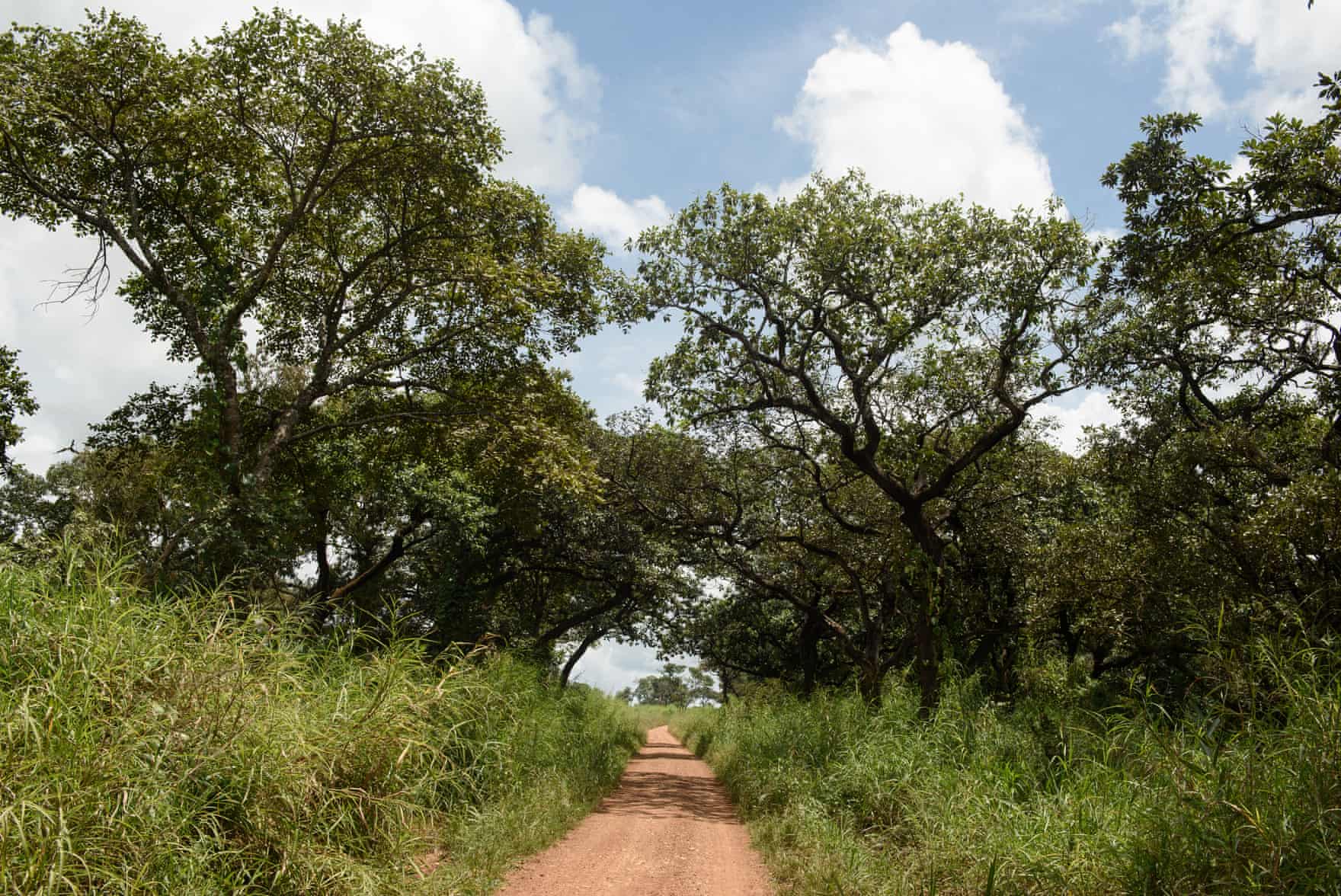 Uganda's charcoal trade is causing rapid destruction of the country's forests. Each year, about 80,000 hectares (200,000 acres) are cleared for the production of charcoal or timber, according to the National Forestry Authority. Demand for charcoal has increased dramatically over recent years, driven by Uganda's population growth and urbanisation. Campaigners warn the trade is now unsustainable, and local leaders are trying to crack down on the cutting of trees for charcoal.
Wood collected for charcoal burning in Koch Lii in Nwoya district, northern Uganda. In the worst years of the Lord's Resistance Army (LRA) insurgency, residents fled northern Uganda and the forests became impenetrable. Now Nwoya loses 20-40 hectares each month, according to Okello Alfred Okot, a local government representative. 'The rate at which these people are cutting trees is terrible,' he says. The authorities of Nwoya, Amuru and Gulu districts have all banned the trade. Anyone caught violating the ban is fined 1.5m Ugandan shillings per truckload (£300)
Swaliki Kakande, 39, a charcoal burner, has been living in this camp in Koch Lii for two years. He works on 32 hectares of land, burning charcoal, cutting trees and hauling logs. It's extremely taxing work, he says. 'I'm here because of poverty. Because there are no jobs. We have pain all over [our bodies] and we feel sick. We feel backaches, pains in our chest, and also because we inhale a lot of smoke we feel palpitations, like our hearts beating very fast.' Kakande is paid a commission on each bag of charcoal he makes, of 15,000 Ugandan shillings.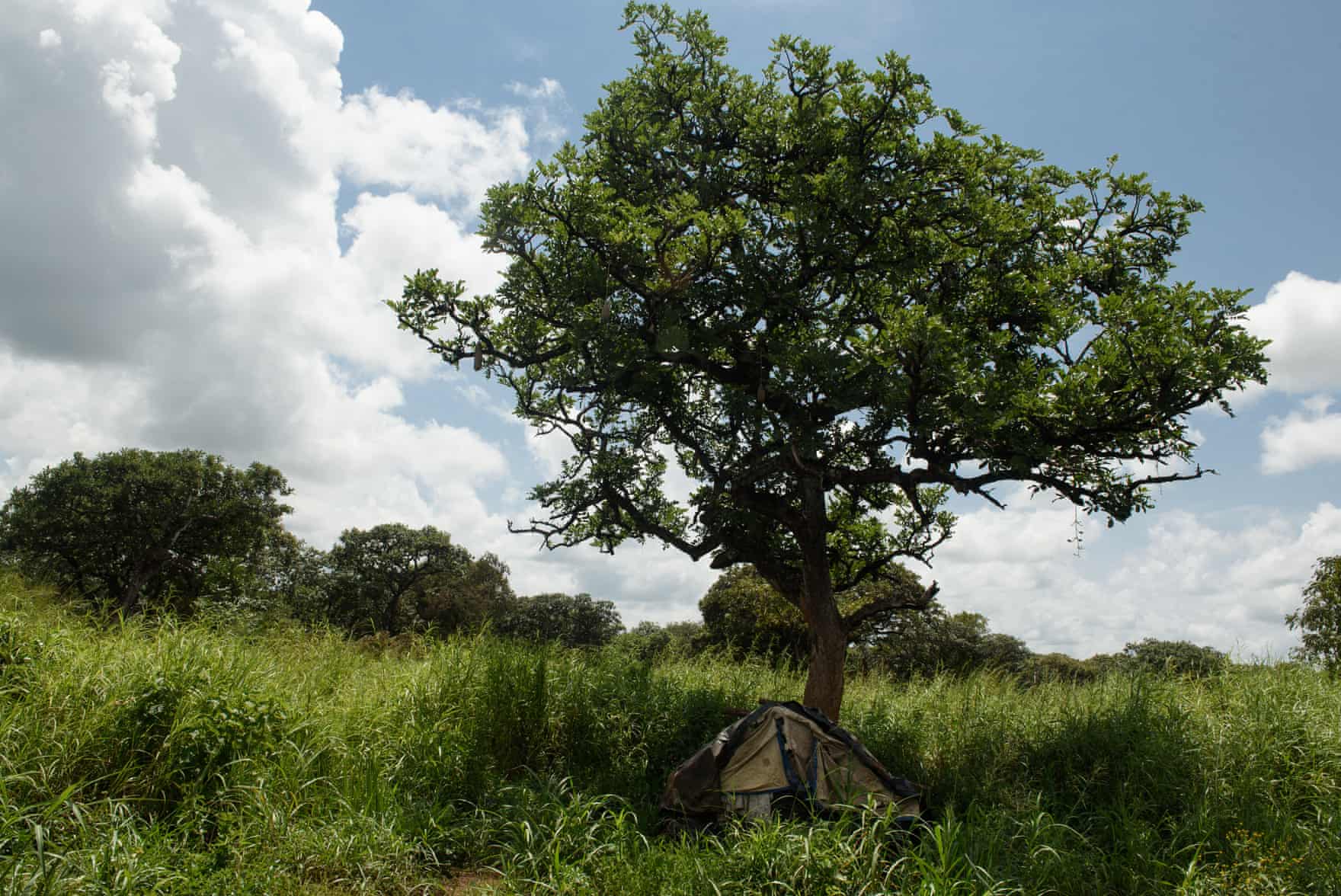 Like many other charcoal burners in Koch Lii, Kakande moved to the area from central Uganda. Burners are often in conflict with locals, who view outsiders with suspicion. Last May, a group of local people attacked a charcoal burners' camp in neighbouring Amuru district. One person was killed and 39 injured. According to a police spokesman, Patrick Jimmy Okema, the attackers claimed the charcoal burners were destroying trees and their motive was to control deforestation. However, land conflict is common in Uganda, which is still recovering after decades of conflict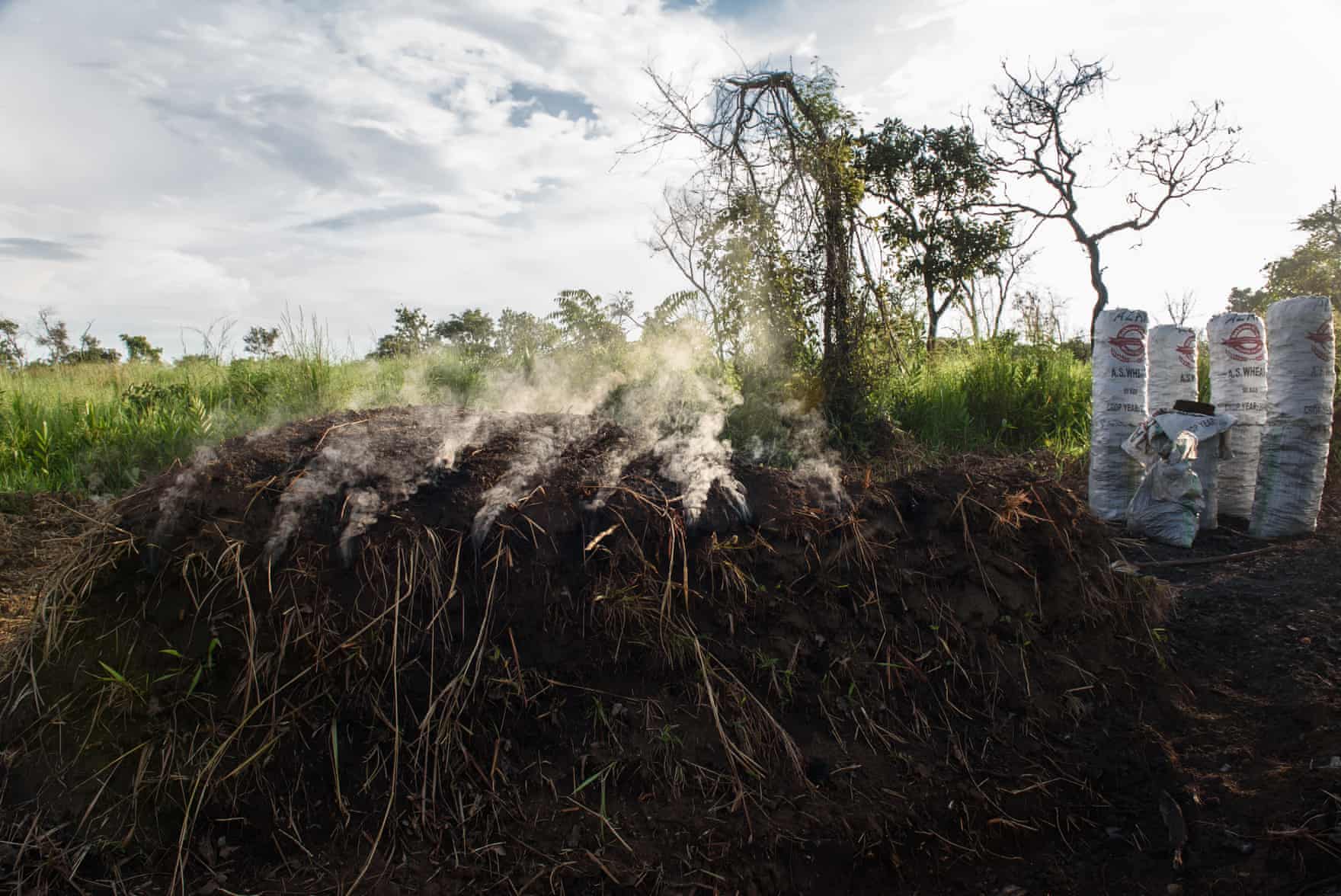 Wood in the process of carbonisation under a mound of earth and grass, in Amuru district. In Nwoya, local government officials are developing an incentive plan to encourage landowners to keep their trees, funded by the penalty fines. Landowners who don't sell their trees for charcoal burning are to be paid 1m Ugandan shillings each year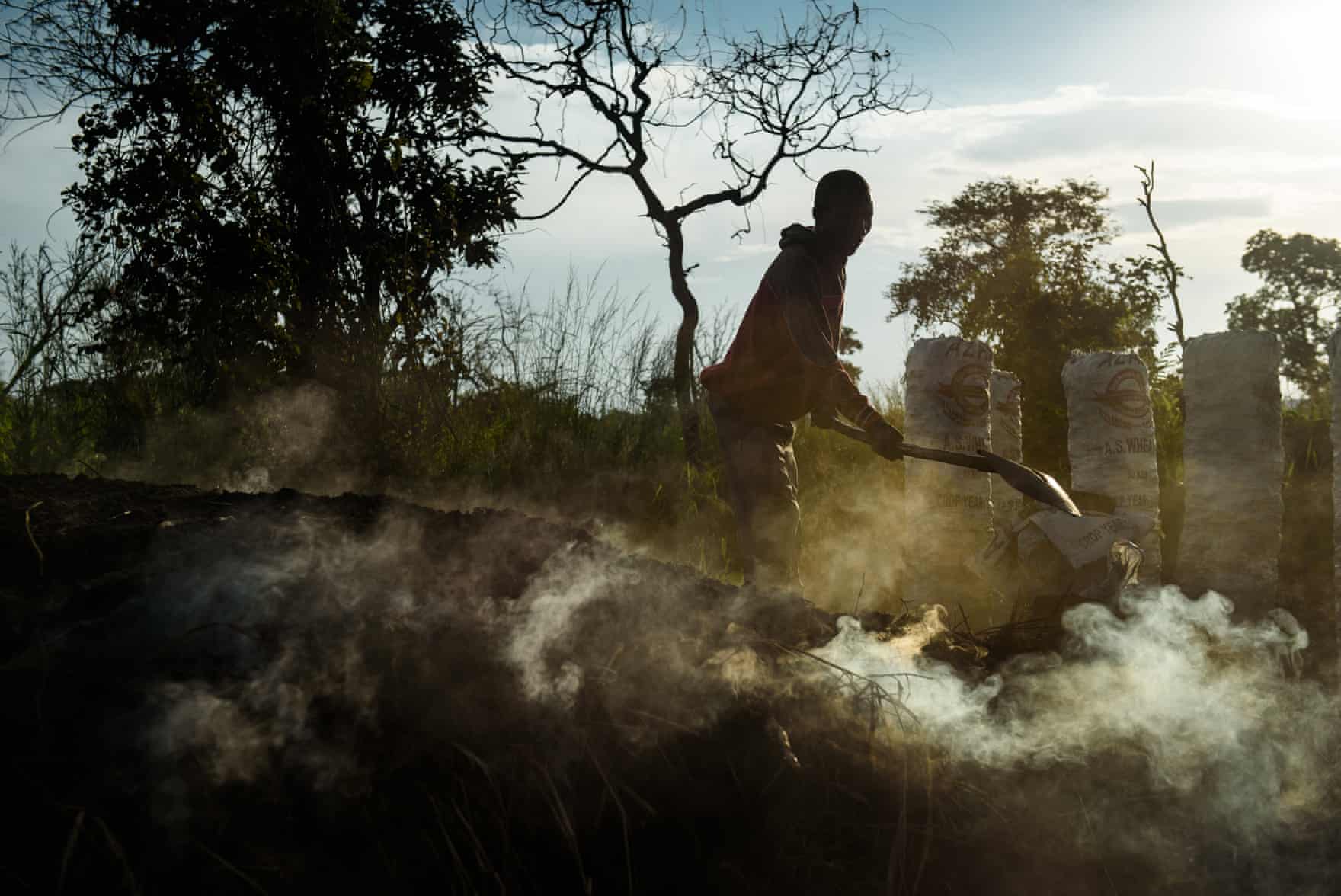 A charcoal burner distributes earth on the charcoal mound. Okello believes the incentive scheme will be effective. 'People's minds are gonna change because they'll say, "If I keep this tree for five years, I'm going to get 5 million from the district."' Last year, to mark the International Day of Forests, Nwoya district gave 1,000 pine seedlings to 2,000 farmers for each to plant roughly two acres of new trees