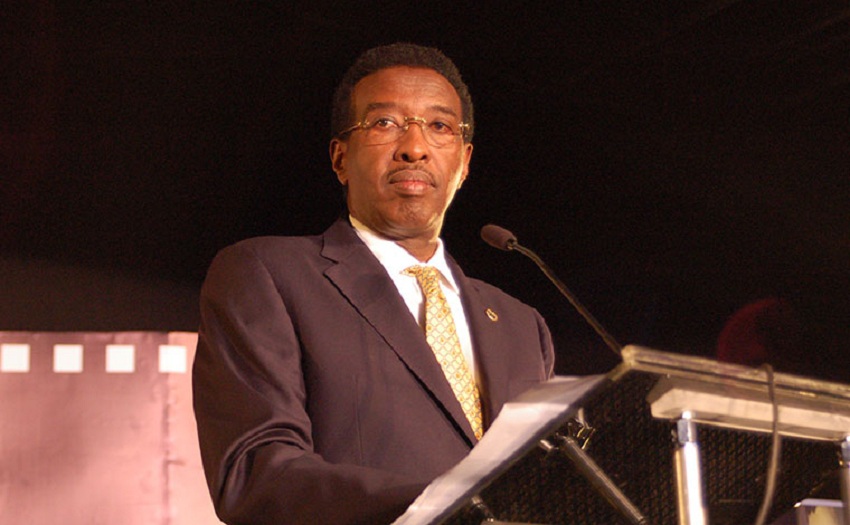 Last week, former minister Maj Gen Jim Muhwezi, unsuccessfully tried to stop court bailiffs from enforcing an eviction order given by Makindye magistrate Richard Mafabi.
This was the climax of a 26-year battle for land measuring 1.2 acres in Kyamula Zone, Salama in Makindye division of Kampala. The Observer talked to James Mubiru with whom Muhwezi has been feuding over the land.
GENESIS
Mubiru's father, George Ssekajjugo, died in 1987 when he was three years old, leaving him and his sister Nabunjo Nammande under the care of their paternal uncle Nathan Ssewambwa.
Together with their mother, they left their home that sat on a 1.2 acre piece of land and joined the Ssewambwa homestead within the same locality.
However, they kept on using the land for farming until one day in 1992 when strangers claiming to have bought the land showed up at his uncle's home to introduce themselves as the new landlords. Puzzled, Ssewambwa asked who had sold them the land seeing that the only two orphans; Mubiru and Nabunjo hadn't come of age.
Ssewambwa decided to take the matter to the Local Council committee. He got little help. When Mubiru, the heir eventually became of age, he joined his uncle to pursue justice.
"After some time, the people who claim to have bought the land came and razed down my father's house and also exhumed his remains," Mubiru told The Observer.
A sympathetic member of the L-CII committee eventually introduced him to one William Hitimana who claimed he had bought the land from one Naome Batuusa. Mubiru says neither him nor his uncle knew anything about Batuusa who had claimed to be the caretaker of the orphans.
Hitimana told Mubiru that now that he had learnt that he had been swindled, he wanted to legally purchase the land after all.
"I asked him where he buried the remains of my father and he said he threw them in the lake because he didn't want emizimu gy'Abaganda [Buganda's spirits] to disturb him," Mubiru says.
LETTERS OF ADMINISTRATION
Growing old and weak, Ssewambwa handed over all the paperwork relating to the land to Mubiru to start administering his father's estate. With the assistance of LC-I chairman of Kyamula and his clan leaders who wrote to the administrator general, a letter of no-objection was obtained.
He was advised by the administrator general to get powers of attorney which were later given by then High court judge Remmy Kasule on July 12, 2005. Not much was heard of Hitimana until 2012 when Mubiru started the process of getting a lease from Buganda Land Board (BLB); the owners
of the land. In his first meeting, Hitimana had indicated a willingness to properly buy the land from Mubiru. But on discovering that he wasn't willing to sell, he resorted to threats. Mubiru says Hitimana called someone whom he later learnt was Muhwezi.
"He asked Muhwezi what they should do for me, Muhwezi told him that he should just ignore me because I was useless," Mubiru says.
He adds that Hitimana told him that it was in his interest to sell the land because if he doesn't, he would lose it.
After the encounter, Mubiru still obtained an ownership certificate from BLB. He was given a go-ahead to survey the land so that they could determine how much money he would pay in busuulu [rental fees].
When the surveyors started surveying the land, Hitimana rose up again and through the LC-I chairman of Kyamula village, Kakooza Lukyamuzi, ordered the exercise stopped until the ownership wrangles are resolved.
The BLB's standing orders prohibit surveying of any piece of land if there are some conflicts relating to owner- ship. When the exercise was stopped, Mubiru lodged a petition with High court at Nakawa and opened up a case against Hitimana.
The file was first transferred to the Anti-Corruption division then eventually forwarded to the Land division under High court judge, Joseph Murangira.
Muhwezi through his lawyer Ahmed Kalule Mukasa applied to become a party to the suit. He asked court for four months' adjournment to justify why he was an interested party.
"But within those months, UPDF soldiers were deployed at our home and they arrested everybody they got there and took them to Kibuye police station," Mubiru says.
Among the five arrested, three who were not related to Mubiru were released. Two were charged in the Makindye magistrate's court with three counts of treason, attempted murder of Muhwezi and criminal trespass. Esther Nambayo, the then chief magistrate, remanded them to Luzira prison.
"I ran to the State House office in charge of land matters then led by Hajji Sseddunga who after studying the case wrote to the court telling them the circumstances surrounding their arrest. They were released on bail," Mubiru says.
However, they continued to appear for mention of their case with the state attorney every time asking for an adjournment, claiming that investigations were incomplete. Nambayo eventually dismissed the case for lack of interest on the government side.
The five UPDF soldiers who had been deployed on the land never left until late 2013 when State House ordered them withdrawn. A two-roomed house was also erected on the land to house the soldiers. In place of the soldiers, private security guards were deployed.
In the court, after dismissing the case, the magistrate advised Mubiru and his cousins to streamline the ownership of the land.
Mubiru again sued Hitimana for malicious damage to property and trespass. Like in the previous cases, Hitimana refused to honour the summons, prompting court now under Richard Mafabi on March 30, 2015 to give its judgement, reinstating Mubiru as the rightful owner, and also awarding him Shs 10 million in damages.
Seeing that court had confirmed Mubiru as the owner, BLB gave him the green light to survey the land and get a lease title. Indeed, on June 6, 2015, Mubiru paid Shs 30 million to BLB for the land. But Muhwezi's lawyer opposed the execution of the court order citing the presence of similar case in the High court.
Mubiru says he applied to that court to withdraw the case. He then went back to the magistrate's court for fresh eviction orders which were granted and effected last week.
FRESH SURVEYING
In 2015, BLB gave him surveyors to survey the land but their attempts were foiled by the private security guards. In the scuffle that ensued, involving shooting, the surveyors were arrested and taken to Kibuye police.
To secure their release, Mubiru was called to police. Three accounts; attempted murder of Muhwezi, criminal trespass and treason were slapped against him. Mubiru says for seven days he was locked up in a toilet.
"One night I was picked and taken to the OC's office where I found a man in civilian clothes who asked me why I was refusing to vacate the land. The man asked me whether I knew him and I told him no. He then told me I will die because of that land; that I didn't know the people I was fighting with,' Mubiru remembers.
He says that night he was badly tortured and two of his teeth extracted using pliers. He now uses artificial dentures. He was later released on police bond and told to report there every after five days; a thing he did until January 2016 when he got tired.
For now, Muhwezi has petitioned the High court's land division, asking them to review the magistrate's decision. "[But] I'm hopeful that I will prevail because this is my land," Mubiru says.
GEN MUHWEZI LAWYER RESPONDS
Gen Jim Muhwezi's lawyer, Ahmed Kalule, said Mubiru used an illegal court order to effect the eviction.
"Gen Muhwezi is trying to correct a situation where Mubiru in clear abuse of the court process; filed illegal suits and executed orders which court has made clear to him will never be executed until the High court is done with the case," Kalule said last week.
He said Mubiru has been disturbing Muhwezi since 2012 despite knowing that the general bought the land in 2005.
"He [Mubiru] filed a suit against the former owner of the land William Hitimana even when he was aware that Gen Muhwezi was the new owner of this land," Kalule says.
Having filed a suit in the High court, all subsequent suits were illegal for as long as the High court had not pronounced itself on the matter.
Source: The Observer
…