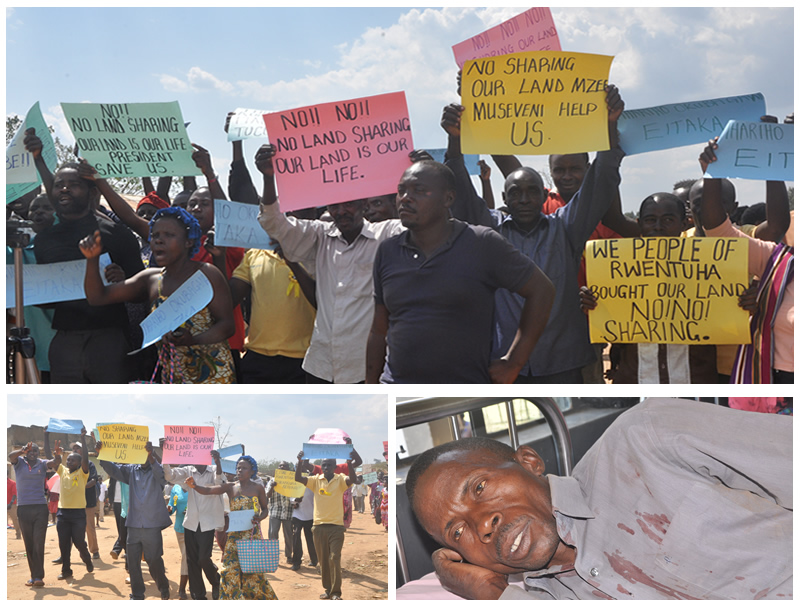 By Witnessradio.org Team
As the entire world praises Uganda for having the best refugee settlement model, in the process a lot of violations and forceful land acquisition goes on unreported. Over 35000 indigenous families in Rwentuha sub county, Kyegegwa district have been forced by Ugandan government to accept losing more than 50% of their land in order to accommodate refugees. Kyegegwa district is found in the South Western region of Uganda and its one of the districts that have been curved out Fort portal district.
Rwentuha Sub County is estimated to be sitting on over 15 square miles with majority families surviving on farming. The Witnessradio.org investigations reveal that two out of three parishes that make Rwentuha namely Rutaraka and Ngangi have been designated for refugees, leaving the indigenous land owners struggling to find food to feed their families and to generate enough money to meet daily basic needs including sending their children to school.
Affected villages include; Kijanamiganda Lc1, Rushaumbe LC1, Kashasha LC1, Buhembe LC1, Karubajimba LC1, Kabaraba LC1, Sooba Lc1, Ngangi LC1, Rutaraka LC 1 A and B, Rwentuha LC1, Rusorora LC 1, Kisororola LC1 , Akasomoro LC1, Kazinga A LC1, Kazinga B LC 1, Kazinga Central LC1, Ekyeliso LC1, Kabuvuma LC1, Kanyinteka LC1  and Kitemba LC 1
Government's exercise of securing land for refugees lasted for six months and was manned by the Office of the Prime Minister with support from security agencies including the army and police. According to sources, the exercise sidelined all elected leaders at the district.
Well as the indigenous opposed the exercise, the police and army are being accused of using excessive force where a number of community members were arrested and detained and later released after part of their land had been forcefully taken.
Yorakimu Tulyahabwe, 57, told witnessradio.org that about 20 police officers led by the DPC for Kyegegwa district Mr Tubanone Jorum invaded Kazinga trading centre, begun beating up people, a police officer flogged him several times on the head, hands and at the back that he was seriously hurt later on forcefully dragged to police patrol car before being admitted at Kyegegwa health centre IV. "It's a pity that we were being beaten to this extent because of fighting for our own land, we are also Ugandans that need protection but its seemed government is more interested in refugees" Said Tulyahabwe
A one Sarah Tukamuhebwa explained that; before her land was taken, they had several developments on their land like huge banana plantations, coffee plantations, cattle farms and used them as collateral to obtain money from various banks that they used to pay off school fees for their children but they were left with nothing but with a burden to pay off the pending loans.
Officials at the Office of the Prime Minister told the Witnessradio.org that the land in question is part of Kyaka One (1) refugee settlement. However, the indigenous communities possess land ownership documentations.
Since February 2017, more than 8000 refugees have been settled on the land competing for the existing little clean water with the indigenous communities. Other basic needs being struggled for include; no medicine in health facilities and limited school space among others.
According to Nimpamya Daniel Muhango, the vice chairman, Kyegegwa district, natives have faced government's mistreatment at the expense of refugees. "How do you expect refugees and locals to live in harmony when those who are supposed to look after the refugees on arrival are subjected to different forms of mistreatment" wondered Nimpamya.
He added that even after locals lost their land, there's no plan for compensation or expecting direct support from government after losing their source of livelihood.