Govt pushes for compulsory land acquisition in Buliisa
Uganda's multi-million dollar Tilenga Oil Project which is being implemented in Buliisa and Nwoya districts  faces numerous hurdles ranging from legal suits, contestation from locals to environmental concerns.
Under the project, government plans to build a central processing facility (CPF) with capacity to process 190,000 barrels of oil and 700,000 barrels of total liquid per day.
The project entails drilling 200 water injector wells, 196 oil producer wells, two polymer pilot wells and 28 reference wells which will be drilled on 31 well-pads.
The project includes Jobi-Rii, Gunya, Ngiri, Kasamene-Wahrindi, Kigogole-Ngara and Nsoga oil fields.
Government plans to build more than 160km of flow-lines which will transport crude oil and water from the wells to the CPF.
There are plans to build a   95 km 24 inch feeder pipeline which will transport the processed crude oil from the CPF in Buliisa to the export hub and refinery in Kabaale in Hoima District.
The project requires approximately 2,400 acres and the land acquisition process is ongoing.
However, it has received mixed reactions from locals in the oil rich Buliisa District.
Compensation disputes
Mr Gilbert Stephen Kaliisa, the Ngwedo Sub-county chairperson, said more than 600 project affected people (PAPs) have received cash compensation for their land and properties.
A total of  29 resettlement houses have also been built in Kasinyi with  three more pending but some PAPs have not received any compensation.
"More than nine families have not received any compensation, "  Mr Kaliisa revealed.
An independent monitoring study conducted by the Civil Society Coalition on Oil and Gas (CSCO), with financial support from the World Wide Fund for Nature (WWF) indicates that some PAPs rejected compensation due to hiked prices for land compared with the Shs3.5m per acre that was being considered by the chief government valuer.
The PAPs also resisted government attempts to settle them in areas with  worse social services than  they currently live.
"PAPs are concerned about blockage to social cohesion and cultural identity as the established project infrastructure will separate villages and families," Mr Joseph Mukasa Ngabwagye,  a Senior research fellow at the Advocates Coalition for Development and Environment (Acode), said.
According to the Petroleum Authority of Uganda (PAU), Total E& P Uganda (TEPU) has conducted a front end engineering design (FEED) study, Environmental and Social Impact Assessment (ESIA) study, procurement and contracting of Wells and Drilling Related Services, Technical Surveys, Sub-Surface Studies and Land Acquisition.
TEPU has undertaken the FEED for the Enabling Infrastructure including access roads, well pads, Masindi Check Point, construction camps and Industrial Area among others.
ESIA contested
However, the ESIA report for the Tilenga project which the National Environmental Management Authority (Nema) approved in April 2019 for a period of 10 years, has been contested by a section of locals and civil society organisations who have  since dragged Nema and PAU to court seeking  cancellation of the report.
In its suit before the High Court Civil Division, the African Institute for Energy Governance (AFIEGO) states that the Tilenga ESIA was marred by flaws, procedural irregularities thereby denying AFIEGO and other interested parties a chance to effectively put forth their views aimed at protecting their right to a clean and healthy environment.
"If the said certificate of approval is not quashed, the public shall suffer irreparable damage as the approved ESIA report allows oil activities in the most sensitive biodiversity ecosystems including Murchison Falls National Park, Lake Albert, Budongo Central Forest Reserve,"  the suit reads in part.
But the Attorney General has asked Court to dismiss AFIEGO's suit for lack of substantial merits.
"Grant of orders sought by the applicant will undoubtedly delay the implementation of the Tilenga project and eventually affect the anticipated benefits of oil to all Ugandans only for the selfish benefits of the applicant," Ms Jane Mbabazi Byaruhanga, the PAU environment manager, said  in her affidavit filed in court. Court is yet to rule on the matter.
  Failed talks
In 2017, Mr Jelous Mulimba Mugisha was elected by locals in Kasinyi village as chairperson of the Resettlement Planning Committee (RPC) which was charged with representing the interests of the PAPS.
The committee worked closely with Total E & P Uganda, Tullow Oil and government to ensure a smooth implementation of the resettlement exercise.
"After repeated talks with officials of oil companies and government who could not address our concerns, some PAPs sued Total and government in France. We are waiting for judgement,"  Mr Mulimba said.
Ms Gladys Birungi, a mother of five, vacated her family land in Kasinyi Village in 2017 when government announced a deadline  for PAPs in an area earmarked for a CPF.
Her family rented a house in Kasinyi Trading Centre with hope of  being paid and resettled in time so that they could resume their subsistence farming.
"We demanded for Shs10 million per acre but government officials gave us Shs3.5m per acre. When we protested the compensation rate, the officials said it is up to us to accept or leave the money," she said.
Ms Birungi is among the 30 families being resettled in houses built by the government.
She revealed that the government paid her Shs15m as compensation and disturbance allowance for her four-acre piece of land and properties but claims the payment was inadequate.
"I failed to buy an acre of land in Ngwedo Sub-county after owners demanded Shs7m per acre yet I was paid 3.5 million by government," Ms Birungi said.
Grounds of rejection
The Kasinyi LCI Chairperson,  Mr Gilbert Balikurungi, who is among the nine people who rejected compensation said he wants the rates increased considering that the price of  his land has appreciated.
Balikurungi and others  were assessed in the 2018/2019  but have been promised  compensation in the 2020/2021 financial year.
 Govt opts for compulsory acquisition 
In a turn of events, government through the Attorney General has sued nine families in Kasinyi Village who turned down compensation.
In his miscellaneous cause No 25 of 2020 filed at Masindi High Court, the Attorney General has requested court to allow government deposit in court Shs368,887,602 being compensation for 74.21 acres which are part of the land earmarked for an industrial area for the Tilenga oil project.
The Attorney General  has  also requested court to discharge any liabilities arising out of any claim and/or action for the compensation currently in its possession in respect of the said land.
He has asked court to grant government vacant possession of the land to enable the Tilenga project to proceed.
In his affidavit in court, the Permanent Secretary in the Ministry of Energy,  Mr Robert Kasande, said the Chief government valuer carried out valuations of the project land and disclosed compensations to the PAPs but the respondents disputed the value and refused to present their particular disputes to the Chief Government Valuer for consideration.
"I know that the respondent's actions and/ or inactions have constrained the applicant's activities and delayed the implementation of the Tilenga project all to the detriment of all Ugandans," Kasande's affidavit reads in part.
He said project delays are detrimental to government and oil companies, which are under the joint venture partnership. He added that the project is critical for the progress of the oil and gas sector which plays a key role in Uganda's social -economic development.
"The delay in acquisition of required land will affect the project timelines and economics," Mr Kasande said.
Govt confident
Asked if contestations by PAPS will affect oil projects, Ms Gloria Sebikari, the PAU Corporate Affairs and Public Relations manager, said projects are ongoing  much as there are court processes and discussions.
"We handle concerns arising with caution to ensure projects are not impended. Projects remains open to discussion to resolve intricate things arising, " she said.
Original Post: Daily Monitor
Statement: The Energy Sector Strategy 2024–2028 Must Mark the End of the EBRD's Support to Fossil Fuels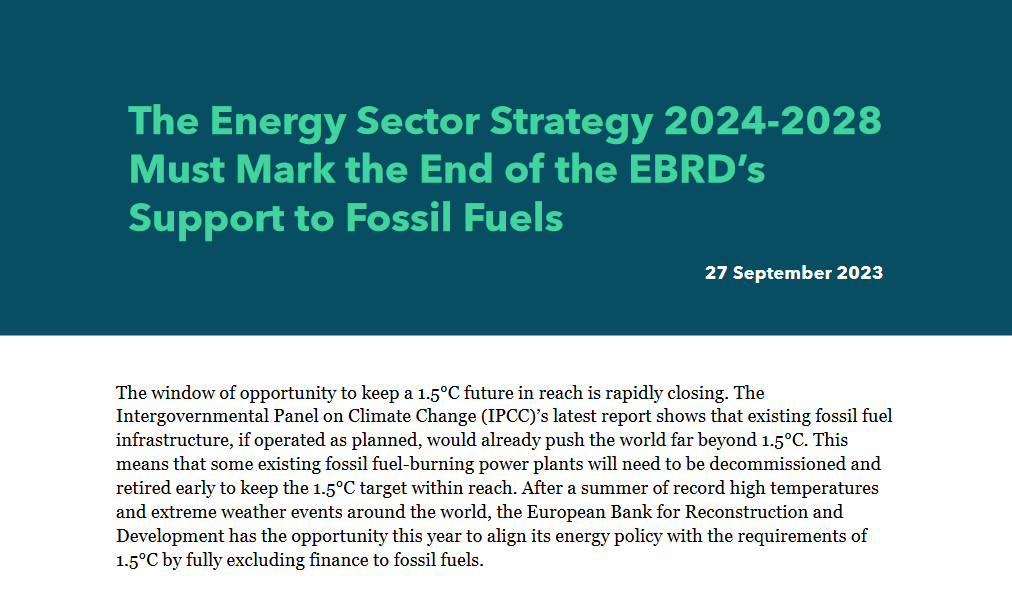 The European Bank for Reconstruction and Development (EBRD) is due to publish a new Energy Sector Strategy before the end of 2023. A total of 130 civil society organizations from over 40 countries have released a statement calling on the EBRD to end finance for all fossil fuels, including gas.
From 2018 to 2021, the EBRD invested EUR 2.9 billion in the fossil energy sector, with the majority of this support going to gas. This makes it the third biggest funder of fossil fuels among all multilateral development banks, behind the World Bank Group and the Islamic Development Bank.
The EBRD has already excluded coal and upstream oil and gas fields from its financing. The draft Energy Sector Strategy further excludes oil transportation and oil-fired electricity generation. However, the draft strategy would continue to allow some investment in new fossil gas pipelines and other transportation infrastructure, as well as gas power generation and heating.
In the statement, the civil society organizations point out that any new support to gas risks locking in outdated energy infrastructure in places that need investments in clean energy the most. At the same time, they highlight, ending support to fossil gas is necessary, not only for climate security, but also for ensuring energy security, since continued investment in gas exposes countries of operation to high and volatile energy prices that can have a severe impact on their ability to reach development targets. Moreover, they underscore that supporting new gas transportation infrastructure is not a solution to the current energy crisis, given that new infrastructure would not come online for several years, well after the crisis has passed.
The signatories of the statement call on the EBRD to amend the Energy Sector Strategy to
fully exclude new investments in midstream and downstream gas projects;
avoid loopholes involving the use of unproven or uneconomic technologies, as well as aspirational but meaningless mitigation measures such as "CCS-readiness"; and
strengthen the requirements for financial intermediaries where the intended nature of the sub-transactions is not known to exclude fossil fuel finance across the entire value chain.
Source: iisd.org
Download the statement: https://www.iisd.org/system/files/2023-09/ngo-statement-on-energy-sector-strategy-2024-2028.pdf
Complaint against unprofessional conduct of the DPC Kiryandongo district for aiding and abetting land grabbing in kiryandongo district.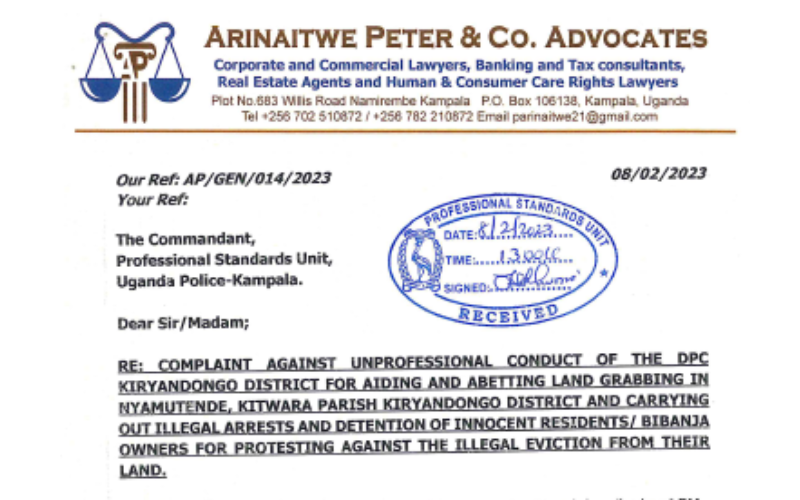 The Commandant,
Professional Standards Unit, Uganda Police-Kampala.
Dear Sir/Madam;
RE: COMPLAINT AGAINST UNPROFESSIONAL CONDUCT OF THE DPC KIRYANDONGO DISTRICT FOR AIDING AND ABETTING LAND GRABBING IN NYAMUTENDE KITWARA PARISH KIRYANDONGO DISTRICT AND CARRYING OUT ILLEGAL ARRESTS AND DETENTION OF INNOCENT RESIDENTS/ BIBANJA OWNERS FOR PROTESTING AGAINST THE ILLEGAL EVICTION FROM THEIR LAND.
We act for and behalf of the Lawful and bonafide occupants of Land described as LRV MAS 2 FOLIO 8 BLOCK 8 PLOT 22 (FORMERLY KNOWN AS RANCH 22).
Our Clients are residents of Nyamutende Village, Kitwara Parish in Kiryandongo District where they have lived for more than 30 years and sometime in 2017, they applied for a lease of the said Land to Kiryandongo District Land Board through the Directorate of Land Matters State House.
As they were still awaiting their Application to be processed, they were shocked to establish that the said land had been instead leased to and registered in the names of Isingoma Julius, Mwesige Simon, John Musokota William, Tumusiime Gerald, Wabwire Messener Gabriel, Ocema Richard and Wilson Shikhama, some of whom were not known to the Complainants. A copy of the Search is attached hereto
Our clients protested the above action and appealed to relevant offices, but were shocked to discover that the above persons had gone ahead and sold the same to a one Maseruka Robert.
Aggrieved by these actions, the Complainants appealed to the RDC who advised them to institute proceedings against the said persons, and assigned them a one Mbabazi Samuel to assist them to that effect. The said Mbabazi accordingly filed Civil Suit Noa 46 of 2019 against tne said registered proprietors at Masindi High Court challenging the illegal and fraudulent registration, sale and transfer of the subject land to Maseruka Robert.
While awaiting the progress of the case mentioned hereinabove, the Complainants were surprised to find that the said Mbabazi, instead of assisting them, he went into a consent settling the said suit on their behalf without their knowledge or consent. A copy of the Consent is attached hereto.
Among the terms of the said consent Judgment was that the residents would be compensated without specifying how much and would in return vacate the Land.
As if that was not enough, Maseruka Robert and Mbabazi Samuel are going ahead to execute the said Consent Judgment by forcefully evicting the occupants without compensation which has prompted the complainants to challenge the said Consent by applying for its review and setting aside at Masindi High Court which is coming up for hearing on the 29th March 2023. A copy of the Application is attached hereto.
Sensing the imminent threat of eviction, we also filed an application for interim stay of execution of the said consent to avoid rendering their application for review nugatory but unfortunately the same could not be heard on the date it was fixed for hearing (6th February 2023). A copy of the Application is attached hereto
On Thursday last week, three tractors being operated by 6 workers of a one Mbabazi Samuel [the very person who had been entrusted to represent our Clients to secure their Land through Civil Suit No.46 of 2019] encroached close to 50 acres of our Clients' land and started ploughing it but our Client's protested and chased them away.
We have however been shocked to receive information from our Clients that on Sunday at Mid night, 3 police patrols invaded the community in the night and arrested community members; Mulenje Jack, Steven Kagyenji, Mulekwa David, Ntambala Geoffrey, Tumukunde Isaac 15 years, Kanunu Innocent, Mukombozi Frank, Kuzara, Rwamunyankole Enock, and took them to Kiryandongo Police Station where they are currently detained.
We strongly protest the illegal arrests and detention of our Clients as this is a carefully orchestrated land grabbing scheme by Maseruka Robert and Mbabazi Samuel who are  receiving support from the DPC Kiryandongo.
The purpose of this Letter therefore is to request your good office to investigate the misconduct, abuse of office and unprofessionalism of the said DPC Kiryandongo District and all his involvement in the land grabbing schemes on land formerly known as Ranch 22.
Looking forward to your urgent intervention,
C.C The Head Police Land Protection Unit Police Head Quarters Naguru
CC The RDC Kiryandongo District
CC The Chairman LCVKityadongo District
CC The Regional Police CommanderAlbertine Region
The Executive Director of Witness Radio Uganda talks about the role played by Witness Radio in protecting communities affected by large-scale agribusinesses in Kiryandongo district in an interview with the ILC.