China: ramping up investment in African agriculture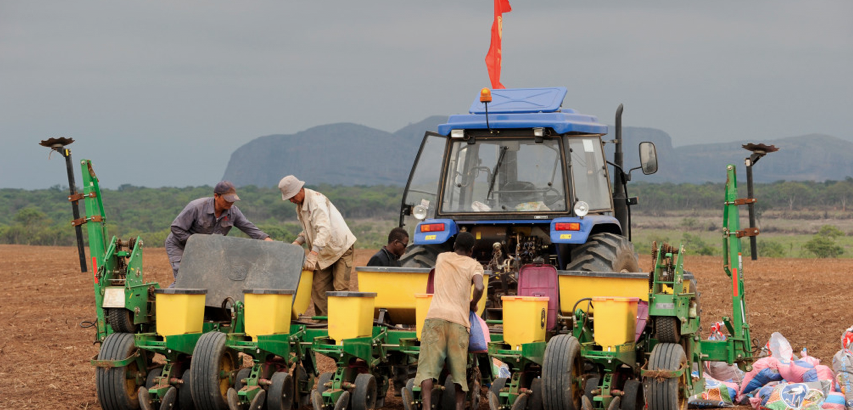 by Helen Castell
As China's government pledges to help funnel more aid, development finance and private-sector capital into African agriculture, what's motivating the flow and is it having a positive impact?
The flow of Chinese money into Africa is growing fast, with agriculture attracting a sizeable chunk. In 2014, Africa received around 12% of China's overseas agricultural investment and the proportion continues to grow, according to a 2018 USDA report, which based its calculations on Chinese government data.
Chinese firms investing overseas receive strong financial support from the Chinese government, which sees Africa and agriculture as important to China's 'Go Global' drive
At the 7th Forum on China-Africa Co-operation (FOCAC) held in Beijing September 2018, Chinese President Xi Jinping pledged €52 billion in financing for projects across Africa over the following 3 years. This will include €13 billion in grants and interest-free or concessional loans – three times the amount pledged at the previous FOCAC in 2015 – €17 billion in credit lines, a €9 billion development finance fund and €4 billion to finance imports from Africa.
While Jinping did not detail the projects, he said agricultural modernisation would be a key focus, with the investment including funding for 50 agricultural assistance programmes and to send 500 agricultural experts to Africa to train entrepreneurs and agricultural scientists. Chinese firms would also be encouraged to invest at least another €9 billion in Africa over the period, Jinping added.
Public-private partnerships
While the Chinese government is the main driver for investment in African agriculture, it is increasingly seeking to involve private-sector companies through public-private partnerships, notes Cathy Xi Cao, an independent agricultural analyst at the time of writing. She predicts that this will likely accelerate as China's huge Belt and Road Initiative (BRI) – which seeks to build trade routes across Europe and Africa – gains momentum. And, while many BRI investments will focus on hard infrastructure, like roads and ports, these should theoretically support agriculture, improving logistics as well as helping farmers reach domestic and overseas markets.
Agricultural technology demonstration centres, typically operated by private Chinese companies with financial support from China's Ministry of Commerce (MOFCOM), represent China's most high-profile investment in African agriculture. There are now 23 centres across the continent offering farmers Chinese seeds for rice and other crops, as well as technology and training on cultivating everything from mushrooms to maize and rearing livestock such as cows or poultry.
Proponents of this model include the Bill and Melinda Gates Foundation, which has partnered with MOFCOM to support two centres in Mozambique and Zambia and says that China has valuable technologies to share with Africa, as well as expertise gained during its own agricultural transformation.
Big private-sector Chinese players in African agriculture that have wrapped technical assistance around their investments include Tian Ze, a subsidiary of China Tobacco Co. Since 2005, it has used a contract farming model to expand across Zimbabwe – where, by 2014, it had 387 tobacco farmers in its network – and also into Malawi, Tanzania and Zambia, according to USDA. Tian Ze's investments reportedly include the provision of low- or no-interest finance to farmers, although exact figures are not available.
Chinese firms investing overseas receive strong financial support from the Chinese government, which sees Africa and agriculture as important to China's 'Go Global' drive. For example, when the Agriculture Development Bank of China and the country's Ministry of Agriculture agreed in 2016 to provide €390 billion in agricultural lending, supporting Chinese agricultural companies' overseas investments was cited as one of 10 targets for the money.
Commercial motives
Beijing's main motivation for supporting investments in African agriculture is widely assumed to be securing food supplies for China but this is not supported by data. Africa supplied only 2% of China's agricultural imports during 2010-15, according to Chinese customs figures, the USDA report notes. And, while much of its technical assistance and aid focuses on rice, China does not import rice or any other grains from Africa. Indeed, FOCAC stressed in its action plan the importance of helping Africa to achieve food security by 2030.
Rather, aid flows appear to be designed to build goodwill in African countries, facilitating the entry and profitability of Chinese firms, and building markets for Chinese inputs such as rice seeds. For example, investments by Chinese animal feed supplier New Hope Group, including in Egypt and South Africa, focus on building markets in those countries for its feed.
Indeterminate impact
With multiple media reports accuse Chinese entities of 'land grabbing' some 6 million ha of land across the continent, the impact of Chinese investments in African agriculture is a sensitive topic. However, the reports appear to have been greatly exaggerated, with the China Africa Research Initiative at John Hopkins University stating that barely 4% of this figure – 252,901 ha – can be confirmed.
China's readiness to lend to African governments – Kenya, for example, owes around €4.6 billion to China, equivalent to around a fifth of its total external debt – has also raised concerns, with critics alleging it is a way of China gaining political influence, particularly when borrowers struggle to repay. This may or may not be true, but much of this government-to-government lending is focused on energy or transport infrastructure rather than agriculture, where Chinese development and commercial bank lending is directed at Chinese firms.
On an individual farmer level, the impact of Chinese investment has been mixed. For example, while Zimbabwe's tobacco board has credited Tian Ze's contract farming model for helping the sector thrive at a time when international sanctions kept investors from other nations away, the Chinese firm reportedly demanded loan repayments from tobacco farmers in 2016 when they could not deliver the crop due to drought and crop failure. And, while Chinese agricultural technology is cheaper than that from the West, some media reports quote farmers as saying that it is still too expensive and that they have learned little of use at Chinese demonstration centres.
CIDCA: a new era?
In April 2018, it was hoped with the launch of the China International Development Cooperation Agency (CIDCA) that Beijing was ushering in a more transparent and collaborative approach to its aid flows in areas including African agriculture and a willingness to acknowledge mistakes. Less than 6 months later, the publication of a joint report by CIDCA and UNDP assessing the impact and effectiveness of two Chinese projects – the Agricultural Technical Cooperation Project in Guinea-Bissau and the Agricultural Technology Demonstration Center in Mozambique – appeared to represent a step in that direction. The report made several recommendations, including that Chinese technical experts stay in-country for longer and engage more with local partners such as farmer cooperatives and NGOs.
Biggest offer on the table
Nevertheless, within the continent and abroad, China's investment in African agriculture remains controversial. The unusually strong ties between the state and private sector in China are regularly criticised by western governments and companies, who argue cheap funding gives Chinese firms an unfair advantage in markets, including agriculture, and hands Beijing a worrying level of influence over African leaders. Others argue that African farmers will not gain in the long term from a model that is geared towards Chinese commercial interests. For the moment, however, China's offer remains, if not always the best, by far the biggest offer on the table for African agriculture. Only when rival governments up their own commitments to the sector will this change.
Tension as over 3000 people face unlawful eviction in Lwengo district.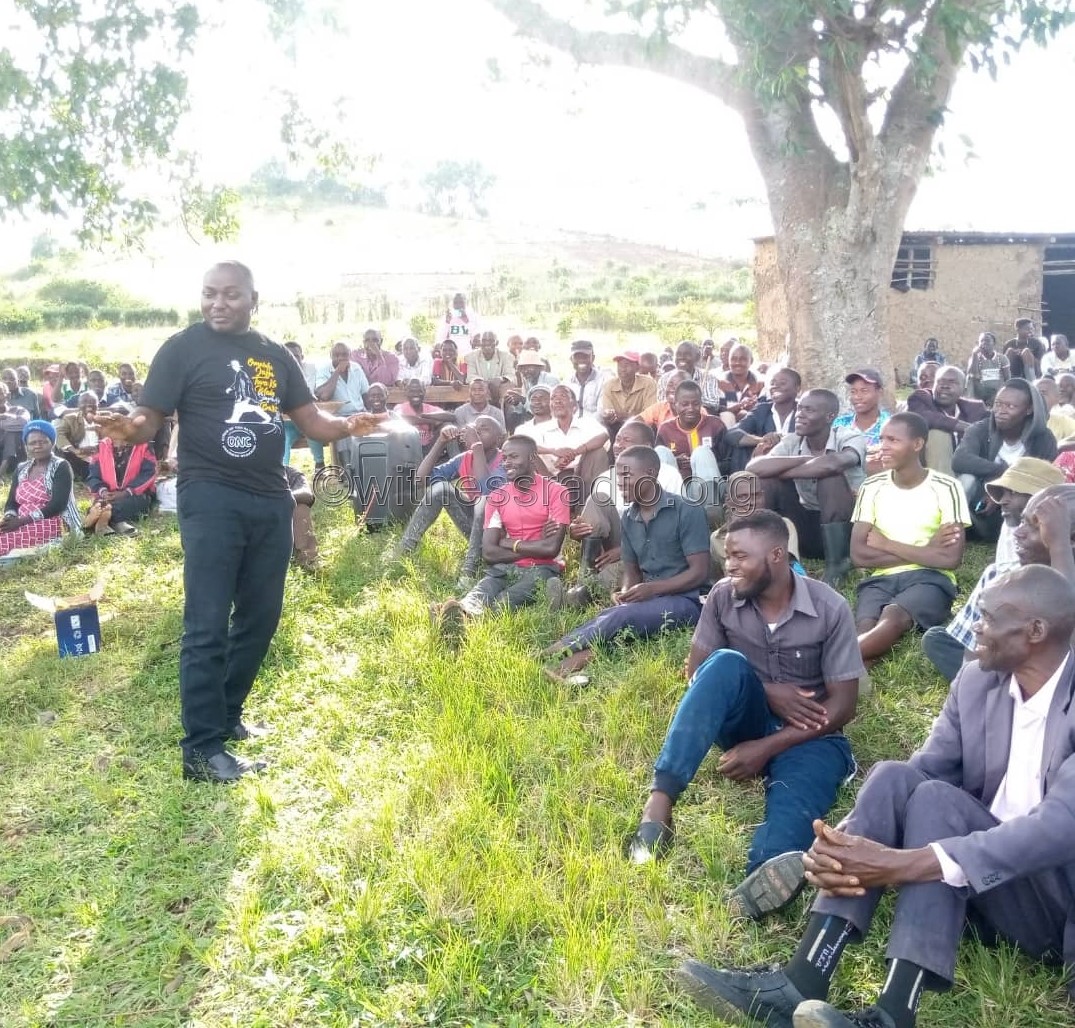 By Witness Radio team
As illegal land evictions escalate in Uganda, land speculators and grabbers with the help of District Land Boards, continue to target and grab land for the less privileged communities.
Section 60 (2c) of the Land Act CAP 22 states that the District Land Board is mandated to manage all public lands in the district, and it has powers to sell, lease, or otherwise deal with the land held by it, among others. 
Witness Radio has documented scenarios where District Land Boards give away communities' land they have lived on for decades without providing alternative settlements. 
In Kiboga district, Flavia Kizito, a Senior Secretary to the District Land Board, irregularly issued three leases on land belonging to a family of the late Edirisa Kyakulagira in 2018 and 2019. 
In yet another shocking news, there's a looming forced eviction on land belonging to over 3000 residents in three villages, Kalagala Parish, Malongo sub-county in Lwengo district whose livelihood has been entirely dependent on their land.
The subsistence farming communities have lived on the public land undisturbed for decades until February 2022, when different groups started targeting and claiming land ownership.
Local farmers accuse land speculators and brokers that have compromised with some of their peers to work for them and grab their land measuring 153 acres in Kawule, Kasagazi, and Lugologolo villages.
"We have been on this land for so long, and we are wondering how those people acquired its title. We heard rumors that the so-called Bamwesigye and Mwebesa are behind selling us, but we have nowhere to go. We are ready to defend it." Said Kosi Joseph, the Lugologolo Chairman and one of the affected persons. 
He added that he has lived on his land for over 32 years.
Residents learned of a looming eviction on WhatsApp Message sent to one of the area's Councilor Herbert Ssekabira by an unknown person, reading that "the land on which the villages sit belongs to them."
"Mr. Ssekabira, upon receiving the sad news, informed the community and prompted them to seek assistance from our leaders to stop the land grab. The WhatsApp message said the land was bought in 2014 and later acquired a leasehold in 2022." Mr. Kosi further added.
Kittatta Ibrahim, the Lwengo district Local Council Five (5) chairperson, informed the community that investigations surrounding the acquisition of their land had commenced immediately. He added that they intend to lodge a caveat on the said land.
Breaking; Lands Minister directs police chief to arrest armed mobs involved in forced and illegal land evictions.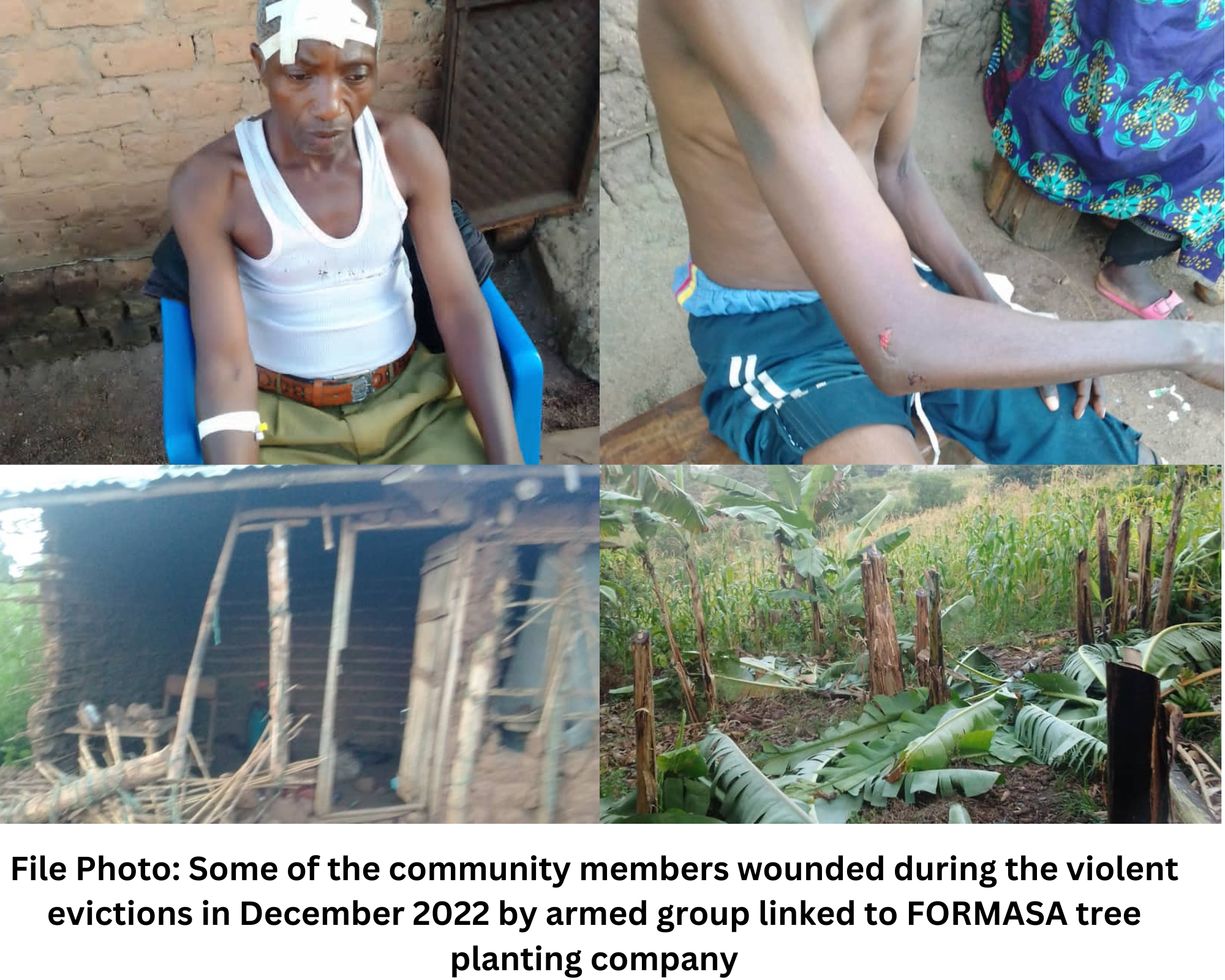 By Witness Radio team
Uganda's Lands Minister Judith Nabakooba has directed the Inspector General of Police (IGP), Martins Okoth Ochola to arrest all organized and armed mobs involved in forced and illegal land evictions.
The directive is the second one from the same minister to the police chief in three (3) months due to widespread forced and illegal land evictions in Uganda.
On February 28, 2022, President Yoweri Museveni came out and banned all land evictions in the country that are carried out without the consent of the respective District Security Committees (DSC).
The latest directive was triggered by violent scenes that occurred on the 19th of March 2023 when armed groups of men with graders invaded the St peter's Church of Uganda's land in Kibiri and started destroying crops planted on the church land. The armed group whose employer is not yet established claims the church is occupying someone's land illegally.
In an attempt to stop the unlawful eviction, Church leaders, led by Reverend Maxwell Ssebuggwawo and some faithful tried to intervene but in vain.
According to eyewitnesses, the armed group immediately attacked the Clergyman and other Christians causing severe bodily injuries. In the scuffle, Rev. Maxwell Ssebuggwawo's vestments were torn by the mob, whom the community believes was being targeted.
In response to the violent attack against the church leader and congregation, the minister observed that many land grabbers have resorted to using organized and armed mobs to evict people from their land. She further describes eviction as illegal and unacceptable since the government has capable security agencies that can effect lawful evictions.
"We have noted incidents where some crooks employ mobs to evict people yet we have security forces that can do this concerning the law. This is wrong. I have therefore directed the IGP to arrest everybody involved in these illegal acts and be brought to book", the Minister added in an interview with the local media.
Witness Radio in the recent past has documented incidents where organized and armed mobs are participating in violent land evictions.  For instance, a recent eviction of a 99-year-old Hellena Namazzi in Numugongo in Kira Municipality in Wakiso district by Sema Properties boss, Ssemakula Sulait, another ugly case involved a violent eviction of over 2000 people off 328.1 hectares by one Moses Karangwa and Abid Alam in Kassanda district among others.
Over 500 Kapapi families in Hoima district remain stranded after the district security committee fails to resettle them back on their land as directed by the minister.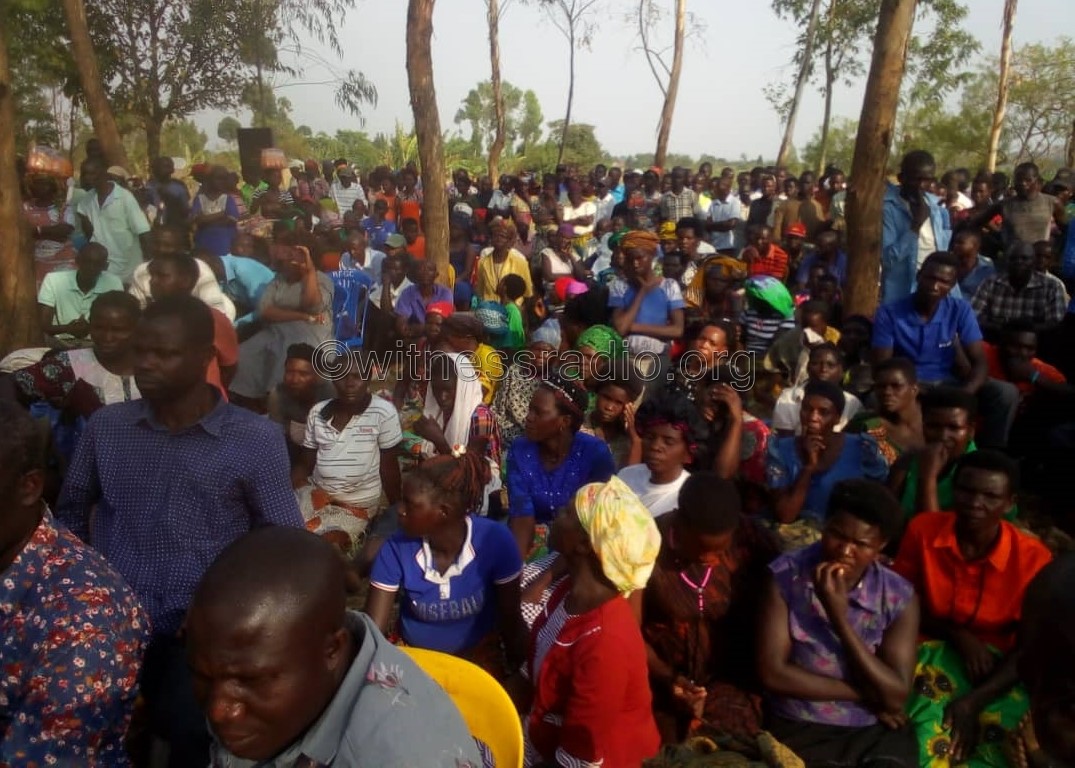 By Witness Radio team.
Hundreds of families, violently evicted from their land in Kapapi and Kiganja sub-counties in Hoima district are still pondering their next moves as efforts to return to their grabbed land remain ambiguous.
The directive came after Hoima district police and private guards from Magnum, a private security company raided people's homes in Waaki North, Kapapi Central, Waaki South, Runga, and Kiryatete villages in Kapapi and Kiganja sub-counties, Hoima district on 10th of February 2023 at 1:00 am.
The violent scenes left hundreds of children with scores of injuries, houses were torched, and property worth billions was destroyed.  The animals such as goats, sheep, and cows were butchered and others were looted.
On 22nd of February 2023, the Minister of Lands, Housing and Urban Development, Honorable Judith Nabakooba while addressing a meeting in Rukola village Kapapi sub-county, Hoima district directed the security committee to return the victim villagers back to their land.
She considered the eviction unlawful since it was conducted at night and without a court order.
In that meeting, area leaders, Hoima district police and Hoima Resident District commissioner, Mr. Rogers Mbabazi, Deputy Resident District Commissioner, Mr. Michael Kyakashari were in attendance.
The victim community accuses a group of people including Ndahura Gafayo, Aston Muhwezi, David Mpora, Monica Rwashadika, Agaba, and Wilber Kiiza of being responsible for the land grab.
The grabbed land is situated at the shores of Lake Albert adjacent to the Kabaale parish in Buseruka Sub-county where the greenfield oil refinery is to be established. In April 2018, the government selected the Albertine Graben Refinery Consortium (AGRC) as the private sector investment to finance, develop, construct, and operate the Greenfield oil Refinery estimated to cost $4b.
According to the Witness Radio research team, ever since the directive was made instead, there's increased human rights violations including arbitrary arrests, detentions and threats, and intimidation against victims of residents encamped at Rwenyana Church to vacate.
The evictees report that after the minister's directive, three community members include; Mbombo Steven, and Kalongo Steven have been arrested, charged, and remanded to Hoima government prison.
"Our families encamping at church and waiting to be resettled back as directed by the Minister are facing further threats and intimidation to go away. They say they don't want us at the church. Some of us are currently in hiding for fear of arbitrary arrests or kidnaps." A community member who preferred to be called Enos due to fear of retaliation told Witness Radio.
He further added that the community is living at the mercy of God, with no food, or shelter, and predicted an uncertain future for their children since they are not attending school.
"Families are scattered in different centers while others continue to live with their relatives. However essential services such as shelter, food, health services, and education for their children remain a challenge. These people found us on land and started claiming ownership of this land. Imagine when we went for a search at a land registry, we found out that they only have a title of 2 acres but everyone knows we have been on this land for over 30 years. We have people who were born on this land." He added.
Witness Radio contacted Mr. Rogers Mbabazi, Hoima Resident District Commissioner who heads the district security committee, to understand how far the committee had gone with the implementation of the minister's directive. He instead referred us to his Deputy Mr. Michael Kyakashari.
Mr. Michael Kyakashari, when asked about the status of the directive, told our reporter that he did not have an answer for him before he hung up.
"I don't have an answer for you" He repeatedly said.