Unprecedented Wave of "Criminalization" Sweeping the Globe to Silence Indigenous Peoples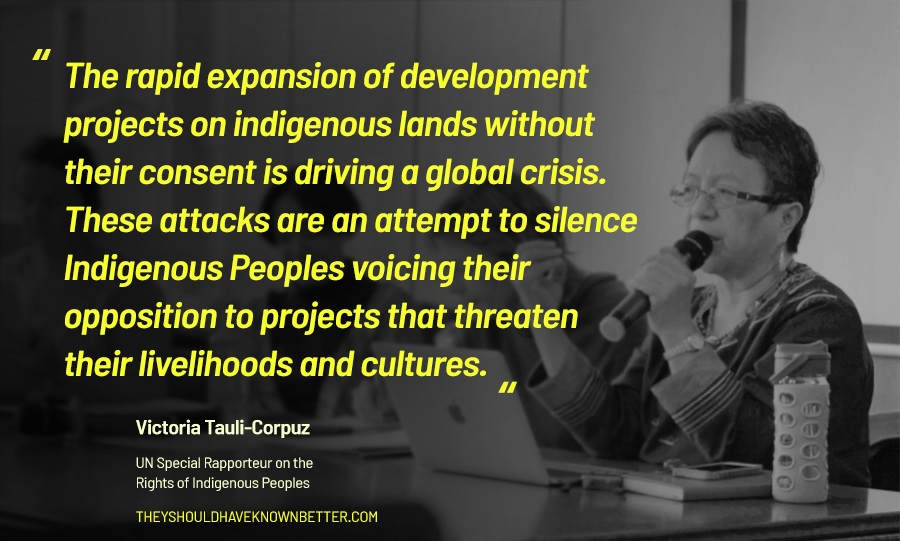 New UN report highlights drastic increase in violence and legal harassment driven by rapid expansion of development projects on indigenous lands
A significant pattern of abuse has emerged in a wide variety of countries, in which both physical violence and legal prosecution are used against Indigenous Peoples defending their rights and lands, according to a new report that UN Special Rapporteur on the Rights of Indigenous Peoples Victoria Tauli-Corpuz submitted to the UN Human Rights Council today.
The report describes how private sector interests collude with governments in coveting the lands of Indigenous Peoples for economic development projects. "Criminalization"—the process of turning those defending their land rights into criminals—has become an increasingly common tool and contributes to how these disputes often transform into open conflicts. While the majority of indigenous individuals who face criminal charges are men, women bear the brunt of their absence as they have to single-handedly assume all responsibilities in their families and communities.
"I've been alerted to hundreds of criminalization cases from nearly every corner of the world," said Tauli-Corpuz. "The rapid expansion of development projects on indigenous lands without their consent is driving a global crisis. These attacks—whether physical or legal—are an attempt to silence Indigenous Peoples voicing their opposition to projects that threaten their livelihoods and cultures."
Since June 2014, when her tenure as Special Rapporteur began, Tauli-Corpuz has witnessed a significant uptick in cases of criminalization and violence in the Philippines, as well as in Brazil, Colombia, Ecuador, Guatemala, Honduras, India, Kenya, Mexico, and Peru.
Many of the worst violations are driven by rising militarization, national security acts, and anti-terrorism legislation. These can put Indigenous Peoples in the line of fire—literally—of army and police forces. During and shortly after her most recent official country visit to Guatemala in May 2018, seven indigenous leaders were killed. Another activist was murdered just two weeks ago.
"Indigenous leaders in Guatemala who raise their voices face arbitrary detention, torture and sexual harassment from the police, and even murder," said Aura Lolita Chávez Ixcaquic of the Maya K'iche' People for the Defense of Life, Mother Nature, Land and Territory. "The justice system not only fails to address our concerns—it is a tool for the state and private interests to attack the authorities and leaders of our communities."
The Special Rapporteur herself was one of 600 people labeled a terrorist in a legal petition filed in her native Philippines by President Rodrigo Duterte's government. Although her name and three others were removed from the petition—in the week before her criminalization report was expected to be released—the vast majority of people on the petition remain blacklisted.
Ms. Tauli-Corpuz has noted that the charges were retaliation for her advocacy on behalf of displaced Indigenous Peoples in the Mindanao region of the Philippines, who have faced criminalization and military actions for resisting coal mines and other developments targeting their lands.
"There is widespread impunity for those who commit violence against Indigenous Peoples," said Anne-Sophie Gindroz, RRI Facilitator for South East Asia. "At the same time, justice systems can be used against indigenous human rights defenders. In Indonesia, for example, people have been arrested for remaining on their land after it was granted to palm oil companies by the government."
The report notes that violence and criminalization can even extend to lawyers and civil society advocates working with Indigenous Peoples. Gindroz, a longtime indigenous activist, was expelled from the Lao People's Democratic Republic.
"In 2016, I had to flee my country, and my entire organization went underground," said Alfred Brownell, founder of Green Advocates, an organization of lawyers, community mobilizers, and women that advocates for the land rights of Liberia's rural communities and the environment. "These communities are not opposed to development, but they want a say in what happens to the lands they have called home for generations. Some 3 million Liberians depend on customary territories, but their rights are in limbo until we pass vital legislation that has been debated for four years now."
Across the world, laws are stacked against Indigenous Peoples. A new report from the World Resources Institute finds that the process to formalize indigenous and community land rights is extremely costly and complex, sometimes taking up to 30 years—while companies can typically secure long-term rights to land in as little as 30 days.
While the majority of recorded cases were associated with opposition to business interests, in other instances Indigenous Peoples' ways of life are deemed illegal in the name of conservation(link is external), leading to arrests, forced evictions, and other human rights violations.
"Conservation has been given as an excuse for escalating violence against the Sengwer Indigenous Peoples living within their ancestral lands in the Embobut forest in Kenya. Some have even been killed," said Yator Kiptum, Executive Coordinator of the Sengwer Indigenous Peoples Programme. "The Kenyan Forest Service has repeatedly forcefully evicted and burned Sengwer homes and arrested community members—in spite of the fact that the court issued an injunction to prevent such evictions. Sengwer Indigenous Peoples want to live in, govern, manage, and own their ancestral lands working hand in hand with the government and other stakeholders—this is the only way to ensure sustainable conservation of forests. Eviction will only lead to further destruction."
From defamation to indefinite detention and worse, despite UN treaties
Criminalization typically occurs as part of the government "push back" when Indigenous Peoples oppose large-scale projects. Leaders are targeted as a strategy to suppress and silence entire communities. While the process can vary, it often follows a similar pattern:
Smear campaigns: Fueled by hate speech based on racism and discrimination, smear tactics and defamation campaigns on social media portray Indigenous Peoples as members of criminal gangs, guerrillas, terrorists, and threats against national security.
Criminal charges: Indigenous leaders and their communities are often accused of vague charges—such as "perturbation of public order," "usurpation," "trespassing," "conspiracy," "coercion," and "instigation of crime." "States of emergency" are used to suspend judicial guarantees and suppress peaceful protests.
Arrest Warrants: Warrants are repeatedly issued despite poor evidence and uncorroborated testimony. At times, accusations fail to name people, leaving an entire community accused of a criminal act. Many times, warrants are left pending, unexecuted, leaving the indigenous person affected under a perpetual threat of arrest.
Illegal shortcuts: The prosecution of indigenous individuals often includes pre-trial detention that can last up to several years, as procedural guarantees are frequently flaunted. Indigenous Peoples seldom have the means to seek legal counsel or even an interpreter. If acquitted, indigenous individuals are rarely awarded remedies.
Mass criminalization: Indigenous organizations have been subject to illegal surveillance and confiscations while laws imposing registration requirements and funding controls weaken their mobilization and restrict their support. Civil society organizations and lawyers who assist indigenous communities have been physically attacked and even killed.
The report lists a number of international treaties and conventions that provide protections for the rights of Indigenous Peoples and local communities. These agreements include:
United Nations Declaration on the Rights of Indigenous Peoples (UNDRIP)
International Covenant on Civil and Political Rights (ICCPR)
Universal Declaration of Human Rights
International Labour Organisation Convention on Indigenous and Tribal Peoples No. 169
International Covenant on Economic, Social and Cultural Rights
United Nations Framework Convention on Climate Change
Convention on Biological Diversity
To prepare the report, the Special Rapporteur drew from both primary and secondary sources, information received first-hand during country visits, a public call for submissions, and a two-day expert consultation in Geneva in March 2018. In addition, a consultation meeting with indigenous representatives took place on the side-lines of the Permanent Forum on indigenous issues in April 2018.
Violence continues to add up
Front Line Defenders documented 312 human rights advocates murdered in 2017. Sixty-seven percent were killed for defending their lands, the environment, or indigenous rights, nearly always in the context of private sector projects. Around 80 percent of killings took place in just four countries: Brazil, Colombia, the Philippines and Mexico.
Global Witness documented 207 killings of land and environmental defenders in 2017—the worst year on record—with agribusiness as the industrial sector linked to the most killings. Twenty-five percent of those killed were indigenous.
The failure of states to recognize the land rights of Indigenous Peoples drives this violence, and can lead to them being labeled trespassers in their own homes and evicted from the lands that form the basis of their livelihoods, social cohesion, and spiritual traditions. Indigenous Peoples and local communities customarily claim more than 50 percent of the world's land but only have legally recognized rights to 10 percent.
"What is happening now across the world is nothing less than a systematic attack on peasant communities and Indigenous Peoples," said Front Line Defenders Executive Director Andrew Anderson. "In their insatiable greed for wood and oil and gold, corrupt elites, who have no ambition beyond their own enrichment, risk not only destroying the lives and culture of Indigenous Peoples, but also destroying the environment on which our collective future survival depends."
###
Victoria Tauli-Corpuz (The Philippines), the UN Special Rapporteur on the Rights of Indigenous Peoples(link is external), is an indigenous leader from the Kankana-ey Igorot people of the Cordillera Region in the Philippines. As an indigenous leader, she has worked for over three decades on building movement among indigenous peoples and as an advocate for women's rights. Tauli-Corpuz is the former Chair of the UN Permanent Forum on Indigenous Issues (2005-2010). She was actively engaged in drafting and adoption of the UN Declaration on the Rights of Indigenous Peoples in 2007.
A self-claimed landlord who caused the imprisonment of six community land rights defenders on false charges was aligned before the court and charged with 28 counts.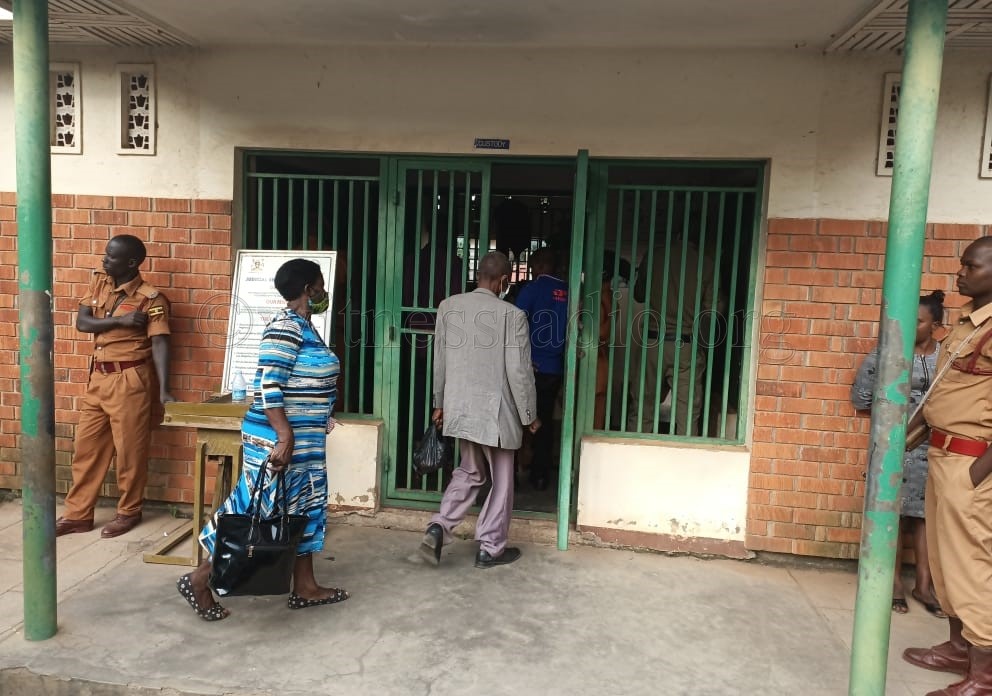 By Witness Radio Team
A magistrate court at Mubende has charged a self-claimed landlord with 28 counts plus murder. Naava Milly Namutebi caused the arrest of six community land rights defenders, falsely accused them of murder, and got imprisoned for three years without trial. 
Naava's appearance before the court followed shortly after the Director of Public Prosecution (DPP) dropped murder charges against six community land rights defenders. These include; Tumusiime Benjamin, Bagirana Innocent, Habana Domoro, Miyingo Gerald, Byangaramani Charles, and Byekwaso Fred.
Naava was charged along with Bulasio Musoke, Richard Mugagga, Henry Kaaya, among others. They were not allowed to answer any charges as the court had no power to make legal decisions and judgments on charges read to them.
The prosecution alleges that Naava and others still at large, committed offenses in areas of Mubende and Kampala districts between 2006 and 2021.
From 2012 to date, Naava got help from the senior army, police, and other public officers in Mubende orchestrated violence and committed human rights violations/abuses while forcefully evicting over 4,000 people off their land. 
The land being targeted measures 3.5 square miles covering villages including Kirwanyi central, Kirwanyi East, Kirwanyi West, Nakasagazi, Kituule A, Kituule B, Kibalagazi A, Kibalagazi B, Kakkanembe, Bukyambuzi A, Bukyambuzi B, Kisende, Mulanda, Kituule central, Kirwanyi A, and Butayunja in Kirwanyi and Kituule parishes in Butoloogo Sub County in Mubende district.
Naava and others accused were remanded to Kaweeri prison until 19th/July/2022. 
Six community land rights defenders from Kawaala have turned up at police for interrogations but, failed to take off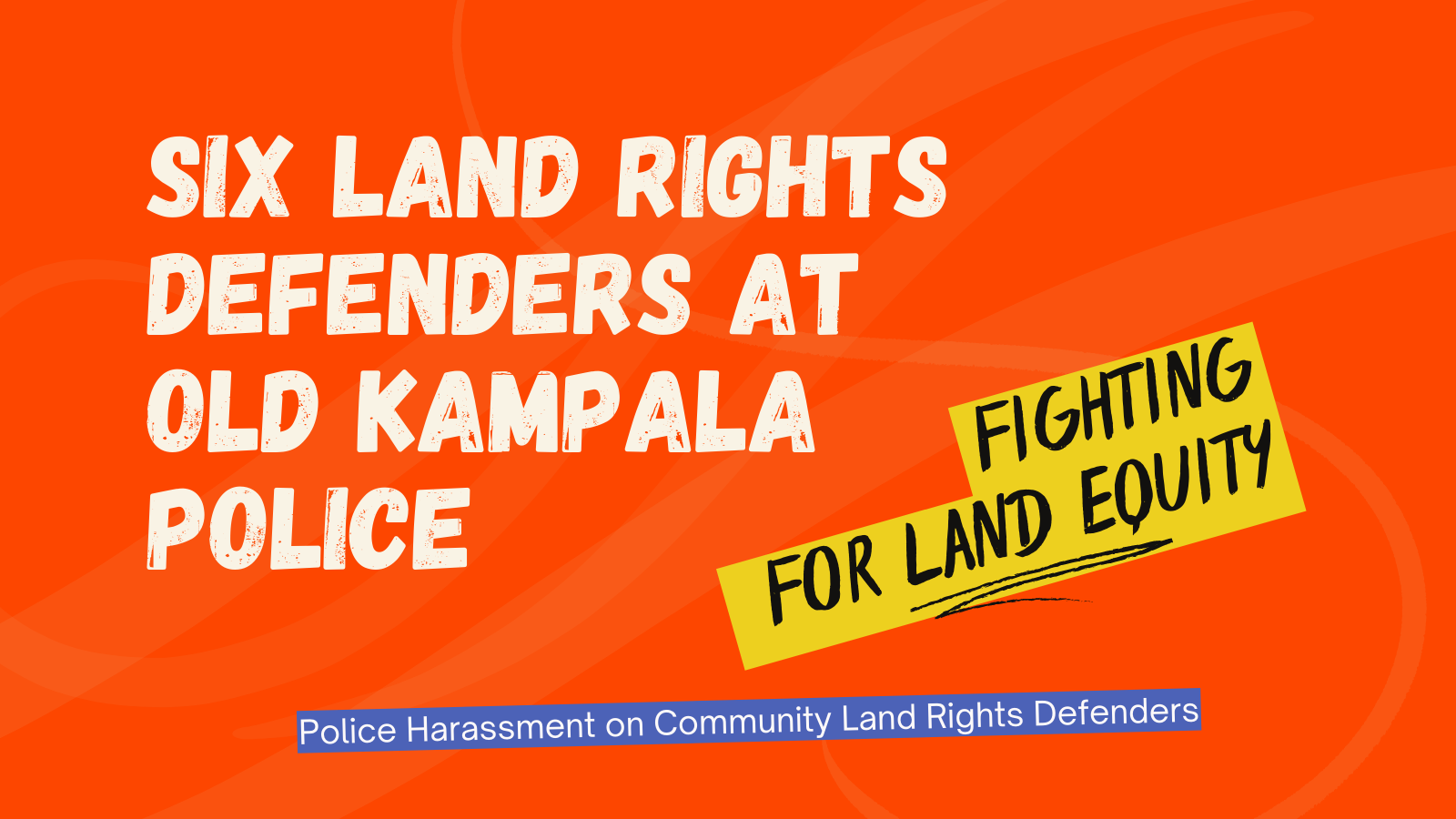 By Witness Radio Team.
The six community land rights defenders from Kawaala zone II and the local leader that were summoned to appear at the Old Kampala Regional Police Headquarters have turned up, however, the interrogations did not take off due to the absence of the head of investigating team.
The six community defenders were required to report back to police for further investigations into alleged crimes that have not yet been officially disclosed to defenders' lawyers. They were supposed to appear before the police investigation team today the 06th of July 2022 at 10:00 AM.
The defenders include; Kasozi Paul, Busobolwa Adam, Kabugo Micheal, Serugo Charles, Ssemanda David, Sserukwaya David, and the area vice-chairman Patrick Kato Lubwama.
While appearing before police for the first time last week on Wednesday 29th, the Deputy Assistant Inspector of Police (D/AIP) Domara Patrick who heads the investigations team casually said the defenders and the local leader are being investigated for obtaining money by pretense and forgery, which charges are not mentioned on police summons.
Since the first COVID outbreak in 2020, the victim defenders and others have been leading a pushback campaign to stop forced eviction by a multimillion dollars Kampala Institutional and Infrastructure Development Project (KIIDP-2) being implemented by Kampala Capital City Authority (KCCA). The drainage channel construction is financed by the World Bank.
This project first impacted Kawaala Zone II around 2014, when a channel diversion was constructed. The current planned expansion will widen that channel and require forced evictions across an area at least 70 meters wide and 2.5 km long.
Witness Radio – Uganda has established that the Deputy Resident City Commissioner (RCC) in charge of Rubaga Division, Mr. Anderson Burora is among the complainants. Resident City Commissioner is a representative of the president in the Capital City at the division level.
Witness Radio – Uganda believes that police are being used to harass and intimidate defenders to back off the justice campaign for people negatively impacted by the drainage channel.
The defenders and the local council leader have been booked to report back to the police on Monday, the 11th of July 2022 at 9:00 AM local time.
A self-claimed landlord who masterminded the imprisonment of six community land rights defenders for three years has been arrested.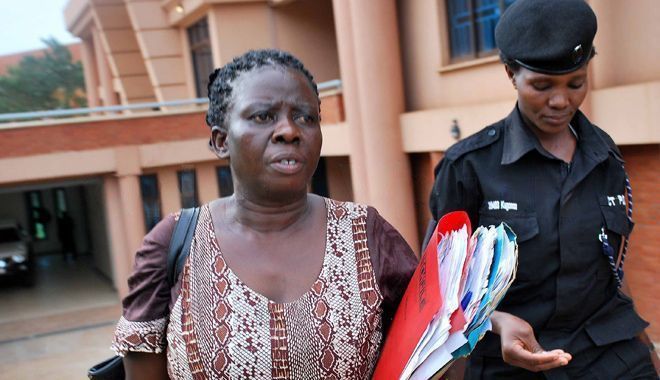 Naava being arrested by police.
By Witness Radio team.
A joint team of investigators from the office of the Director of Public Prosecutions (DPP) from Kampala and the Mubende police arrested a self-claimed landlord who falsely accused six community land rights defenders of murder and led to a three years imprisonment without trial.
Naava Milly Namutebi was arrested at her farm in Kirwanyi in Mubende district with other alleged land dealers namely Bulasio Musoke, Richard Mugagga, and Henry Kaaya.
Naava's arrest occurred a few days after the DPP dropped charges of murder against six community land rights defenders who had spent three years without trial. These include Tumusiime Benjamin, Bagirana Innocent, Habana Domoro, Miyingo Gerald, Byangaramani Charles, and Byekwaso Fred.
Since 2012, Naava with the help of senior army, police, and other public officers in Mubende have orchestrated violence and committed human rights violations/abuses against over 4,000 people to evict them off their land. The land is measuring 3.5 square miles covering villages namely Kirwanyi central, Kirwanyi East, Kirwanyi West, Nakasagazi, Kituule A, Kituule B, Kibalagazi A, Kibalagazi B, Kakkanembe, Bukyambuzi A, Bukyambuzi B, Kisende, Mulanda, Kituule central, Kirwanyi A, and Butayunja in Kirwanyi and Kituule parishes in Butoloogo Sub County in Mubende district.
According to locals, Mubende police acting on Naava's orders arbitrarily arrested and unlawfully detained dozens and dozens of land owners at different police stations in the district. Several victims allege they had to pay colossal sums of money to be released.
For many years, Mubende district has been one of the forced eviction hotspots where families are forced off their land with compensation or being offered settlement. Witness Radio's one-year research report released in 2017 revealed that over 60% of the total grabbed land in the district was stollen by local investors.
Witness Radio – Uganda research indicates that Naava is involved in multiple land grabs with the help of government security apparatus. In 2017, residents namely Ruhobana Dombo, Samuel Ndekezi, and Chleopus Zariwa from the Butoloogo sub-county in Mubende district were arbitrarily arrested and detained on Naava's orders by Mubende police.
The victims and other residents lawfully occupied and cultivated their land for decades but got shocked to hear that Naava was claiming ownership of their land.
The trio had gone to their gardens to plant maize on August 17, 2017, when Naava's stick-wielding laborers attacked and severely beat them.
Naava is currently held at Mubende Central Police Station, with 28 charges including murder, attempted murder, forgery, and others preferred against her.