Roundup on Repression: On the continuing IPHRD attacks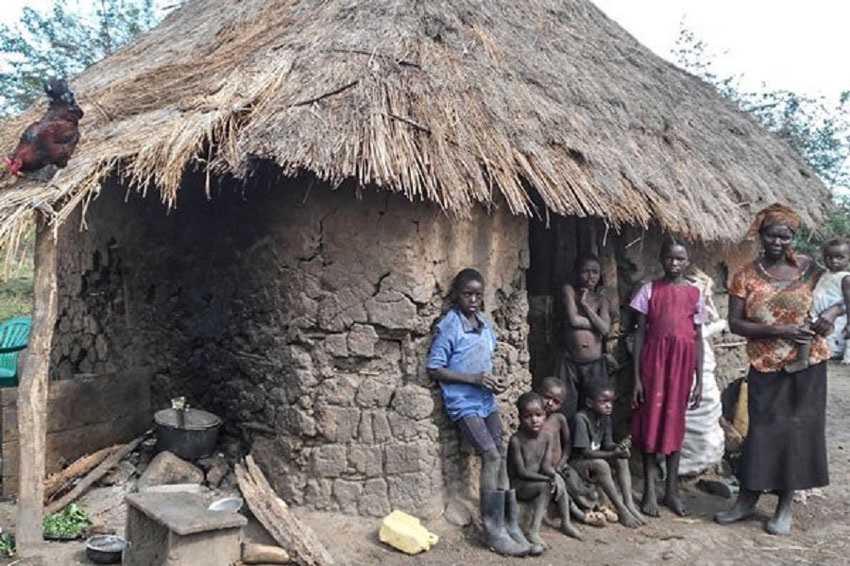 Our challenges against the vicious attacks on Indigenous People's Human Rights Defenders (IPHRDs) endure.
Indigenous Lumad sanctuaries attacked by state-sponsored tribal paramilitaries, Wet'suwet'en land defenders arrested for defending their territories, and the list of Indigenous leaders, activists and defenders victimized by criminal violence and repression grows.
From targeted harassment to cold-blooded killings, the reported attacks point to Indigenous communities and non-indigenous supporters' defense of rights.
Most of the cases, if not all, remain unsolved until now. Impunity seems to benefit giant private corporations, powerful State agents, military, paramilitary and vigilante forces. In silencing all resistance to big corporate foreign and local developments and State-sponsored projects on Indigenous lands, violence through criminalization, harassment and barbaric assault become the norm.
IPMSDL continues to call on all indigenous communities and non-indigenous defenders to contribute their voice to amplify our call: Stop the attacks!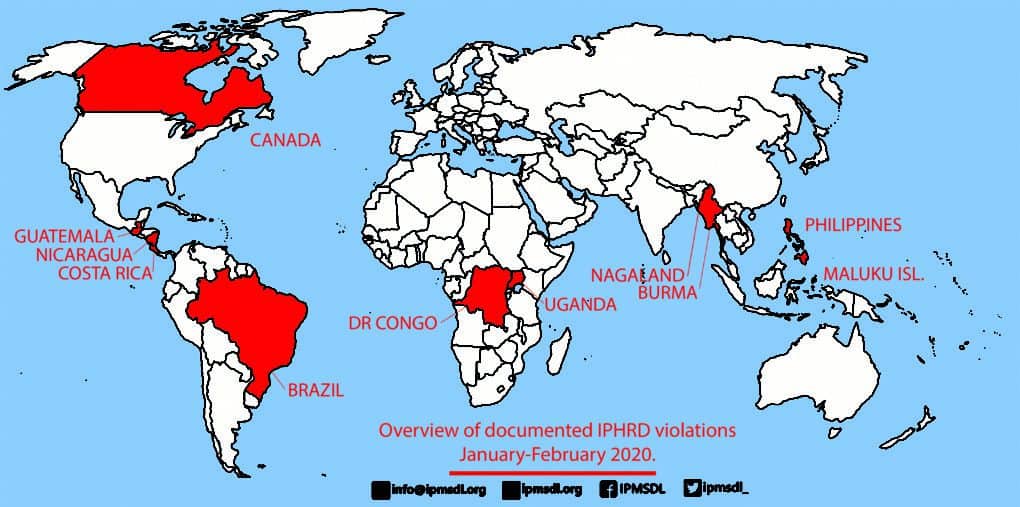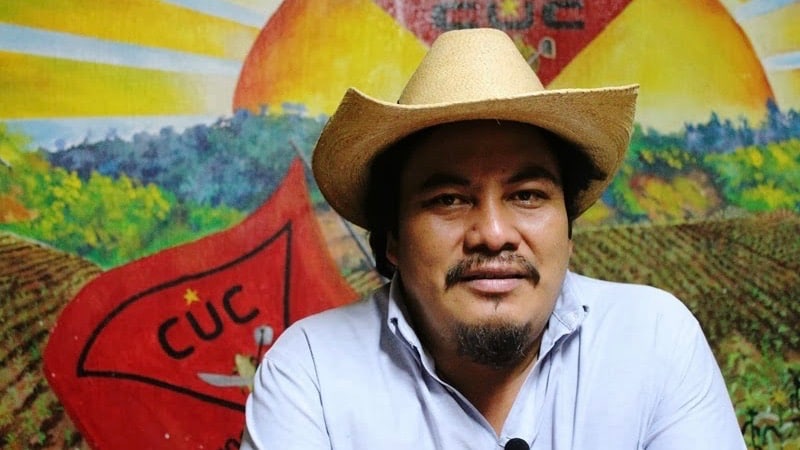 Guatemala
Persecution of Daniel Pascual Hernandez
Coordinator-General, Comité de Unidad Campesina (CUC)
This January 14, Maya K'iche leader Daniel Pascual Hernandez of Committee for Peasant Unity (CUC) goes to court to face defamation, slander and injury charges filed by a businessman, right-wing columnist and founder of "Foundation against Terrorism," Ricardo Méndez Ruiz. Daniel Pascual received death threats and survived assassination plans in 2013 while defending the land of indigenous peasants from a cement manufacturing plant by company in San Juan Sacatepequez .
Daniel Pascual has criticized the "Foundation against Terrorism" for spreading misinformation about CUC and other leaders. The case was suspended in 2016 and currently resurfacing amid questions of irregularities, and the prevalent atmosphere of criminal persecution, assassination, and incarceration of indigenous leaders and human rights defenders in Guatemala.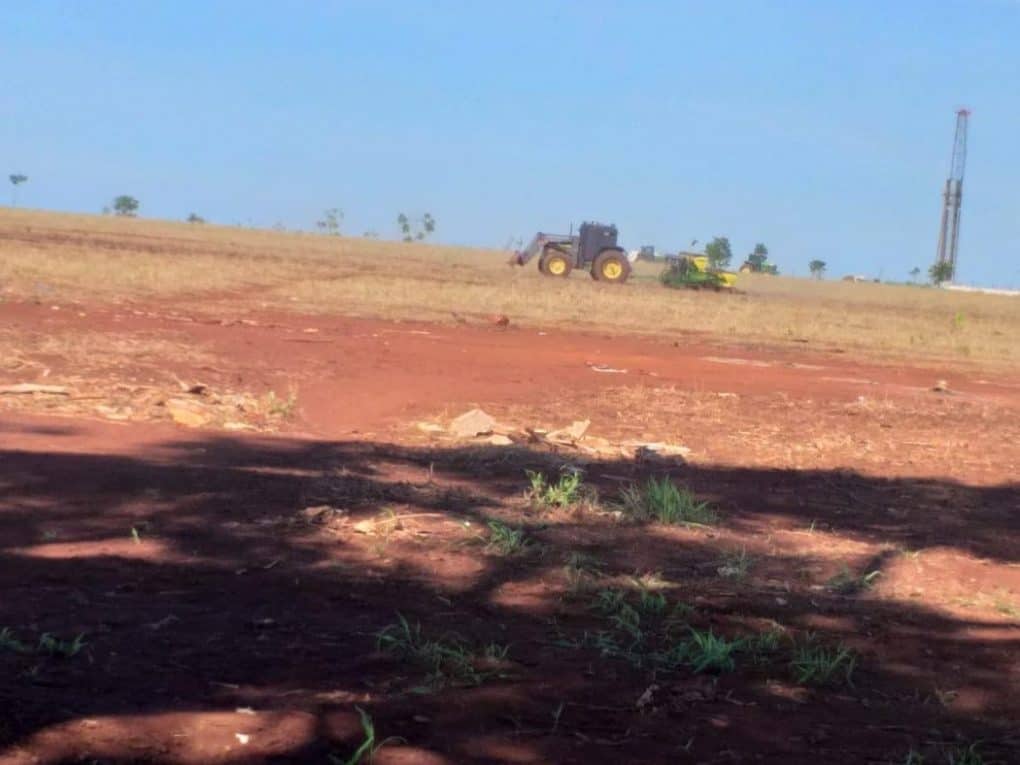 Brazil
Assault and forced eviction of Guarani Kaiowá 
Dourados Indigenous Reserve in Mato Grosso do Sul
Morning of January 16, houses of indigenous Guarani Kaiowa in Dourados Indigenous Reserve in Mato Grosso do Sul were crushed by a tractor used in planting soybeans. The houses and belongings of the residents were even set ablaze by the perpetrators after demolition. When indigenous Guarani Kaiowa tried to stop the tractors, the police came and retaliated with gunshots. The shooting resulted in one resident losing his sight and another one paralyzed.
The Dourados Indigenous Reserve is targeted by a private soy plantation company. Last January 2 to 3, Guarani Kaiowa families were assaulted by the private security guards of the company resulting in injuries of multiple residents, and a 12-year-old boy who lost three fingers after handling a dropped grenade. Given the escalating violence, the public defender's and human rights group requested police intervention but to no avail.
Philippines
Killing of IP advocate Jay-ar Mercado
Volunteer, Bigkis at Lakas ng mga Katutubo sa Timog Katagalugan (BALATIK)
Last January 25, Jay-ar Mercado was in Bulalacao, Oriental Mindoro in an indigenous Mangyan community when he was arrested and murdered by suspected state agents of 4th Infantry Battalion ng Armed Forces of the Philippines. For days, his family searched for his body going through the delaying tactics of the military and government units, and only recovered it on February 5. Mercado's death follows the Duterte government's crackdown on indigenous and human rights defenders including those who work against development aggression and militarization of indigenous communities.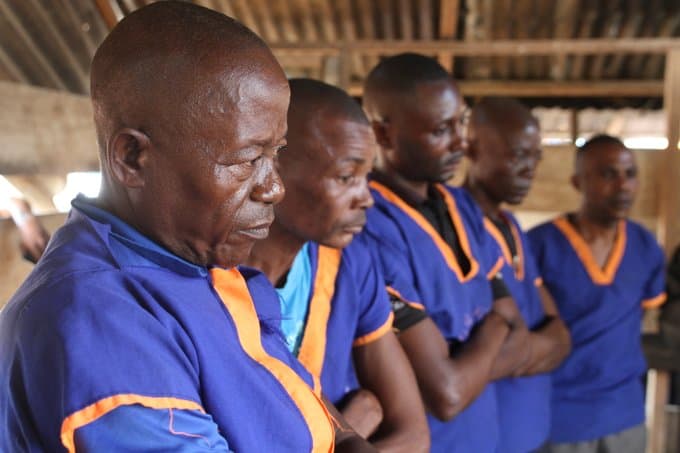 DR Congo
Illegal incarceration of five villagers
Tshopo province, DR Congo
For five long months, five villagers of Tshopo province were put behind bars without any formal charges in relation to their defense of land against Canadian palm oil company Feronia Inc. Among those arrested was the village chief of Yalifombo. Only last January 28 were the five villagers learned of their cases — damages to Feronia's property and physical injury. The villagers' arrest last September 2019 was prompted when they confronted Feronia for dumping toxic wastes, causing death and serious illnesses. Much earlier, villagers and rights group forwarded their complaints to DEG (German development bank) citing human and labor rights violations of Feronia, including the complicity of British, American and European development aid agencies supporting the company.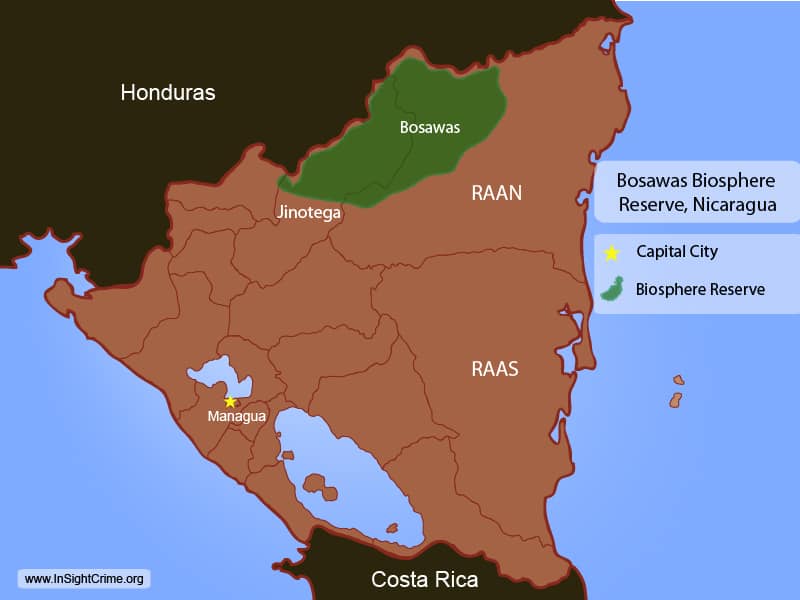 Nicaragua
Killings of Mayangna Indigenous
Indigenous Alal community, Bosawás Biosphere Reserve
Six indigenous Mayangna leaders were killed in Alal community located inside the Bosawás, Nicaragua, last January 29. The killings came after the series of attacks against indigenous communities linked to land grabbing. Two others were injured, 10 were kidnapped and 16 houses were set on fire forcing the community to evacuate. The attack was carried out by at least 80 armed men alleged to be working for illegal loggers and big cattle farmers.
Bosawás, Central America's largest and protected rainforest, is under siege with the influx of non-indigenous settlers hired by ranchers. Thousands of hectares have been illegally cleared for timber logging and gold mining while the Nicaraguan government remains slow in addressing environmental plunder and previous cases of killings, kidnapping and assault against indigenous rights.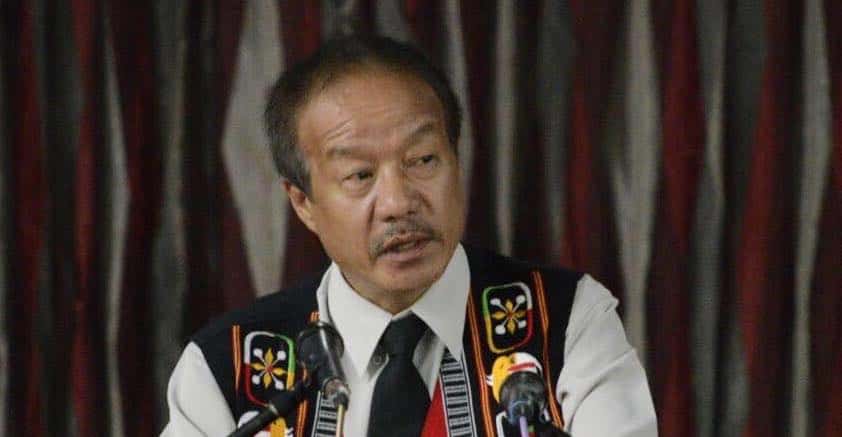 Nagaland
Travel blockade on Neingulo Krome
General-Secretary, Naga People's Movement for Human Rights (NPMHR)
On February 5, while boarding a flight to Bangkok, rights activist and general secretary of the Naga People's Movement for Human Rights (NPMHR) was prevented by the Indian Central government from traveling without any explanation. Krome is a known national and international activist speaking for the Naga movement for self-determination and human rights.
Peoples' movement in Naga, civil society groups, indigenous and human rights groups continue to assert their self-determination and territory for years. With the Peace Talks between India's Central government and the liberation movements of Naga, repression on social movements, resource plunder and economic exploitation, political and military domination have strongly affected communities and development of peace negotiations.
Costa Rica
Shooting of Costa Rican IP Defenders
Indigenous Bribri and Brörán in Térraba
Indigenous Bribri Mainor Ortiz Delgado was shot in the leg on February 9 while tilling his land in the Térraba, Salitre indigenous territory southeast of Costa Rica. Two weeks later, Yehry Helmut Rivera, from the Brörán community, was shot late at night by a group of angry mobs on February 24. Mainor Ortiz, a member of Rio Azul community, and Rivera, actively works in protecting indigenous lands facing threats of occupation from non-indigenous trespassers. Mainor Ortiz has been a constant target of harassment, death threats, and frustrated murder in 2013, 2016, 2017, 2018 and 2019. Similarly, Rivera experienced brutal beating in 2013 from illegal loggers.
The attack on Mainor Ortiz and the murder of Rivera seems to be a repeat of Bribri leader Sergio Rojas' assasination. In Costa Rica, the laws governing the recognition of the land and rights of Indigenous Peoples, and the search for justice for indigenous leaders killed, remain unsolved.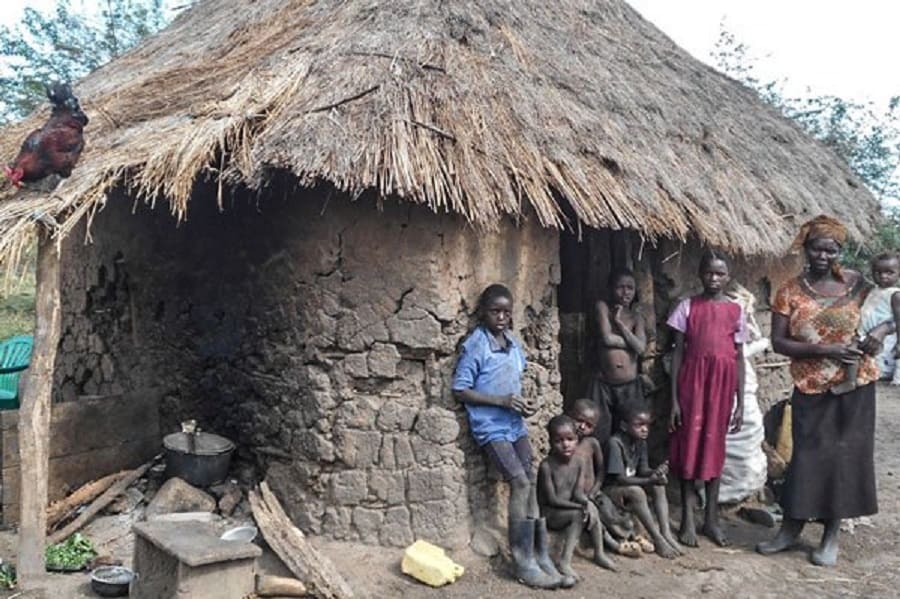 Uganda
Forced eviction on 35,000 Kiryandongo natives
Kiryandongo District, Uganda
Around 35,000 Kiryandongo natives occupying more than 9,000 acres of land were evicted in the first week of February to pave way for large scale farming. Primary schools, churches and health centers were demolished following the large-scale plantation's expansion. Agribusiness companies, including US-based Agilis Partners and its company Joseph Initiatives, are supported by the Uganda government's claim that the native's territory was an "empty space and unoccupied public land" open for private businesses.
But the natives assert customary ownership. Since 2018, reports said that companies started evicting residents without consultation, proper compensation and reported police harassment.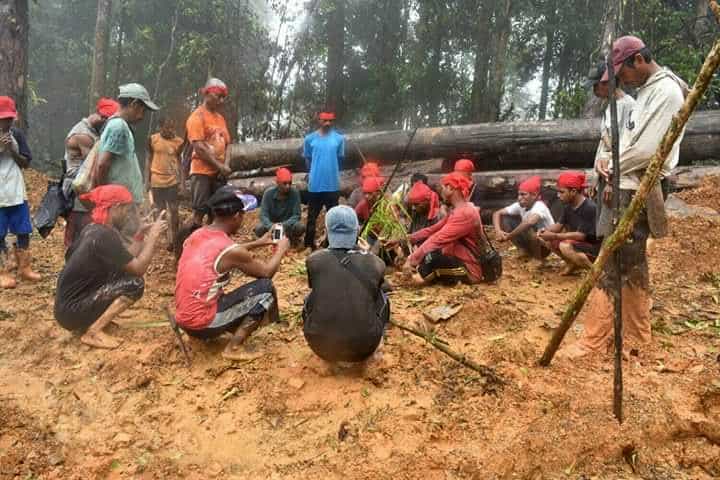 Indonesia
Arrest of Maluku indigenous
Sabuai village, Siwalat district, Eastern Seram
Twenty-six Maluku indigenous peoples from Sabuai village were arrested last February 24 after staging a protest to block a logging company operating in their customary area. Four of them were released while 22 remain incarcerated. During the blockade, Maluku indigenous protesters chained the heavy transport equipment but the police immediately arrested them. Mount Ahwale forest area in East Seram is rich in high-value wood. But this mountain is also the site of historical and legacies of residents' ancestors. Under the customary laws of Sabuai indigenous community, the logging activity is illegal, yet the forestry agency insists that the land is open for business and development.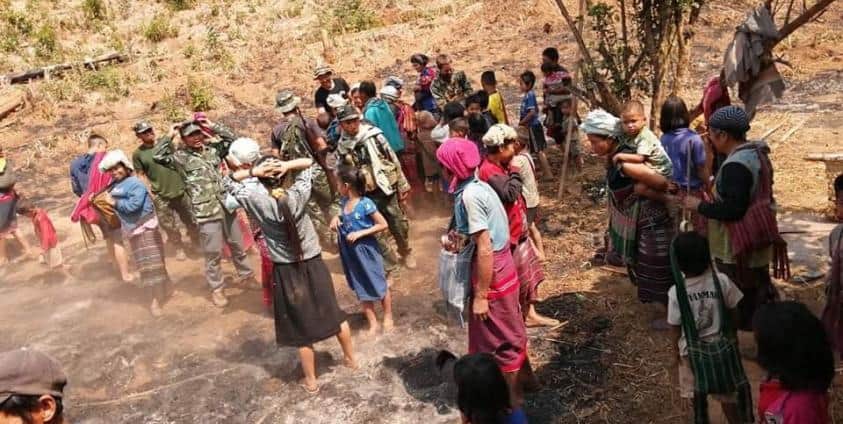 Kawthoolei
Burma Army attacks displacing 300 Karen Families
Mutraw District, Kawthoolei State in Burma
Fighting between Karen soldiers and Burma Army forced the displacement of 300 villagers this February. According to Karen National Union (KNU) Mutraw District, around 2,000 more villagers are on the brink of running to escape the fighting. The firing of artillery shells in Taku Der village, which started early February, is ignited by the Burma Army to forward the Burma government's road construction projects.
A total of 2,137 people from 253 households, including 417 children under five are at severe risk from the shelling and fighting. The KNU and Burma central government has signed a Nationwide Ceasefire Agreement, which the Burma Army violates, according to KNU.
Reference:
Beverly Longid, Global Coordinator
info@gmail.com
Complaint against unprofessional conduct of the DPC Kiryandongo district for aiding and abetting land grabbing in kiryandongo district.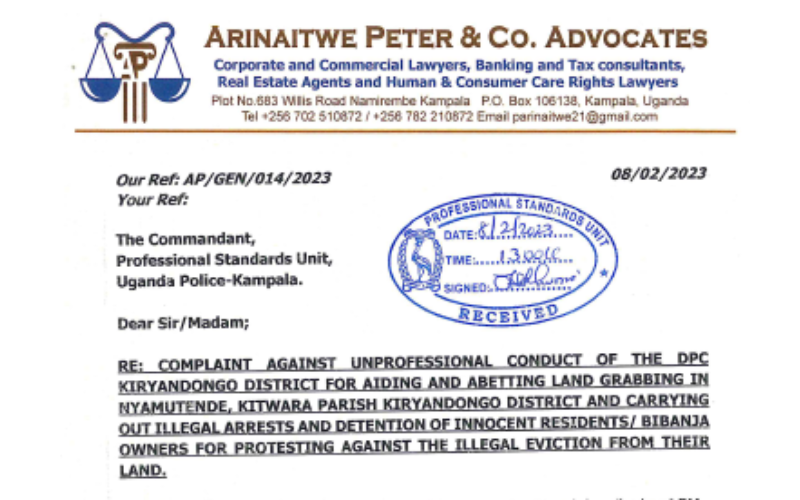 The Commandant,
Professional Standards Unit, Uganda Police-Kampala.
Dear Sir/Madam;
RE: COMPLAINT AGAINST UNPROFESSIONAL CONDUCT OF THE DPC KIRYANDONGO DISTRICT FOR AIDING AND ABETTING LAND GRABBING IN NYAMUTENDE KITWARA PARISH KIRYANDONGO DISTRICT AND CARRYING OUT ILLEGAL ARRESTS AND DETENTION OF INNOCENT RESIDENTS/ BIBANJA OWNERS FOR PROTESTING AGAINST THE ILLEGAL EVICTION FROM THEIR LAND.
We act for and behalf of the Lawful and bonafide occupants of Land described as LRV MAS 2 FOLIO 8 BLOCK 8 PLOT 22 (FORMERLY KNOWN AS RANCH 22).
Our Clients are residents of Nyamutende Village, Kitwara Parish in Kiryandongo District where they have lived for more than 30 years and sometime in 2017, they applied for a lease of the said Land to Kiryandongo District Land Board through the Directorate of Land Matters State House.
As they were still awaiting their Application to be processed, they were shocked to establish that the said land had been instead leased to and registered in the names of Isingoma Julius, Mwesige Simon, John Musokota William, Tumusiime Gerald, Wabwire Messener Gabriel, Ocema Richard and Wilson Shikhama, some of whom were not known to the Complainants. A copy of the Search is attached hereto
Our clients protested the above action and appealed to relevant offices, but were shocked to discover that the above persons had gone ahead and sold the same to a one Maseruka Robert.
Aggrieved by these actions, the Complainants appealed to the RDC who advised them to institute proceedings against the said persons, and assigned them a one Mbabazi Samuel to assist them to that effect. The said Mbabazi accordingly filed Civil Suit Noa 46 of 2019 against tne said registered proprietors at Masindi High Court challenging the illegal and fraudulent registration, sale and transfer of the subject land to Maseruka Robert.
While awaiting the progress of the case mentioned hereinabove, the Complainants were surprised to find that the said Mbabazi, instead of assisting them, he went into a consent settling the said suit on their behalf without their knowledge or consent. A copy of the Consent is attached hereto.
Among the terms of the said consent Judgment was that the residents would be compensated without specifying how much and would in return vacate the Land.
As if that was not enough, Maseruka Robert and Mbabazi Samuel are going ahead to execute the said Consent Judgment by forcefully evicting the occupants without compensation which has prompted the complainants to challenge the said Consent by applying for its review and setting aside at Masindi High Court which is coming up for hearing on the 29th March 2023. A copy of the Application is attached hereto.
Sensing the imminent threat of eviction, we also filed an application for interim stay of execution of the said consent to avoid rendering their application for review nugatory but unfortunately the same could not be heard on the date it was fixed for hearing (6th February 2023). A copy of the Application is attached hereto
On Thursday last week, three tractors being operated by 6 workers of a one Mbabazi Samuel [the very person who had been entrusted to represent our Clients to secure their Land through Civil Suit No.46 of 2019] encroached close to 50 acres of our Clients' land and started ploughing it but our Client's protested and chased them away.
We have however been shocked to receive information from our Clients that on Sunday at Mid night, 3 police patrols invaded the community in the night and arrested community members; Mulenje Jack, Steven Kagyenji, Mulekwa David, Ntambala Geoffrey, Tumukunde Isaac 15 years, Kanunu Innocent, Mukombozi Frank, Kuzara, Rwamunyankole Enock, and took them to Kiryandongo Police Station where they are currently detained.
We strongly protest the illegal arrests and detention of our Clients as this is a carefully orchestrated land grabbing scheme by Maseruka Robert and Mbabazi Samuel who are  receiving support from the DPC Kiryandongo.
The purpose of this Letter therefore is to request your good office to investigate the misconduct, abuse of office and unprofessionalism of the said DPC Kiryandongo District and all his involvement in the land grabbing schemes on land formerly known as Ranch 22.
Looking forward to your urgent intervention,
C.C The Head Police Land Protection Unit Police Head Quarters Naguru
CC The RDC Kiryandongo District
CC The Chairman LCVKityadongo District
CC The Regional Police CommanderAlbertine Region
The Executive Director of Witness Radio Uganda talks about the role played by Witness Radio in protecting communities affected by large-scale agribusinesses in Kiryandongo district in an interview with the ILC.
Witness Radio Uganda wins the best CSO land rights defenders award at the National Land Forum Awards.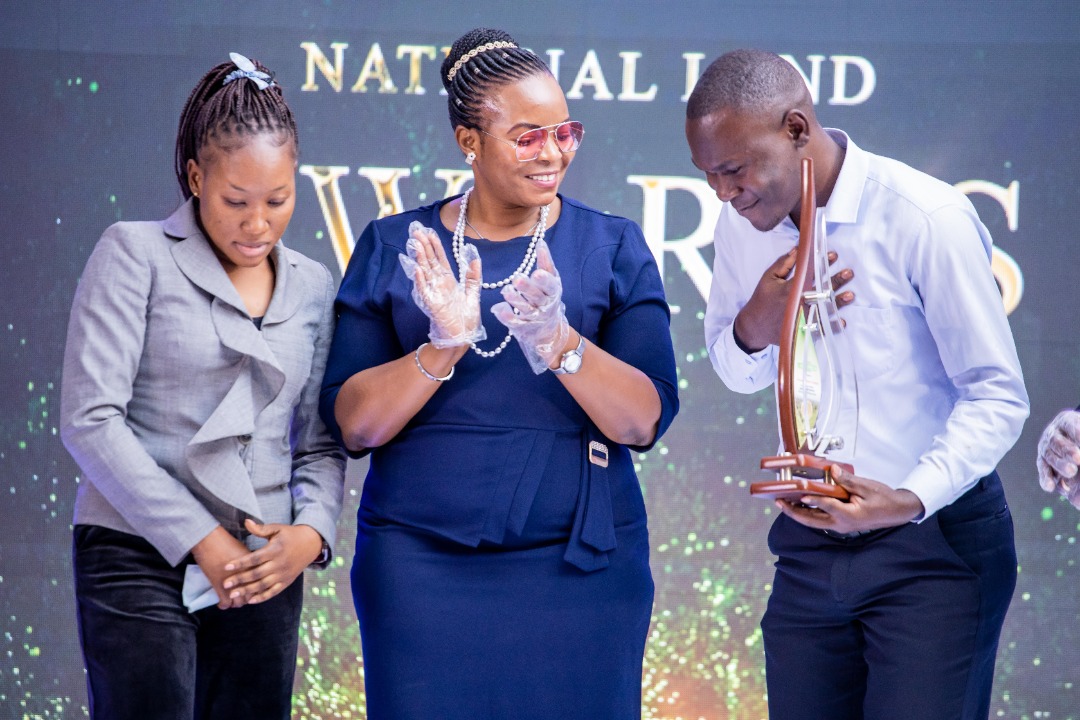 By Witness Radio Team
Uganda's leading land and environmental rights watchdog, Witness Radio has been awarded the best CSO land rights defender award 2022 in the recently concluded National Land Forum Awards held last week at Mestil hotel in Kampala.
Witness Radio's executive Director, Jeff Wokulira Ssebaggala attributed the award to the community land and environmental rights defenders who stand up against the intimidation and different forms of harassment from land grabbers (economically powerful and politically connected companies and individual investors).
"This is an award for defenders at a community level. They work in very deadly environments filled with harassment, torture, death threats, arrest, trumped-up charges, and kidnaps among others to advocate for community land and environment rights. This is happening at a spate where criminalization and silencing of  community land rights defenders are at increase." Jeff added.
The award has come at a time when hundreds of Ugandans in different parts of the country are accessing services provided by the organization ranging from legal service provisions, non-judicial mechanism engagements, empowerment to help them understand their rights, and using the same knowledge to use the same skills to push back against illegal and forced evictions
The chairman of the organizing committee of the second National Land Forum, Mr. Jimmy Ochom noted some progress on legislation in Uganda's land Governance. He cited growing inequalities on land where the poor are more vulnerable.
During awards, the state minister for housing, Hon persis Namuganza revealed that the government approved the plan for 2018-2040 that maps the land use in the country.
According to the minister, the government had identified land for settlement, game reserves, wildlife, arable land for farming, and water bodies among others in the plan which she said was passed a few weeks ago.
The event was organized by Oxfam and partners and provided a platform for discussions by the different actors in the land sector on issues around land governance, including land rights, land administration, and land governance for improved collaboration, cooperation between the actors, and improved land service delivery for Ugandans under a theme "Taking stock of the National Land Policy in addressing Land inequality in addressing Land inequality in Uganda."
Other categories of awards that were won by different organizations and individuals including Mr. Eddie Nsamba-Gayiiya for his contribution to research on land rights, Justice Centers Uganda for Promoting Access to Land Justice, and Mr. Henry Harrison Irumba for Championing Legal Reforms among others.