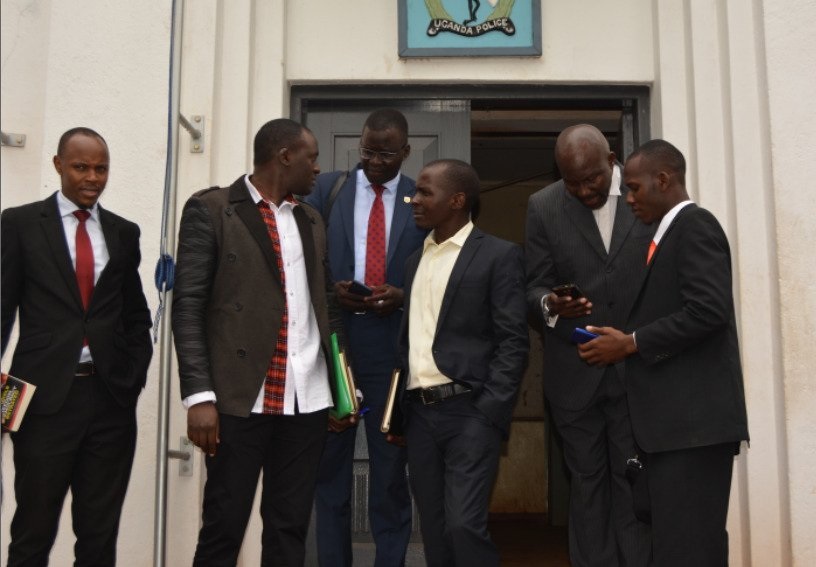 By witnessradio.org Team
Kampala/Mubende – Justice Joseph Murangira is the complainant in the case in which city lawyer Eron Kiiza is accused of libel at the Criminal Investigations (CID).  For weeks, Kiiza who is representing over 3000 inhabitants who were forcefully if not violently evicted from their land covering five villages in Mubende district had sought to know who is the complainant in his case was but police weren't forthcoming.
Last, week Kiiza through his lawyers led by Daniel Walyemera pointed out that legally their client has a right to know his complainant(s) and other important details.
Today, the September 30th, while appearing with his battery lawyers this time led by human rights lawyer Nicholas Opiyo, before the CID detectives in Kibuli, Kampala, Kiiza said he was exhausted of speculating and he demanded to know who the aggrieved party was since he said it would help him prepare his defence sufficiently.
"I can only guess who the complainant is or are. It can be related to the Mubende people I'm representing," Kiiza told the press outside the CID offices moments before he could faceoff with the detectives, "It can be related to the Rwandan people I'm representing here in Uganda."
Amidst a heavy downpour, the detectives kept on rescheduling the meeting nonetheless hours later they capitulated and it finally happened.  And they eventually had to let the cat out of the bag. They revealed that Justice Murangira, the resident judge of Mubende district, was the complainant.  Murangira's issue with Kiiza, detectives said, has everything to do with the lawyer's Facebook posts in which he asked the judge to recuse himself from the case citing apparent bias.  
Murangira's modus-operandi has come into the spotlight ever since he fled court when this particular case came only to order his bodyguard to come and indefinitely adjourn the matter
Ever since Kiiza and his legal team got instructions to represent vulnerable communities he has received numerous threats. From within and without.  The first threat, paradoxically, came from the president of Uganda Law Society, Simon Peter Kinobe, a person who was expected to defend him. Kinobe ordered the indefatigable Kiiza to pull down his contentious Facebook posts but Kiiza responded with a big no.
A lot is at stake in the case:  Kizza's clients lost their livelihoods to one George Kaweesi and his hoodlums who were being protected by the Mubende police.  The land they lost to Kaweesi was the second to be lost by these victims. In 2001, they lost a huge chunk of land to Kaweeri Coffee Plantation limited owned by Neumann Coffee Group based in German.
On Wednesday, this week, Kiiza will have another showdown with the detectives since he will be recording his statement and he has said he will be ready. "I'm not going to stop defending human rights," he insisted, "They want me to go into commercial law. But my training is to defend human rights. And I will be ready for the statement on Wednesday."
Noteworthy,  earlier this year,  the Constitutional Court led by Deputy Chief Justice Alfonse Owiny-Dollo,  struck out sections of the Police Act that require suspects to provide evidence to police during questioning.
In an April 18 unanimous decision, the judges also said a penalty provided in the Police Act against suspects who fail to honour summons or produce documents required by interrogators is unconstitutional.