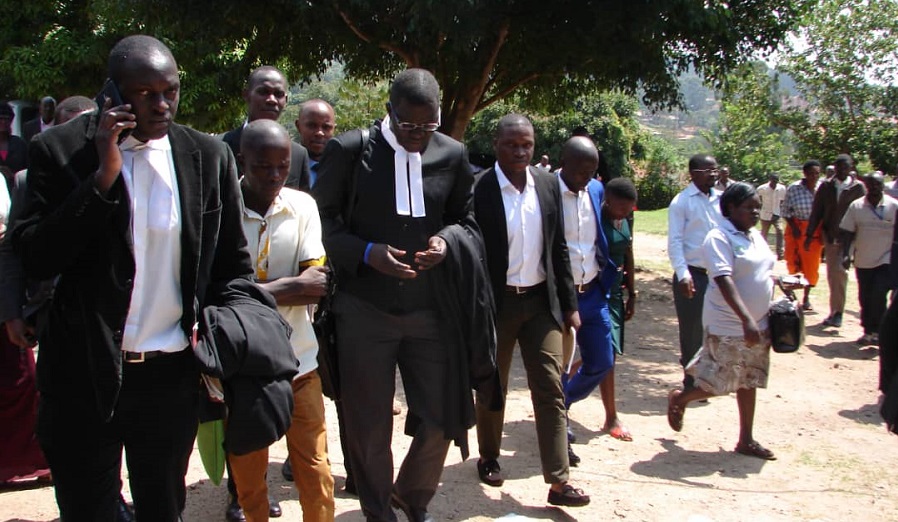 By witnessradio.org Team
Human Rights Lawyers representing over 3000 people challenging their illegal eviction from five villages in Mubende district have protested the manner in which High Court judge Joseph Murangira is conducting this do or die case.
Justice Murangira, the now Mubende district resident judge, has over the years been accused of being corrupt and he is now facing multiple investigations including one led by Bart Katureebe, the Chief Justice and Judicial Service Commission (JSC)- over his integrity.  During the last court appearance, Justice Murangira refused to come to court and instead relinquished his role to his body who adjourned the case and now the lawyers led by Ms. Kiiza & Mugisha advocates have pounced in this.  The lawyers assert that the decision by Murangira to assign his role to his bodyguard to preside over a court case is not only queer but it's as illegal as they come.
In the letter, dated July, 16th, 2018, the lawyers quote the police officer who presided over the court on July 7, 2018, as saying, "there's no court today instead go to Chief Justice to give you a new date to hear your case."
In a letter copied to the Mubende High Court Registrar, the Chief Justice, Yorokamu Bawmine, the Principal Judge, JSC, and all the respondents, the lawyers are now requesting for a new hearing date.  They have proposed that they should be back in court on July 25, 2019 "to not only enable court complete the house cleaning process but also ensure that their clients are not unfairly thrown into further abeyance".
They also request that the production warrants be signed to enable their clients to attend court on a new hearing date. According to court records, up- to 28 community land rights defenders are under key and lock since they are facing nine preposterous charges including aggravated robbery.
As a result of those charges, John Ssettimba and 23 others filed a civil suit against George Kaweesi, the investor, Martin Okoyo, the Mubende District Police Commander and the Attorney General accusing them of illegal and forceful eviction.
The applicants demand that court to orders their tormentors to return their ancestral land and also be compensated in damages since their rights have been trampled upon as a result of the respondent's actions.