Estate manager grilled for illegally evicting 70 households in Kassanda district
By witnessradio.org Team
Nicholas Kabagambe, a resident of Mengo in Kampala has come under fire from the Land Commission for evicting 70 households in Kassanda District. Kabagambe told the Commission Chaired by Justice, Catherine Bamugemereire that in 2010 Moses Kiwa Ssebunya introduced him to Kisibika Estate in Kalwana Sub County in Kassanda District.
He explained that Ssebunya's family claimed to own over 600 hectares of land on Sling block 410 plot 5 found in f Kitagonerwa and Kabakonjo Villages. According to the sale agreement presented by Kabagambe, Issa Moses Kiwe Ssebunya, the father to Moses Kiwe Ssebunya bought the land from Sande Kikomeko in 1975 at Shillings 10.000.
Kiwa Sebunya reportedly took him to the land as an estate manager tasked with executing different duties including locating the land through surveying and opening boundaries and clearing it of illegal occupants.  Kabagambe says that he made a gentleman's agreement with Kiwa Ssebunya that he would be rewarded 200 hectares of land upon completion of the task.
Kabagame implicated himself with a letter signed by Kiwa Ssebunya on January 13th, 2013 in which he expressed for the work well done by giving him 200 hectares of the estate. The letter particularly indicated that Kabagambe successfully evicted 70 households using the judicial system of Uganda.
However when tasked to present any document from court that permitted them to carry out the eviction, Kabagambe tabled court summons issued by the Mubende magistrate's court against Bibanja holders following an application by Kabagambe and his boss.
Commissioner, Mary Ochan grilled him for disrupting the peace of 70 households by illegally evicting them from their land.
Kabagambe attempted to explain in vain that some of the Bibanja holders were compensated.  He didn't present a single document to that effect despite insisting that the Bibanja holders signed consent forms. He told the Commission that some of the Bibanja holders returned to the land after being compensated.
However, earlier testimonies by the victims indicated that over 300 households have been evicted since 2010, many without compensation. Others were asked to choose between accepting compensation or vacating the land without pay.
Commissioner Robert Ssebunya brought this to the notice of Kabagambe who insisted that over 58 bibanja holders were compensated.
Earlier witnesses like Badru Mukuye, Resty Namakula and Ronald Kalemba told the Commission that Kabagambe spearheaded the evictions that were characterised with a lot of suffering.
The residents accused the Kabagambe of demolishing their houses, harvesting their crops, grazing animals in their plantations, beating them and sometimes raping women.
Kabagambe refuted the claims with a smile, which angered Commissioner Ochan.
Ssebunya's ownership is contested by the family of Zabuloni. The Administrator of Zabuloni family Ronald Kalemba says the family owns about 3.5 square Miles of Land.
They say the land belonged to their late grandfather, Zabuloni Bakyayita. Bibanja holders who appeared before the Commission recognize Zabuloni's family as their land Lord.
The World Bank project affected persons have petitioned the court seeking to halt an illegal eviction by capital authority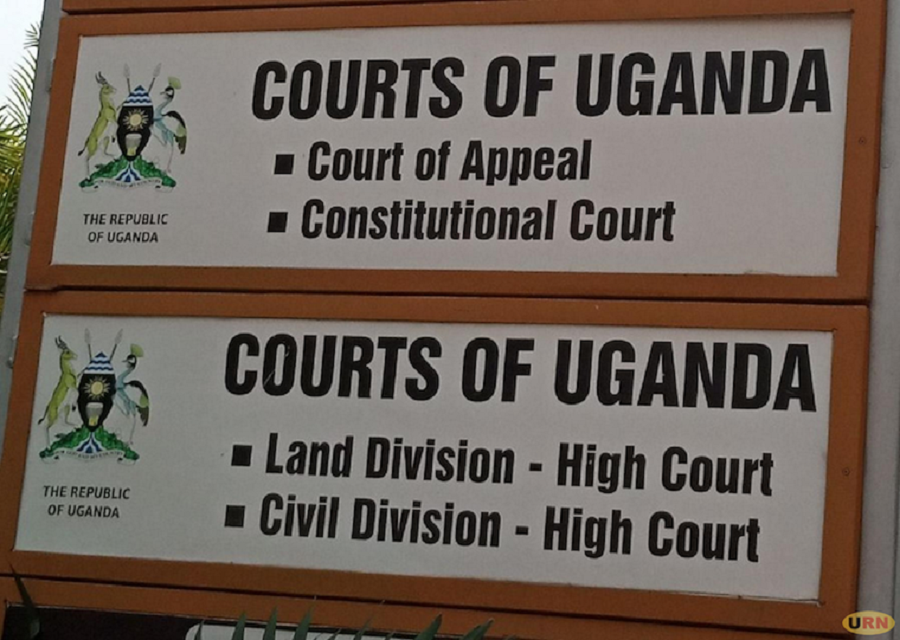 By witnessradio.org Team
Kampala – Uganda – more than 300 families at Kawaala Zone II, Lubaga Division in Kampala district have today, the 11th January 2021 petitioned the court seeking to restrain the Kampala Capital City Authority (KCCA) from illegally evicting them off their land, which they have lawfully occupied and cultivated for decades.
The affected families through Witness Radio lawyers accuse KCCA of hiding under the Public Health Act to issue a demolition notice targeting all properties on the land to give way for construction of a multi-billion drainage channel, which is funded by the World Bank. KCCA is established by an act of Parliament and it's responsible for the management and administration of the capital city.
Specifically, KCCA is using section 72(1) cap 281 of the Public Health Act, to force them off their land without consultation, sensitization, property valuation, and compensation claiming that they (residents) illegally constructed their houses in a wetland.
The court action follows Witness Radio and the affected attempted to engage KCCA over the irrational decision however efforts to hear from them were futile.
In 2015, KCCA acquired USD 175 million loan from the World Bank and the International Development Association (IDA) for Kampala Institution and Infrastructure Development (KIIDP) project. However, part of the money (USD 17.5 million, which is 63 billion Uganda shillings) was earmarked to construct Lubigi Primary Channel and it's being used to dispossess poor urban communities without consultation, sensitization, and infringed communities' right to know and access to information.
The 2.58 Kilometers project expected to end later this year, stretches from Bwaise roundabout to Hoima road, southwest of Kampala.
The eviction is taking place at the time when the government of Uganda halted all land evictions during the COVID 19 pandemic and the determination of KCCA to forcefully evict the urban poor raises many legal questions.
The victims want the court to issue an interim order and temporary injunction to restrain KCCA from implementing the decisions that are being challenged.
Renewing demand for justice; the 28 land rights defenders have applied for bail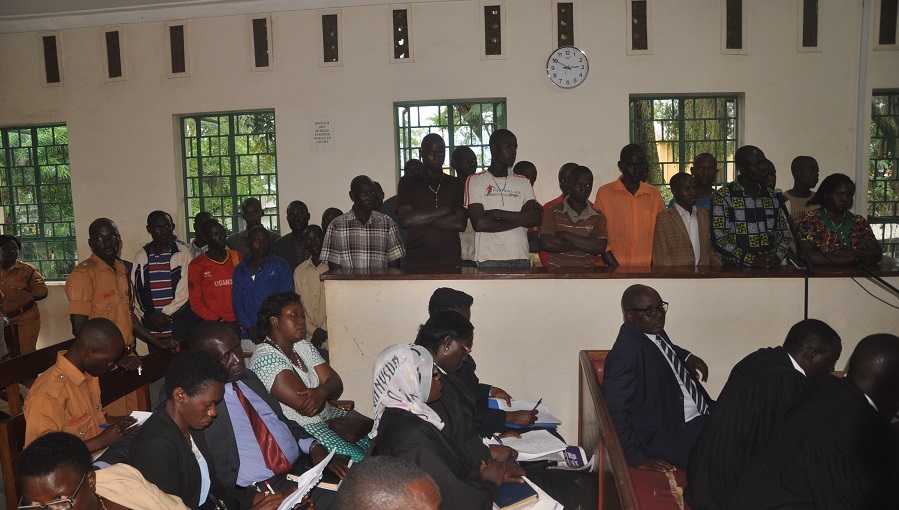 By witnessradio.org Team
Mubende – Uganda – the defense lawyers of the 28 community land rights defenders have filed new applications for bail at Mubende High Court after spending 3 years in prison.
The 28 include two staff members of Witnessradio.org's Nantubiro Grace and Mugwabya Ronald.
Others are; Mugisha Focus, Ssekamana Kaloli, Mwikirize Keleti, Ssewanyana Kizza John, Tumwine Moses, Bigirwa Gilbert, Mulindwa Tadeo, Kayesu Patrick, Kyalimpa Tobias, Mugisha Stephen, Mwesigye John, Kiiza John Bosco, Byakatonda Aroon, Manirikiza Elidefunce, Tabalamule William, Kobwemi Christopher,  Kiwanuka Emmanuel, Senkula Charles, Ssemombwe George, Musinguzi Paul, Biryomumisho Fred, Maniriho Forodis,  Habimana Ernest, Byaruhanga Emmanuel, Mwesigye Julius and Kezaala Saul.
They are facing 9 counts including murder, and aggravated robbery among others.
The prosecution alleges that on October 12, 2018, the accused at Kambuye-Kanseera, Mubende district, killed and robbed Yunus Kasajja Tabu of his three mobile phones.
Late Tabu allegedly died during a fight with land grab affected community whose assailants are still unknown. Tabu was a manager of local businessman one Kaweesi George, under the protection of police grabbed 322.5 hectares and violently evicted over 3500 lawful occupants on Block 168; Plot 19, 22 and 23 covering five villages namely; Kambuye, Kikono, Kyabaana, Kanseera and Lwensanga in East Division, Mubende Municipality, Mubende district. The land is adjacent to Kaweeri Coffee Plantation is covering on.
However, police carried out a random arrest and targeted land rights defenders and activists that were mobilizing and empowering the landgrab affected community to resist an illegal and forceful eviction.
In January 2019, the attempt to get bail for witnessradio.org's Nantubiro Grace and Mugwabya Ronald was denied High Court in Mubende's justice Joseph Mulangira.
According to officials at Mubende High Court, bail applications will be heard this afternoon.
More than 800 families face eviction, petition district land Board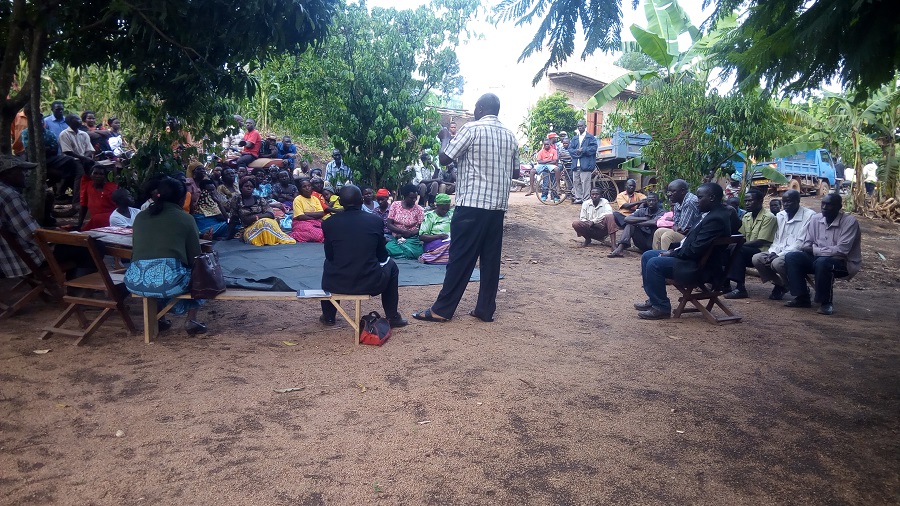 By witnessradio.org Team
Mubende – Uganda – More than 800 families from Kyamukoona, Kijojolo and Kalagala villages- Mubende District have petitioned the district land board to immediately cancel the land title that was fraudulently issued out to one Samuel Wambi Maamali. They explain that the cancellation will avert the looming eviction.
The lease was issued out on August, 1st 2015, a process the community regarded as fraudulent because the title was acquired from the center (Land Commission), which contradicts the legal procedures of acquiring a freehold title.
The community members stated that the person who fraudulently acquired a land title never consulted the area, parish and sub-county land boards that should have advised and guided on whether the land was lawfully being occupied and cultivated.
The residents revealed that they have occupied the land for more than 40 years, and it houses government-aided schools, hospitals, churches, and several vital infrastructures.
It is reported that the residents, local leaders, and Maamali held a meeting in 2019 in which (Maamali) said he was not interested in the land because his initial interest was on a land situated at Kalingo LC1 Mugungulu Parish- Bagezza Sub country –Mubende district not that of Kyamukoona. He later asked the residents to refund the money (UGX 200, 000) which he claims having used to survey and demarcate the 1.5 mile land, which they without hesitation accepted.
However, Maamali overturned the meeting resolution as he has since issued the residents with an eviction notice.
"I have occupied this land for the last over  40 years, well knowing that this is public land but I was astonished to learn that the District Land Board went ahead and illegally processed a land title for block 240 Plot 12, which is totally wrong" Bwambale reveals.
Ahimbisibwe David, a resident of Kijojolo Cell says "I wanted to formalize my land ownership. I was shocked to learn that it was already surveyed by an unknown person in the area".
It is alleged that the district land board has previously leased out people's land to tycoons without following proper legal procedures.