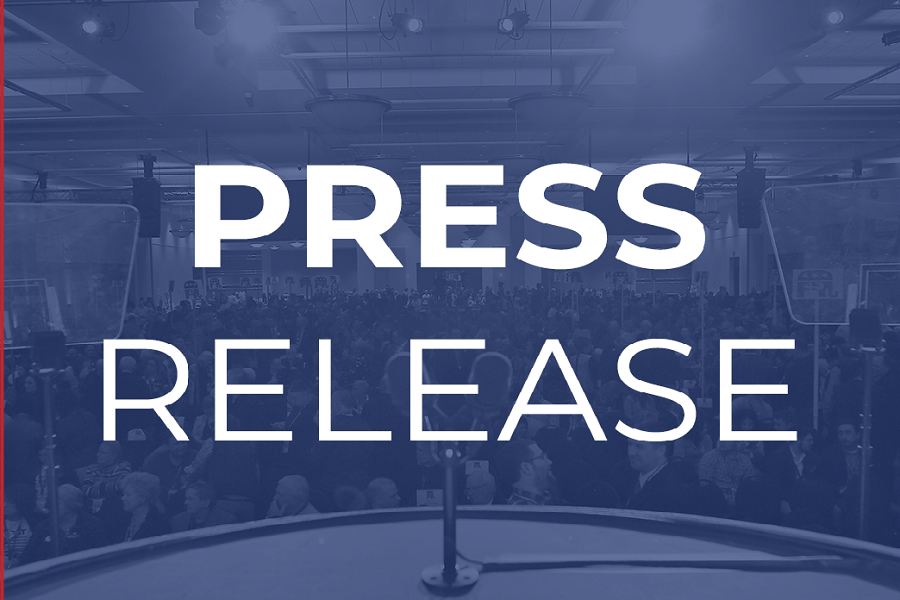 Kampala-Mubende, 19th/01/2019; witnessradio.org, a civil society organisation advocating for natives' land rights has petitioned the office of the Inspector General of Police and Police's Professional Standards Unit, calling for independent investigations into the role of Mubende district police boss ASP Martin Okoy and the entire district police's leadership in aiding illegal land evictions that have caused loss of lives, loss of properties, causing imprisonment of members of vulnerable communities and displacing thousands off their land in Mubende district.
According to witnessradio.org, dozens of illegal land evictions cases documented every year from Mubende, 90% have been aided by Mubende police, the latest being Kambuye land registered on Block168, Plot 19, 22 and 23.
Under the watchful eye of Mubende police, Kaweesi George and his agents have violently evicted over 3500 people from five (5) villages of Kambuye, Kikono, Kyabaana, Kanseera and Lwensanga in East Division, Mubende Municipality in Mubende district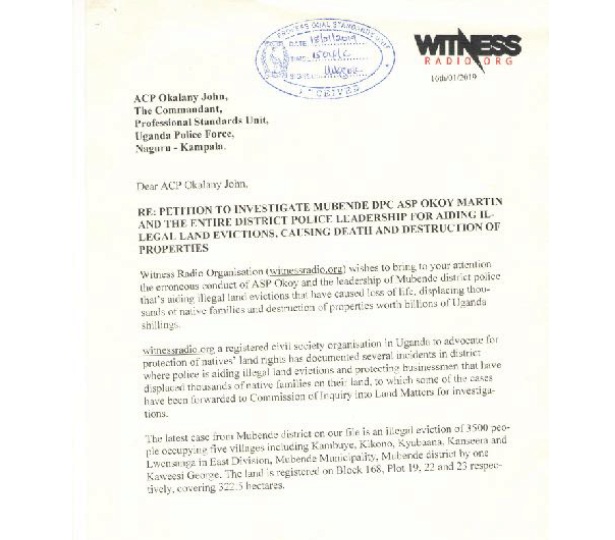 Image: Petition to the Police
According to Article 211 of the Constitution of the Republic of Uganda cites key functions of Uganda Police Force including (a), to protect life and property; and (b), preserve law and order. While Article 237 of the same Constitution states that "Land in Uganda belongs to the citizens of Uganda and shall vest in them in accordance with the land tenure systems provided for in this constitution"
In a petition to the police leadership, Witnessradio.org cites double standards by police boss Okoy and district police leadership, accusing them of aiding protection to George Kaweesi and his casual laborers that disregarded lawful acquisition of land which resulted into causing chaos, death, loss of properties and displaced thousands of native communities from their source of livelihood.
The selective application of the law by ASP Okoy and Mubende district police leadership has caused the arrest of 26 people who believed to be anti illegal eviction and they have been charged with trumped up capital offences and currently on remand. Those on the list of detainees include; Nantubiro Grace, Mugwabya Ronald, Mugisha Focus, Sekamana Kaloori, Mwikirize Keleti, Sewanyana Kiiza John, Tumwine Moses, Bigirwa Gilbert, Melinda Tadeo, Kayesu Patrick, Kyalimpa Tobias, Mugisha Stephen, Manirakiza Elidefunce, Kiiza John Bosco, Byakatonda Aroon and Mwesigye John among other ten prisoners.
"We demand that Mubende police leadership under the command of ASP Okoy be investigated, be held responsible for causing death, destruction of homes and properties and be prosecuted for allowing Kaweesi's agents (casual laborers) to return to the disputed land at night after being withdrawn and taken to Mubende police for custody as a resolution for a meeting held on October 8th, 2018 at Kambuye." Said Geoffrey Wokulira Ssebaggala, Executive Director, Witnessradio.org
Ssebaggala also insists that the purported investor Mr. George Kaweesi and his agents be arrested and charged with causing the displacement of over 3500 people from their source of livelihoods and failing to adhere to guidelines of land acquisition stipulated in different pieces of Uganda's land laws including the land Act, 1998 as amended.
The petition to police leadership demands that punitive actions be taken against those found guilty and investigations must also be conducted to establish circumstances under which Kaweesi George obtained a certificate of title on a piece of land which has several sub titles without any signed transfer form from original landlords.
Witnessradio.org demands that the police leadership must put a stop to the growing number of members of the community who are selectively being arrested, charged and remanded to prison which has risen from 16, on 9th/January to 26, by 15th/January/2019.
Signed by,
Geoffrey Wokulira Ssebaggala
On behalf of witnessradio.org