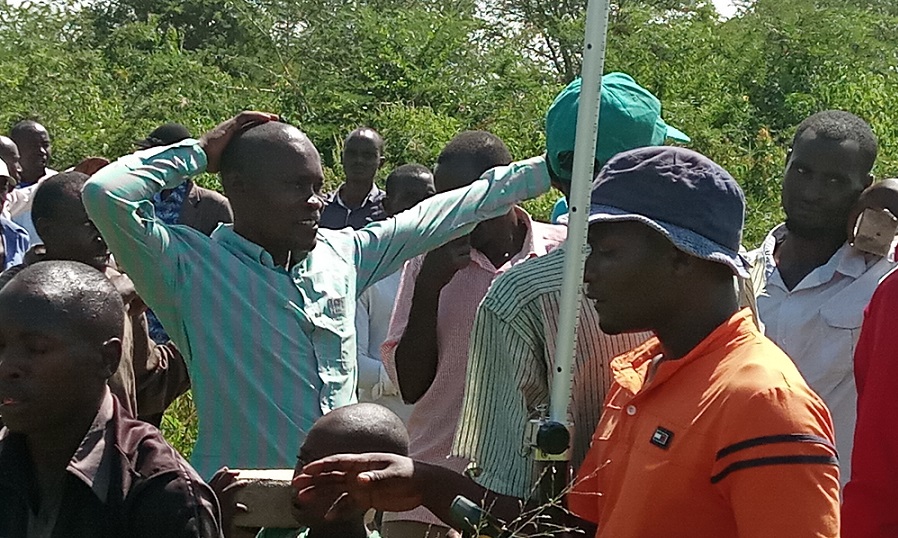 Bukenya Paul in a green shirt
By witnessradio.org Team
Having been sentenced to three years in prison by the Mubende Chief Magistrate's court for attempting to murder a one Matia Muhanguzi, Bukenya Paul never knew that he would lose his land to his former accuser.
After serving six months of his jail sentence, Bukenya received Muhanguzi in prison and coerced him to surrender his land and that of the 400 families in the exchange of aborting his jail sentence. According to Bukenya, Muhanguzi promised to ask the Directorate of Public Prosecutions (DPP) to pardon him if he agrees to freely give away both his and the community land. This is simply untenable under the law since Bukenya is already a convict and could only obtain his freedoms  if his appeal at the High Court is successfully.
Though this was sheer trickery,  documents that witnessradio.org has obtained  show that Bukenya fell for Muhanguzi's scheme. On December, 31, 2018, while Bukenya was holed up in Kaweeri government prison, Muhanguzi gave him visit and consequently made him to sign an agreement in which the convict (Bukenya) surrendered his land and that of 400 families to Muhanguzi.  
Bukenya insists that the charges were trumped up. According to him, the real reason as to why he was arrested  and consequently convicted was because he led community at Nabisisi village, Kyayi parish , Kasanda District in resisting Muhanguzi' move to evict  them from their land which is approximately 3 square -miles. It's Bukenya's assertion that Muhanguzi wants to evict over 400 families from their land. Bukenya himself has 80 acres of land  which he has been using to obtain a livelihood- farming.
The purported agreement, which was written in  Luganda, shows that Muhanguzi had powers over the land to the extent  that he was now giving away 5 acres of land to fishermen of Kyayi landing site.  These acres are curved from Nabisisi estate block 427, plot 73 found in Kyayi estate, Nabisisi.
Simeo Nsubuga, the   Kasanda South Member of parliament together with Kaweeri prison authorities were present as witnesses when this bizarre agreement was being signed, sources familiar with this case told witnessradio.org.  
The agreement, which was signed while Bukenya's wife and his nine children are in Muyinayina prison also facing frivolous attempted murder charges, says that Muhanguzi had done Bukenya's family a favour.  This favor, is in respect to the fact that Muhanguzi , in the agreement ,claims to have donated 20 acres to Bukenya and his family. Shortly after Bukenya signed the agreement, sources say Muhanguzi who was aided by Kaweeri prison authorities , sneaked Bukenya out of prison,  purposely to do a locus visit on his land.
"Mr Matia Muhanguzi  is going to make a statement to withdraw all the charges from court and police. Furthermore the court and the DPP will rely on the statement to free prisoners who are now held at Kaweeri prisons who include  Paul Bukenya," the agreement written in Luganda reads. The agreement also states that Bukenya who was serving the jail term of three years should be freed since they had buried the hatchet, apparently.
Under the guise of saving him from prison, Bukenya says that he was forced to sign the agreement.