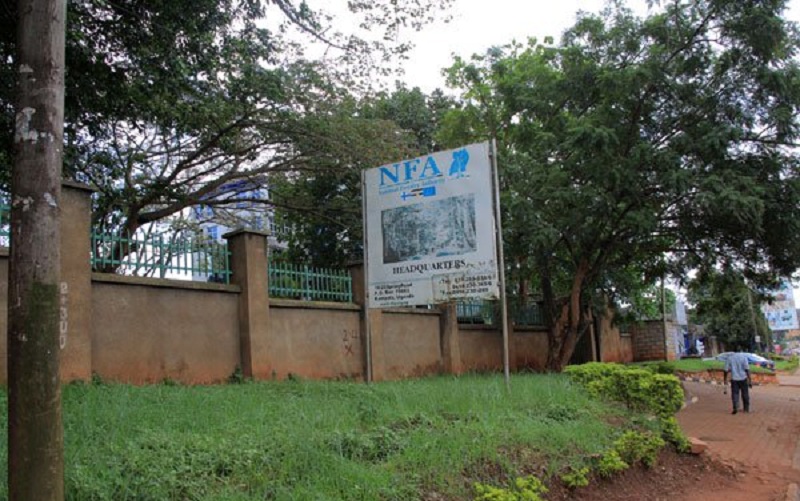 KAMPALA. President Museveni has ordered the National Forestry Authority (NFA) to find at least four acres of land at its headquarters in Bugolobi for giveaway to an investor, Daily Monitor has learnt.
Sources told Daily Monitor on Monday that officials from Ministry of Lands had already started surveying the NFA land to ascertain "availability of four acres" to give out to SICPA S.A, a Swiss firm.
SICPA S.A, according to an online search, is "a trusted global provider of security inks as well as secured identification, traceability and authentication".
"The surveyors came [on Monday] and surveyed the land. They wanted to see if the four acres of land are available and then advise. This is a Presidential directive," said a source at NFA who declined to be named.
On March 25, President Museveni wrote to Minister of Water and Environment Sam Cheptoris, instructing the ministry to avail at least four acres of land to SICPA S.A to help the Swiss company build a "digital tax" processing centre in close proximity to Uganda Revenue Authority (URA). Mr Museveni's letter refers to a Cabinet meeting held in Entebbe on January 28.
"The Cabinet was briefed on the implementation of Digital Tax Stamp programme, and the quality and conformity assurance programme, both being implemented by SICPA S.A of Switzerland, through the Uganda Revenue Authority," the President wrote in a State House-headed letter.
"In the discussions held with the chairman and CEO of SICPA on the same day, it was agreed that SICPA S.A would invest in the state–of- the-art operation and processing centre, from which they will prepare and code all stamps to be used by URA," Mr Museveni's letter reads in part.
The President justifies the preference for the NFA land because it is near the URA offices, citing security reasons.
"The centre will be the tract and trace operations hub for the region. SICPA will also service and supply its customers in East Africa and beyond from the facility with digitally coded stamps. I was briefed on the security requirements of the operation, and the necessity to be located in close proximity to URA headquarters," Mr Museveni further states.
State House confirmed the authenticity of the letter.
However, sources who spoke to Daily Monitor on condition of anonymity were wary that NFA land is diminishing and the forestry authority will ultimately have no land left. They said previously NFA had much bigger land but following successive giveaways, it has shrunk to just 10 acres now. They said NFA virtually does not have the four acres to give SICPA, but they are fumbling with how to comply with the President's directive.
Ms Aisha Alibhai, the NFA spokesperson declined to comment on Mr Museveni's directive, saying the letter was not addressed to NFA but rather to Mr Cheptoris who was unavailable as he could not answer our calls.
The URA has already contracted SICPA to provide digital stamps, a deal which has attracted protests from manufacturers who say the installation of e-stamps will increase the cost of production.
Digital Tax Stamps are physical paper stamps applied to goods or their packaging containing, among other things, security features to prevent counterfeiting, tracking capabilities for URA to monitor compliance of the product to curb tax evasion and increase revenue collection.
According to URA, besides the digital stamps helping them check tax evasion, customers too will benefit.