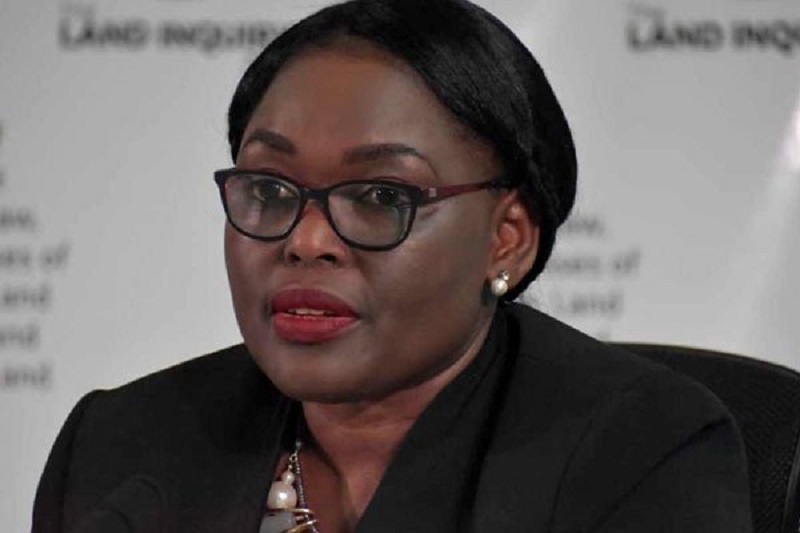 Justice Catherine Bamugemereire addressing journalists in Kampala on November 8, 2019. PHOTO BY RUTH ANDERAH 
The commission of inquiry into land matters chaired by Justice Catherine Bamugemereire has closed its public hearings today (November 8) after 30 months of probing into the acquisition, administration, registration and management of land in Uganda.
Justice Bamugemereire told journalists on Friday that the commissioners, who include Rose Nakayi, Mary Oduka Ochan, Robert Ssebunya, Fred Ruhindi, George Bagonza Tinkamanyire and Joyce Habaasa Gunze, will embark on writing their report and submit it to President Museveni.
She said about 7,767 complaints had been registered with the commission as of November 8, 2019. Of these, about 50 percent are related to land grabbing, evictions, corruption and fraudulent practices in land.
"The main investigation we have been handling is trying to answer the land question in Uganda. The land question in Uganda remains unanswered from the precolonial, colonial and current time. We have inquired broadly and that inquiry had led us into looking detailed question how area land committees, District land boards, Uganda Land Commission and related bodies administer and then how the office of the commissioner of land registration registers land in Uganda," Justice Bamugemereire told journalists in Kampala on Friday.
She also said her commission had saved the government over Shs1 trillion which would have been spent on irregular payments and compensations, among other interim achievements include saving titling of protected areas such as forests and wetlands. Other interim achievements by the commission included highlighting the inhumane way evictions are done which triggered the judiciary to issue new land eviction guidelines.
"We have had hundreds of public hearings a few thousand witnesses. In our time as a commission of inquiry, we have been able to save the government of Uganda over Shs1 trillion in irregular payments. We have exposed and halted what would have been titling in wetlands, forests and lakes and wildlife conservation areas. Over 160 titles in Kinawataka, Namanve and Nambigirwa wetlands, Mugomba Central Forest, Bunda Central Forest. This commission was able to discover irregularities in the payments of land funds. We were able to save billions of shillings which would have been illegally paid out," she added.
However, Justice Bamugemereire noted that throughout their 30-month journey of broadly inquiring into the land question and dealing with norms, customs and beliefs of various people, she has found out that conflicts are caused by the way people look at the land.
"This commission has heard situations where we have seen conflicts; physical and sometimes hypothetical. We have dealt with situations of power differences where we have many people who come to us being indigents; what would be called legally indigents on one hand and on the other hand, we have had powerful people who have access to power, money and elements of coercion and can cause the physical taking of land and many times, this commission has stood in between," she added.
The commission's first tenure was six months and ended on November 9, 2017. President Museveni renewed it upto May 9, 2018. It was again renewed for 18 months.