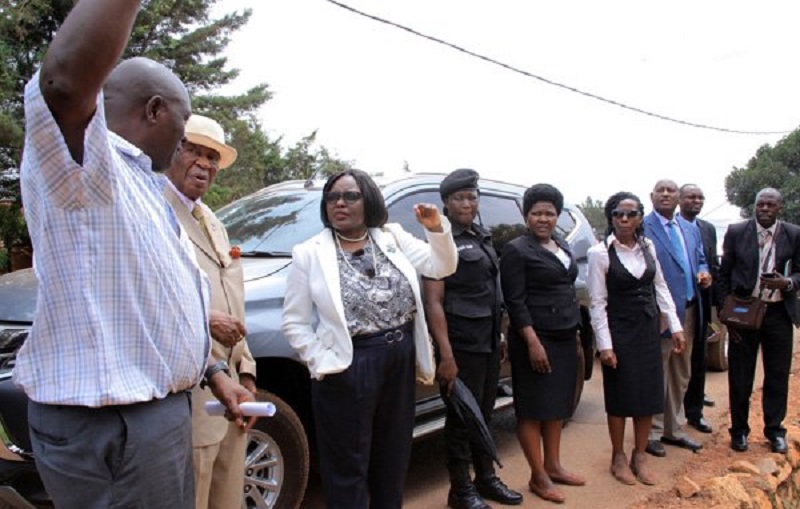 Inspection. Mutungo Zone II chairperson Adam Kibuuka (left) stresses a point to Justice Catherine Bamugemereire (in white jacket) and land commissioners during a field tour of Mutungo Hill in February. PHOTO BY RACHEL MABALA
The Commission of Inquiry into Land Matters will wind up its work on November 9 after a 30-month tenure.
The Justice Catherine Bamugemereire-led Commission has been investigating the effectiveness of the law, policies and processes of land acquisition, management and registration in the country since it was set up by President Museveni on December 8, 2016.
Justice Bamugemereire, who chairs the seven-member panel, said they will not seek to extend their tenure.
"What is being considered for extension time is time to write the report before we hand over," she said yesterday.
Saturday will mark the end of the 18 months extension granted by the President in May 2018 to enable the Commission to complete its work.
Statistics at the Commission show that 7,799 complaints were received and 2,700 of them filed by people, who were threatened with evictions based on court orders.
According to the statistics, 3,400 complaints were referred for mediation while 110 cases were handled through public hearings.
"When the Commission commenced this task, we did not envisage that we would be required to address people's disputes. We were, however, compelled to run clinics and encourage mediation which has registered outstanding outcomes," said Justice Bamugemereire.
She said the Commission also resolved many cases including a dispute between traders in Jinja and proprietor of Movit Products Simpson Birungi, who agreed to compensate the affected people for the businesses they lost following an eviction and demolition of a commercial building they had occupied for decades.
Commission
Challenges. The Commission's lead counsel, Mr Ebert Byenkya, said about 3,000 complaints remained unresolved and will form the basis for the next course of action.
"The funding was cut and affected investigations and it was not coming in time. We also had to cut down the staff. It affected our capacity to investigate land matters and in some instances, investigators encountered friction with people they were investigating, which affected the turnaround of cases," he said.
The said inadequate funding impeded the Commission investigators from visiting locations to carry out investigations.
Mr Byenkya also said the Commission could not handle all the cases and decided to refer some for mediation.