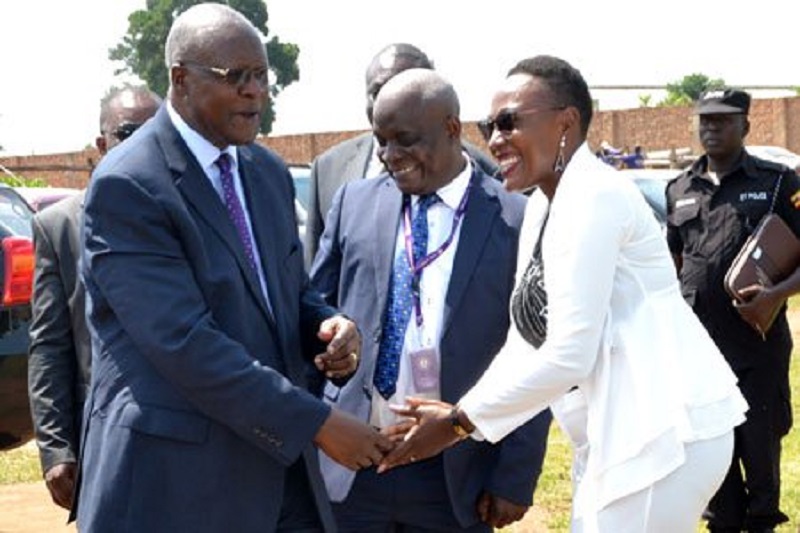 Heads. Chief Justice Bart Katureebe greets the Luweero Resident District Commissioner, Ms Pheobe Namulindwa, in Luweero Town Council last week. Photo by Dan Wandera 
Luweero. The Judiciary has started educating and training village chairpersons in Luweero District on their roles in administering primary mediation and justice at lower local council courts.
Chief Justice Bart Katureebe flagged off the exercise last week where more than 600 village officials were trained.
Mr Samuel Munobe, the Luweero Chief Magistrate, said many members on the village councils lack guidance on their constitutional mandate to effectively deliver justice.
"Many have gone ahead to handle cases on titled land which is not within their respective mandate. I believe the training and sensitisation for local council officials is timely," Mr Munobe said on Friday.
During the training, cases involving land-related matters featured most with members appealing to the Chief Justice to consider giving them a sitting allowance.
"We convene the council courts and execute the duties but without any pay. We believe that our services are needed yet we have our own commitments like other citizens," Mr Joseph Kasenge, a village chairperson from Bamunanika Sub-county, said.
Ms Phoebe Namulindwa, the Resident District Commissioner, said her office deals with the many court orders, presenting complex situations in their respective interpretation.
"The court bailiffs sometimes bring court orders and disappear without a trace yet our people are not well versed with the legal language used in those court documents. We also need a team of judicial officials to make a follow up on cases handled by village courts," Ms Namulindwa said.
Chief Justice Katureebe said the Judiciary will roll out the training to other districts, and cited other challenges.
"The Judiciary has also initiated new procedures regarding the execution of court orders now with the line ministers of justice. We have had challenges where the court bailiffs at times make arrests at 5pm, including on Fridays where suspects have to spend the entire weekend inside cells. Some evictions have been executed at night," Chief Justice Katureebe said.