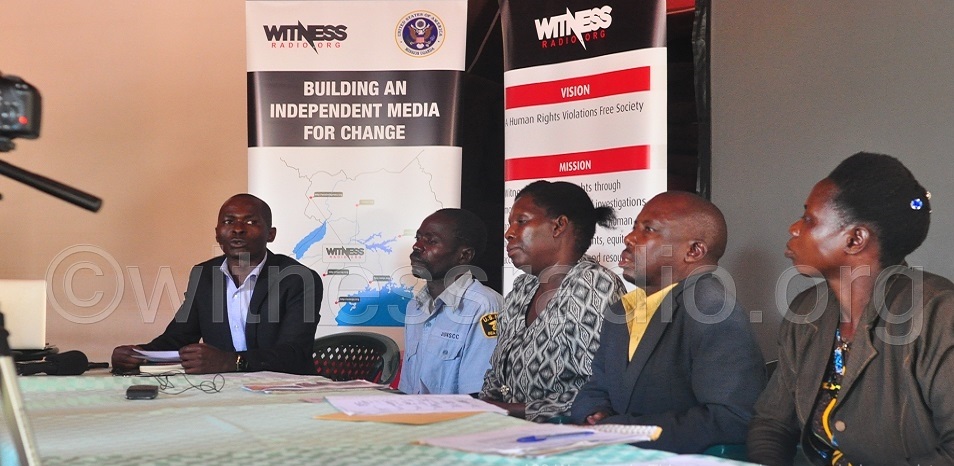 By witnessradio.org Team
"The government that settled us on 2600 hectares of land is violently evicting us off the land without resettlement or compensation…please honor your words and actions"
Nyamalebe landless farmers association members, totaling to over 2300 say they applied for the land as required by the law and government granted them occupancy before anyone else.
Mr. Kabera James, the association chairman says that they started staying on the land in the year 2012. The membership of association is comprised of internally displaced communities from different areas like Buduuda and Northern Uganda due to natural disasters and wars.  .
"We do have papers detailing how we came to occupy this land that was divided into six villages that include Jerusalem, Kanaan and Kololo among others, so it is not true that we are settling on the land illegally".
The secretary of the association, Joseph Walekula says many people were forced out and out of the over 2300 people, 2000, have already been forced out.
"People were forced to sign forms to vacate the area in just three days and if one refused, they would go without anything" Mr. Walekula said.
"Huts were burnt down, schools and churches brought down, this is so unfortunate. This was done by police and many would come disguised in civilian clothes". He emphasized.
Walekula says all this was done by Agillis and partners, a 100% subsidiary of Joseph Initiative limited, which is a foreign Company funded by UK's Department For International Development (DFID).
The residents now appeal to the same government to find alternative land for resettlement or compensate them.
The resident's outburst comes at the time when cases of land evictions are at peak with many people losing land to both foreign and local businessmen and women.
They were speaking during a media briefing organized by Witnessradio.org to launch the first ever land evictions land portal in Uganda; www.landevictionsinUganda.witnessradio.org .
The portal using open data technologies with reports from anyone in Uganda will be able to track, investigate and document land evictions across in order to facilitate processes geared towards attaining good land governance and secure land rights for vulnerable communities in Uganda.
"Uganda as a country has what it takes to protect land rights for all but our preliminary collected data which is being analyzed suggests that a number of evicted smallholder farmers from their land by 2017 could be higher than 2 million and the problem is likely to escalate as there is no sign indicating that evictions will come to an end soon" Said Mr. Wokulira Geoffrey Ssebaggala, the Executive Director, Witnessradio.org.
He further said that in all the 120 eviction cases that have been analyzed and featuring on the portal, none meets the minimum standard on forced evictions set by the United Nations and African Union with about half of the total evicted farmers believed not to have gotten alternative land to earn a living.
..