Ugandan youth must treasure land as a source of livelihood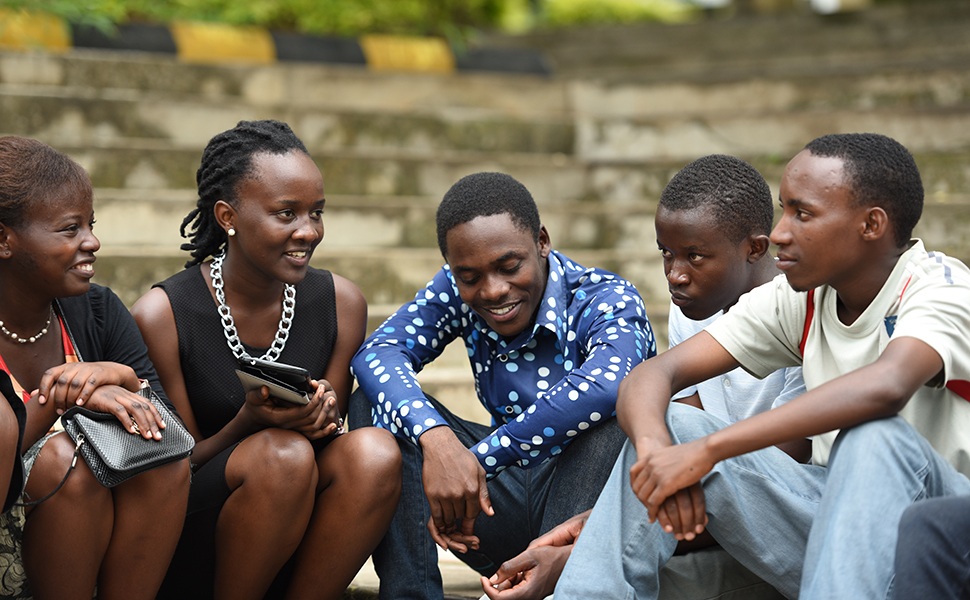 Many Ugandans born before the 1990s must have learnt in school that the country's economy mainly relied on three Cs – coffee, cotton and copper. This was due to the fact that our forefathers held big plantations and would utilise the support of cooperative unions to receive a fair share of their sweat by selling their agricultural produce at a good price.
Agriculture was the country's backbone although some Ugandans who were not involved in farming worked in factories such as Kilembe Mines, etc.
Some three decades later, our economy is slowly shifting towards a combination of three Bs and 2Cs – boda-bodas, betting and bars on one hand and con-artistry and corruption on the other! No wonder several legislations are being proposed to regulate some of these sectors.
The first three are high-risk ventures quickly consuming many of Uganda's unemployed, underemployed and illiterate youth. The most disheartening bit is that land is usually the main victim for one to start or participate in any of them. But how did we arrive at this conundrum?
The country's burgeoning youth bubble (majority of Ugandans are youth), has a big section of desperate, naïve and shortsighted individuals. Stories abound of 25-year-olds or thereabout selling off their ancestral land to buy boda bodas. Many other youth are comfortable being either land brokers or land vendors. Visit any town in Uganda and you will find scores of youth cocooned at a boda boda stage waiting for alien faces, whom they swarm around and promising to find them a plot of land, if they so wished.
These people always have information on who is selling something, at what price and in which place.
They broker deals to earn a commission and, thereafter, frequent the nearest bar or betting house – and the cycle continues!
The other category are the so-called middle-class some of whom use their savings to buy plots of land from the ever-mushrooming property agents and resell them at a profit. It is some sort of money game!
When it comes to con-artistry and corruption, just ask your immediate neighbour – we are all victims! Even men of God are conning us! All the five categories above have one thing in common – irresponsible lifestyle.
A combination of a poor performing economy, joblessness, bad governance and population boom has created a maddening sense of desperation among many young people. Yes, there is a section of hardworking youth, but the population of the desperate group is growing by the minute.
When coffee and cotton were still Uganda's prime foreign exchange earners, there was reason for a young Ugandan to till the land, plant the crops and expect good monetary returns after the harvest time.
Then, there was no reason to sell ancestral land and later run to the city or town and start a boda boda business or buy a car that would either get stolen or crash in an accident. There was no need to spend whole days in betting houses. There was no need for the youth to become land brokers/vendors.
But things have since changed. Opportunities are limited and far between. Farmers' and cooperative unions are only taught in history classes. And what have some young people decided to do? They go for quick fixes, using land as collateral. They attach no other value to land than being a commodity that carries a higher resale value. The cultural attachment to land has vanished in thin air.
Despite all this, majority of Ugandans are dreaming of a new country characterised by well facilitated and equipped hospitals, standard schools, good roads, and a corrupt-free public service, among others. That is a beautiful projection, just like the Uganda Vision 2040 is. But what kind of citizenry is this new Uganda likely to find? What will be the status of our tenancy?
Our young population should be reminded that all societies thrive on land. It does not matter which tenure system it is, land must be protected and preserved at all costs. They need to be reminded that if they cannot develop their land in the short-run, they have an option of leasing or renting it out for a specified time. Selling it should be the last option, if at all.
States like Palestine will testify to the fact that even a kilogramme of desert sand is worth dying for. Why then do we vend our fertile and strategically-located land to the highest bidder?
Land is the only inelastic factor of production whose value is highly elastic. It is our only permanent source of livelihood. If you reside on communal land, fight for it. If it is clan land, protect every inch of it. If it is mailo land, let no one tamper with it. We are here because our forefathers fought for this land, and our grandchildren count on us to do the same.
Mr Kimbowa is the communications officer at 
Buganda Land Board. jkimbowa89@gmail.com
Statement: The Energy Sector Strategy 2024–2028 Must Mark the End of the EBRD's Support to Fossil Fuels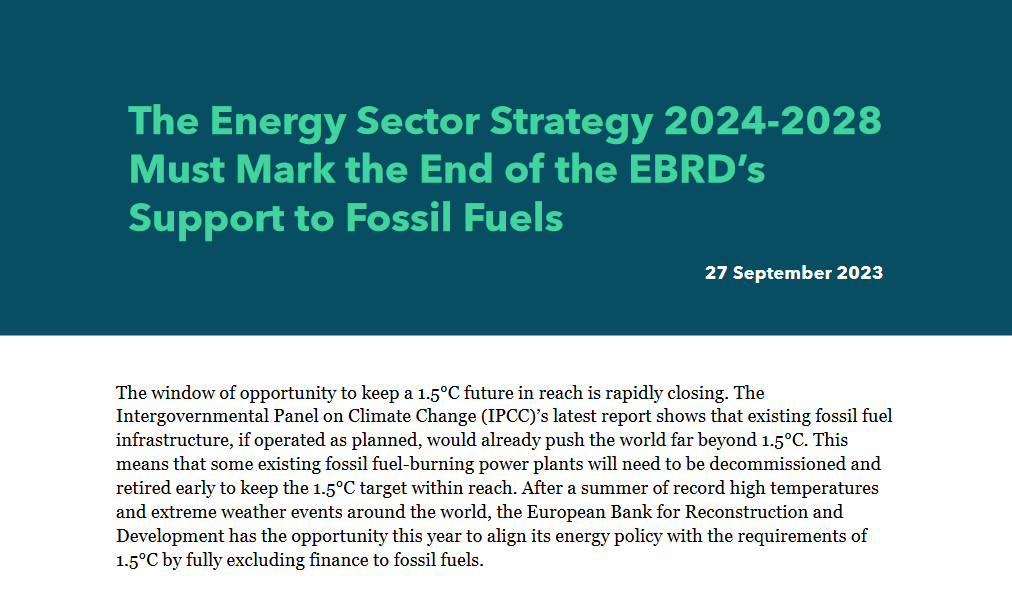 The European Bank for Reconstruction and Development (EBRD) is due to publish a new Energy Sector Strategy before the end of 2023. A total of 130 civil society organizations from over 40 countries have released a statement calling on the EBRD to end finance for all fossil fuels, including gas.
From 2018 to 2021, the EBRD invested EUR 2.9 billion in the fossil energy sector, with the majority of this support going to gas. This makes it the third biggest funder of fossil fuels among all multilateral development banks, behind the World Bank Group and the Islamic Development Bank.
The EBRD has already excluded coal and upstream oil and gas fields from its financing. The draft Energy Sector Strategy further excludes oil transportation and oil-fired electricity generation. However, the draft strategy would continue to allow some investment in new fossil gas pipelines and other transportation infrastructure, as well as gas power generation and heating.
In the statement, the civil society organizations point out that any new support to gas risks locking in outdated energy infrastructure in places that need investments in clean energy the most. At the same time, they highlight, ending support to fossil gas is necessary, not only for climate security, but also for ensuring energy security, since continued investment in gas exposes countries of operation to high and volatile energy prices that can have a severe impact on their ability to reach development targets. Moreover, they underscore that supporting new gas transportation infrastructure is not a solution to the current energy crisis, given that new infrastructure would not come online for several years, well after the crisis has passed.
The signatories of the statement call on the EBRD to amend the Energy Sector Strategy to
fully exclude new investments in midstream and downstream gas projects;
avoid loopholes involving the use of unproven or uneconomic technologies, as well as aspirational but meaningless mitigation measures such as "CCS-readiness"; and
strengthen the requirements for financial intermediaries where the intended nature of the sub-transactions is not known to exclude fossil fuel finance across the entire value chain.
Source: iisd.org
Download the statement: https://www.iisd.org/system/files/2023-09/ngo-statement-on-energy-sector-strategy-2024-2028.pdf
Complaint against unprofessional conduct of the DPC Kiryandongo district for aiding and abetting land grabbing in kiryandongo district.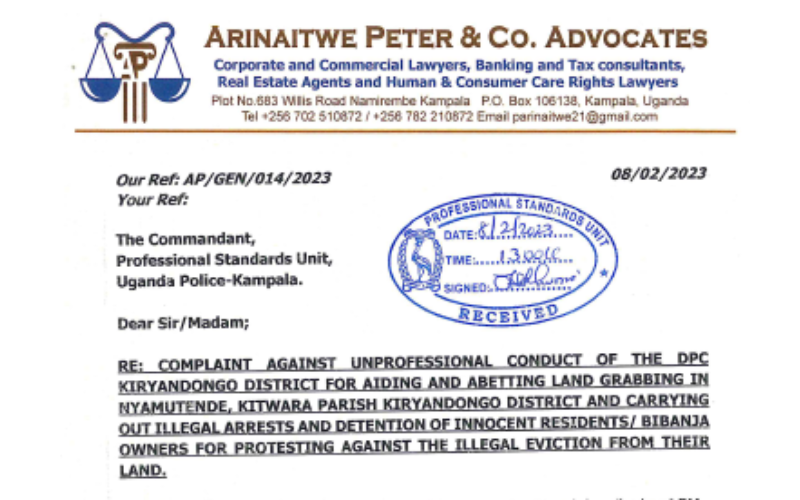 The Commandant,
Professional Standards Unit, Uganda Police-Kampala.
Dear Sir/Madam;
RE: COMPLAINT AGAINST UNPROFESSIONAL CONDUCT OF THE DPC KIRYANDONGO DISTRICT FOR AIDING AND ABETTING LAND GRABBING IN NYAMUTENDE KITWARA PARISH KIRYANDONGO DISTRICT AND CARRYING OUT ILLEGAL ARRESTS AND DETENTION OF INNOCENT RESIDENTS/ BIBANJA OWNERS FOR PROTESTING AGAINST THE ILLEGAL EVICTION FROM THEIR LAND.
We act for and behalf of the Lawful and bonafide occupants of Land described as LRV MAS 2 FOLIO 8 BLOCK 8 PLOT 22 (FORMERLY KNOWN AS RANCH 22).
Our Clients are residents of Nyamutende Village, Kitwara Parish in Kiryandongo District where they have lived for more than 30 years and sometime in 2017, they applied for a lease of the said Land to Kiryandongo District Land Board through the Directorate of Land Matters State House.
As they were still awaiting their Application to be processed, they were shocked to establish that the said land had been instead leased to and registered in the names of Isingoma Julius, Mwesige Simon, John Musokota William, Tumusiime Gerald, Wabwire Messener Gabriel, Ocema Richard and Wilson Shikhama, some of whom were not known to the Complainants. A copy of the Search is attached hereto
Our clients protested the above action and appealed to relevant offices, but were shocked to discover that the above persons had gone ahead and sold the same to a one Maseruka Robert.
Aggrieved by these actions, the Complainants appealed to the RDC who advised them to institute proceedings against the said persons, and assigned them a one Mbabazi Samuel to assist them to that effect. The said Mbabazi accordingly filed Civil Suit Noa 46 of 2019 against tne said registered proprietors at Masindi High Court challenging the illegal and fraudulent registration, sale and transfer of the subject land to Maseruka Robert.
While awaiting the progress of the case mentioned hereinabove, the Complainants were surprised to find that the said Mbabazi, instead of assisting them, he went into a consent settling the said suit on their behalf without their knowledge or consent. A copy of the Consent is attached hereto.
Among the terms of the said consent Judgment was that the residents would be compensated without specifying how much and would in return vacate the Land.
As if that was not enough, Maseruka Robert and Mbabazi Samuel are going ahead to execute the said Consent Judgment by forcefully evicting the occupants without compensation which has prompted the complainants to challenge the said Consent by applying for its review and setting aside at Masindi High Court which is coming up for hearing on the 29th March 2023. A copy of the Application is attached hereto.
Sensing the imminent threat of eviction, we also filed an application for interim stay of execution of the said consent to avoid rendering their application for review nugatory but unfortunately the same could not be heard on the date it was fixed for hearing (6th February 2023). A copy of the Application is attached hereto
On Thursday last week, three tractors being operated by 6 workers of a one Mbabazi Samuel [the very person who had been entrusted to represent our Clients to secure their Land through Civil Suit No.46 of 2019] encroached close to 50 acres of our Clients' land and started ploughing it but our Client's protested and chased them away.
We have however been shocked to receive information from our Clients that on Sunday at Mid night, 3 police patrols invaded the community in the night and arrested community members; Mulenje Jack, Steven Kagyenji, Mulekwa David, Ntambala Geoffrey, Tumukunde Isaac 15 years, Kanunu Innocent, Mukombozi Frank, Kuzara, Rwamunyankole Enock, and took them to Kiryandongo Police Station where they are currently detained.
We strongly protest the illegal arrests and detention of our Clients as this is a carefully orchestrated land grabbing scheme by Maseruka Robert and Mbabazi Samuel who are  receiving support from the DPC Kiryandongo.
The purpose of this Letter therefore is to request your good office to investigate the misconduct, abuse of office and unprofessionalism of the said DPC Kiryandongo District and all his involvement in the land grabbing schemes on land formerly known as Ranch 22.
Looking forward to your urgent intervention,
C.C The Head Police Land Protection Unit Police Head Quarters Naguru
CC The RDC Kiryandongo District
CC The Chairman LCVKityadongo District
CC The Regional Police CommanderAlbertine Region
The Executive Director of Witness Radio Uganda talks about the role played by Witness Radio in protecting communities affected by large-scale agribusinesses in Kiryandongo district in an interview with the ILC.