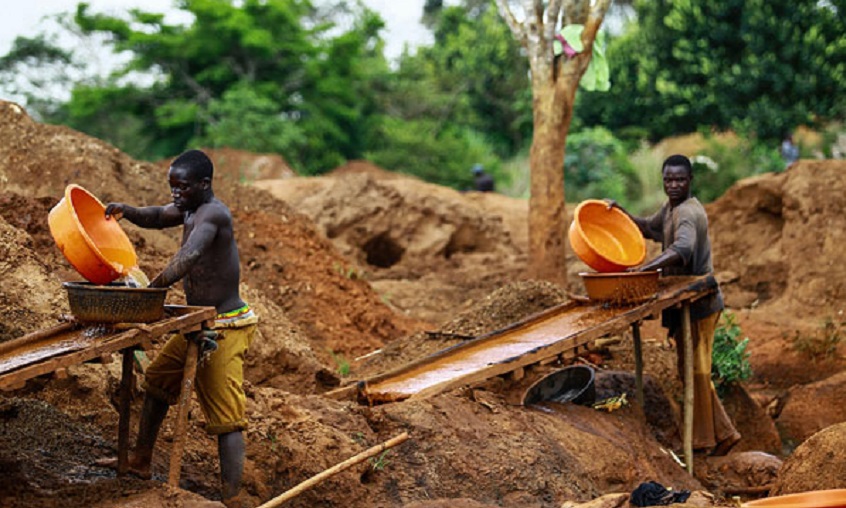 Weakened. Artisanal miners sieve mineral contents in a gold mine. Speculators, according to the Chamber of Mines and Petroleum chairman have weakened the prospects of attracting foreign direct investment. FILE PHOTO
Speculators holding mineral licences have weakened prospects of attracting serious investors, according to Mr Elly Karuhanga, the Uganda Chamber of Mines and Petroleum chairman.
Speaking during the Annual Mineral Wealth Conference in Kampala, Mr Karuhanga wondered why speculators who have no potential to develop exploration areas, continue to deny Uganda an opportunity to develop the country's mineral sector.
"For heaven's sake, what business do these people, (speculators) have in holding back these assets? We need a report on what is going to be done on this matters," he said, noting that speculative licence holders have locked out foreign direct investment that would otherwise be used to develop mining in Uganda.
As of August 9, according to a brief on recent developments in the mineral sub-sector authored under the Mining and Mineral Policy for Uganda 2018, it was noted that 325 exploration licences, 105 location licences, 42 mining leases and three retention licences were valid.
This brings the number of legally held licences to 475, which means that many of the licences in the mineral sector have either expired or their holders have not invested to required levels.
Dr Luisa Morena, a keynote speaker and Tahuti Global managing director, during the conference, said some investors with interest in obtaining mining rights are being asked to pay as much as $100,000 (Shs367m) by speculative licence holders in order to release such rights.
Many of the licences, she said, are held by companies that cannot develop exploration areas, urging urgent reforms that would encourage serious investors to invest in the sector.
"It is not appropriate to turn around and sell some of these licences for hundreds of thousands of dollars or even a million dollars," she said, questioning why some firms in selected mineral exploration sites have been given mining licences yet they have no financial and technical capacity to conduct modern day magnetic and production.
Dr Morena, has interests in Canada and other parts of the world with key focus on industry metals, technology and energy metal companies.
However, Mr Robert Kasande, the Energy and Mineral Development permanent secretary, informed participants that government had developed a new online Mineral Licencing System to mainly eliminate speculators.
The system, he said, works in a way that the license holder must meet certain benchmarks for them to continue holding the licence.
The mining law is currently under review with the Ministry of Energy urging local actors to consider partnerships through which they can pool enough capital and up-to-date technology to benefit the sector.
"Our friends the artisanal miners … we expect you to be focused on how you are undertaking your mining activities. We need a safe environment and sustainable practices. We expect you to look towards better technology through stronger partnerships," Mr Peter Lokeris, the Mineral Development state minister, said.
This year's conference has been conducted under the theme: "Creating an enabling environment for mining in Uganda."
Encouraging transparency
According to Ms Elsie Attafuah, the United Nations Development Programme resident representative in Uganda, government needs to embrace the Extractive Industries Transparency Initiative for good governance of oil, gas and mineral resources. "Joining [Extractive Industries Transparency Initiative] is a great step in the right direction for Uganda's minerals sector. We encourage all players across the value chain to support the global standard. As UN, we shall continue to extend support in the areas of rights, safe environment and indeed a sustainable industry," she said.