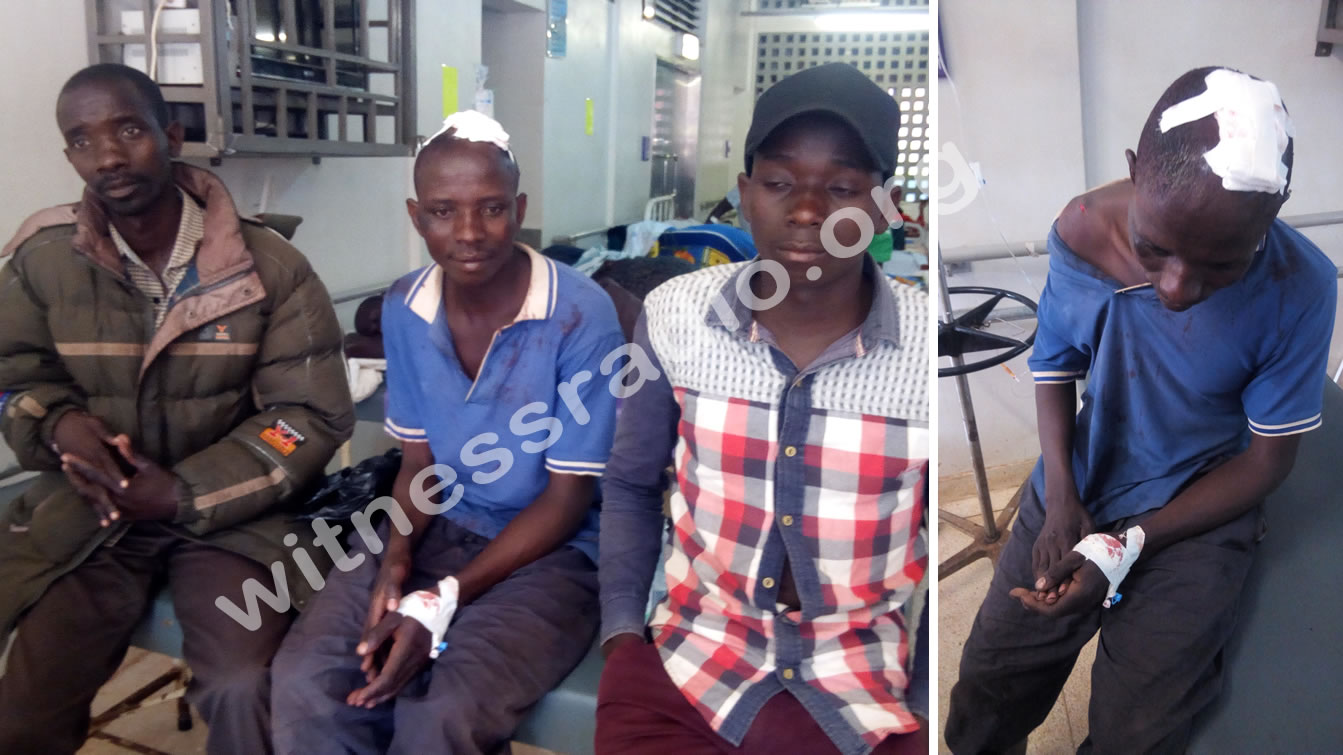 By witnessradio.org team
As tens of thousands of poor people in Mubende District face being pushed off their land, the land grabbers have intensified their violent method involving both damaging and murdering of bona fide occupants of land.
Apparently, three men; Ruhobana Dombo, Samuel Ndekezi and Chleopus Zariwa,  all residents of Butoloogo sub-county in Mubende district, are nursing serious wounds from Mubende regional referral hospital after being attacked by over 20 men working for Milly Naava Namutebi, a woman claiming ownership of the land in dispute.
The trio and main victims of the attack say that they had gone to their gardens to plant maize on August 17, 2017, when Namutebi gave stern orders to her workers to attack them.
The machete-wielding men were also armed with sticks and harmers, the victims lying on their sick-beds alleged.
At the end of the stormy fight, the residents who were beaten up by the attackers, sustained serious injuries on heads, chest and hands thus, being pushed into a state of unconsciousness.
Namutebi, a financially powerful individual, has been involved in a protracted and turbulent land dispute with the latter claiming the ownership of 3.5-square mile tract of land covering seven villages including; Kirwanyi, Nakasagazi, Kituule, Kibalagazi, Kakembe, Bukyamuzi, Busombe and Bulanda of Kirwanyi parish, Butoroogo Sub-county in Mubende district.
Namutebi has always applied ill-deeds and committed human rights abuses against communities ranging from establishing a kangaroo court and a detention Centre, arbitrarily arrested and detained community members in ungazetted prison, beaten up communities and slashed people's plantations, to coercion of communities into signing of documents that forcefully took away their rights as Bibanja holders, thus leading to her recent arrest on local leadership orders.
See https://witnessradio.org/mockery-as-economically-powerful-landlord-is-arrested-for-causing-mayhem-to-thousands-of-bibanja-holders-in-mubende/
Patrick Byaruhanga, the District Police Commander Mubende district and Resident District Commissioner Florence Beyunga ran to the scene and urged residents to refrain from taking the laws into their hands because the police was still in the course of working towards resolving the matters amicably without bloodshed.
This peace call barely two months after angry natives hacked to death Steven Tumwine, a former manager of FORMASA tree-planting company belonging to a Chinese national following authorities reluctance to respond to cries over an investor that seeks to grab over 10 square miles covering twelve villages in Maddudu and Butoloogo Sub Counties in Mubende district.