Middlemen aiding fake investors to grab land – Anite
File photo: Evelyn Anite 
Kampala, Uganda | State Minister for privatization and Investment Evelyn Anite has said that a number of fake investors are being aided by middlemen and land brokers to grab land from bonafide Ugandan occupants.
Anite says that the middlemen front non-existent foreign investors to cheaply secure land from the government and that a number of such fake deals have been cancelled by her ministry after the investors failed to comply to the agreed investment terms.
Anite was testifying in a land scandal involving the Jinja West Member of Parliament Moses Grace Balyeku and an Indian Born Ugandan Investor Thummar Jay Magnalal Patel. The land measuring five acres on Plot 24 B Kyabazinga Way in Nalufenya, Jinja Municipality is claimed by two Investors; Tirupati Development Uganda Limited and Thummar Jay Magnalal Patel.
It is alleged that there was a fraudulent transfer of land to Patel, facilitated by Jinja West Member of Parliament Moses Grace Balyeku at 2.4 billion Shillings' shillings. Tirupati Development alleges that it was defrauded of the land having secured a sub-lease over it from Jinja Municipal Council on October 31, 2007, for setting up a public Recreation Park.
Documents obtained by the Commission of Inquiry into Land Matters indicates that Patel's freehold title was granted on August 2, 2019. Jinja Municipality West MP Moses Balyeku has since backed Patel's title as genuine telling the Commission that he fronted Patel, his business associate to prevent the development from being entangled into local politics.
Officials of Jinja District Land Board have since denied approving the grant of the title to Patel citing forgery of meeting Minutes, duress and influence peddling among others. Anite this morning told the commission that middlemen such as Balyeku are Criminal Mafias presenting barriers to investment in the country.
Anite was summoned by the Commission of Inquiry into Land matters to explain why she recommended Thummar Jay Magnalal Patel to the Lands Minister Betty Amongi for assistance in finding suitable land for setting up his shopping Mall in Jinja Municipality.
But she told the Commission that the responsibilities for the transaction must be placed at the feet of the Ministry of Lands as the mandate and not the Ministry in charge of the investment. She said her ministry is only charged with finding land for domestic and foreign investors intending to set up mega investments in industrial parks, not shopping malls, like the case is, for the land in question.
Anite added that she authored the letter after MP Balyeku approached her office to assist the alleged investor to find the land and gazette his land in Buikwe as an industrial park for him to benefit from investment incentives and invite President Yoweri Museveni to commission 10 out of 20 factories he had set up in Jinja.
On Tuesday, Lands Minister Betty Amongi said she acted on recommendations from her counterpart Evelyn Anite who had given her the impression that the investor had the backing of State House and senior politicians from Jinja Municipality.
Anite said she expected the Lands Minister Betty Amongi to respond to her letter before the land was allocated to the investor, but was surprised that the Minister never wrote back. She said the next thing she heard about the investor was that he was under investigations for securing freehold title over public land.
A new pattern of senior UPDF officers' involvement in the land grab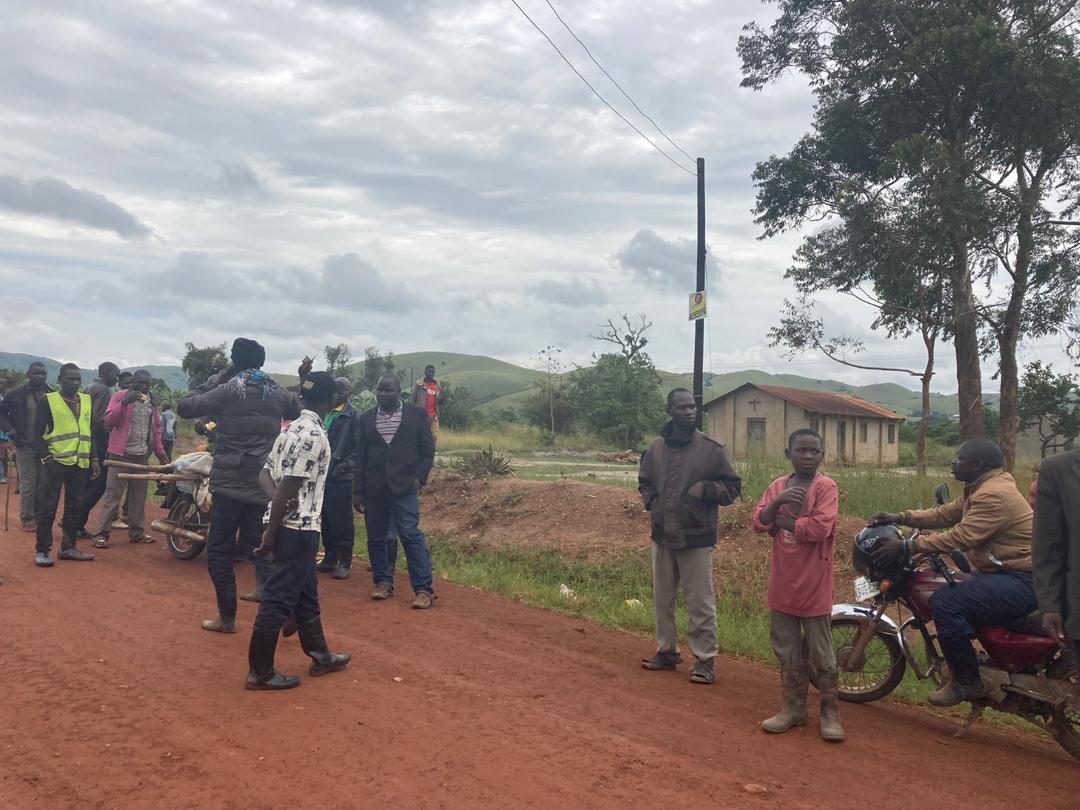 By witnessradio.org Team
Barely two weeks after witnessradio.org exposed a senior officer of Uganda People's Defense Forces (UPDF) involved in grabbing land for 20000 inhabitants in Kassanda district, another UPDF officer is allegedly dispossessing 240 families.
Uganda People's Defense Forces is a national force with several Constitutional obligations, and among them is to preserve and defend the sovereignty and territorial integrity of Uganda, which is anchored under article 209 (a) of the 1995 Constitution of the Republic of Uganda.
The reported cases of land grabbing by UPDF officers allude to the fact that both cases use similar tactics to dispossess poor natives that are legally occupying public land with help from district land offices.
According to witnessradio.org investigations, both communities have derived their livelihoods from their land and have become victims of fraud in different districts' land offices as they are blocked from legalizing their existence on the land.
Earlier in January 2021, more than 20000 inhabitants in Kyakatebe, Namuganga A, and Namuganga B, leaped out of their skins when the Mityana district land office blocked them from acquiring a freehold lease on their land, saying the said land was acquired by a senior UPDF officer, a one Lieutenant David Kabagambe and others.
In Rakai district, the Southern border district between Uganda and Tanzania, another senior UPDF officer a one Captain Geoffrey Kalamuzi, is alleged to have fraudulently acquired land owned by more than 240 families.
Residents of Kyakago and Kasese villages in the Kibanda Sub-county, Rakai district explain that they legalized their occupancy in 2010 on a piece of land which Captain Kalamuzi claims to have gotten a lease offer.
"As bona fide occupants we got proof of ownership from the district land office in order to secure our livelihood, we wonder how Captain Kalamuzi can acquire legal documents on the same land, says Thaw Seruyima the Kyakago village chairperson.
A father of 30 children, Mugonza Habibu explained that the land Captain Kalamuzi is grabbing, is an ancestral home to more than 200 families on which a number of people from previous generations were buried there.
"We are shocked by this behavior of armed men. It's impunity, which we cannot accept. I have an extended family which I cannot feed if my 5 acres are grabbed, I even question where I can take it", angrily said Mugonza, a father of 30.
He further accused Captain Kalamuzi of misusing his powers as an army commander to grab their land.
However, the Secretary Rakai District Land Board Mr. Edward Kamya said Captain Kalamuzi was granted permission to open boundaries of a piece of land adjacent to that of the communities.
Captain Geoffrey Kalamuzi denied the allegations of land grabbing. He however said his interest is to map and survey his land. He however did not mention the exact location of a piece of the land he owns.
Industrial Park Development in Buikwe is dispossessing hundreds of Native Families…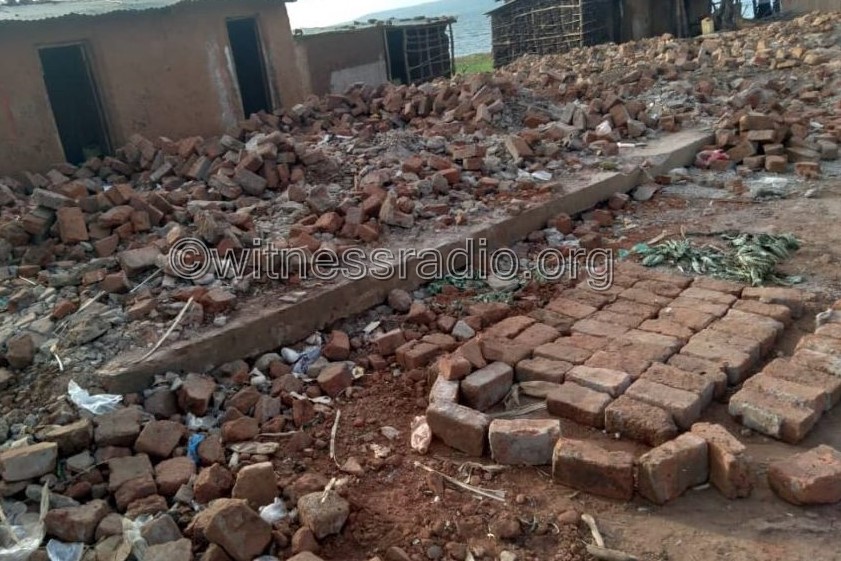 Structures of houses demolished by G.M Sugar in Namabere village, Buikwe District.
By witnessradio.org Team.
Buikwe – Uganda – Close to 1000 families in Namabere landing site, Buikwe District are forcefully being evicted off their land to give way for an industrial park, witnessradio.org has learned.
The industrial park which measures approximately 329.5 Ha, along the shores of Lake Victoria, is the brainchild of Magan Patel, the head of Nile Group of Companies. It is not clear whether the park authorities obtained the social and environmental impact assessment from environmental regulatory bodies as it is adjacent to the lake.
witnessradio.org findings indicate that so far the park has attracted about 26 companies amongst others include; Nile Agro Ltd; Nile Aluminum Ltd; Nile Batteries Ltd; Nile Wheat Ltd; Auro Meera Paper Ltd; Modern Distillers Ltd; Modern Laminates Ltd; Nile GM Plastics Ltd; Modern Rubber Ltd; and Cable Ltd and many others.
According to the affected persons, GM Sugar Company one of the companies targeting their land, since November 2020 with the help of Buikwe police has been forcing natives to receive payment in form of transport on a gunpoint to vacate the land. The payment ranges from 100,000 – 200,000 Ugandan shillings to residents of the area to vacate their land.
"Imagine at a gunpoint, someone is paid Uganda Shillings 100,000, his/her properties get destroyed and your forced to vacate where you earn a living. How do you feel? Do you know how hard this is?" angrily asked a 45-year-old Bayati Kafuuko.
Bayati, a mother of six (6) said that she has nowhere to go and left with nothing to feed her family since all her property was destroyed by the armed men.
"What can that money do, it can't even meet transport costs," added Bayati.
Several affected persons revealed that before the eviction, there was neither consultation and concession to the project nor valuation and fair compensation of their property.
"Ever since the attack started we live in fear, we cannot sleep because most of our houses were pulled down. All our fish was taken by soldiers, we have nothing to eat," said a 58-year-old Francis Obiire.
He added that he cannot accept being illegally evicted on land he has lived on since his birth.
"My father has lived on this land since 1950. I was born here in 1962. With this little money, which land do they expect me to buy," Obiire added.
The chairman of Namabere village Mr. Ochen Peter said his people are being intimidated without due process is followed. He further said that workers of the investors under the protection of police carry out daily patrolling of the area just to intimidate residents.
When witnessradio.org contacted Ssekamatte Musa, one of the GM Sugar company managers, he declined to speak.
"I am busy, I will call you," he said.
Beijing proposes seven-point plan for upgrading China-Africa cooperation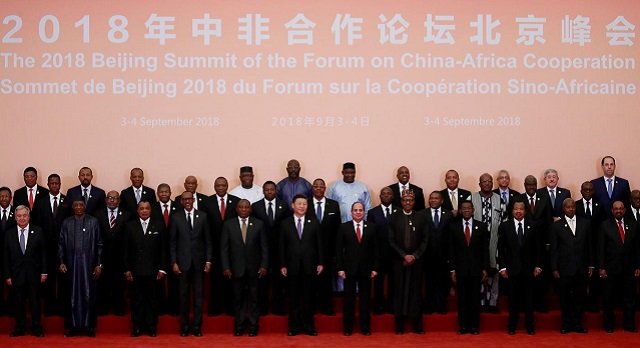 Chato, Tanzania | XINHUA |  The 2018 Beijing Summit of the Forum on China-Africa Cooperation (FOCAC) has achieved great success and become a new monument to China-Africa friendly cooperation, Chinese State Councilor and Foreign Minister Wang Yi said Friday.
Wang made the remarks at a joint press conference here with Tanzanian Minister of Foreign Affairs and East African Cooperation Palamagamba Kabudi during his official visit to the African country.
Wang noted that over the past two years, China has fully implemented the eight major initiatives with African countries proposed at the Beijing Summit.
Cooperation in areas of industrial promotion, infrastructure connectivity, trade facilitation, green development, capacity building, health care, people-to-people exchange, and peace and security have been carried out in a comprehensive way, he said, adding that the overall implementation rate has exceeded 70 percent.
Noting that China-Africa cooperation on the "Belt and Road" is progressing smoothly, Wang said over 1,100 cooperation projects continue to operate during the epidemic.
Meanwhile, nearly 100,000 Chinese technical and engineering personnel also stick to their posts to coordinate and promote epidemic prevention and control as well as resume work and production, making important contributions to local economic and social development.
The friendship between Chinese and African people has continued to grow and the two sides have established 11 pairs of new sister cities, bringing the total number to 150, said Wang,
Furthermore, the China-Africa Institute has been inaugurated, a number of Confucius Institutes have been set up in Africa and exchanges in sectors of sports, health, tourism and youths between the two sides have yielded fruitful results, Wang added.
Wang noted that despite the impact of the COVID-19 pandemic, it will not stop China and Africa from moving forward together. The two sides are scheduled to hold a new session of the FOCAC in Senegal later this year.
"China is ready to enhance communication with our African friends and we will carefully design the outcomes of the meeting and upgrade China-Africa cooperation based on the new situation, new needs and new opportunities of China-Africa cooperation," said Wang.
A seven-point plan for upgrading of China-Africa cooperation is also proposed by Wang.
–China will strengthen health cooperation, work together with Africa to completely defeat the epidemic, help Africa enhance its capacity to prevent and respond to major diseases, and jointly build a "Healthy Africa".
–China will enhance production capacity cooperation and upgrade China-Africa project cooperation to a more clustered, large-scale, industrialized and localized scale. China will help Africa raise its capacity for independent production and jointly build a "Made in Africa".
–China will strengthen regional connectivity, explore China-Africa free trade cooperation, and help Africa enhance internal infrastructure connectivity, unimpeached trade and financial integration so as to jointly build an "Inter-connected Africa".
–China will strengthen agricultural cooperation, carry out cooperation in grain production, storage and transportation, help Africa strengthen its food security and guarantee capability to jointly build a "Harvest Africa".
–China will strengthen digital cooperation, give full play to China's technological advantages, help Africa seize the opportunity of the information revolution and jointly build a "Digital Africa".
–China will carry out environmental protection cooperation, practice the concept of sustainable development, help Africa improve its ability to cope with climate change and jointly build a "Green Africa".
–China will strengthen military security cooperation, promote political solutions of critical issues in Africa, help Africa enhance its peacekeeping and anti-terrorism capabilities, and jointly build a "Safe Africa".
Wang also expressed confidence that with the joint efforts of both sides and under the guidance of the forum mechanism, China-Africa cooperation will continue to bear fruits and make greater contribution to the building of a closer China-Africa community with a shared future.
****
XINHUA