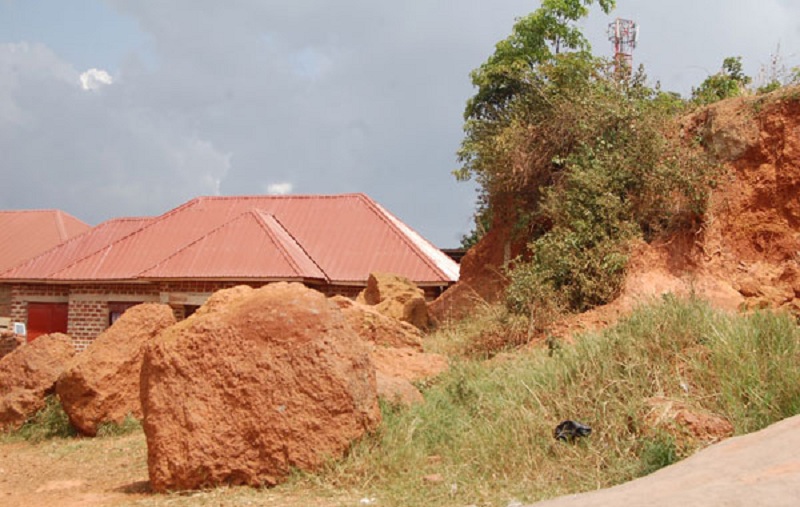 Construction. Houses that have been put up at the Kyabazinga coronation site at Mpumudde Hill. PHOTO BY DENIS EDEMA
Mpumudde Hill, a cultural and historical site widely regarded with reverence by elders and cultural leaders in Busoga sub-region, is where the current and former Kyabazingas were crowned.
It is also widely viewed by historians as the site where Omukama (king) Kabalega of Bunyoro breathed his last in 1923.
Located approximately four kilometres from Jinja Town, the hill overlooks Lake Victoria, Bugembe Cathedral and the Kyabazinga's palace atop Igenge Hill.
Cognisant of the fact that coronation is crucial to kingship; it now appears more likely than ever that the future of this once revered hill hangs in balance. The site has been encroached on.
A recent visit to the site by Daily Monitor showed ongoing construction works as well as excavation of murram.
Unlike most tourism sites in the kingdom, Mpumudde Hill has no security personnel, giving the public unrestricted access.
Some residents have taken advantage of this to cultivate on its land.
Although the kingdom spokesperson, Mr Andrew Ntange, acknowledged that there are some encroachers on the historical site, he bemoaned a section of people in Busoga for their failure to value their heritage and culture.
"The kingdom under Kyabazinga William Nadiope Gabula IV has made it easy for people in Busoga to access any office regarding information about it but people have failed to utilise it," Mr Ntange said during an interview recently.
"The kingdom has also instituted a team to verify the people who occupied this land. It is now the responsibility of the kingdom to ensure that it is conserved for future generations to know their origin," he added.
Encroachers warned
Mr Ntange, who conceded that activities carried out around the hill have raised concern to the kingdom, warned that those who illegally acquired land on the hill would lose it.
"Houses around it are going to be demolished whether they (encroachers) like it or not," he said.
On allegations that previous kingdom chiefs and administrators were behind the fracas of leasing and selling off kingdom property, Mr Ntange blamed what he referred to as 'selfish individuals within the kingdom' who think Busoga will not shine again.
"This is not about the past kingdom leadership; even in the current leadership, we have some individuals who are using their offices and positions to sell kingdom land. We shall use all means within the law to get back what belongs to Busoga kingdom," he said.
The kingdom's minister of tourism, Ms Hellen Namutamba, said the encroachment of the hill was tantamount to the annihilation of Basoga's origin and culture.
"I think a lot of sensitisation about the hill needs to be done for the community to know about the importance of the hill. That is the hill, where Kyabazingaship begun, it is upon that hill that Omukama Kabalega rested that is why it bears the name, Mpumwiire meaning I have rested. It is this hill that binds the Basoga and Banyoro," Ms Namutamba said.
She said the current leadership is working hard to solve the differences between leaders and the community regarding the site.
According to Mr David Kazungu, the chairperson of the Kamuli District Land Board, the encroachment shows signs of a weak kingdom.
"I do not see how people can encroach on say Bulange (the seat of Buganda Kingdom) or State House," Mr Kazungu said.
Mr Julius Galisonga, a lawyer from Busoga, says the hill is not the first to be encroached on.
"If you recall, even Budo, where the Kabaka of Buganda was enthroned, was encroached on. It took a spirited effort to save it. For the Mpumuddde case, as a recognised cultural site, anyone purporting to acquire it does so at his or her own risk because there is a notice to all in form of common knowledge and history that this land is not saleable," Mr Galisonga said.
"One cannot be a bona-fide purchaser for value without notice. As a kingdom, I know efforts will be made to reclaim the land because this is the very existence of the kingdom and the people of Busoga at stake," he added.
Residents speak out
Mr Kenneth Kigongo, resident of Mpumudde, called for dialogue.
"All this greed is happening due to lack of sensitisation, disunity among the people of Busoga. This is one of the most treasured tourism sites, tracing the history of Busoga. It needs to be strongly protected from being misused," Mr Kigongo said.
Mr Mathias Mutatyama, another resident, said many people in the region do not know the importance of the hill and cultural value.
"If this hill is not protected from encroachers, then people of Busoga will not have a story to tell the future generation. We need to own our culture by conserving it jealously," he said.
History of Mpumudde hill
Omukama Kabalega of Bunyoro and Kabaka Mwanga of Buganda fought colonial occupation in the late 19th Century but the British captured them in 1899 in Dokolo. The two were then exiled to the Seychelles islands in the Indian Ocean where Mwanga died in 1903. Kabalega lived in captivity for a number of years and was later granted amnesty and permitted to go back home. On his way back to Bunyoro in 1923, he fell ill in Jinja due to fatigue from the long restless days and nights. On this fateful day, Kabalega and his servants went up Mpumudde Hill to rest before they would resume the trek. Unfortunately, Kabalega got weaker with each step and eventually decided to take a nap under a tree. This is when the hand of death struck – drawing the curtains to the life of a great warrior
Source: Daily Monitor