How to earn more from coffee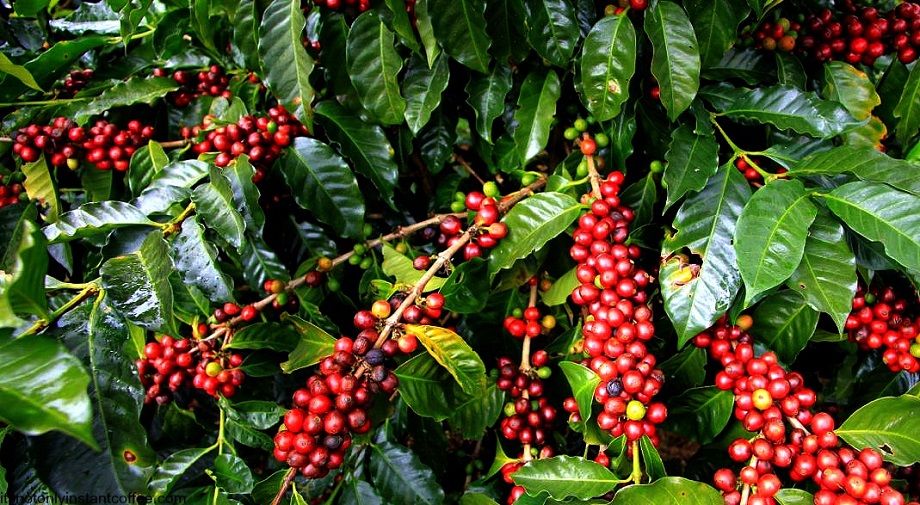 Farmers are advised to harvest only the ripe cherries
Coffee farming and its value chain is considered to be an activity mainly undertaken by male famers.
Female farmers have been urged to engage in coffee production because it is a crop which brings cash on table.
As such, women farmers engaged in coffee value chain are now getting organised in groups across the country in order to increase their income.
The plant is said to be contributing 1.5 percent of the GDP to the country's economy amounting Shs1.6 trillion per annum
International Women Coffee Alliance Uganda Chapter has come up with a strategy of mobilising female coffee farmers across the country in a bid to produce quality coffee and increase yields.
Ms Teopista Nakkungu the country director of the organisation contends that women are good at tending to their farm produce and if engaged in coffee farming and following the right agronomy practices the yield can increase by 40 percent.
Conditions for growing coffee
Robusta coffee can be grown in a place located 800-1500 metres above sea level with rainfall of 1200-1500mm per year under the temperature of between 18-27 degrees Celsius.
Arabica coffee can be grown in a place of 1300-2200 metres above sea level with rainfall requirement of 1200-1500mm per year under temperatures of between 15 and 24 degrees Celsius.
The soil type is deep well drained fertile loam soil. Coffee requires fertile soils with high levels of nitrogen, phosphorus and potassium.
Land preparation
Farmers are expected to prepare the land during dry season and ensure that they remove excess trees and stumps but leave some mature trees for shade.
Remove weeds by digging, hand picking perennial weeds or applying herbicides and build contour terraces, bands, grass strips and cut-off drains to prevent soil erosion.
Planting
Farmers are required to plant Robusta coffee in lines at a spacing of 10ft x 10ft and the seedlings rated at 450 trees per acre. For Arabica, the lines at a spacing of 8ft x 8ft with seedling rating of 680 trees per acre is required.
"Dig round holes and heap the fertile topsoil separate from the subsoil. Refill the holes with topsoil mixed with a basin of manure and a handful of DAP or SSP fertiliser," says Nakkungu. The farmer is also advised to heap the soil above the ground level.
Seedlings and varieties
Obtain all planting materials from a certified source such as Uganda Coffee Development Authority (UCDA). Farmers may raise their own seedlings using seeds or cuttings from a certified source.
The recommended varieties include NARO Kituza Robusta 8, NARO Kituza Robusta 9 and NARO Kituza Robusta 10 which were released last year.
Other varieties are KituuzaR1- R7 which are resistant to the coffee wilt disease
Farmers must plant two weeks after the onset of rains, trim off roots protruding beyond the polythene pots and remove polythene pots from potted plants before planting.
Management
Farmers are expected to bend the six- month old coffee plants up to 45 degrees and along rows to stimulate growth of suckers. Allow only 2-4 healthy looking suckers which originate at about 0.5-1 foot from the base of the plant. Remove weeds in gardens of young coffee of up to a year old by digging and slashing or mulching.
Remove weeds in old coffee gardens by mulching, or alternating digging and slashing with herbicide spraying outside the canopy.
Ring weed below the canopy to avoid damage to the plant during slashing or spraying.
Pruning
Remove unwanted stems and suckers and unproductive branches using secateurs or pruning saws. This encourages new growth and improves productivity. Remove broken stems or unproductive whole or part stems using a pruning saw to reduce pest infestation from the soil.
Stumping
Stump coffee after seven years to renew the stem cycle and improve productivity. Leave a breather stem which should be removed six months after stumping. Stumping can be either staggered or clean stumping. If staggered, stump one in three trees every year so the entire garden is stumped over a three-year period.
Get help from the extension staff or a knowledgeable farmer when stumping coffee for the first time. The stumping should be at least 450 and sloping away from the breather stem.
Mulching
Mulch coffee gardens with up to six inches of maize straw, bean trash, banana leaves, grasses or any other dead plant materials to conserve moisture, control weeds and soil erosion, and add nutrients to the soil.
Place the mulch one foot from the coffee stem to prevent infection from collar rot or attack from ants and termites.
Water conservation
Digging pits/troughs at some points of the terrace preserves rain water. Add a small amount of oil to the water trapped in the pits/troughs to prevent breeding of mosquitoes. Mulch coffee to prevent soil erosion and retain soil moisture. Plant cover crops such as mucuna, phaseolus beans, lablab and groundnuts. Plant shade trees such as bananas and grass at the edges of the gardens including ridges, terraces and contour bands.
Pests and diseases
The main pests are black twig borer, root mealy bug and white stem borer. Others are coffee berry borer and antestia bug, which affects Arabica only.
The diseases include coffee wilt disease (Robusta only), Leaf rust (mainly Arabica), Coffee berry disease (Arabica only) and Red blister disease.
Farmers are expected to control it using recommended pesticides and disease resistant varieties.
Harvesting
Do not strip all cherries off the branch, harvest only fully ripe cherries because unripe cherries will form black beans.
Overripe cherries give defects such as discoloured coffee beans, fermented and off flavours to the coffee cup. Ripe cherries give better quality coffee and therefore more money.
Keep harvested coffee cherries in containers such as baskets. Do not dry the coffee on bare earth as this results in soil microbial contamination.
Original Post: Daily Monitor
Kigezi In Famine Scare After Drought Hits The Region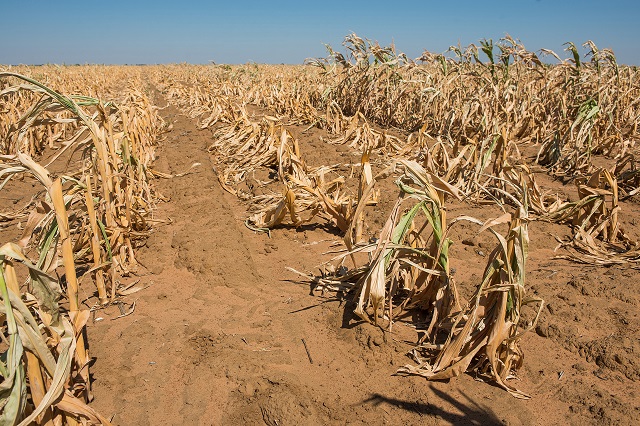 Farmers in Rubanda district are living in fear that they may be hit by famine due to the prolonged drought that has greatly affected the area. This comes after the area was hit by heavy rains in the month of May 2023, which left most of the gardens washed away, and since then the dry season has started up to date.
This is the first of its kind for Rubanda district and Kigezi at large to undergo such a prolonged drought.
According to farmers, this is the first of its kind for Rubanda to go through a long drought, adding that they are in fear that they may be hit by famine since they were used to receiving rains at the beginning of August, which is not the case this year. They add that even the seedlings that they had planted excepting that the rains would come have all dried up by the long spell.
Farmers also say that they don't know what could be the cause that has stopped the rains,adding that the government should come up with a program that provides them with seedlings.
Akampurira Prossy Mbabazi, a woman Member of Parliament for Rubanda District, says that the issue of drought is not only in Rubanda District; however, this is the first of its kind. She adds that the drought comes after the area was hit by heavy rains, which caused a lot of challenges, adding that now it is the drought that may affect the farmers.
Akampurira further says that, as a leader,she will continue to educate farmers on better methods of farming depending on climate change.
Kikafunda Evelyne, founder of Green Environment Promotion (GEP), says it's sad that farmers in Rubanda district and Kigezi at large are experiencing a long drought. She attributes it to problems of environmental degradation that include swamps being reclaimed, deforestation, and plastic pollution, adding that this is an indication that people don't mind about the environment.
Kikafunda calls upon all people to take part in protecting the environment, adding that environmentalists should devise means on how to protect the environment.
It's now been four months since it last rained in the districts of greater Kabale, that is, Rubanda, Kabale, and Rukiga districts, as well as other parts of the Kigezi Subregion.
Source: chimpreports.com
Ban GMOs in Africa, farmers urge govts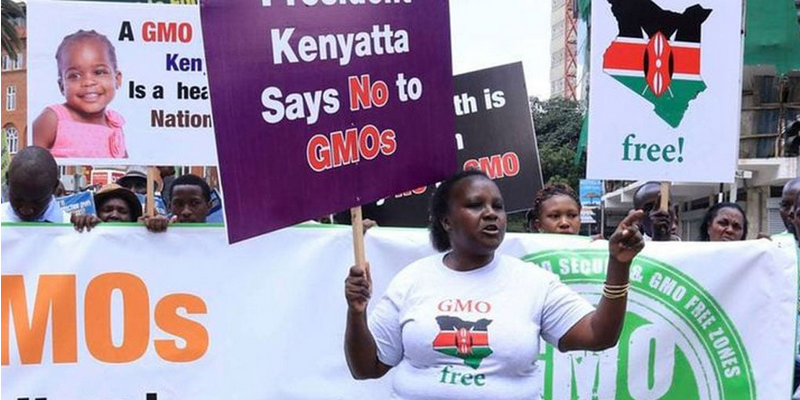 A cross section of residents from the oil-rich Albertine Region have petitioned African heads of state to ban genetically modified organism (GMOs) and crops across the continent to save Africa's indigenous crops and animal species from extinction.
The August 26, petition addressed to President William Ruto of Kenya, the Chairperson of the Committee of African Heads of State and Government on Climate Change, asks African heads of states who are meeting this week for Africa Climate Dialogue to pass strong resolutions to ban GMOs.
Africa Climate Dialogue kicks off today in Nairobi, Kenya under the theme "Driving green growth and climate finance solutions for Africa and the World."
Co-hosted by the Kenya and the African Union Commission, it brings together heads of state and Government, policymakers, civil society organisations, the private sector, multilateral institutions and the youth to design and catalyse actions and solutions for climate change in Africa.
The petitioners under the Uganda Oil Refinery Residents, have made a raft of recommendations including passing a strong resolution to immediately ban the use and promotion of GMO products in African countries, a resolution for promotion of indigenous species of plant seeds and animals in all African states and another resolution to increase budget allocation for agriculture with focus on research in preservation and conservation of indigenous species of plants and animals in Africa.
"This will contribute to knowledge sharing and awareness creation on the relevance of indigenous species as a response to climate change," the petition recommends, adding: "Lastly, pass resolution to integrate indigenous agriculture practices in education curriculum in some relevant subjects like agriculture and biology in all African countries. This will enable preservation and increased knowledge among the young people on the need to preserve and promote indigenous species."
The petitioners, drawn from Kabaale and Busheruka sub-counties in Hoima District Uganda where there are planned oil refineries and other infrastructure, say GMOs present a number of risks and their introduction onto the continent could have a huge negative impact on food security, indigenous crops and organisms, health risks and associated problems.
The petitioners say while different African states have made a number of policies, laws and commitments regarding climate change, including integrating the aspect of climate justice into their different state legislations, as a grass root community whose livelihood entirely depends on agriculture, they still believe that leaders have not done enough to respond to these calamities.
"The major concern is about the use and promotion of genetically modified organisms [for both plants and animals] in Africa.
Uganda, whose backbone is agriculture, once known for its indigenous plants and animals now faces many difficulties in dealing with these invasive species. Maintenance and management strategies of these species require a lot of capital in terms of purchasing inputs such as fertilisers, herbicides and pesticides, among others," the petition reads in part.
The petitioners say with the worsening climate change, the introduction of one season fast maturing plants has made it difficult for farmers to plan. They argue that GMOs, which they claim are invasive species onto the continent, cannot withstand climate change and weather vagaries and therefore increase food insecurity on the continent.
"As earlier stated, these species require many inputs in terms of chemicals like fertilisers, pesticides, herbicides, processed feeds, and vaccines, among others that are all expensive for the ordinary African farmers," they add in the petition.
The petitioners also contend that in Africa, more than 85 percent of grass root communities heavily rely on rain-fed agriculture and that the 'invasive species' are not resistant and not compatible with the local environmental conditions.
"As such, they require effective irrigation as an alternative, which is extremely expensive for grass root communities. Whereas these GMOs were initially introduced as a solution to enhance agricultural productivity and food security, there has been a concerning trend of a financial strain on communities due to the high costs associated with these invasive species," the petition states.
"Buying seasonal seeds for planting and agricultural inputs to manage these species among others is not sustainable and oftentimes leads to significant drain of limited financial resources within the communities. The local farmers are often compelled to divert funds from other essential needs such as education, healthcare and basic infrastructure development," the petition adds.
They also say there is an increased outbreak of pests and disease, which is attributed to the increase in temperatures caused by the changing climate. Unfortunately, they say, GMOs are prone to attack by these pests and diseases.
They also say the GMOs present huge health risks to the local communities, who are illiterate and do not understand the precautions to follow while using these pesticides and herbicides.
This, according to the petition, exposes the users to high risks of contracting diseases through ingestion, inhalation, or skin contact that can lead to acute and chronic health related issues.
"These include respiratory diseases, skin irritations, neurological disorders, and even certain types of cancers in the end. Most grass root women are also worried about the consumption of these genetically modified organisms since they are mainly treated with chemicals; others are injected with hormones to increase their shelf-life spans," the petition states.
Source: Daily Monitor
NEBBI: Livestock disease kills 14,000 goats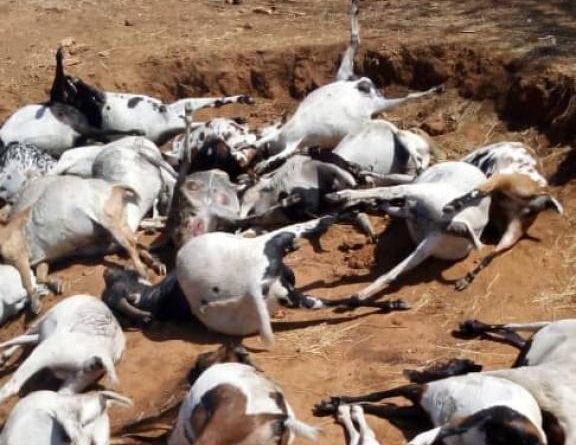 Nebbi, Uganda. The Nebbi district veterinary department is struggling to contain an outbreak of the Contagious Caprine Pleuropneumonia (CCPP), a disease which is highly fatal in cattle and other hoofed animals.
At least 14,650 goats have died and 53,397 goats have been infected following the outbreak of the disease which was first reported in 2022.
According to the local authorities, the disease has since spread to a cross all the sub counties like Erussi, Nebbi ,Alala Jupangira Atego ,Ndhew and Kucwiny as well as Nebbi Municipality.
Moreen Awekonimungu, a livestock farmer in Nebbi Municipality says that she has so far lost three goats since the outbreak was reported a year ago. She further notes that an infected animal dies within two weeks after presenting with signs and symptoms of the disease.
The Contagious Caprine Pleuropneumonia (CCPP) is an infectious disease caused by mycoplasmas and it mostly affects ruminants.
The diseases are transmitted through direct contact and inhalation of droplets from infected animals. Symptoms include fever, nasal discharge, coughing, difficult respiration, edema, and lung tissue abnormalities.
Emmauel Ongeitho, the Nebbi Municipality assistant veterinary officer blames the persistence of the diseases on the poor attitude of farmers against vaccination of their livestock. According to Ongeitho several farmers shunned the mass vaccination exercise which resulted in a spike in livestock deaths.
According to Dr. William Abedkane, the principal veterinary Officer for Nebbi district, the outbreak which started last year has been killing goats silently since farmers are hesitant to report the cases to the veterinary officers in their respective sub counties.
Abedkane further appealed to farmers to pay attention to animal health just like they do with their own health.
According to information from the Minister of Agriculture, Animal Industry and Fisheries (MAAIF), the outbreak of Contagious Caprine Pleuropneumonia (CCPP disease was first confirmed in Uganda in 1995 in Karamoja region.
Original Source: URA Via The Independent.