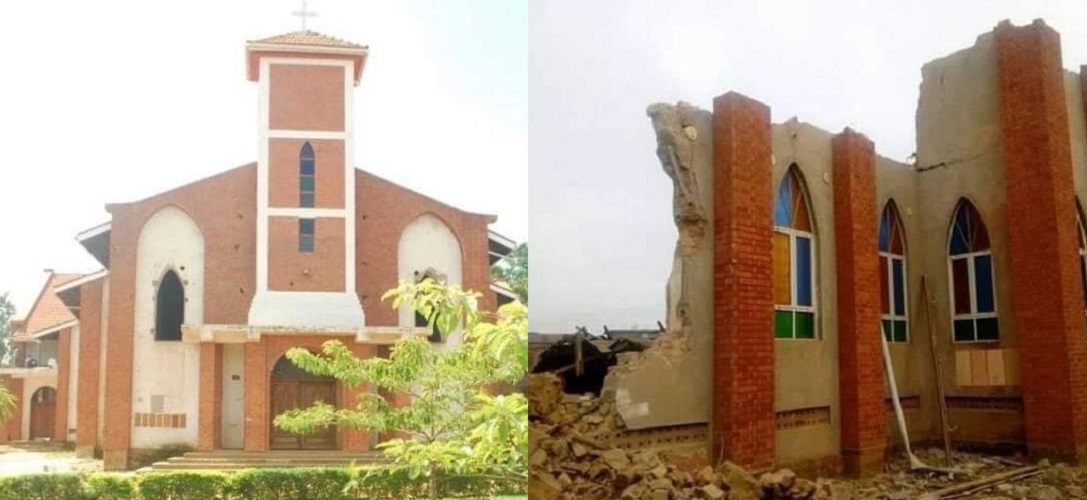 St. Peter's church – Ndeeba before and after demolition 
By witnessradio.org Team
Kampala – Uganda – a 49 year old St. Peter's church – Ndeeba has been demolished by soldiers and police personnel in the wee hours of August, 09th, 2020 to give way for development. The church has been under the guard ship of Uganda police personnel according to area leaders.
The demolition has occurred while Uganda is still in COVID-19 lockdown with directives from government that halted land evictions in the same period.
Its alleged that the demolition of the church has occurred after a longstanding land wrangle between the church leadership and a businessman only identified as Dodovico. Some months ago, projects like car washing bays, food kiosks, motor garages and a nursery school that occupied part of the land suffered the demolition first.
One of the local leaders Ms Farida Nakabugo confirmed that there was a huge presence of security operatives on Sunday night before the church was demolished.
Since late 2018 when Uganda held its first validation of the National Policy of Industrialization, the demand for land had soared before, which has resulted into more evictions with illegal ones being the majority. Its still not clear when the government will start to implement the policy.
witnessradio.org has documented millions and millions of population that have lost their farmlands, ancestral lands, families' burial grounds, business lands and homes in rural and urban settings to both local and international businessmen with impunity.