Disband Mubende district Land board- Witnessradio.org demands in a petition to the district speaker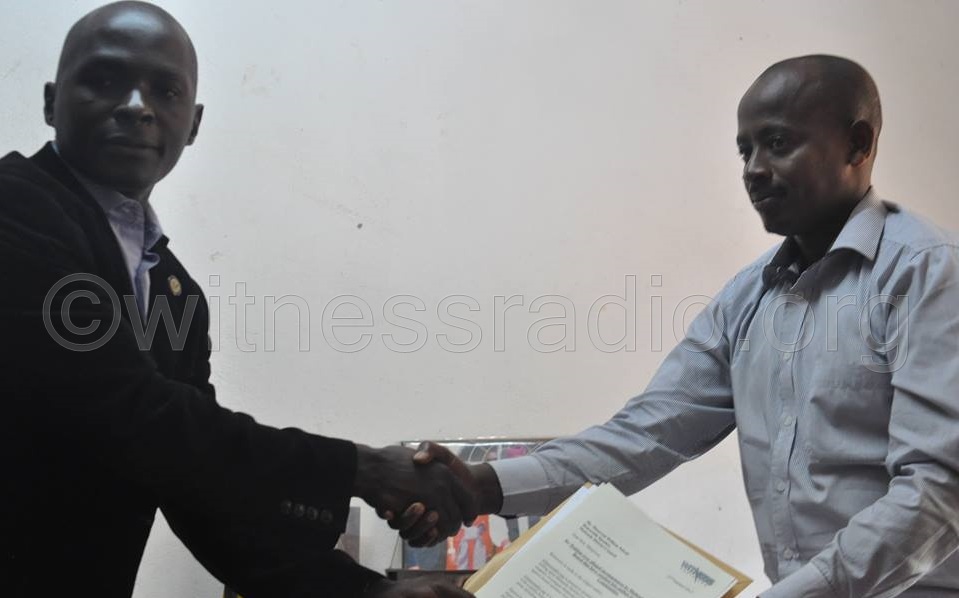 By witnessradio.org Team
Witnessradio.org a non- governmental organization wants Mubende district land board disbanded and immediate investigations into those responsible for the displacement of native communities.
The organization says the board is responsible for issuing multiple land titles, loss of communities' land, violent land evictions, loss of property, human rights violations committed against native communities, loss of lives and sense of belonging to natives among others.
As a result of this, over 190,000 families have been broken and about 2M hectares of land grabbed by highly connected businessmen who use guns, power and money.
The executive Director Witnessradio.org, Mr. Wokulira Ssebaggala says that the board has failed on its duty to protect natives and instead given out their land to businessmen.
"Please note that the number of hectares being mentioned in the our findings was captured from land titles in public domain and being used to evict local communities by businessmen, despite the land being far more than the district land size". Ssebaggala said.
He criticized the "Title on the Table system" of giving out land that is being used to takeaway land from the natives saying it is illegitimate and demands for an independent investigation into the conduct by individual board members and take action against those found guilty
"We also want this independent team created to study all land titles issued by the current board and cause interfaces with communities that lived or living on that land and later recommend that these communities be re-instated". He adds.
Ssebaggala was accompanied by Madudu district councilor Fred Balongo who pinned the former RDC Florence Beyunga of conniving with the land grabbers to fleece natives of their land.
"I tried to fight to see to it that this matter is presented to council, but it was defeated on grounds of quorum after the RDC bribed some councilors who didn't turn up, the biggest problem here is corruption and it is failing everything" Balongo said.
Meanwhile one of the victims of the evictions Naalongo Annet Nanyonjo whose husband is still in jail says the grabbers have used courts of law to keep the bread winners behind bars as they complete their mission of taking over their land.
"My husband was arrested from home and charged with murder and aggravated robbery as people from FOMASA tree planting company took our land, he remains in jail up to now".
Receiving the petition, the district speaker William Museveni Ndooli promised to handle the matter although he didn't commit himself on the release of those arrested saying it would be contempt of court.
He said that as the district leaders, they are aware that the land problem is bigger and will follow it to the end.
Renewing demand for justice; the 28 land rights defenders have applied for bail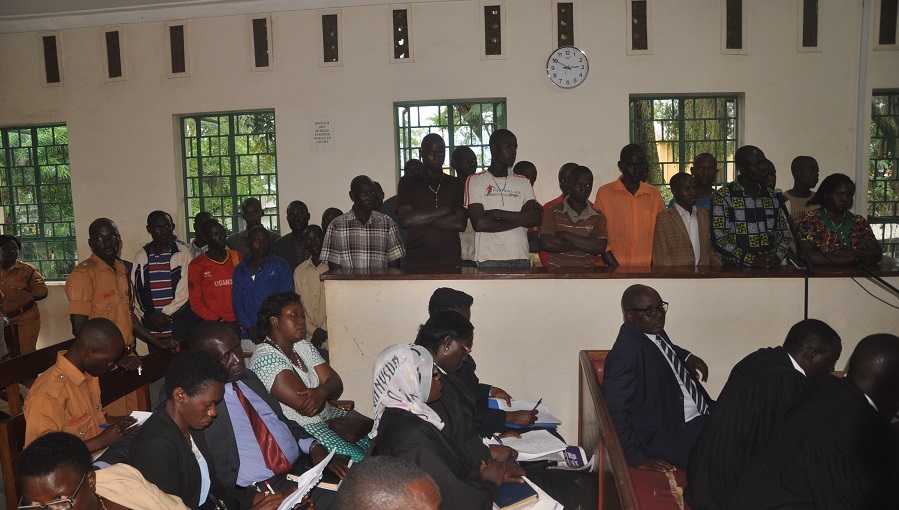 By witnessradio.org Team
Mubende – Uganda – the defense lawyers of the 28 community land rights defenders have filed new applications for bail at Mubende High Court after spending 3 years in prison.
The 28 include two staff members of Witnessradio.org's Nantubiro Grace and Mugwabya Ronald.
Others are; Mugisha Focus, Ssekamana Kaloli, Mwikirize Keleti, Ssewanyana Kizza John, Tumwine Moses, Bigirwa Gilbert, Mulindwa Tadeo, Kayesu Patrick, Kyalimpa Tobias, Mugisha Stephen, Mwesigye John, Kiiza John Bosco, Byakatonda Aroon, Manirikiza Elidefunce, Tabalamule William, Kobwemi Christopher,  Kiwanuka Emmanuel, Senkula Charles, Ssemombwe George, Musinguzi Paul, Biryomumisho Fred, Maniriho Forodis,  Habimana Ernest, Byaruhanga Emmanuel, Mwesigye Julius and Kezaala Saul.
They are facing 9 counts including murder, and aggravated robbery among others.
The prosecution alleges that on October 12, 2018, the accused at Kambuye-Kanseera, Mubende district, killed and robbed Yunus Kasajja Tabu of his three mobile phones.
Late Tabu allegedly died during a fight with land grab affected community whose assailants are still unknown. Tabu was a manager of local businessman one Kaweesi George, under the protection of police grabbed 322.5 hectares and violently evicted over 3500 lawful occupants on Block 168; Plot 19, 22 and 23 covering five villages namely; Kambuye, Kikono, Kyabaana, Kanseera and Lwensanga in East Division, Mubende Municipality, Mubende district. The land is adjacent to Kaweeri Coffee Plantation is covering on.
However, police carried out a random arrest and targeted land rights defenders and activists that were mobilizing and empowering the landgrab affected community to resist an illegal and forceful eviction.
In January 2019, the attempt to get bail for witnessradio.org's Nantubiro Grace and Mugwabya Ronald was denied High Court in Mubende's justice Joseph Mulangira.
According to officials at Mubende High Court, bail applications will be heard this afternoon.
Beijing proposes seven-point plan for upgrading China-Africa cooperation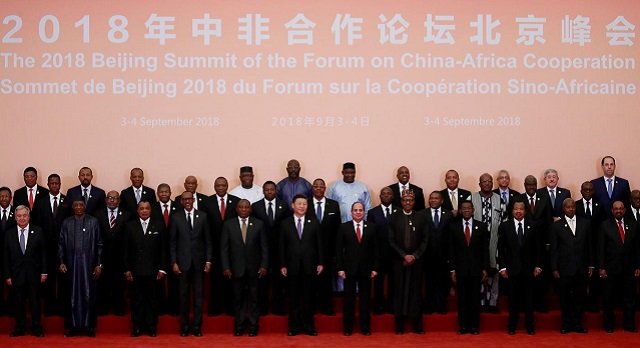 Chato, Tanzania | XINHUA |  The 2018 Beijing Summit of the Forum on China-Africa Cooperation (FOCAC) has achieved great success and become a new monument to China-Africa friendly cooperation, Chinese State Councilor and Foreign Minister Wang Yi said Friday.
Wang made the remarks at a joint press conference here with Tanzanian Minister of Foreign Affairs and East African Cooperation Palamagamba Kabudi during his official visit to the African country.
Wang noted that over the past two years, China has fully implemented the eight major initiatives with African countries proposed at the Beijing Summit.
Cooperation in areas of industrial promotion, infrastructure connectivity, trade facilitation, green development, capacity building, health care, people-to-people exchange, and peace and security have been carried out in a comprehensive way, he said, adding that the overall implementation rate has exceeded 70 percent.
Noting that China-Africa cooperation on the "Belt and Road" is progressing smoothly, Wang said over 1,100 cooperation projects continue to operate during the epidemic.
Meanwhile, nearly 100,000 Chinese technical and engineering personnel also stick to their posts to coordinate and promote epidemic prevention and control as well as resume work and production, making important contributions to local economic and social development.
The friendship between Chinese and African people has continued to grow and the two sides have established 11 pairs of new sister cities, bringing the total number to 150, said Wang,
Furthermore, the China-Africa Institute has been inaugurated, a number of Confucius Institutes have been set up in Africa and exchanges in sectors of sports, health, tourism and youths between the two sides have yielded fruitful results, Wang added.
Wang noted that despite the impact of the COVID-19 pandemic, it will not stop China and Africa from moving forward together. The two sides are scheduled to hold a new session of the FOCAC in Senegal later this year.
"China is ready to enhance communication with our African friends and we will carefully design the outcomes of the meeting and upgrade China-Africa cooperation based on the new situation, new needs and new opportunities of China-Africa cooperation," said Wang.
A seven-point plan for upgrading of China-Africa cooperation is also proposed by Wang.
–China will strengthen health cooperation, work together with Africa to completely defeat the epidemic, help Africa enhance its capacity to prevent and respond to major diseases, and jointly build a "Healthy Africa".
–China will enhance production capacity cooperation and upgrade China-Africa project cooperation to a more clustered, large-scale, industrialized and localized scale. China will help Africa raise its capacity for independent production and jointly build a "Made in Africa".
–China will strengthen regional connectivity, explore China-Africa free trade cooperation, and help Africa enhance internal infrastructure connectivity, unimpeached trade and financial integration so as to jointly build an "Inter-connected Africa".
–China will strengthen agricultural cooperation, carry out cooperation in grain production, storage and transportation, help Africa strengthen its food security and guarantee capability to jointly build a "Harvest Africa".
–China will strengthen digital cooperation, give full play to China's technological advantages, help Africa seize the opportunity of the information revolution and jointly build a "Digital Africa".
–China will carry out environmental protection cooperation, practice the concept of sustainable development, help Africa improve its ability to cope with climate change and jointly build a "Green Africa".
–China will strengthen military security cooperation, promote political solutions of critical issues in Africa, help Africa enhance its peacekeeping and anti-terrorism capabilities, and jointly build a "Safe Africa".
Wang also expressed confidence that with the joint efforts of both sides and under the guidance of the forum mechanism, China-Africa cooperation will continue to bear fruits and make greater contribution to the building of a closer China-Africa community with a shared future.
****
XINHUA
A tree planting Chinese Company, Formosa Limited in fresh illegal land eviction…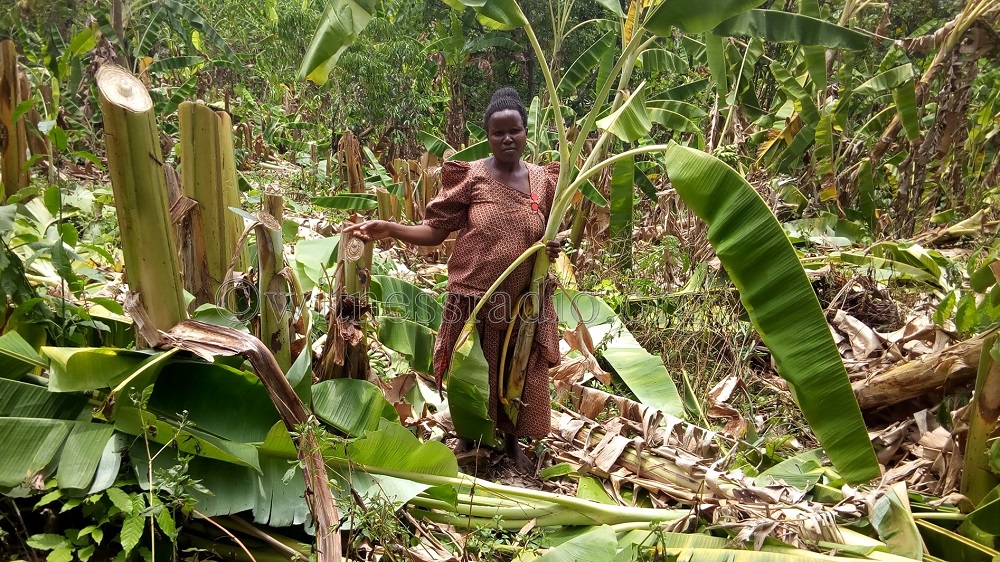 By witnessradio.org Team
Mubende – Kampala – More than 14 families in 3 villages of Butoro, Kyedikyo, and Nakasozi, Madudu Sub County in Mubende district are facing fresh evictions by Formasa Tree Planting Company, a Chinese-owned company.
Since 2011, Formasa Limited under the protection of Mubende police has forcefully grabbed 2590 hectares that were a source of livelihood for poor communities.
The land grabbing has affected over 10 villages including Butoro, Kyedikyo, Nakasozi, Namayindi, Kitebe, Kisiigwa, Mukiguluka, Busaabala, and Kicucuulo located both in Maduddu and Butoloogo sub-counties, Mubende district.
Cecilia Namawejje aged 80 years, resident of Butoro is one of the families under tension after her 2acres banana plantation was cut down by a group of 42 workers of Formasa tree planting company.
In the last days of 2020, a group of 42 workers attached to Formasa Company attacked 3 villages, destroyed houses and plantations of residents forcing them off their land.
Namawejje with over 20 acres in this area said she has occupied this land for more than 50 years and this has been earning a living for her family.
"Wounds caused by Formasa to me can never heal. In 2017 my two sons; Sam Serugo and Yona Sejjombwe were arrested and imprisoned for 34 years over the same wrangles. And again they came threatening to kill us if we do not move off our land. The land we have occupied for decades, where do they want us to go," she narrated.
Namawejje who had more than 50 acres said over 30 acres have so far been grabbed by formasa. "I cannot access the remaining 20 acres, I have a family of 8 grandchildren, we have nothing to eat and I cannot even afford to educate them," she added.
Annet Nannyonjo a mother of 11 in the same village whose 5 acres of cassava plantation were also destroyed is in total misery due to a lack of what to feed the family.
"My husband (Salongo Ssemombwe Richard) was arrested by the same company, we used to grow food but the workers usually cut it down. Now we are left with nothing to eat," she added.
She added that she experiences sexual assaults from the workers. "They threatened to gang-rape me because the would-be keeper (my husband) was first arrested, "she added.
Residents who have never received compensation from Formasa or its agents are being threatened and stopped from cultivating their land by company workers.
The chairperson of Butolo village, Mr. Ngenda Paul said that the case was reported to police but they were not attended to.
According to residents, Formasa land grab has deprived them of the right to food, clean water, shelter, and education for their children among others.