Banks devise ways of increasing lending to agriculture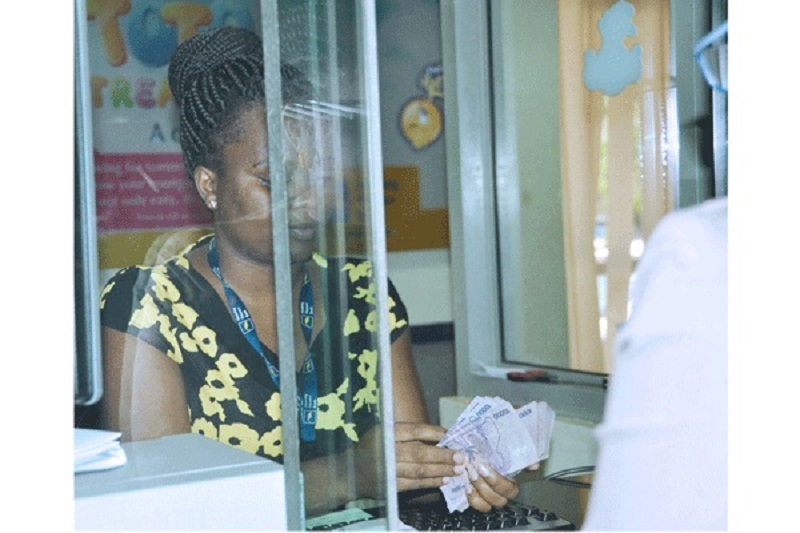 A teller counts money in a bank. Bankers have started the conversation about lending more to the agriculture sector. the share of lending to agriculture as a percentage of total private sector credit has more than doubled from 5.2 per cent in 2009 to 12 .9 per cent in 2019. PHOTO BY ERONIE KAMUKAMA 
Agriculture can offer an opportunity for inclusive, economic growth, particularly in developing countries such as Uganda. With sufficient financing for sustainable and climate-smart production systems, experts believe that the sector can unlock economic potential.
In response to the above benefits, commercial banks in Uganda are positioning themselves to use an ecosystem to increase lending to the agricultural sector in the next five years based on their aspiration of raising lending to agriculture to 20 per cent from the current 12 per cent.
Agriculture lending
The last decade has seen a remarkable improvement in lending to agriculture. Private sector credit to this sector has increased in nominal terms from Shs241.7 billion in 2009 to over Shs1.6 trillion in early 2019. Currently, the share of lending to agriculture as a percentage of total private sector credit has more than doubled from 5.2 per cent in 2009 to 12 .9 per cent in 2019
The agriculture ecosystem is an open system, whereby continuous human intervention is needed for the maintenance of equilibrium with the aim of maximising the production provided by a few domesticated plants (crops) and animal species.
In an interview with Prosper Magazine last week, the chairman Uganda Bankers Association (UBA) who is also the chief executive of Stanbic Bank Uganda, Mr Patrick Mweheire, said by increasing lending to agriculture, banks will aggregate farmers in groups depending on what crops they produce such as barley, cocoa, coffee and maize among other crops grown in Uganda.
"We have scaled up financing (lending) in specific crops grown by the farmers under the ecosystem," he explained.
Mr Mweheire said partnerships such as the Agriculture Credit Facility (ACF) at Bank of Uganda and other initiatives will help in de-risking agriculture.
He said as Stanbic bank Uganda they have financed the entire value chains with Nile Breweries.
Mr Mweheire challenged bankers to rethink about financing agriculture.
"Bankers and financers must start seeing agriculture from another pair of lenses. We must invest in understanding the dynamic and cycles in agriculture and structure appropriate financing models that suit agriculture and its value chains," he said.
Agriculture contributes 25 per cent of the Gross Domestic Product (GDP) of Uganda, and banks' want to match lending to agriculture with the same level it contributes to GDP.
Asked how Stanbic Bank is doing regarding lending to agriculture, Mr Mweheire said: "At stanbic our lending to agriculture is already at 25 per cent."
Bankers aspire to increase lending to agriculture from the current 12 per cent to 20 per cent in the next four to five years.
The executive director of Uganda Bankers Association, Mr Wilbrod Owor, said, "It is a change that will take some time."
The Rabobank Group operates in 48 countries, providing clients in every market with industry expertise, extensive experience, innovative resources – and deep local market and sector knowledge.
Agricultural financier 
Rabobank is rooted in the Netherlands and has a large network in the agricultural business, research and education sectors.
Rabobank — a global leader in food and agriculture financing — has played an important role in developing Dutch agriculture and horticulture, both businesses in the Netherlands.
Rabobank was founded in the 1890s by farmers as a small cooperative of banks serving their rural communities. The cooperative model was designed to provide a fair and reliable source of credit to local customers through a system of shared liabilities, pooled resources and reservation of profits.
Rabobank expanded its business scope and geographic presence throughout the 20th century, adding a broader range of banking and financial services to meet the needs of its customers in the Netherlands and internationally.
Here in Uganda, Rabobank is supporting agriculture through the Netherlands Embassy. In dfcu bank, it is giving technical assistance on issues related agriculture financing.
Ms Marianne Schoemaker, the managing director, Rabo Partnerships, explained how banks can de-risk agriculture to promote decent youth employment and inclusive growth.
In an interview with Prosper Magazine, on how banks in Uganda can increase their lending to agriculture, Ms Marianne said banks should understand the business of their clients.
"They (banks) need to have an understanding of the business that they are servicing well; for instance, fish supplier trend, logistic inputs for the case of crops and the risks," she said.
Ms Marinne said government needs the knowledge on how to blend financing for that particular product.
Sharing her knowledge on how Rabobank has operated effectively in agriculture financing, Ms Marianne said their operation is based on knowledge, network and finance.
"These three are crucial because it provides the insights on our operational models," she
Marianne added: "Use the knowledge and come up with the financing solutions for clients. You need a network that provides information to you whether to provide financial support or technical assistance," she explained.
Agriculture Insurance
During the Financial year 2016/17, government of Uganda established the Uganda Agriculture Insurance Scheme (UAIS) as a pilot project whose objective is cushion farmers from risks associated with losses from natural disasters while attracting financing to agriculture.
Agriculture Insurance encourages commercial banks to lend to the agriculture sector given that the risks associated with agriculture are mitigated through appropriate insurance covers, improving access to agriculture loans.
The scheme provides an insurance cover for crops and livestock, for both small and large-scale farmers. Under the scheme, government provides premium subsidy funds, and in collaboration with industry players also undertakes publicity, sensitisation and training of farmers.
The Insurance Regulatory Authority of Uganda (IRA) provides the regulatory oversight and quality control, Bank of Uganda on the other hand, manages the drawdown on UAIS Account, while monitoring and evaluation of the scheme is done by the UAIS Technical Working Committee.
Started on July 1, 2016 with Shs5 billion, the Uganda Agricultural Insurance Scheme (UAIS) is a Public Partnership arrangement, which covers five years.
The Acting Commissioner Financial Services in the Ministry of Finance, Mr Ira Kirungi John Byaruhanga, said the number of farmers accessing the agriculture insurance scheme has grown.
"In the last one year, we have seen uptake in this scheme increasing. 77,000 farmers are accessing the funds through the scheme," he said.
In developing Uganda's agricultural sector to the desired level, which attracts high credit services from the commercial banks, the governor Bank of Uganda, Mr Emmanuel Tumusiime Mutebile, said potential areas of further investment for government and the financial sector include roads, cold storage, transport, support for farmer organisations, agricultural extension and out grower schemes.
"Bank of Uganda will continue working with government and commercial banks in promoting affordable agricultural finance through the Agricultural Credit Facility, which we encourage all eligible borrowers to take advantage of," he said.
Agriculture Credit Facility
The Agriculture Credit Facility (ACF) cumulatively disbursed Shs332 billion by 31st March, 2019, to finance 551 eligible projects. This enabled borrowers to establish large capacity agro-processing facilities, expand grain trade and investment in warehousing and expanding farm infrastructure.
However, 15 loans valued at Shs9.4b financed under the ACF were due for write off as at March 31, 2019.
The Netherlands' Ambassador to Uganda, Henk Jan Bakker said di-risking agriculture finance is of critical importance to the development of Uganda's economy. Ambassador Henk observed that commercial interest rates are still high. "Money cost is very expensive in Africa as a whole," he said
Going forward, Ambassador Henk advised that to develop Uganda's agriculture system government, donors and private sector have a role.
INVESTMENT AREAS
In developing Uganda's agricultural sector to the desired level, which attracts high credit services from the commercial banks, Mr Mutebile said potential areas of further investment for government and the financial sector include roads, cold storage, transport, support for farmer organisations, agricultural extension, and out-grower schemes.
Mr Mutebile said it is also necessary to address information asymmetries, for example, by matchmaking international firms and local suppliers.
"Only through boosting agricultural development through inclusive rural-urban links will we effectively harness the agriculture sector as a dominant source of employment. I applaud the UBA for rising to this challenge and call upon Government to join the bankers in the modernization of agriculture for job-creation and inclusive economic growth," he said.
De-risking agriculture
Several other initiatives have been introduced to harness opportunities while combatting obstacles including de-risking lending to the agricultural sector with schemes such as the ACF at Bank of Uganda, the agri-business development & guarantee scheme at aBi Trust, the Ugandan Agricultural Insurance Scheme, farmer skills empowerment programmes to enable them to undertake agriculture as a business.
More recently, there have been increased points of access to financial services through agent banking and use of other digital infrastructure to speed up financial payments and money flows through technology.
Without incentives, farmers are limited in their ability to invest the time and capital to change agricultural practices and overcome technical, cultural or financial barriers to sustainable production.
These incentives encourage farmers to protect and deliver more services through better management of crops, livestock, forest and fisheries, and conservation of endangered species and protected.
Kiruhura and Kazo lift ban on milk sale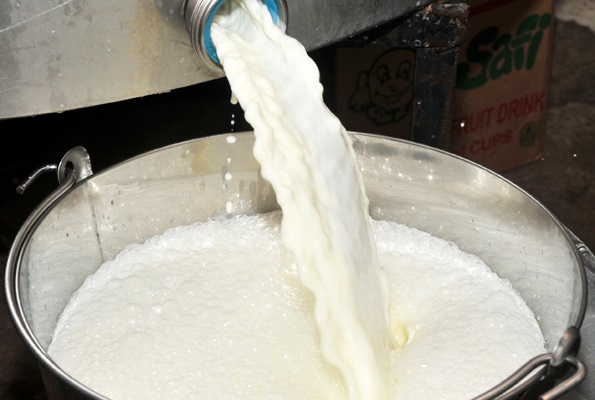 Ban on the sale of milk has been lifted for two weeks under strict regulations
Kiruhura, Uganda.  Authorities in Kiruhura and Kazo districts have reversed the earlier ban imposed on the sale of milk. The two districts that are under quarantine following the outbreak of Foot and Mouth disease had banned the sale of animal products and the movement of livestock.
However, in a meeting held between the dairy farmers and district Foot and Mouth disease task forces of both districts, it was agreed to lift the ban on the sale of milk for two weeks but under strict regulations.
Kiruhura District Resident Commissioner Aminadan Muhindo says they have stopped traders who move from house to house collecting milk on motorcycles, but asked them to set up collection centres where farmers will personally deliver their milk.
Kiruhura LC V chairperson Rev Samuel Katugunda welcomed the partial lifting of the ban. He also asked the residents to respect the regulation.
He says the districts are facing an economic crisis because of the total quarantine.
Kazo District Veterinary Officer Richard Kiyemba says they have agreed with dairy farmers to continue selling the milk. He says they are faced with the challenge of unscrupulous people who smuggle livestock out of the district at night.
The quarantine in these districts has increased the smuggling of livestock and its products which is done during the night. Recently, a trader was arrested carrying animals in a Fuso truck heading to Kampala.
Emmanuel Kyeishe, chairperson Kiruhura district Framers Sustainable Development Association, welcomed the lifting of the ban on the sale of milk but warned that the task force is to blame for the widespread of the disease.
He asked the team to ask for reinforcement to boost their monitoring and implementation of the quarantine.
Original Source: THE INDEPENDENT
Multi-billion cereal processing plant opens in Soroti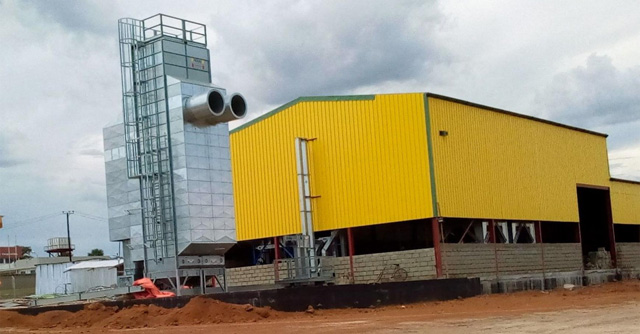 Pela Agro- Processing Factory in Soroti.
Soroti, Uganda. Soroti City will be home to a multi-billion agro-processing business for cereals, thanks to Pela Commodities Limited, a new industry being established in Arapai industrial area.  
Pela commodities has already started laying its machinery in the area near Soroti Fruit Factory. It is expected to handle 18 types of cereals and be able to sort, clean and dry 36 metric tonnes of cereals per hour, according to Isaiah Langa, one of the directors of Pela Commodities Limited. He adds that the plant will easily process over 600 metric tonnes of cereals in less than 24 hours.
Langa adds that they intend to start with maize, soya beans, millet and sorghum produced by farmers in the areas of eastern and northern Uganda, and that their first priority is to improve the quality of grains in the country and open a market for Ugandan grains in the region and beyond.  The cereals currently provide staple food for more than 50 per cent of the population and incomes for rural households. 
Maize is intensely grown in the eastern Uganda districts of Kapchorwa, Mbale, Kamuli, Jinja, and Iganga, the central districts of Masaka and Mubende as well as the western districts of Masindi, Kamwenge, Kyenjojo, Kasese, Kabarole, while the production of finger millet is concentrated in Apac, Lira, Gulu, Kitgum, Iganga, Kamuli, Soroti and Tororo districts. 
"…for now, we want to ensure quality in the production of grains. We have acquired a toxin scrubber machine that will wash away aflatoxin in the grains. By July/August, the issue of aflatoxin will be no more in our grains", he said. This pronouncement comes at the heels of a recent trade war between Uganda and Kenya arising from the quality of Maize on the Ugandan market. 
Kenya, the largest consumer of maize from Uganda stopped the importation of the crop on account that the levels of mycotoxins in the maize were above safety limits.
Amos Wekesa, a co-director of Pela Commodities Limited in Soroti says they made a decision to invest in Soroti because of the availability of land, which was offered to them by the Uganda Investment Authority, favourable weather conditions, availability of cereals and connectivity to South Sudan and Kenya markets. Wekesa added that the company is in the process of engaging farmers on how best to work to enhance production for the factory.
Annet Iyogil, a resident in Arapai welcomes the establishment of an agro-processing factory in the area with the hope that it will improve prices for the cereals. 
"We depend on cereals for survival these days. But the prices of maize and other foodstuffs are very low and unpredictable. If this factory sets a standard rate for cereals, that would really be good for us", she said. 
The factory, worth five billion shillings is expected to start operations by the end of April. 
*******
URN
Foot and mouth quarantine, drought push milk prices up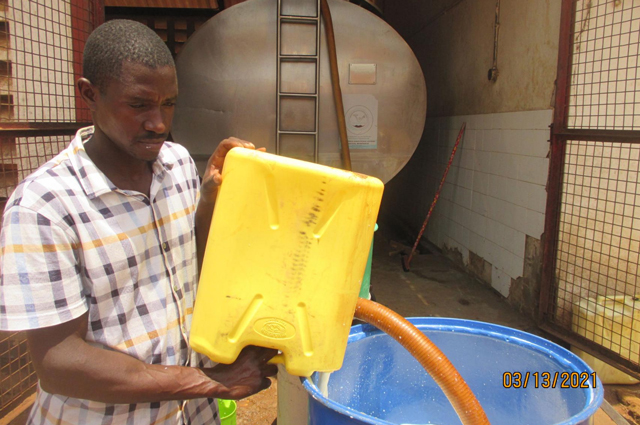 A farmer delivers his milk at Nabiswera Collection Centre in Nakasongola
Isingiro, Uganda. Drought and the outbreak of foot and mouth disease have led to a sharp rise in the prices of milk.
In the districts of Isingiro, Sembabule, Kazo and Kiruhura, farmers have seen their incomes plummet as they have nowhere to sell the milk.   Many are giving back the milk to the calves where possible, as even the local people are avoiding its consumption for fear of contracting the disease.
Unfortunately, it is even more expensive than before to treat animals, as private veterinary officers have increased the cost of drugs and treatment. 
Esther Oineababo, a dairy farmer in Kiruhura district says that in the sub-counties which are under quarantine, some people have resorted to smuggling animals and products at night, which she says in increasing the risk of the spread of the FMD.
Allan Aruho, a farmer in Kiruhura Sub-county, Rwomugina Cell says the milk prices have gone a little up, but he decries the middlemen who buy the milk from the farmers and take it to the cooling plants.  Aruho says he cannot take the milk or hire someone to take it to the cooling plant or collection centre, because of the new regulations. 
According to the regulations, the districts have been divided into cells, and each cell allocated only two milk traders or transporters, to limit the spread of the disease. He says that otherwise, he would be getting more than the 800 Shillings for a litre that they now give him amidst the scarcity. 
While in the southwest, they are battling foot and mouth disease, and not-so-harsh weather, in the northern part of the cattle corridor, the drought is becoming almost unbearable, especially for farmers who had improved their stock to hybrids. 
In Nakaseke and Nakasongola, the dams have long-dried up and those who are in the hardest-hit areas have resorted to migrate to areas that are slightly not as dry, or near natural water sources. 
Those who can afford are buying water, but a water tanker of 150,000 litres costs 150,000 Shillings, which can hardly last two weeks because, much of it evaporates from the ponds or dams, due to the heat.
The cheaper option is to look for areas to rent near water sources, at 1 Million Shillings or more for five acres, depending on the location.  This has led to a sharp decline in the productivity of animals. 
An average local cow now produces two to three litres of milk a day from six under normal circumstances, while the hybrid ones are now producing an average of six litres, half the normal capacity. 
Robert Lwanga, a mixed farmer in Nabiswere Sub-county, Nakasongola district says a litre of milk at the farm has gone up to 1,000. But he says half of the price goes to the direct costs like herdsmen wages, water, pasture and treatment. 
Another farmer, Robert Namara at Kagiyo Village sells his milk through Nabiswere Cooperative Society which has a collection centre. He says the cooperative buys a litre at 1,000 Shillings and sells it to buyers from Kampala at 1,100 Shillings, which is exciting but that unfortunately, milk production has fallen by half. 
He says that the farmers hardly have any say on the price of the milk because it is determined by the demand and prices in Kampala, the reason, it can drop to as low as 300 Shillings a litre. 
The picture on the prices in the North is the same as in the quarantine-free areas in the southwest, where the litre currently goes for 1,000 Shillings when the cooperative society, which owns a cooling plant, buys it. 
Loyce Kahwa, a worker at the Rusheere Cooperative Society collection centre says they are now buying as low as 5,000 litres a day, yet they used to buy up to 10,000 before the outbreak of foot and mouth. 
When the tank owners buy the milk at 1,100 to 1,200 Shillings a litre by the time it reaches the wholesale buyers in Kampala, the cost of a litre had gone up 1,450 Shillings and these sell a litre to a vendor at 100 Shillings more. 
David Rugumaho, an owner of a small dairy in Kisenyi says they are finding it hard to get enough milk, as all their sources are affected by different factors, hence the final cost of 1,800 to 2,000 Shillings a litre.
Aruho, the farmer in Kiruhura advises the government to vaccinate whole districts at once which he says would be more effective in controlling the disease. 
He also urges the government to complete the electricity connection projects that they seem to have abandoned, which would help them get coolers closer to the farming areas.
Original Source: independent.co.ug