A court assessor in the criminal trial of the 28 land defenders, hospitalized.
By witnessradio.org Team
Mubende – Uganda – A court assessor in the criminal trial of the 28 land rights defenders has been attacked and dumped few kilometers away from the court where the trial is being conducted.
Since November, 2019 to date, the 28 land defenders including two witnessradio.org staff members have been on criminal trial before Justice Anthony Oyuko Ojok facing nine counts including murder and aggravated robbery. 12 prosecution witnesses have so far been produced to pin defenders.
The 28 were framed, arrested and jailed because of their stiff resistance against an illegal and forceful eviction of over 3000 inhabitants off their 322.5 hectare piece of land comprised in Block 168, Plot 19, 22 and 23 covering five villages of Kambuye, Kikono, Kyabaana, Kaiser and Lwensanga in the East Division of Mubende Municipality, Mubende district by one Kaweesi George
Frank Ssekaggo Ssuubi was attacked by unknown people that had offered him transport on his way to attend court from Mityana town to Mubende. The attackers were traveling in a saloon car, Toyota Mark 11 brand.
"It was at 8:15 when I was standing at the stage near Kasibante Coffee Factor when a Mark II car flashed light twice, stopped and the driver called me by name. I was convinced that he knew me. So, I jumped on board after agreeing that I will pay him 5000 as the transport fare". He says.
Sekaggo Ssuubi who is now receiving treatment in Mityana said one of the passengers suddenly started strangling him using a seat belt and a rope as soon as he took a seat, demanding for money and he later became unconscious.
"I understand they later folded me like a mattress and drove up to Myanzi – Bugole area, off Mubende road where they dumped me. I later gained consciousness, taken to a clinic in Myanzi to receive first aid treatment." He emphasizes.
Ssuubi suffered deep wounds on the arms, neck and eyes.
Asked if the attack could be connected to the case case he is involved in, he is quickly to say that he cannot rule it out.
"I can't deny or confirm it but one thing I know is that I will continue doing my work in the case before court and ready for proceedings tomorrow"
The arrest of the 28 land right defenders ultimately weakened the fight the indigenous communities had put up and consequently over 3000 inhabitants were dispossessed off their land by one businessman Kaweesi George with help of security agencies including Mubende police.
Statement: The Energy Sector Strategy 2024–2028 Must Mark the End of the EBRD's Support to Fossil Fuels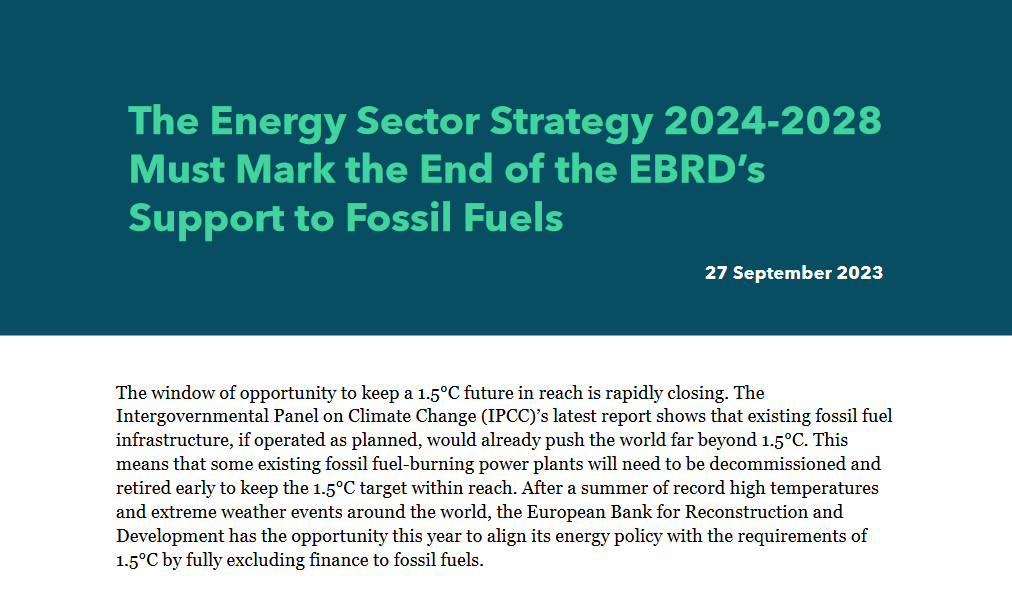 The European Bank for Reconstruction and Development (EBRD) is due to publish a new Energy Sector Strategy before the end of 2023. A total of 130 civil society organizations from over 40 countries have released a statement calling on the EBRD to end finance for all fossil fuels, including gas.
From 2018 to 2021, the EBRD invested EUR 2.9 billion in the fossil energy sector, with the majority of this support going to gas. This makes it the third biggest funder of fossil fuels among all multilateral development banks, behind the World Bank Group and the Islamic Development Bank.
The EBRD has already excluded coal and upstream oil and gas fields from its financing. The draft Energy Sector Strategy further excludes oil transportation and oil-fired electricity generation. However, the draft strategy would continue to allow some investment in new fossil gas pipelines and other transportation infrastructure, as well as gas power generation and heating.
In the statement, the civil society organizations point out that any new support to gas risks locking in outdated energy infrastructure in places that need investments in clean energy the most. At the same time, they highlight, ending support to fossil gas is necessary, not only for climate security, but also for ensuring energy security, since continued investment in gas exposes countries of operation to high and volatile energy prices that can have a severe impact on their ability to reach development targets. Moreover, they underscore that supporting new gas transportation infrastructure is not a solution to the current energy crisis, given that new infrastructure would not come online for several years, well after the crisis has passed.
The signatories of the statement call on the EBRD to amend the Energy Sector Strategy to
fully exclude new investments in midstream and downstream gas projects;
avoid loopholes involving the use of unproven or uneconomic technologies, as well as aspirational but meaningless mitigation measures such as "CCS-readiness"; and
strengthen the requirements for financial intermediaries where the intended nature of the sub-transactions is not known to exclude fossil fuel finance across the entire value chain.
Source: iisd.org
Download the statement: https://www.iisd.org/system/files/2023-09/ngo-statement-on-energy-sector-strategy-2024-2028.pdf
Complaint against unprofessional conduct of the DPC Kiryandongo district for aiding and abetting land grabbing in kiryandongo district.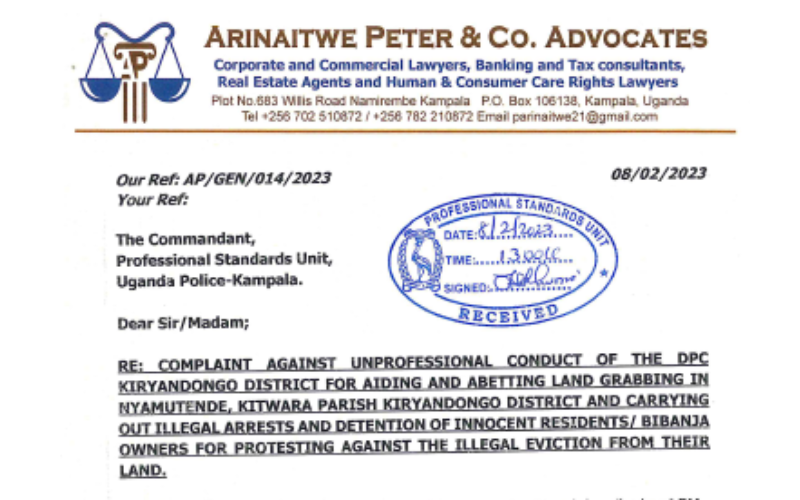 The Commandant,
Professional Standards Unit, Uganda Police-Kampala.
Dear Sir/Madam;
RE: COMPLAINT AGAINST UNPROFESSIONAL CONDUCT OF THE DPC KIRYANDONGO DISTRICT FOR AIDING AND ABETTING LAND GRABBING IN NYAMUTENDE KITWARA PARISH KIRYANDONGO DISTRICT AND CARRYING OUT ILLEGAL ARRESTS AND DETENTION OF INNOCENT RESIDENTS/ BIBANJA OWNERS FOR PROTESTING AGAINST THE ILLEGAL EVICTION FROM THEIR LAND.
We act for and behalf of the Lawful and bonafide occupants of Land described as LRV MAS 2 FOLIO 8 BLOCK 8 PLOT 22 (FORMERLY KNOWN AS RANCH 22).
Our Clients are residents of Nyamutende Village, Kitwara Parish in Kiryandongo District where they have lived for more than 30 years and sometime in 2017, they applied for a lease of the said Land to Kiryandongo District Land Board through the Directorate of Land Matters State House.
As they were still awaiting their Application to be processed, they were shocked to establish that the said land had been instead leased to and registered in the names of Isingoma Julius, Mwesige Simon, John Musokota William, Tumusiime Gerald, Wabwire Messener Gabriel, Ocema Richard and Wilson Shikhama, some of whom were not known to the Complainants. A copy of the Search is attached hereto
Our clients protested the above action and appealed to relevant offices, but were shocked to discover that the above persons had gone ahead and sold the same to a one Maseruka Robert.
Aggrieved by these actions, the Complainants appealed to the RDC who advised them to institute proceedings against the said persons, and assigned them a one Mbabazi Samuel to assist them to that effect. The said Mbabazi accordingly filed Civil Suit Noa 46 of 2019 against tne said registered proprietors at Masindi High Court challenging the illegal and fraudulent registration, sale and transfer of the subject land to Maseruka Robert.
While awaiting the progress of the case mentioned hereinabove, the Complainants were surprised to find that the said Mbabazi, instead of assisting them, he went into a consent settling the said suit on their behalf without their knowledge or consent. A copy of the Consent is attached hereto.
Among the terms of the said consent Judgment was that the residents would be compensated without specifying how much and would in return vacate the Land.
As if that was not enough, Maseruka Robert and Mbabazi Samuel are going ahead to execute the said Consent Judgment by forcefully evicting the occupants without compensation which has prompted the complainants to challenge the said Consent by applying for its review and setting aside at Masindi High Court which is coming up for hearing on the 29th March 2023. A copy of the Application is attached hereto.
Sensing the imminent threat of eviction, we also filed an application for interim stay of execution of the said consent to avoid rendering their application for review nugatory but unfortunately the same could not be heard on the date it was fixed for hearing (6th February 2023). A copy of the Application is attached hereto
On Thursday last week, three tractors being operated by 6 workers of a one Mbabazi Samuel [the very person who had been entrusted to represent our Clients to secure their Land through Civil Suit No.46 of 2019] encroached close to 50 acres of our Clients' land and started ploughing it but our Client's protested and chased them away.
We have however been shocked to receive information from our Clients that on Sunday at Mid night, 3 police patrols invaded the community in the night and arrested community members; Mulenje Jack, Steven Kagyenji, Mulekwa David, Ntambala Geoffrey, Tumukunde Isaac 15 years, Kanunu Innocent, Mukombozi Frank, Kuzara, Rwamunyankole Enock, and took them to Kiryandongo Police Station where they are currently detained.
We strongly protest the illegal arrests and detention of our Clients as this is a carefully orchestrated land grabbing scheme by Maseruka Robert and Mbabazi Samuel who are  receiving support from the DPC Kiryandongo.
The purpose of this Letter therefore is to request your good office to investigate the misconduct, abuse of office and unprofessionalism of the said DPC Kiryandongo District and all his involvement in the land grabbing schemes on land formerly known as Ranch 22.
Looking forward to your urgent intervention,
C.C The Head Police Land Protection Unit Police Head Quarters Naguru
CC The RDC Kiryandongo District
CC The Chairman LCVKityadongo District
CC The Regional Police CommanderAlbertine Region
The Executive Director of Witness Radio Uganda talks about the role played by Witness Radio in protecting communities affected by large-scale agribusinesses in Kiryandongo district in an interview with the ILC.