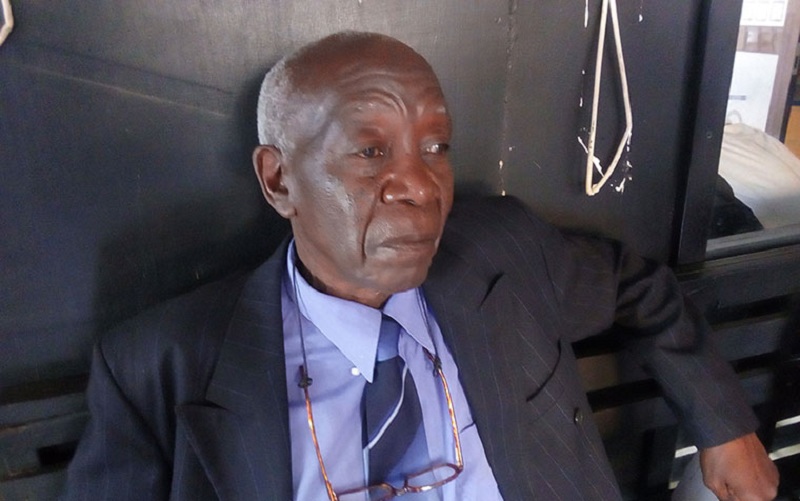 Ruling party, National Resistance Movement (NRM) vice chairman, Al Hajji Moses Kigongo, and other two city businessmen have been dragged into a city land wrangle involving an 80-year-old man.
Wycliffe Kato, 80, a retired civil servant has run to police to report that three 'tycoons' including Kigongo are intentionally grabbing his land in Kabalagala.
Kato claims that Kigongo, through fronting associates; Abudu Kizito Abiola and Mansoor Matovu alias Yanga famous for ownership of Namaganda plaza and many other malls in Kampala city, have embarked on a scheme to grab his prime land located in Kabalagala, a city suburb on plots 309, 317, 335 & 368.
When contacted, Kabalagala police station officer in charge of land protection, Aggrey Muwanika, confirmed that indeed Kato filed a case CRB 143/2018, SD REF; 51/23/12/2017 against Kigongo, who, he accused of grabbing land grabbing.
"They purchased a very tiny plot 310 of block 245 (2 decimals) at Kabalagala junction and using this, he encroached on the road reserve of Muyenga – Kabalagala road, encroaching on plots 309, 317, 335 & 368 and have blocked my house by building on its entrance which they build forcefully at night and use guns to threaten anyone who gets involved," Kato alleged.
In February, Kato wrote to the town clerk of Makindye Division citing an illegal construction on the said land. In the letter, Kato raised an alarm against the duo that he now claims were constructing a shop on the said land.
Accordingly, the owner of the shop insisted that the plot 335 belonged to him despite showing no evidence for it. Kato says that he had complained initially to the LC1 chairman of the area, the DPC Kabalagala police station on January 24, 2018 and KCCA on January 15 but all chickened out after receiving threats from Kigongo's associates.
At a later stage, the DPC organized for an impartial surveyor to survey the disputed land, only to find out the said surveyor had been paid off to write a biased report in favour of the alleged encroachers, Yanga and Abiola.
The surveyors report indicates that the said land instead belongs to the late Ham Mukasa thus the title deeds obtained by Kato of the same land inconsequential.
"This is not true because, I bought plot 368 from the late Ham Mukasa's son, the heir, in 1988, His father, who sold me plot 335 in 1986, had died. I had earlier bought plot 309 and 317 from the late Ssemwanga in 1985," Kato said.
"All land titles of plots 309, 317, 335 and 368 are in my name and available," Kato states.
To invalidate the report from surveyors, Kato sought help of ministry of Lands, which confirmed he was indeed owner of the said properties on February 12.
"Reference is made to your request for a search. This is to inform you that the following entries appear on the tittles registers as follows; Tittle: Land at Kiuliriza Makindye Division block 245 plot no 335. Reg proprietor: Kiggundu Wycliffe Kato registered on 08/07/1986 at 12:15pm," a statement from Lands reads in part.
But Kato states that in spite of all this, the group continued constructing at night on his land without being stopped by authorities.
"The police made them so untouchable that Yanga started boasting how no one will be able to touch them as soon as they rent out the shop."
"He kept flashing his gun and telling us no one can stop him, he threatened our lives," Kato added.
In a letter to the KCCA director of physical planning dated January 15, Kato expressed concern that the encroachers were playing hide and seek with police and KCCA officials at the expense of him losing his land. Kato said that a police booth situated less than a meter from the construction site did nothing to solve the situation.
"The builders have been playing the police and KCCA, a game of hide and seek while building at night. This is still going on till today. The policemen at the police booth protect the illegal builders instead of protecting us who had even given them a copy of the land title," the letter reads in part.
According to Kato, he thought the fight was all over until one evening, a car belonging to Kigongo drove into the site, and its occupant who later turned out to be Kigongo jumped out and made a few inspections before entering the car and droving away.
Many times, Yanga and his colleague Abiola had joked about the fact that he cannot fight someone big in government. Kato's son, David Kato also insists the Kigongo has visited the premises a number of times to do inspections.
"I am so disappointed a full vice chairman can be involved with such characters like Yanga who are known thugs to grab our land with impunity," David said.
However, Kigongo when contacted disowned the land grabbing claims that he comes from Butambala and cannot involve himself in land matters in Kampala.
"Let me tell you, those people who claim that am involved in that land, should come and I give them land, I do not own that land I come from Butambala-Bulo and I do not have any interest in Kabalagala land. My land is in Bulo where I will be buried and they should stop bothering my secretary," Kigongo said.
Abiola also said he does not know anything about the contested land in Kabalagala. Yanga on the other hand, said the land is his, and instead advised Mzee Kato to solve his issues with KCCA which, he said is after him for trying to construct in a road reserve.
"That man (Kato) is mad, he should go to court. I am a business man who cannot waste time in such small things; you think I have time to fight with that fellow over just 1 or 2 decimals? That man has a mental issue and you should ignore his claims," Yanga said.
"Kato is trying to build in the road reserve, and when authorities try to stop him, he comes complaining that it is me. I sought permission from KCCA to put pavers (on plot 310), which I did. However, the pavers were put on plot 335, which belongs to Kato.
He also wants to put mobile money kiosks after his perimeter wall, where people pass and that is between him and KCCA, not me," Yanga said.
Source: The Observer