US government stops funding to WWF, WCS and other conservation organisations because of human rights abuses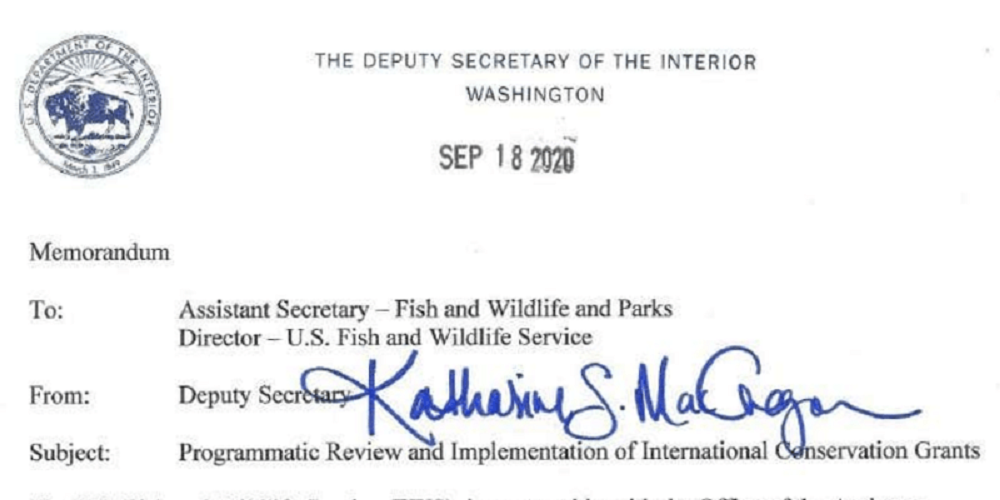 By Chris Lang
In autumn 2019, the US government suspended US$12.3 million of funding to the Central Africa Regional Program for the Environment (CARPE). This followed a bipartisan congressional oversight investigation to examine whether US conservation funds were supporting eco-guards who committed human rights abuses.
CARPE is funded by money from the US Agency for International Development (USAID) transferred to the US Fish and Widlife Service (FWS).
The review of US conservation funding followed the year long investigation by BuzzFeed News into human rights abuses and WWF. The investigation was published in March 2019 and revealed that WWF had funded eco-guards who tortured and killed people.
Conservation organisations responses: "Not uniformly thorough or responsible"
In November 2019, the FWS sent an information request to some of the organisations that had received CARPE funding. A memo dated 18 September 2020 from Katherin MacGregor, the US Deputy Secretary of the Interior, states that,
While all grantees replied, the responses were not uniformly thorough or responsible, thereby raising further questions about the desire and capability of grantees and the ability of the FWS to adequately monitor allegations and prevent such abuses in the future. One organization, Virunga Foundation, replied with a statement that it would be closing down its operations in 2019, and would not be sending any further documentation.
Wildlife Conservation Society replied "stating that the Service's request was overly burdensome and that they would only be able to produce a limited amount of information based on their internal document retention policy," MacGregor writes. Meanwhile African Parks told the FWS that "three investigations into allegations of human rights violations were conducted in 2019 managed by the organization and closed without documented consultation or notice provided to the Service prior to this data call."
Last week, Survival International put out a summary of the highlights of the Department of Interior's memo, under the headline: "Atrocities prompt US authorities to halt funding to WWF, WCS in major blow to conservation industry".
The following are REDD-Monitor's notes of some of the key points of the memo.
US Government Accountability Office investigation
In late 2019, the US Government Accountability Office (GAO) also started an investigation into the same issue. In August 2020, the Department of the Interior received a draft of GAO's report.
In her memo MacGregor writes that the draft report "contained no recommendations and instead indicated that GAO could not properly perform an inquiry into the in-country monitoring component of the CARPE program – arguably one of the areas of greatest concern and vulnerability when reviewing real-time oversight controls – due to COVID-19 travel restrictions."
Nevertheless, GAO's report included "some interesting findings", MacGregor writes:
For instance, interviews with U.S. government officials at multiple relevant agencies (State, USAID, and FWS) indicated widespread surprise by the allegations and concer that they were not notified previously through standard channels.
The State Department has relied on partner organisations, including WWF, to carry out its own internal investigation to determine whether US government-funded organisations were involved in human rights abuses. MacGregor writes,
The notion of an agency relying on an awardee to investigate itself to determine wrongdoing was highlighted during a Department briefing to House Natural Resources Committee staff conducted in July 2019. Staff from both the majority and minority expressed concern with this practice.
MacGregor notes that the review found that "information remains quite dispersed, buried in emails of former employees, spread across different Federal agencies, and in many instances, in the possession of awardees who have provided information in rolling productions that have not always been completed in a timely manner." She adds in a footnote that,
WWF stated they were told by other federal parties not to provide internal reports that document findings of wrongdoing by auditors they hired to investigate long-standing allegations. Fortunately, these documents were ultimately made available to the Department and contributed to our analysis.
The reprehensible nature of the abuse
MacGregor writes that,
[I]t is important to make clear the reprehensible nature of the abuse that has been documented and must be guarded against in the future:

Four women were beaten with a baton, lashed on their backs and legs, and raped by the eco-guards – two of the women were pregnant, and were still raped, even though a woman "begged them to spare her."
Three men were held by eco-guards for three days, during which the eco-guards beat them, "tied their penises with fishing thread, and hung them at the branch of a tree."
Eco-guards were falsely informed that a farmer's family was in possession of a weapon, so in the middle of the night the eco-guards burst into the farmer's home, beat all the members of the household, raped his wife in the bushes, and imprisoned the farmer and his father.
A woman was detained by guards, forced to cook for and serve the guards, and was tortured for four days after guards were falsely informed that her husband was in possession of a weapon of war. She was only released when her husband found her and took her place. He was imprisoned without a trial.
These abuses of human rights are from reports commissioned by conservation organisations themselves. The first, second, and fourth in the list are from a report commissioned by WWF to investigate human rights abuses in the Salonga National Park. REDD-Monitor wrote about these abuses and WWF's failure to make the report public, here:
UNDP's draft investigative report
MacGregor also refers to UNDP's 2020 draft investigative report that confirms that WWF-funded eco-guards beat up indigenous peoples in the Republic of Congo. MacGregor writes:
Reports of abuse of indigenous populations were ignored for several years by WWF and initially UNDP staff, until being investigated following a formal complaint submitted by Survival International in July 2018.
"These beatings occur when the Baka are in their camps along the road as well as when they are in the forest. They affect men, women, and children. … There are reports of Baka men having been taken to prison and of torture and rape inside prison. The widow of one Baka man spoke about her husband being so ill-treated in prison that he died shortly after his release. He had been transported to prison in a WWF-marked vehicle."
WWF staff in Congo "acknowledged the evidence of abuse against the Baku" by the eco-guards … but appeared to view them as isolated incidents.
REDD-Monitor wrote about the draft UNDP report in February 2020:
WWF used funds to pay for firearms and ammunition
A 2019 internal WWF report about the proposed Messok Dja Protected Area in the Republic of Congo, written by the Forest Peoples Programme, states that by continuing to work with or supporting governments that fail to protect human rights, WWF was "contributing to human rights violations, in contravention of its own policies and of international law."
WWF submitted materials to the Department of Interior that "even appear to imply that the organization used funds to support potentially prohibited activity, including paying for firearms and ammunition," MacGregor writes. She adds that, "The same document contained statements that implied future FWS funds would continue to be leveraged for the effort's biggest perceived need – firearms and ammunition."
The reports investigating human rights abuses that have been commissioned by the conservation organisations are internal – they are not made available publicly, or even to the US government. MacGregor writes that,
As evidenced in this programmatic review, allegations of human rights abuse have been consistently handled internally by awardees, even when those allegations implicate the organization's employees and taxpayer funding. Subsequent investigations resulted in findings of misconduct, but were then relayed to the organization in confidential reports and not made available to the U.S. Government either at all or in a timely manner.
Proposals on future conservation funding
MacGregor's memo includes proposals to avoid funding "where the FWS cannot ensure future human rights violations will not occur."
These include the following:
Free, informed, and prior consent by the indigenous population must be obtained before a program is established or expanded, with approriate criteria developed to document the engagement and corresponding consent.
To the extent consistent with all legal obligations or to mitigate risks associated with particular programs and/or recipients, the FWS will no longer provide funding for subgrantees.
The FWS will not award grants to conduct high-risk activities such as eco-guards, law enforcement activities and supplies, community patrols, and other similar or related activities. This includes activities related to relocating communities, voluntarily or involuntarily, either through direct engagement or support to local government entities seeking to do the same.
Grant awardees will certify that no activities will be conducted in violation of U.S. law, rules or regulations and that they are taking steps to protect human rights during the implementation of the grant.
Consistent with applicable laws, impost minimum bonding and/or insurance requirements for the purposes of addressing harm or liability resulting from actual or potential human rights violations and other risks related to activities or operations in which such violations are possible. (FWS shall work with SOL to advise on maximum bond and insurance amounts authorized under the law).
Grantees will provide for a whistleblower capability to both alert the FWS of potential human rights abuses and ensure thorough investigation of such allegations.
Awardees will satisfy appropriate reporting requirements, including mandating immediate notification of any internal investigations conducted on human rights abuses in which federal dollars may have been involved.
Original Post: Redd Monitor
Breaking; Lands Minister directs police chief to arrest armed mobs involved in forced and illegal land evictions.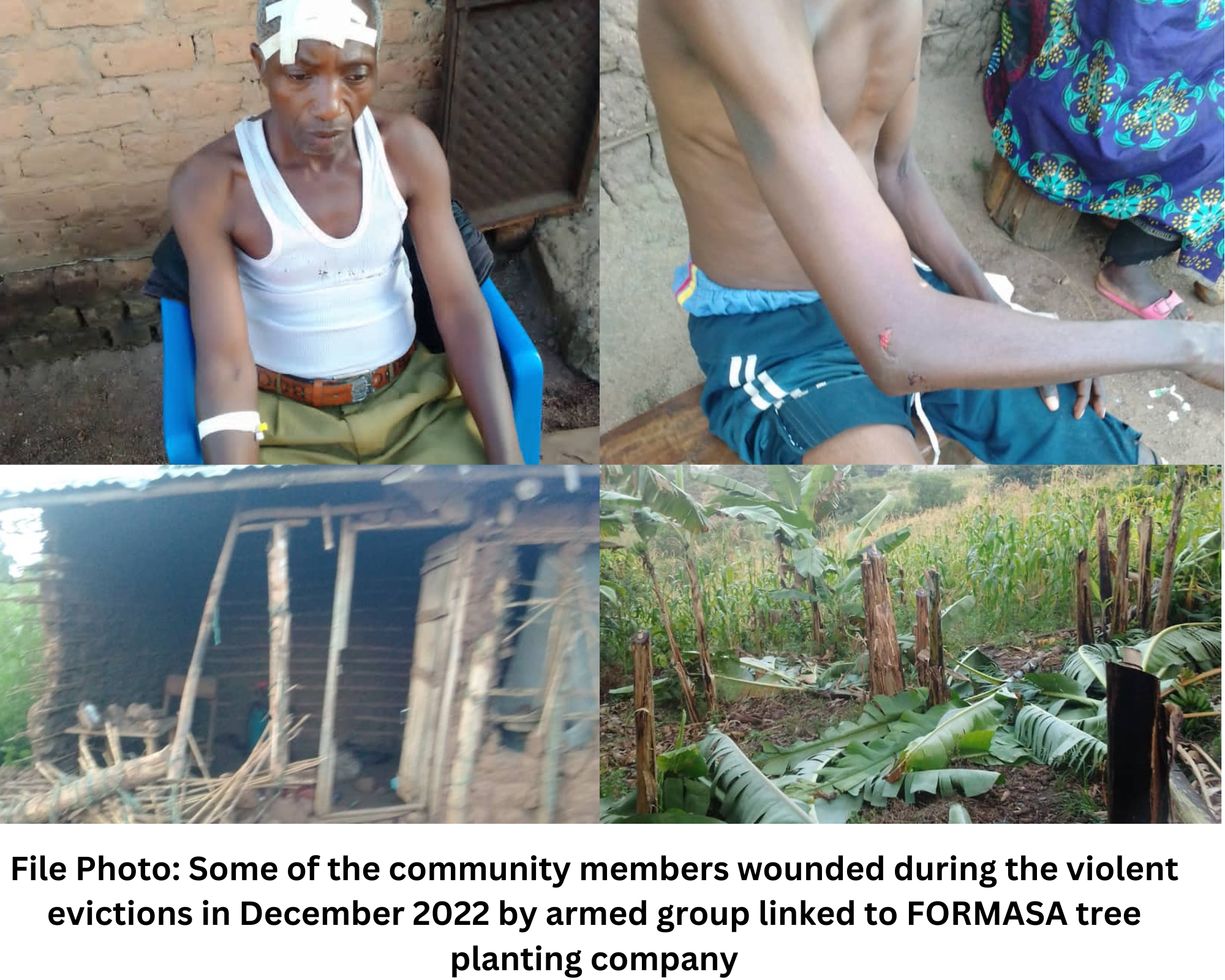 By Witness Radio team
Uganda's Lands Minister Judith Nabakooba has directed the Inspector General of Police (IGP), Martins Okoth Ochola to arrest all organized and armed mobs involved in forced and illegal land evictions.
The directive is the second one from the same minister to the police chief in three (3) months due to widespread forced and illegal land evictions in Uganda.
On February 28, 2022, President Yoweri Museveni came out and banned all land evictions in the country that are carried out without the consent of the respective District Security Committees (DSC).
The latest directive was triggered by violent scenes that occurred on the 19th of March 2023 when armed groups of men with graders invaded the St peter's Church of Uganda's land in Kibiri and started destroying crops planted on the church land. The armed group whose employer is not yet established claims the church is occupying someone's land illegally.
In an attempt to stop the unlawful eviction, Church leaders, led by Reverend Maxwell Ssebuggwawo and some faithful tried to intervene but in vain.
According to eyewitnesses, the armed group immediately attacked the Clergyman and other Christians causing severe bodily injuries. In the scuffle, Rev. Maxwell Ssebuggwawo's vestments were torn by the mob, whom the community believes was being targeted.
In response to the violent attack against the church leader and congregation, the minister observed that many land grabbers have resorted to using organized and armed mobs to evict people from their land. She further describes eviction as illegal and unacceptable since the government has capable security agencies that can effect lawful evictions.
"We have noted incidents where some crooks employ mobs to evict people yet we have security forces that can do this concerning the law. This is wrong. I have therefore directed the IGP to arrest everybody involved in these illegal acts and be brought to book", the Minister added in an interview with the local media.
Witness Radio in the recent past has documented incidents where organized and armed mobs are participating in violent land evictions.  For instance, a recent eviction of a 99-year-old Hellena Namazzi in Numugongo in Kira Municipality in Wakiso district by Sema Properties boss, Ssemakula Sulait, another ugly case involved a violent eviction of over 2000 people off 328.1 hectares by one Moses Karangwa and Abid Alam in Kassanda district among others.
Over 500 Kapapi families in Hoima district remain stranded after the district security committee fails to resettle them back on their land as directed by the minister.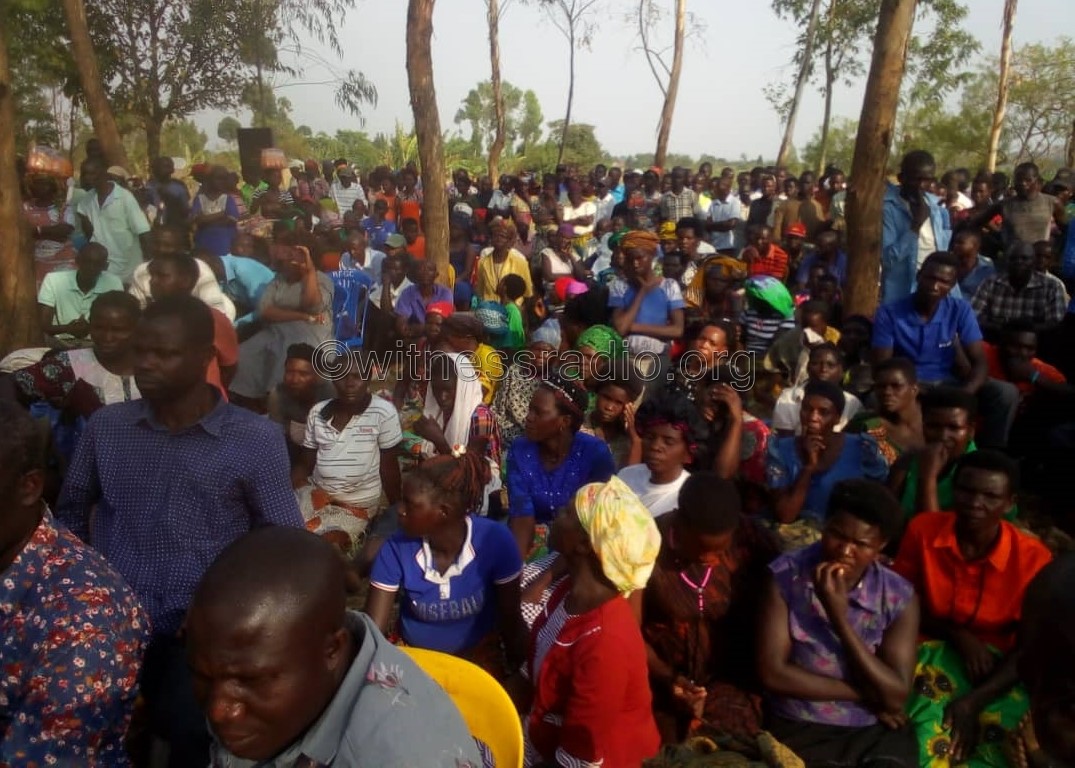 By Witness Radio team.
Hundreds of families, violently evicted from their land in Kapapi and Kiganja sub-counties in Hoima district are still pondering their next moves as efforts to return to their grabbed land remain ambiguous.
The directive came after Hoima district police and private guards from Magnum, a private security company raided people's homes in Waaki North, Kapapi Central, Waaki South, Runga, and Kiryatete villages in Kapapi and Kiganja sub-counties, Hoima district on 10th of February 2023 at 1:00 am.
The violent scenes left hundreds of children with scores of injuries, houses were torched, and property worth billions was destroyed.  The animals such as goats, sheep, and cows were butchered and others were looted.
On 22nd of February 2023, the Minister of Lands, Housing and Urban Development, Honorable Judith Nabakooba while addressing a meeting in Rukola village Kapapi sub-county, Hoima district directed the security committee to return the victim villagers back to their land.
She considered the eviction unlawful since it was conducted at night and without a court order.
In that meeting, area leaders, Hoima district police and Hoima Resident District commissioner, Mr. Rogers Mbabazi, Deputy Resident District Commissioner, Mr. Michael Kyakashari were in attendance.
The victim community accuses a group of people including Ndahura Gafayo, Aston Muhwezi, David Mpora, Monica Rwashadika, Agaba, and Wilber Kiiza of being responsible for the land grab.
The grabbed land is situated at the shores of Lake Albert adjacent to the Kabaale parish in Buseruka Sub-county where the greenfield oil refinery is to be established. In April 2018, the government selected the Albertine Graben Refinery Consortium (AGRC) as the private sector investment to finance, develop, construct, and operate the Greenfield oil Refinery estimated to cost $4b.
According to the Witness Radio research team, ever since the directive was made instead, there's increased human rights violations including arbitrary arrests, detentions and threats, and intimidation against victims of residents encamped at Rwenyana Church to vacate.
The evictees report that after the minister's directive, three community members include; Mbombo Steven, and Kalongo Steven have been arrested, charged, and remanded to Hoima government prison.
"Our families encamping at church and waiting to be resettled back as directed by the Minister are facing further threats and intimidation to go away. They say they don't want us at the church. Some of us are currently in hiding for fear of arbitrary arrests or kidnaps." A community member who preferred to be called Enos due to fear of retaliation told Witness Radio.
He further added that the community is living at the mercy of God, with no food, or shelter, and predicted an uncertain future for their children since they are not attending school.
"Families are scattered in different centers while others continue to live with their relatives. However essential services such as shelter, food, health services, and education for their children remain a challenge. These people found us on land and started claiming ownership of this land. Imagine when we went for a search at a land registry, we found out that they only have a title of 2 acres but everyone knows we have been on this land for over 30 years. We have people who were born on this land." He added.
Witness Radio contacted Mr. Rogers Mbabazi, Hoima Resident District Commissioner who heads the district security committee, to understand how far the committee had gone with the implementation of the minister's directive. He instead referred us to his Deputy Mr. Michael Kyakashari.
Mr. Michael Kyakashari, when asked about the status of the directive, told our reporter that he did not have an answer for him before he hung up.
"I don't have an answer for you" He repeatedly said.
State House Anti-Corruption Unit nets a surveyor implicated in Mubende district land-grabs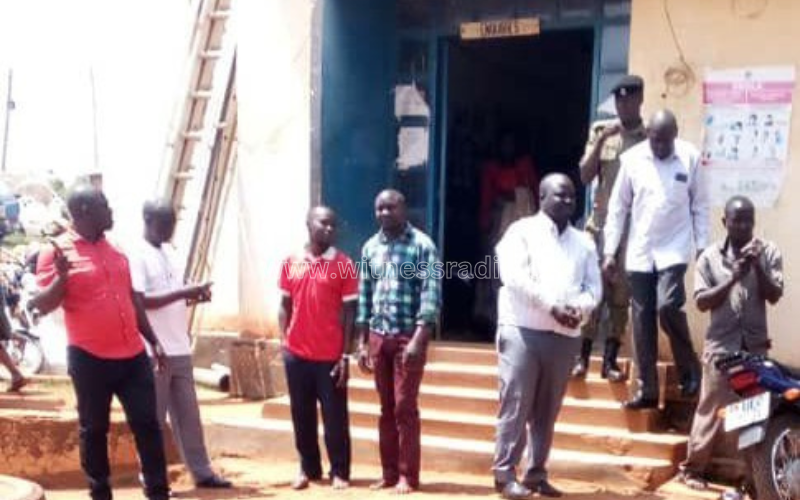 By Witness Radio Team,
The State House Anti-corruption Unit has arrested an alleged landgrabber in Mubende district whose evictions have rendered masses homeless.
Mr. Mafumu Paul, a Mubende based surveyor is accused of using police and conniving with some officials in the Lands ministry to issue forged titles that have been instrumental in illegal land evictions in the districts of Mubende, Kiboga and Kyankwanzi.
The alleged land grabber has been arrested alongside two of his farm workers who include Ssenyondo Ronald and Sseruyange Ben.
The arrest follows complaints of grave human rights abuses to the State House Anti-Corruption Unit and the minister for lands housing and urban development. In response, the Minister of Lands, Housing and Urban Development, the Hon. Judith Nabakooba Nalule, visited the families whose crops were sprayed with chemicals by Mafumu's workers. She later requested the State House Anti-Corruption Unit to intervene and investigate circumstances under which forged certificate of land titles are issued and used to forcefully evict local communities off their land. She further directed the Mubende Police to oversee the arrest of the Mufumu.
He has been implicated in instigating unlawful arrests, beating people, denying communities to access clean water sources, razing-down people's houses and gardens, fly-grazing, and spraying their crops with chemicals in order to evict them from their land.
In one of the recent cases, on the 14th of January 2023, violence was meted out on the residents in Nalyankanja village, Kyenda Town Council in Mubende district. Mafumu is said to have ordered his workers to spray their crops, an act they believe has escalated hunger in their area. The crops sprayed with chemicals included: sweet potatoes, pineapples, coffee, bananas, and Cassava.
According to Witness Radio research, Mafumu has been accused of violently evicting over 17 families since 2018 from their land measuring approximately 248 acres.
The alleged land grabber and his accomplices are currently being detained at Mubende Police.