Oil palm plantations in Amazonia inhospitable to tropical forest biodiversity: Study
According to a study published in the journal PloS One late last year, the Brazilian Amazon has about 2.3 million square kilometers (nearly 900,000 square miles) of land suitable for oil palm cultivation, making it one of the largest areas in the world for potential expansion of the palm oil industry.
Researchers investigated the responses of tropical forest mammals to living in a landscape made up of a mosaic of 39,000 hectares (more than 96,000 acres) of mature oil palm plantations and 64,000 hectares (a little over 158,000 acres) of primary Eastern Amazon forest patches in the Brazilian state of Pará.
They write in the study that their results in the Amazon "clearly" reinforce "the notion that oil palm plantations can be extremely hostile to native tropical forest biodiversity, as has been shown in more traditional oil palm countries in South-East Asia, such as Malaysia and Indonesia."
According to a study published in the journal PloS One late last year, the Brazilian Amazon has about 2.3 million square kilometers (nearly 900,000 square miles) of land suitable for oil palm cultivation, making it one of the largest areas in the world for potential expansion of the palm oil industry. That, coupled with the fact that the Brazilian government is encouraging oil palm expansion as a major new opportunity for socioeconomic development, has led to speculation that the Amazon could become one of the largest oil palm-producing regions in the world within just a few decades.
Ana Cristina Mendes-Oliveira of Brazil's Federal University of Pará and Carlos Peres of the UK's University of East Anglia led the research team behind the PloS One study. They investigated the responses of tropical forest mammals to living in a landscape made up of a mosaic of 39,000 hectares (more than 96,000 acres) of mature oil palm plantations and 64,000 hectares (a little over 158,000 acres) of primary Eastern Amazon forest patches in the Brazilian state of Pará.
In the study, Mendes-Oliveira, Peres, and co-authors write that their results in the Amazon "clearly" reinforce "the notion that oil palm plantations can be extremely hostile to native tropical forest biodiversity, as has been shown in more traditional oil palm countries in South-East Asia, such as Malaysia and Indonesia."
The authors note that there has been little attempt to understand the impacts on Amazonian mammals of converting primary and secondary forests into oil palm plantations despite the fact that the areas most likely to be converted to oil palm plantations overlap with areas harboring numerous threatened species of birds and mammals. So they set out to investigate how medium-sized and large-bodied terrestrial and arboreal mammals respond to an Eastern Amazonian landscape mosaic that includes oil palm plantations and large remnants of primary forest.
"These mammal taxa account for a disproportionate amount of the overall vertebrate biomass in Amazonian forests," they add. "So any adverse effects to these species could amount to profound repercussions to ecosystem functioning across entire landscape mosaics."
The region of Eastern Amazonia in which the researchers conducted the study has a history of deforestation going back to the 1970s. Over the decades, the forests in the area were mainly subjected to conventional timber extraction and converted to pastureland for cattle, but in recent years the Brazilian government has begun subsidizing forest conversion for oil palm plantations. Today, the remaining forest patches are interspersed with plantations ranging in size from 1,500 to 15,000 hectares (3,700 to 37,000 acres).
Using both traditional line-transect survey methods as well as camera traps, the researchers logged 1,059 sightings of 36 medium-sized and large-bodied terrestrial mammal species during the study period. They recorded a total of 32 species in primary forests, and 23 species in oil palm plantations. "Considering data from both survey techniques, overall species richness and abundance were [significantly] higher in primary forest compared to oil palm monoculture," the researchers write.
Even the mammals that the researchers did find in oil palm plantations weren't likely to stray far from the forest: 20 of the 23 species recorded inside of a plantation were never encountered any farther than 1300 meters (about 0.8 miles) from the forest's edge. Mendes-Oliveira, Peres, and team found that only three species could be described as "thriving" in oil palm monoculture, while "all other species may use oil palm patches in their immediate forest neighborhood, but would likely be extirpated in the complete absence of primary forest within the wider landscape mosaic."
Certain traits seemed to determine which species were capable of adapting to oil palm monoculture. Species that are habitat generalists who range widely across open areas, like the crab-eating fox (Cerdocyon thous) and other terrestrial carnivores, were found to be most tolerant of oil palm plantations. In fact, the researchers write that the crab-eating fox is "the only species that we can categorically interpret as clearly favored by oil palm plantations… This Brazilian Cerrado species specializes in open habitat areas, and has expanded its range and vastly increased its overall abundance throughout many anthropogenically disturbed parts of the Amazon."
On the other hand, arboreal and terrestrial forest specialists, such as primates and sloths, were found to be largely intolerant of oil palm plantations. Of the primate species recorded by the researchers, for instance, only black-handed tamarins (Saguinus niger) and brown capuchin monkeys (Sapajus apella) were observed in oil palm patches, and they were never discovered more than 300 meters from primary forest. The researchers also identified at least three mammal species that are classified as Vulnerable by the IUCN Red List that were never recorded in oil palm plantations — the Giant Armadillo (Priodontes maximus), the Giant Anteater(Myrmecophaga tridactyla), and the White-lipped Peccary (Tayassu pecari) — while two Critically Endangered primates — the Ka'apor Capuchin (Cebus kaapori) and the Black Bearded Saki (Chiropotes satanas) — were found to rarely use plantations.
Given the prospect of large-scale expansion of oil palm operations in the Brazilian Amazonia in the near future, the researchers suggest that retaining large areas of primary forest within the plantation matrix is the only way to protect these threatened species.
"Most of the Amazon is perfectly suitable for oil palm monoculture, which is rapidly becoming a highly lucrative land use," study author Carlos Peres said in a statement. "We have to make sure we strike the right balance between setting aside enough forest habitat for all native biodiversity and agricultural frontier expansion of rather sterile biofuel croplands, such as oil palm."
Peres and co-authors provided a much more blunt prognosis within the study: "Our results paint a pessimistic scenario considering the extremely high suitability of most Amazonian soils and climatic conditions for oil palm monoculture and the rapidly growing demand for biofuels and vegetable oils around the world."
Source: Mongabay
Statement: The Energy Sector Strategy 2024–2028 Must Mark the End of the EBRD's Support to Fossil Fuels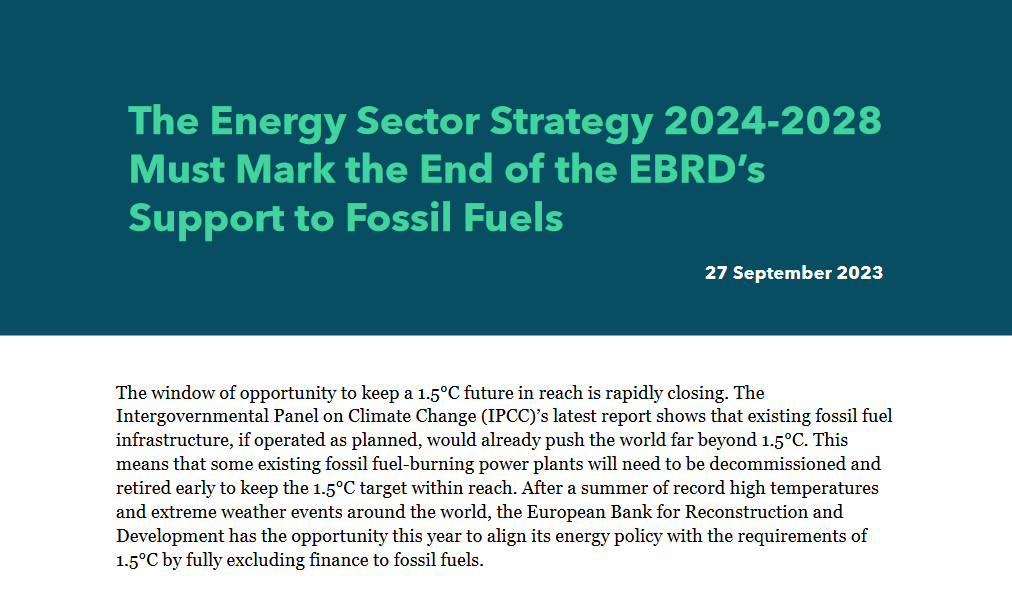 The European Bank for Reconstruction and Development (EBRD) is due to publish a new Energy Sector Strategy before the end of 2023. A total of 130 civil society organizations from over 40 countries have released a statement calling on the EBRD to end finance for all fossil fuels, including gas.
From 2018 to 2021, the EBRD invested EUR 2.9 billion in the fossil energy sector, with the majority of this support going to gas. This makes it the third biggest funder of fossil fuels among all multilateral development banks, behind the World Bank Group and the Islamic Development Bank.
The EBRD has already excluded coal and upstream oil and gas fields from its financing. The draft Energy Sector Strategy further excludes oil transportation and oil-fired electricity generation. However, the draft strategy would continue to allow some investment in new fossil gas pipelines and other transportation infrastructure, as well as gas power generation and heating.
In the statement, the civil society organizations point out that any new support to gas risks locking in outdated energy infrastructure in places that need investments in clean energy the most. At the same time, they highlight, ending support to fossil gas is necessary, not only for climate security, but also for ensuring energy security, since continued investment in gas exposes countries of operation to high and volatile energy prices that can have a severe impact on their ability to reach development targets. Moreover, they underscore that supporting new gas transportation infrastructure is not a solution to the current energy crisis, given that new infrastructure would not come online for several years, well after the crisis has passed.
The signatories of the statement call on the EBRD to amend the Energy Sector Strategy to
fully exclude new investments in midstream and downstream gas projects;
avoid loopholes involving the use of unproven or uneconomic technologies, as well as aspirational but meaningless mitigation measures such as "CCS-readiness"; and
strengthen the requirements for financial intermediaries where the intended nature of the sub-transactions is not known to exclude fossil fuel finance across the entire value chain.
Source: iisd.org
Download the statement: https://www.iisd.org/system/files/2023-09/ngo-statement-on-energy-sector-strategy-2024-2028.pdf
Breaking: Three community land rights defenders from Kawaala have been arrested.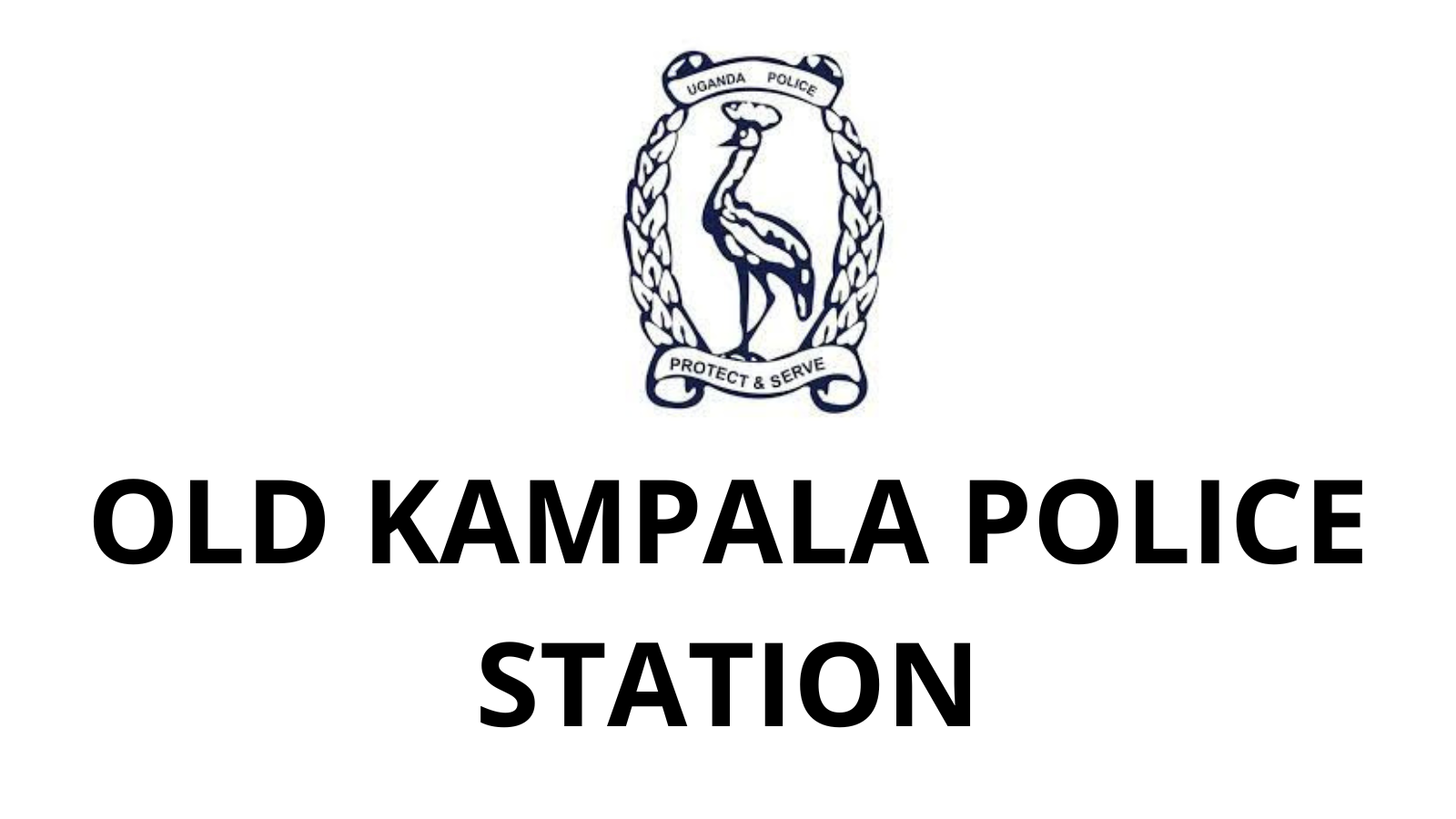 Breaking: Three community land rights defenders from Kawaala have been arrested.
By Witness Radio team
Police at Old Kampala Regional Police Headquarter have arrested three of the six community land rights defenders from Kawaala Zone II, Kampala suburb, and preferred a fraud charge before being released on bond.
Kasozi Paul, Busobolwa Adam, and Kabugo Micheal got arrested on their arrival before being taken inside interrogation rooms. They were questioned from 11:00 AM – 12:30 PM local time and later recorded their statements.
Section 342 of the Penal Code states that forgery is the making of a false document with the intent to defraud or deceive. It carries a three year imprisonment on conviction.
According to lawyers representing victims, defenders are arrested on the orders of the Deputy Resident City Commissioner (RCC) in charge of Rubaga Division Anderson Burora and accused them of fraud.
Resident City Commissioner is a representative of the president in the Capital City at the division level.
The charges are a result of continued resistance by Kawaala community seeking fair compensation and resettlement before Lubigi drainage channel is constructed. Since the first COVID outbreak in 2020, the victim defenders and others have been leading a pushback campaign to stop forced evictions by a multimillion dollars Kampala Institutional and Infrastructure Development Project (KIIDP-2) funded by World Bank. Kampala Capital City Authority (KCCA) is the implementor of the project.
This project first impacted Kawaala Zone II around 2014, when a channel diversion was constructed. The current planned expansion will widen that channel and require forced evictions across an area at least 70 meters wide and 2.5 km long.
The New Vision, a local daily of June 21st, 2022, quoted Burora accusing Kasozi Paul, one of the community land rights defenders from Kawaala Zone II of being a fraudster.
Witness Radio – Uganda challenges the deputy RCC Burora to produce evidence that pins the defenders on fraud instead of criminalizing the work of defenders.
"We warn Mr. Burora against using police to harass defenders who have openly opposed a project which is causing negative impacts on the community" Adong Sarah, one of the lawyers representing the defenders said.
The defenders got released on police bond as they are expected to report back to the police on Monday, the 18th of July 2022 at 11:00 AM local time.
Signs of harmful projects with financing from development institutions are spotted in Uganda…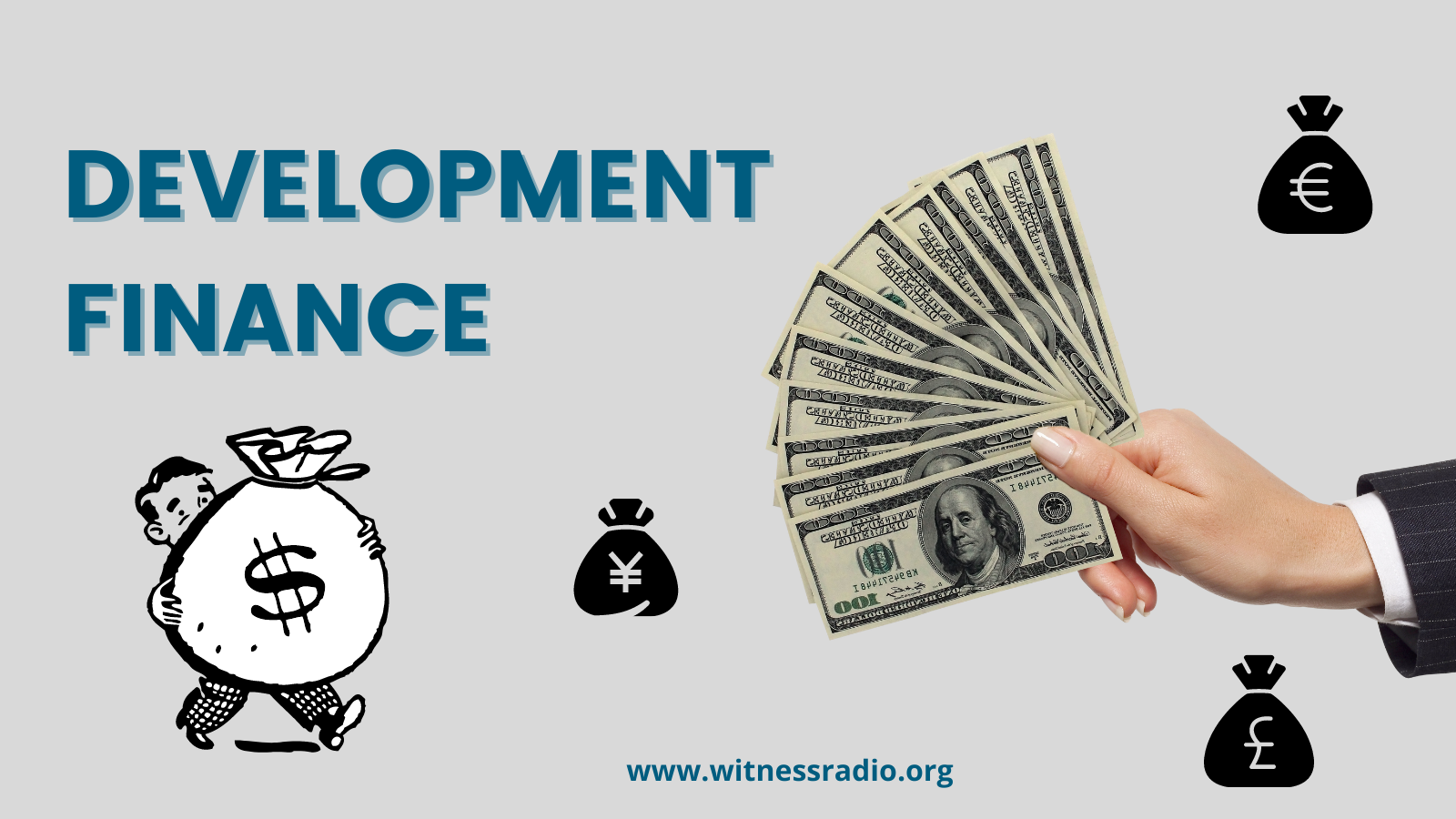 By Witness Radio Team.
The growth of a country is discerned by great leaders and innovators who see opportunities out of darkness and transform their areas from nothing to success. Those are great leaders whose interest is to see the developments in their countries and the well-being of their citizens.
Every single day, countries all over the world receive investors that acquire loans, grants, and donations to implement mega projects that are seemingly expected to develop host countries. countries and investors borrowing the money Often, countries and investors portray how these projects improve the livelihood of the browbeaten, au contraire, they have left many broken families, poor-dirty homesteads, and shattered dreams.
Uganda is one of those countries, whose citizens have paid a price for reckless or unsupervised and profit-led international investment. In a bid to implement its industrial policy, the country has welcomed both foreign and local investors with interests in the fields of extraction, industrial agriculture, carbon credit tree plantation, mining, infrastructural projects, and many others.
It has received billions of dollars from different financiers including commercial banks, Pension Funds, and International Development Finance Banks or institutions, among others. For instance, the World Bank has invested more than 20 Billion Dollars since 1963 and currently
Every project comes with its own chilling story. More often their stories are unheard by the World. Witness Radio – Uganda surveyed some projects in Uganda. This study revealed agony, illegal evictions, abject poverty, environmental degradation, and loss of life among others, as some of the consequences suffered by the would-be beneficiaries of these international funded projects across the country.
In the capital of Uganda, Kampala, over 1750 families were forcefully evicted from a city suburb, Naguru, for Naguru- Nakawa housing estates.  11 years down the road the project that was highly hyped is to take off on the grabbed land. Pleas from the victims of the eviction to regain their land have all fallen on deaf ears.
About 80km away from Kampala is the island district of Kalangala surrounded by the World's second-largest lake, Victoria, and known for palm growing. When the palm-oil project was introduced to residents they were given the impression that it would improve their livelihoods and create job opportunities.  Instead, it has dumped thousands into poverty after their land was grabbed by BIDCO, a Wilmer international-funded project. People lost land and now work on plantations as casual laborers. The neighboring communities are accusing BIDCO workers of sexual and gender-based violence.
In the South-Western District of Kiryandongo, multinational companies including Agilis Partners Limited, Kiryandongo Sugar Limited, and Great Seasons SMC Limited with funding from The United States Agency for International Development (USAID), The Department for International Development (DFID) of the United Kingdom, and Common Fund for Commodities among other financiers are forcefully evicting more than 35,000 people. The eviction has been on since 2017.
Workers that worked on a World Bank Project in Soroti, in the far east of the country, are accused of sexually harassing minors. Several young girls were defiled and left pregnant. Despite the government being aware of this none of the pedophiles have been brought to book, the World Bank-funded project in the Eastern Town of Soroti left several underage girls defiled and impregnated.
In late 2020, residents of Kawaala zone II woke up to the hail of armed men and graders evicting and destroying their properties to implement a multimillion-dollar project funded by the World Bank. The project is being implemented by the Kampala Capital city Authority (KCCA) on behalf of the government of Uganda.
The above-listed and other projects, on the other hand, continue to perpetuate violence and judicial harassment against leaders of Project Affected Persons (PAPs) and community land and environmental rights defenders because of their work that resists illegal evictions and destruction of the environment among others.
Although project implementers such as government entities accuse local communities of occupying land targeted for projects illegally, in most cases victim communities have rights over these pieces of land because their settlement on the same land can be traced to have happened generations ago.
No matter how people are negatively impacted being by these harmful projects, financiers continue to release more money to the government and investors. The banks aim at profit margins other than the livelihoods of the people. In Bulebi village, Mbazi parish, Mpunge Sub County in Mukono district, Akon's futuristic city is about to lead to the eviction of over 1000 residents whose entire lives have been built on their land.
In April last year, American rapper Aliaune Damala Badara well known for his stage name AKON visited Uganda in search of land for constructing the city. On the same business trip, he met President Museveni Yoweri Kaguta and expressed his interest in building a futuristic city with its currency. The president ordered the Ministry of Lands, housing, and urban development to look out for free land for his city.
However, on 7th Jan 2022, the Uganda Land Commission showed the Minister for Lands, Housing, and Urban Development "Hon Judith Nabakooba" land that was proposed for the Akon city. According to the Uganda land commission, the land is Freehold Volume 53 Folio 9 measuring I square mile.
This has sparked outrage amongst the affected as they were never consulted or consented to allow the project in their community. According to community members that Witness Radio interviewed, they said they heard the distressing news of Akon city through the Media.
The community said no official from the ministry has ever approached them about their land giveaway. "Our country is full of land evictions and evictors begin in that way. There has been no official coming on the ground to officially inform us about the project and neither have we heard any official communication of compensation." Obori said.
Residing in the attractive village surrounded by freshwaters, the community asserts this has been the source of livelihood and advised the government to get alternative land for the City.
Controversies surrounding the land giveaway and ownership of the area still exist. A section of residents have protested and vowed not to surrender their land for the City. They claim to have acquired freehold titles from the Mukono lands board.