Uganda; Land for smallholder farmers is vanishing unbated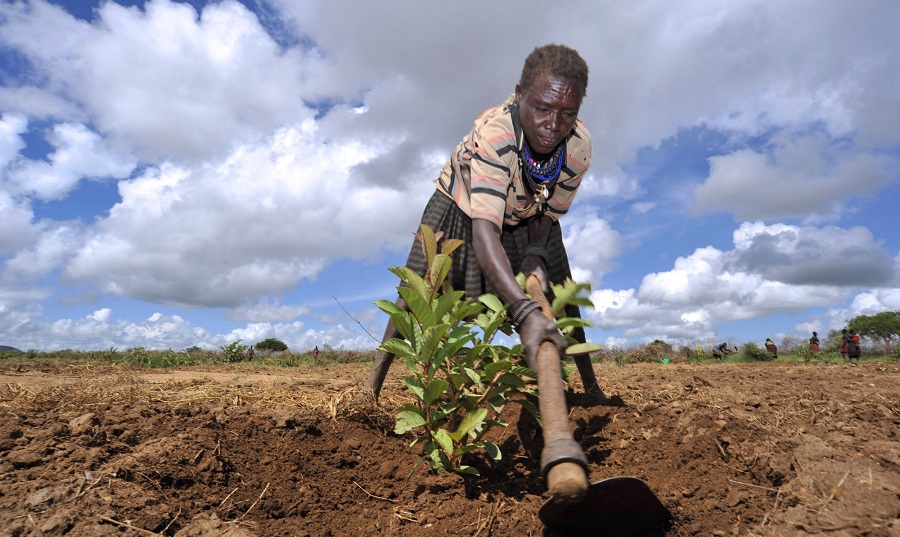 By witnessradio.org Team,
"…Land in Uganda belongs to the citizens of Uganda and shall vest in them in accordance with the land tenure systems provided for in this Constitution…" states article 237 of the 1995 Constitution of the Republic of Uganda.
The Constitution portrays land ownership as a progressive journey however, the reality is that an ordinary citizen may find it hard to own land as inequality was entrenched within a social-political system that continue to enact and implement land policies and laws, which govern ownership and usage.
Majority citizens' livelihood and survival has been proved to be on land according to 2016 figures from Uganda National Bureau of Statistics (UBOS). The figures indicate that nearly 70 percent of households are engaged in subsistence farming of which, 82 percent are in rural areas and dependent on agriculture.
Last May 2018, the Uganda Human Rights Commission (UHRC) released a report on "Land Disputes and Human Rights in Selected Regions" indicating that almost half of the total land in Uganda is being claimed by those with power and money. The research was carried out to understand the impact of land disputes on enjoyment of fundamental human rights and freedoms. It was carried out in selected districts in all regions of Uganda.
Between 2006 and 2010, New Forests Company (NFC) with protection from Uganda's army and police force violently evicted over 22,500 natives off their land in Kiboga and Mubende districts totaling to 9,300 hectares to make way for tree plantation. Today, the people evicted from the land are desperate, having been driven into poverty and landlessness.
According to available court documents, both evictions in Kiboga and Mubende districts were carried out as there were high court orders restraining the NFC, its agent and workers from continuing with evictions.
For an example; on 19 June 2009 the Uganda High Court issued an interim order on Kiboga eviction 'restraining the respondent [i.e. the New Forests Company], its workers, agents, assignees … from evicting the applicants and their families, destroying their crops, schools, hospitals, social infrastructure and livestock.
NFC has attracted investment from international banks and private equity funds since 2008. The European Investment Bank (EIB), the EU's financing institution, has loaned NFC five million Euros to expand one of its Ugandan plantations. Agri-Vie Agribusiness Fund, a private equity investment fund focused on food and agribusiness in sub-Saharan Africa, has invested $6.7m in NFC. Agri-Vie is itself backed by development finance institutions, notably the World Bank's private sector lending arm, the International Finance Corporation (IFC). The most significant investment in NFC came from HSBC (around $10m), which gave HSBC 20 per cent ownership of the company and one of six seats on the NFC Board.
Close to seventeen years now, over 4000 former Kaweeri smallholder farmers have been fighting to get back their land but the battle is still far from Completion.
In August 2001, indigenous communities were violently evicted off their 2524 hectares which they had been living on for several decades. The land covered four villages Kitemba, Luwunga, Kijunga and Kiryamakobe in Maddudu sub county, Mubende district.
The Uganda People's Defense Force (UPDF, a government army) forced them to leave their premises because the semi-statal Uganda Investment Authority (UIA) wanted to lease it to the Kaweri Coffee Plantation Ltd, a 100% subsidiary of the Neumann Kaffee Gruppe (NKG) based in Hamburg/Germany. The eviction was described by the evictees as particularly cruel.
The soldiers set houses on fire and demolished them, including the fully equipped private clinic of the community and six churches. Movable properties were looted and crops were cut down and uprooted. The Kitemba primary school (a formal school for the villages) after the eviction has been used as the headquarters of Kaweri/NKG Coffee plantation.
Victims that spoke to witnessradio.org said that the eviction was carried out on privately owned land. Although the Uganda's legal process is very slow but in 2002, affected communities with support from NGOs went to court (Civil Suit No. 179 of 2002) at Nakawa High Court (Kampala). After 12 years of waiting, the judge ruled in favor of the evictees on 28th of March 2013. The judgment allowed the evictees to get back to their land and damages be compensated to a total of (37,085,574,606.3 UGX – about US dollars 10 million caused by the eviction.
On 12th, August 2013, the Ugandan government appealed against the ruling in the Appeal Court. Civil Appeal No. 144 of 2013 arising out of H.C. Civil Suit No. 1779/2002. Up to now, the case has not been fixed for hearing.
In 2015, the matter was referred to the United Nations Committee on Economic, Social and Cultural Rights (CESCR). During its sittings, the committee was alarmed by repeated cases of forced evictions of communities as well as lack of restitution, compensation or provision of alternative housing.
The Committee recommended that Uganda government refrain from forcibly evicting individuals and expropriating land, regardless of the context. On a particular note, the CESCR urges to the State party to "take immediate measures to ensure that the rights of the Mubende community are restored" however more than two years, no action has been taken.
The 23 year old Constitution recognizes four tenure systems under which a citizen can own land, namely; Customary; freehold; mailo and leasehold; establishes institutions that are mandated to hold and manage land on behalf of the natives including Uganda land Commission, District Land Boards on top the mother ministry of land but they (institutions) are facing independence and credibility challenges before any citizen.
Subordinate laws to Constitution that set standards for any investment on land including the Investment Code Act has not been respected and applied to protect land owners from losing their land.
The latest development that will finally seal a land deal for the rich and powerful in Uganda; is the government proposal to amend Article 26 of the Constitution to enable the government to acquire private land for public purposes without prior compensation.
…
Breaking Alert! A community fighting forced eviction during COVID-19 lockdown, Witness Radio-Uganda together with Accountability Counsel file a complaint before the World Bank's Inspection Panel…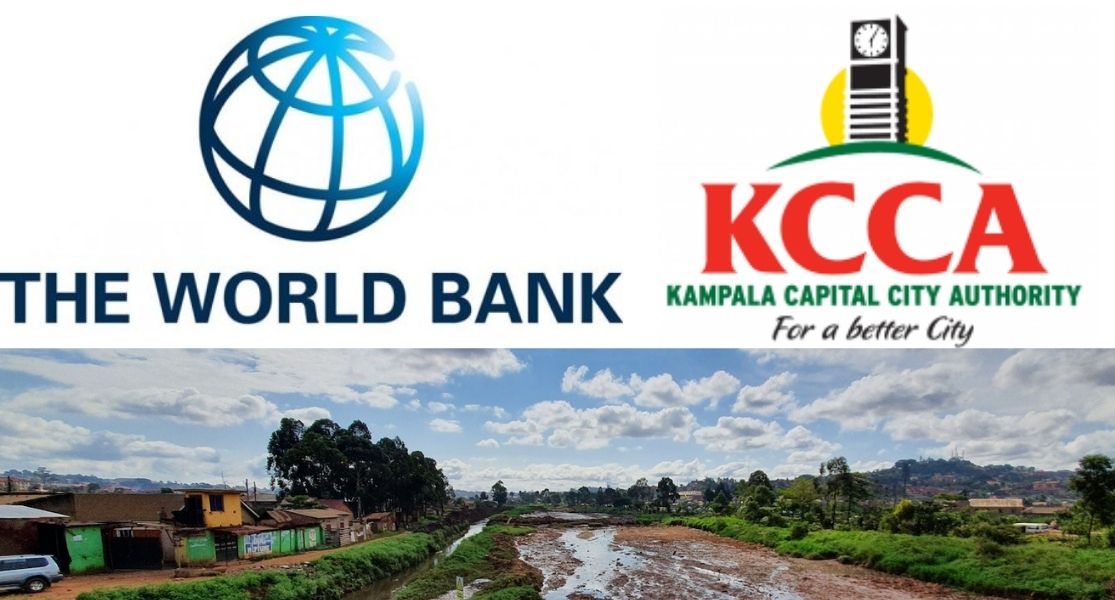 In the midst of the COVID-19 pandemic, the Kawaala community of Kampala, Uganda, is facing eviction to pave the way for the construction of the World Bank-funded Lubigi drainage channel. Accompanied by armed soldiers, representatives of the Kampala Capital City Authority (KCCA) turned up at shocked residents' homes, placing a red "X" on many structures and explaining that they were earmarked for demolition – the first those families had heard of the KCCA's plan to take their homes and land.
The construction of the Lubigi drainage channel will displace more than 100 families from their shelter and farmlands. These farms enable community members to feed their families and sell other produce, earning income that pays for their children to attend school. For some of the community members, family grave sites will be lost, as well as ancestral land intended for their children and grandchildren. Yet neither the KCCA nor the World Bank provided adequate information to the community about project plans, nor did they meaningfully consult them on the extent of displacement and any plans for compensation and resettlement, as required by World Bank policies, before issuing eviction notices.
After its glaring mismanagement of this project was highlighted by the Kawaala community and its local partners, including Witness Radio, KCCA and its agents have begun to push affected community members through a rushed and problematic resettlement process, prioritizing project timelines over the livelihoods and wellbeing of affected people and the accuracy and completeness of the process. Out of desperation, many community members have signed documents they do not understand.
The Kawaala community raised its concerns with the World Bank Uganda country office and asked them to closely monitor the project, but the World Bank refused – using restrictions associated with the COVID-19 pandemic as an excuse for their inaction – seemingly indifferent to the risks and impacts of forcibly displacing a vulnerable community during that same pandemic.
Given these failures, in the face of the severe threats to their wellbeing and livelihoods, the Kawaala community has filed a complaint about the project to the World Bank's Inspection Panel seeking protection from the forced and unfair eviction processes, as well as meaningful consultation and participation in the design of a comprehensive and fair resettlement solution.
THE STORY: 
An attempted forced eviction, during a pandemic
In December 2020, in the midst of the COVID-19 pandemic, communities living in Kawaala Zone II, in Kasubi Parish, Rubaga Division, Kampala were awoken in the early morning hours to find excavators and armed guards destroying their property, without any prior consultation or plan for compensation and resettlement. The previous day, they had received eviction notices requiring them to vacate their lands within 28 days. The eviction notice was issued by the Kampala Capital City Authority (KCCA). The KCCA, with support from the World Bank, is constructing the Lubigi drainage channel as part of a broader road and infrastructure project.
The Kawaala community has lived, built their homes, and earned their livelihoods through farming and livestock-keeping in the area since the 1960s. With a population of approximately 300, the community is composed mostly of elderly men and women. Given the high number of elderly persons in the community, most are illiterate. Their farms enable community members to feed their families and sell other produce, earning income that pays for their children to attend school.
On December 3, 2020, the Kawaala communities were shocked to find KCCA representatives in their village, accompanied by armed guards, distributing eviction notices and informing residents that they had 28 days to vacate their homes. KCCA representatives approached residents' homes, placing a red "X" on many structures and explaining that they were earmarked for demolition.
The eviction notices included a claim that violations of health and safety code were the reason for the evictions. However, through active investigations, the community was able to confirm that the area was being cleared to make way for the expansion of the Lubigi drainage channel, part of the World Bank-funded Second Kampala Institutional and Infrastructure Development Project (KIIDP-2).
Over the following two days, in contravention of the 28-day notice period, the KCCA began attempting to evict residents. They brought excavators and destroyed some homes and gardens before community members were able to contact local leaders, who successfully intervened and persuaded the KCCA to halt the eviction process.
The Kawaala community, with the support of Witness Radio, was then able to challenge the eviction by filing a case at the High Court in Kampala. This prompted the KCCA to halt the eviction process. However, the court case remains undecided and the eviction notice still has not been withdrawn, leaving the community at risk of sudden eviction.
The World Bank's involvement
The World Bank's KIIDP-2 project funds the construction and rehabilitation of roads and associated infrastructure throughout Kampala via a USD 175 million loan. This project includes, among other works, the expansion and construction of the Lubigi Primary Drainage Channel, which forms part of the eight primary channels in Kampala and is 2.5 kilometers long. The project also involves institutional and systems development support to the KCCA, including for engineering and technical services.
KIIDP-2 follows the Kampala Institutional and Infrastructure Development Project (KIIDP-1), which had similar objectives. Around 2014, KIIDP-1 led to the construction of a channel diversion that ran through the land of many local residents and cut others off from easy access to schools and basic services. Residents report that this diversion was described to them as "temporary," and they were therefore not offered resettlement compensation. Some received a small sum for temporary disturbance from project works, while other families affected by the diversion did not receive even this much and were thrown into a state of desperation or even homelessness following the original channel diversion. KIIDP-2 will expand on this diversion, widening it significantly and requiring forced eviction of residents across an area 70 meters wide and 2.5 km long. Many residents report that they never realized that the diversion would be made permanent until the forced eviction process began last December.
A general project fact sheet by the KCCA claims that all affected properties were registered years ago, and states that no new developments will be valued or compensated, but residents dispute this claim. The KCCA has since walked back from this assertion and begun a rushed and problematic resettlement process, based on a contested and non-consultative surveying process that residents believe does not accurately reflect their land rights.
The devastating impacts of this project
The Lubigi drainage channel project will result in most affected families losing their homes and others losing their farmland, leaving very little for them to sustain themselves. In addition to that displacement, the construction of the drainage channel poses a series of other environmental and social concerns:
Loss and disruption of family remains: Some community members risk losing the remains of their loved ones that are buried in the land set aside for the project.
Food insecurity: This risk comes as a result of the destruction of crops, including those crops already destroyed in the attempted forced eviction in December 2020.
Loss of education: In case of any eviction or relocation without adequate compensation, community members fear that the children will be forced to drop out of school since the houses built and the crops grown on the land are their sole sources of income to cover their fees and tuition. Community members fear that this in turn will lead to increased marriage rates for young girls with limited options.
Safety risks: Following the construction of the channel to date, the local area has become unsafe for children to play outside due to a constant risk of drowning, which is especially heightened during rainy periods. There have been reported cases of people drowning.
Sexual exploitation: Some women in Kawaala have been compelled to engage in transactional sexual relationships to ensure that their children's basic needs are met ever since the KCCA coerced them into abandoning their gardens to make way for the construction of the channel diversion under KIIDP-1. Residents fear that this pattern will be intensified if community members are not provided with fair and complete compensation to address the full extent of economic impacts from another forced resettlement.
Cumulative impacts of multiple infrastructure projects: The Kampala Northern Bypass Highway, funded by the European Union and the Government of Uganda, as well as the Lubigi Sewage Treatment Plant, funded by the European Union and the German Government, were also constructed in the community's immediate vicinity in recent years, surrounding the Kawaala community on multiple sides by government-sponsored and internationally funded infrastructure projects.
Flooding: Far from improving the flooding problems that plague the area, community members have observed that flooding has actually increased in Kawaala Zone II, since the channel diversion and other multiple infrastructure projects began.
Other social impacts: Residents expect that eviction without adequate compensation will likely lead to a host of other foreseeable social issues, such as increased rates of domestic violence, child abandonment, or other family rifts.
Because of the totality of these impacts, the community deems it best to be compensated and resettled elsewhere in order to live with dignity.
Raising concerns with the World Bank Uganda country office
The KIIDP-2 project is proceeding in blatant contravention of a host of World Bank commitments designed to ensure meaningful consultation of communities and to avoid or mitigate environmental and social impacts, including resettlement. Although the KCCA has walked back from its initial assertions denying residents' rights to compensation, in recent months it has undertaken a forced, rushed, and non-transparent survey process that some residents were unable to participate in. Residents are deeply skeptical that any compensation determined based on this incomplete survey will provide them with fair and accurate compensation assessments.
On March 4, 2021, community representatives raised their concerns regarding the project and the potential harm in a meeting with KCCA officials and the World Bank Uganda country office team. The World Bank team directed that the KCCA intensify citizen and stakeholder engagement and provide adequate project information to the community in Luganda rather than English. Further, the KCCA was asked to carry out proper identification of the project-affected persons and, through a consultative process, determine the amount and type of compensation needed. Lastly, the World Bank team directed that the KCCA re-constitutes a Grievance Redress Committee composed of representatives of all the stakeholders in the project.
The World Bank, however, refused the community's demand that Bank staff visit the project site and engage in follow-up meetings with the community. The community feared that, without this supervision, the KCCA would continue to abuse the rights of affected community members.
Those fears have been realized. The KCCA has not followed the directions of the World Bank and is continuing to rely on its forced survey process, as well as failing to meaningfully consult community members on the details of any compensation.
Inspection Panel complaint
Through Witness Radio, community representatives reached out to Accountability Counsel to support the filing of a complaint. Because of the non-responsiveness of the KCCA and the World Bank to their concerns, the community wanted to escalate those concerns to the World Bank's independent accountability mechanism, the Inspection Panel. After several consultations with different groups in the community to understand their concerns and goals of the complaint, Witness Radio and community representatives filed a complaint on June 17, 2021 with the following demands (in summary):
That the project should be investigated and evictions halted until affected people are properly informed about the project and consulted about its impacts and necessary mitigation measures, and are consulted on the formation of a resettlement action plan that addresses the concerns of local residents;
That the KCCA formally withdraws the eviction notice issued under the Public Health Act Cap. 281 against the residents and other similarly affected persons;
That the community be resettled and fairly compensated, given that the land is now uninhabitable;
That the compensation processes be aimed at ensuring that the entire family is included and able to share in the benefits, rather than being provided to the head of household only, which can contribute to intra-family and social conflicts and gender disparities. For example, the KCCA should encourage both spouses to sign compensation documents and attend related meetings, and it should provide compensation funds into jointly-owned bank accounts; and
That the affected people should be provided with resettlement assistance, including scholarships for their children at least until families have an opportunity to find an alternative livelihood. Any resettlement assistance should include social support programs such as stress management, anger management, and domestic violence sensitization programming to reduce common social problems that can accompany physical displacement.
The complaint is currently awaiting registration and an assessment of eligibility by the Inspection Panel.
Case Partners
Accountability Counsel is partnering on this case with Witness Radio, an advocacy and media organization focused on issues of rights in development in Uganda, cutting across sectors (including agribusiness, environment, mining, and extraction). They monitor, document, and report human rights violations using traditional and new media formats and, where possible or necessary, support communities to seek justice through judicial and non-judicial mechanisms.
THE CASE: 
Jun 2021

Community representatives filed a complaint with the World Bank's independent accountability mechanism, the Inspection Panel, on June 17.

Mar 2021

Community representatives met with the World Bank Uganda country office and the Kampala Capital City Authority (KCCA).

Dec 2020

In spite of the 28-day notice period communicated on the previous day, on December 4 and 5, the KCCA began attempting to evict residents. They brought excavators and destroyed some homes and crops before community members were able to contact local leaders, who successfully intervened and persuaded the KCCA to halt the eviction process. Shortly after, the Kawaala community, with the support of Witness Radio, was then able to challenge the eviction by filing a case at the High Court in Kampala. This prompted the KCCA to halt the eviction process. However, the eviction notice still has not been withdrawn.

Dec 2020

On December 3, the KCCA issued a notice to residents of Kawaala Zone II to vacate their land within 28 days.

IMPACT:

Through their local partner, Witness Radio, community representatives reached out to Accountability Counsel because their concerns were not being heard by the World Bank or its client, the Kampala Capital City Authority. As is too often the case, as soon as Accountability Counsel became involved, the World Bank became more responsive – although their actions continue to be woefully inadequate to prevent harm and comply with their own environmental and social safeguards.

Given those failures on the part of the World Bank and its client, community members decided to elevate their concerns to the World Bank's Inspection Panel. In April 2021, Accountability Counsel's Africa Communities Associate, Robi Chacha Mosenda, traveled to Kampala to document the community's concerns and goals in preparation for complaint filing.

On June 17, 2021, Witness Radio filed an Inspection Panel complaint on behalf of the Kawaala Zone II community, seeking protection from the forced and unfair eviction processes, as well as meaningful consultation and participation in the design of a comprehensive and fair resettlement solution.

In close partnership with Witness Radio, we will continue to support the Kawaala Zone II community to prepare for, understand, and navigate through each stage of the Inspection Panel's process, demanding accountability and remedy from the World Bank for its oversight and lack of due diligence that has harmed these communities.

CASE MEDIA: 

Photos

Family burial sites have experienced regular flooding ever since the initial channel diversion directed water through residents' properties. These burial sites now in the path of the planned channel expansion (Credit Witness Radio).

This channel diversion constructed around 2014 will be widened to 70 meters, requiring extensive evictions. (Credit: Witness Radio).

A makeshift bridge connects Kawaala residents with schools and shops across the channel but creates a safety hazards, especially during frequent flood events.

The channel diversion constructed in 2014 has led to increased flooding and safety hazards, including at least one drowning due to inadequate walkways around the channel. (Credit Witness Radio)

A community kickboxing academy marked for demolition by KCCA.

A homeowner hesitates to finish construction his home, as it is marked for demolition by the KCCA.

Original Source: accountabilitycounsel.org
Court asked to block gov't from paying UGX 647 billion loan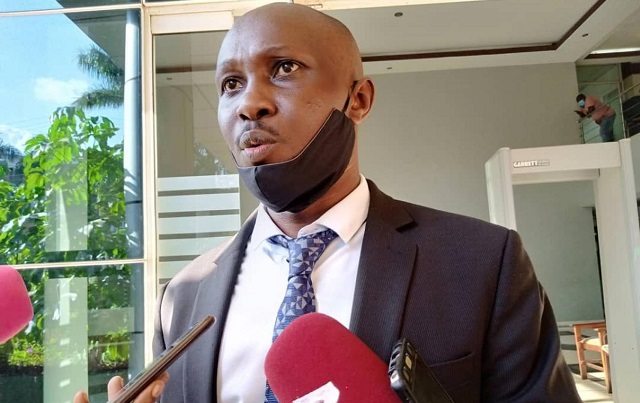 The applicant Brian Kasaija at the High Court in Kampala.
Kampala, Uganda. A concerned citizen Brian Kasaija has petitioned the High Court seeking an order compelling the government not to repay 175 Million Dollars obtained from the World Bank eight years ago.
According to Kasaija, the loan which is equivalent to 647.5 Billion Shillings was obtained illegally by the government to fund the Second Kampala Institutional and Infrastructure Development Programme Phase II because Parliament passed a resolution to borrow it without the necessary quorum way back in 2014.
The 2005 Parliamentary Rules of Procedure require one-third of all Members of Parliament entitled to vote and required at a time when Parliament is voting on any question.
But the evidence before the court shows that the Kampala Capital City Authority-KCCA which has been sued alongside the government sent a loan request to the Cabinet without a lawfully constituted authority governing body as required under the law. In the aftermath, the loan was approved and further forwarded to parliament by the then State Minister for Finance, Planning and Economic Development Aston Kajara on July 9th, 2014 for approval.
As a result, the evidence shows that Parliament on December 19th, 2014 chaired by the then Deputy Speaker of Parliament Jacob Oulanyah allegedly passed a resolution to authorize the government to borrow the loan from the International Development Association of the World Bank Group without the requisite quorum of two-thirds of the MPs.
According to the hansard that has been attached as evidence to the case, 77 Members of Parliament which is one-third of 229 MPs were supposed to vote on the matter, but only 63 members voted.
The records further indicate that the loan was to be paid for 40 years effective 2024. But the petitioner states that this continuously threatens the right to property and all Ugandans must pay it through legitimate and lawful payment of direct and indirect taxes which is their liquid asset.
Further, Kasaija also states that the actions and omissions amounted to an infringement and violation of the right to good governance.
"Absence of requisite quorum to enable the vote on the resolution authorizing government of the Republic of Uganda to borrow, made and rendered the loan resolution not only null and void but also non-binding to the humbly humbled applicant and the greatly humbled people of the Republic of Uganda as by law established hence a violation, infringement and threat to the rights nobly enumerated afore", reads the suit in part.
Kasaija now wants the court to declare that the loan was illegally passed by Parliament and an advisory opinion is issued to the government to institute an Independent Political Standards Authority -IPSA to oversee the conduct of Parliament and members with a view of safeguarding and promoting good governance in a wider public interest among other orders.
Asked why he has opted to petition court two days after Oulanyah being elected as the Speaker of Parliament to replace Rebecca Kadaga, Kasaija said that his case is not filed in bad faith because matters of holding people accountable have no expiry date.
In 2015, another concerned citizen Moses Muhumuza filed a relatively similar case before the Constitutional Court and the matter is pending determination.
Uganda's debt at the moment currently stands at more than 40 trillion shillings meaning that each Ugandan would have to pay 1.5 million shillings if the debt was to be cleared at once.
Original Source: independent.co.ug
More women are going to be sexually abused and forced to lose their land to the rich/investors as Uganda goes into a semi lockdown of 42 days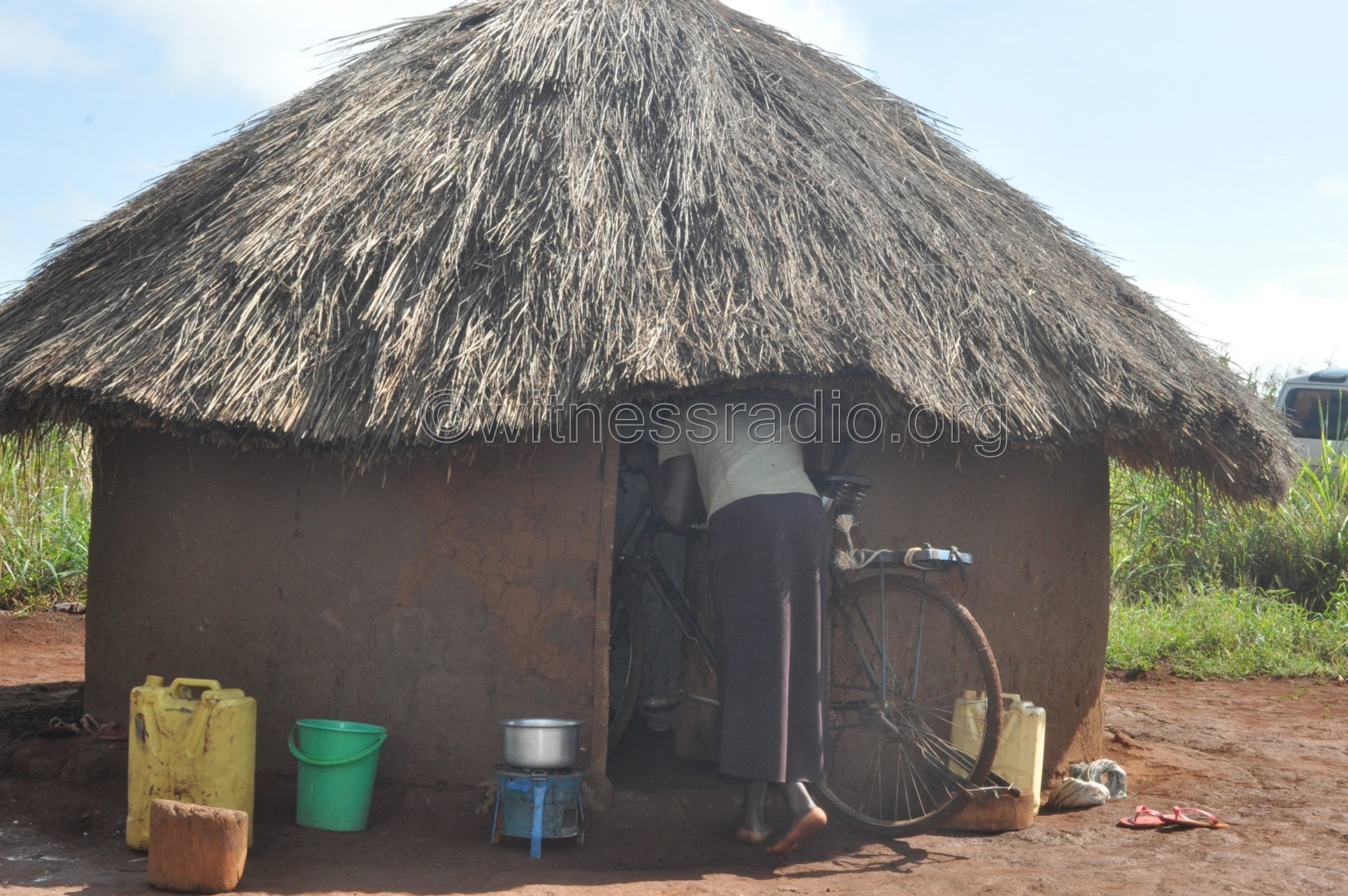 Opondo entering with a bicycle in her muddy thatched house.
By witnessradio.org Team
Opondo Cathy, (not real name due to the sensitivity of the matter), has never owned even a small radio in her entire life. This is a clear indication that the villager may not be aware of critical developments in the country. And this does not come as a shock, since the first time she heard the news of the COVID-19 in Uganda was when she visited her neighbor who's 500 meters away from her home, barely a month after Uganda had even registered a first case COVID-19.
Little did she know that land grabbers would take advantage of the lockdown to sexually abuse and humiliate, subdue demolish her house and grab her land.
Before COVID-19 misfortune struck, Opondo lived peacefully on her 6-acre piece of land, where she used to grow crops like banana, cassava, beans, and maize for both home consumption and sale. And experienced a happy life in her muddy structured house with her four children.
She could properly feed her family, and offer basic needs, but now, she rents in a nearby village, working like Trojans to find ends meet.
There were many violent attempts to evict her and others on their land but they would always resist. This time around, the grabbers resorted to sexually abuse her because she's a woman as a tool to weaken the poor lady and force her to leave the only source of income.
According to her, a dozen of women and young girls have been sexually abused and harassed in their area, because they resisted surrendering their land to the company.
"We withstood all their beatings, destruction of our property, arrests, but the rape thing was intolerable," she adds while weeping.
On the fateful day of 18th August 2020, Opondo had gone to pick her pieces of stuff at a nearby Bweyale town. While returning home at about 8:00 pm, she was attacked and sexually abused by a private security guard attached to one of the multinational companies involved in large-scale agribusinesses. The rapist attacker her from behind and tried to strangle her neck and grabbed her mouth, and hit her to the ground.
"I struggled with him, but he overpowered me, he put me down and raped me. I yelled louder for my rescue, but the neighbors were far. As soon as the rapist had them coming, he ran away," she adds.
"The louder yelling brought those nearby to come to my rescue, they did not even bother to ask me what had happened, because I already looked victimized. They decided to look for the rapist. Whereas I had a walking disability after the horrific incident, we went to the company offices where I always used to see him but unfortunately, he was not there," she further reveals.
During the first lockdown, public transport had been banned, which made it hard to reach out to a police post for help since it was distant.
After two days, Opondo managed to get to the area police to report the incident. In her own words, the officer on duty (a policeman) asked her if she had evidence and if that was not assaulted. When she asked for a police medical form to be examined, she was referred to a nearby Health Centre Three (III) with a small chit of a paper indicating that she was assaulted not raped. On meeting the medical officer, she handed over the chit and was examined on grounds of assault, not rape.
"I could hardly walk and had severe pain in my genital organs, which even a blind person could see, but because the police work with the multinational companies to evict us, they said I was only assaulted not raped, the mother of four adds.
According to Opondo, she had already received several threats and warnings from the agents of her evictors (Agilis Partners Limited). "They used to tell me, if I don't leave the land I should not regret what will happen to me. Indeed I now regret," she reveals.
Despite being raped is not even enough, her house was later torched by agents of Agilis Partners who claimed that she had illegally occupied their land. On that day they (her family) slept in cold and exposed to vagrancies of nature.
Agilis Partners Limited is among the three multinational companies that have violently and illegally evicted the poor communities off their land in Kiryandongo district without a court order or following due processes.
Other multinationals include Great Seasons SMC Limited, solely owned by a Sudanese investor based in Dubai, and Kiryandongo Sugar Limited owned by RAI Dynasty.
In the same village, Opondo and others, close to 100 were evicted to pave way for large-scale grain and oilseeds farming business. The company claimed it had lawfully acquired the land.
"I am an emotional wreck, my life was ruined, if I can't afford to provide for my family, do I have any meaning?" she angrily asks.
"I always burned the candle at both ends to be able to provide for my family, but all their dreams were shuttered, they no longer attend school. I had no money to feed them and had to transfer them to the village, they currently live with their 78 aged grandmas somewhere in northern Uganda", she adds.
Although the kids were transferred, they face a lot of destitutions due because of the grandmother who can hardly meet their basic needs.
"Even when they went to the village I still the caretaker of the family. I do distasteful works that I don't want them to know," she reveals.
While Uganda starts its 42 days semi- COVID-19 lockdown, it is notably clear that a significant number of Ugandans will be sharing the same eviction stories as Opondo's.
Research findings from Witness Radio show more than 50,000 people across Uganda were subjected to sexual and gender based violence, illegally evicted off their land during the first COVID-19 lockdown, further more women and girls suffered most.
Shortly after Uganda went into a total lockdown on March, 18th 2020, the government through the ministry of Lands, Housing and Urban Development halted all land evictions throughout the lockdown to comply with the president's directive of staying at home, but, the evictions suddenly increased as the pandemic gave a total advantage to the opportunists to easily access millions of hectares with the backing of the government and other influential politicians in the country. The first lockdown was later relaxed in mid-August, the same year.
Now, Uganda announced a second semi-lockdown on 6th, June 2021 for 42 days where schools, Worshipping places and inter-district public transport have been burned.
President of Uganda Mr. Yoweri Museveni on a televised address announced 40 new measures to curb the second wave of the pandemic. Among them include, the closure of schools, ban of communal prayers, and public gatherings/workshops all for 42 days, inter-district travel banned for 14 days, private vehicles limited to just 3 people including the driver, and many other measures.
Currently, Uganda has 53,961 COVID-19 confirmed cases, 383 deaths and 47,760 have recovered from the disease.
According to witness radio, evictions will not only live many Ugandans landless but also puts them at higher chances of being sexually abused by people who are supposed to protect them.
Experts say that in a pandemic, an eviction is particularly dangerous, leading a person to double up with friends and family in a crowded housing situation that easily accelerates the virus' speed.
With no guidelines at the moment to protect indigenous and poor people, it is evident that tens of thousands of Ugandans will be affected by the ruthless actions of the land grabbers.
"If the grabbers managed to disregard the previous guidelines and continued to carry out their dubious schemes, what will happen to people now when there are no political heads of ministries including Land? Says, Witness Radio.
In the meantime, earlier today, the Chief Justice of Uganda, Alfonse Owiny Dollo also suspended court hearings and appearances for 42 days as a measure to curb the spread of coronavirus.
The Chief Justice said the move is in line with President Museveni's directives on prevention and mitigation of the virus.
Whereas the closing of courtrooms makes sense for public health reasons, the delays are likely to create an overwhelming backlog of cases and have legal ramifications, since defendants are guaranteed a speedy and fair trial under the Constitution.