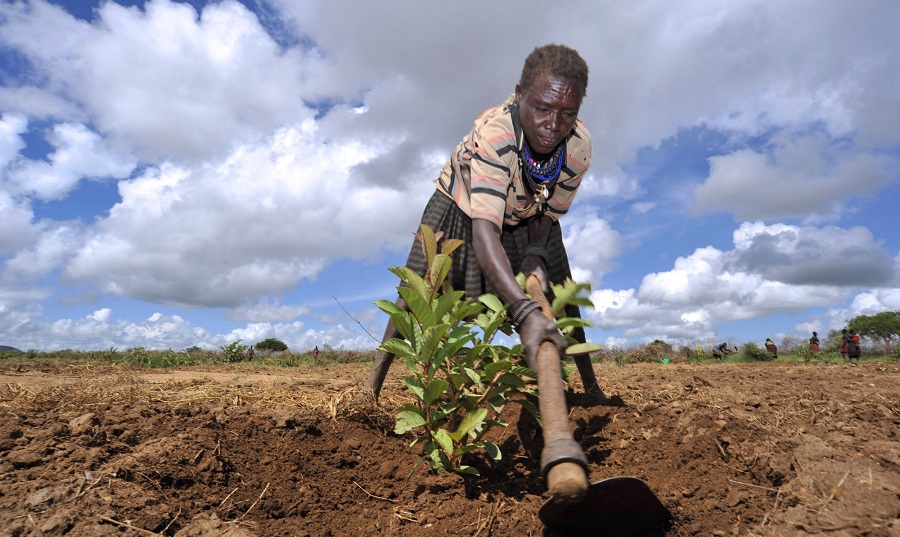 By witnessradio.org Team,
"…Land in Uganda belongs to the citizens of Uganda and shall vest in them in accordance with the land tenure systems provided for in this Constitution…" states article 237 of the 1995 Constitution of the Republic of Uganda.
The Constitution portrays land ownership as a progressive journey however, the reality is that an ordinary citizen may find it hard to own land as inequality was entrenched within a social-political system that continue to enact and implement land policies and laws, which govern ownership and usage.
Majority citizens' livelihood and survival has been proved to be on land according to 2016 figures from Uganda National Bureau of Statistics (UBOS). The figures indicate that nearly 70 percent of households are engaged in subsistence farming of which, 82 percent are in rural areas and dependent on agriculture.
Last May 2018, the Uganda Human Rights Commission (UHRC) released a report on "Land Disputes and Human Rights in Selected Regions" indicating that almost half of the total land in Uganda is being claimed by those with power and money. The research was carried out to understand the impact of land disputes on enjoyment of fundamental human rights and freedoms. It was carried out in selected districts in all regions of Uganda.
Between 2006 and 2010, New Forests Company (NFC) with protection from Uganda's army and police force violently evicted over 22,500 natives off their land in Kiboga and Mubende districts totaling to 9,300 hectares to make way for tree plantation. Today, the people evicted from the land are desperate, having been driven into poverty and landlessness.
According to available court documents, both evictions in Kiboga and Mubende districts were carried out as there were high court orders restraining the NFC, its agent and workers from continuing with evictions.
For an example; on 19 June 2009 the Uganda High Court issued an interim order on Kiboga eviction 'restraining the respondent [i.e. the New Forests Company], its workers, agents, assignees … from evicting the applicants and their families, destroying their crops, schools, hospitals, social infrastructure and livestock.
NFC has attracted investment from international banks and private equity funds since 2008. The European Investment Bank (EIB), the EU's financing institution, has loaned NFC five million Euros to expand one of its Ugandan plantations. Agri-Vie Agribusiness Fund, a private equity investment fund focused on food and agribusiness in sub-Saharan Africa, has invested $6.7m in NFC. Agri-Vie is itself backed by development finance institutions, notably the World Bank's private sector lending arm, the International Finance Corporation (IFC). The most significant investment in NFC came from HSBC (around $10m), which gave HSBC 20 per cent ownership of the company and one of six seats on the NFC Board.
Close to seventeen years now, over 4000 former Kaweeri smallholder farmers have been fighting to get back their land but the battle is still far from Completion.
In August 2001, indigenous communities were violently evicted off their 2524 hectares which they had been living on for several decades. The land covered four villages Kitemba, Luwunga, Kijunga and Kiryamakobe in Maddudu sub county, Mubende district.
The Uganda People's Defense Force (UPDF, a government army) forced them to leave their premises because the semi-statal Uganda Investment Authority (UIA) wanted to lease it to the Kaweri Coffee Plantation Ltd, a 100% subsidiary of the Neumann Kaffee Gruppe (NKG) based in Hamburg/Germany. The eviction was described by the evictees as particularly cruel.
The soldiers set houses on fire and demolished them, including the fully equipped private clinic of the community and six churches. Movable properties were looted and crops were cut down and uprooted. The Kitemba primary school (a formal school for the villages) after the eviction has been used as the headquarters of Kaweri/NKG Coffee plantation.
Victims that spoke to witnessradio.org said that the eviction was carried out on privately owned land. Although the Uganda's legal process is very slow but in 2002, affected communities with support from NGOs went to court (Civil Suit No. 179 of 2002) at Nakawa High Court (Kampala). After 12 years of waiting, the judge ruled in favor of the evictees on 28th of March 2013. The judgment allowed the evictees to get back to their land and damages be compensated to a total of (37,085,574,606.3 UGX – about US dollars 10 million caused by the eviction.
On 12th, August 2013, the Ugandan government appealed against the ruling in the Appeal Court. Civil Appeal No. 144 of 2013 arising out of H.C. Civil Suit No. 1779/2002. Up to now, the case has not been fixed for hearing.
In 2015, the matter was referred to the United Nations Committee on Economic, Social and Cultural Rights (CESCR). During its sittings, the committee was alarmed by repeated cases of forced evictions of communities as well as lack of restitution, compensation or provision of alternative housing.
The Committee recommended that Uganda government refrain from forcibly evicting individuals and expropriating land, regardless of the context. On a particular note, the CESCR urges to the State party to "take immediate measures to ensure that the rights of the Mubende community are restored" however more than two years, no action has been taken.
The 23 year old Constitution recognizes four tenure systems under which a citizen can own land, namely; Customary; freehold; mailo and leasehold; establishes institutions that are mandated to hold and manage land on behalf of the natives including Uganda land Commission, District Land Boards on top the mother ministry of land but they (institutions) are facing independence and credibility challenges before any citizen.
Subordinate laws to Constitution that set standards for any investment on land including the Investment Code Act has not been respected and applied to protect land owners from losing their land.
The latest development that will finally seal a land deal for the rich and powerful in Uganda; is the government proposal to amend Article 26 of the Constitution to enable the government to acquire private land for public purposes without prior compensation.
…