MAAIF spoilt for choice between hybrids and indigenous crops
The ministry of Agriculture, Animal Industry and Fisheries (MAAIF) is walking a tightrope between preserving low-yielding indigenous crops commonly known as organic crops while at the same time promoting commercially viable hybrid options, writes DAVID LUMU. 
On October 10, President Museveni went out of his normal routine to express frustration about the quality of some products he consumes.
"The things that my people have been buying from the market….these are not onions. They look like onions but there is nothing you feel when you eat. Even some of the oranges…when you put them in the mouth, you feel nothing," he said.
"So, I want to warn you people, especially the National Agricultural Advisory Services (Naads) and the commissioner in charge of crops; save us from these carelessly imported seeds."
The president said this while flagging off agro-processing equipment for post-harvest and value addition farmer organisations at Namalere Agricultural Referral Mechanization Centre in Wakiso.
Incidentally, MAAIF had a week earlier released an updated policy on crops, which in itself calls for the preservation of indigenous crops.
The remarks have since opened up debate about Uganda's agricultural strategy to tackle the double-edged sword which on one side calls for the preservation of indigenous crops that are rich in nutrients but low on yields and, on the other hand, commercialization of the industry through hybrid crops that have high returns on investment. Indeed, several technocrats in MAAIF have expressed optimism on the president's remarks.
MAAIF SPEAKS OUT
Pius Wakabi Kasajja, the MAAIF permanent secretary, concurs with the president that some onions no longer have that original taste and aroma, but he also emphasizes that indigenous onions are still available on the market.
"We are in a catch-22 situation whereby we are fighting two wars; commercialization and preservation. If we are to commercialize, we cannot continue with our indigenous products mainly because productivity is low and you can hardly make commercial sense out of indigenous products," he says.
"As agricultural products keep on improving genetically, they lose out on certain attributes. That's why you find that these big onions which mature quickly and are easy to peel, don't have that original aroma because of the improvements done to them to make commercial sense. So, as a ministry, we have a double-edged approach in the interest of transforming subsistence farming into commercial agriculture. If you're going commercial, there is no way you can achieve that on indigenous-only output."
Kasajja also noted that there is a tendency to erroneously refer hybrid crops as genetically modified organisms (GMOs).
"Hybrids result from the deliberate crossing of two different parent varieties from the same species to improve quality and resistance to diseases," he says. 
He also intimated that the National Agricultural Research Organisation (Naro) is researching ways to improve and increase the production and productivity of indigenous crops.
"The president said we must not kill the indigenous crops, and we are saying we are promoting the indigenous; in fact we released a policy recently on the indigenous crops and how the ministry is going to be handling them," he says.
"This is going to address the president's concern by increasing the research on how to improve production and productivity for the indigenous crops."
Meanwhile, it is worth noting that Ugandan agricultural produce holds international acclaim. A 2016 study by the Organic Agriculture Worldwide put Uganda second behind only India when it comes to the number of local organic producers (190,552).
NDP III interventions prioritize commercialization
In the third National Development Plan (NDP) III, which runs from 2020 to 2025, efforts in MAAIF are geared towards increasing production and productivity as well as improving on post-harvest handling, storage and agro-processing which directly supports the agro industrialization agenda.
This, according to Paul Mwambu, the commissioner, department of Crop Inspection and Certification at MAAIF, is aimed at improving on the competitiveness of crops in the local and international markets plus empowering institutional capabilities.
In doing so, MAAIF's major focus is commercialization of the agriculture sector through empowerment of farmers by providing affordable credit and insurance for agriculture.
MAAIF is also implementing an agro-industrialization program together with other ministries of Trade, Industry and Cooperatives; Local Government; Water and Environment as well as Finance, Planning and Economic Development.
INDIGENOUS ADVANTAGE
Whereas the president cautioned about what he termed as carelessly imported seeds, it turns out that these imported hybrids are spearheading the commercialization of the agricultural sector.
NARO AHEAD OF TIME
Meanwhile, Dr Ambrose Agona, the director general of Naro, says efforts are underway to conserve indigenous crops and plants at their gene bank at Entebbe Botanical Gardens.
"We are doing this in two ways; through the in-situ conservation approach, whereby genetic crops are conserved through the designation, management and monitoring of biodiversity in the same area where it is encountered," he says.
"We have about 4,400 different plants and crops and have partnered other countries like Norway to keep duplicate samples there just in case something goes wrong here. Also note that we have six community crop gene centres countrywide, where farmers provide staple seeds or crops within the region to create a community seed bank." 
MARKET EXPERIENCE
When The Observer visited Nakasero market, there was a variety of fruits and vegetables but conspicuously, the prices of a particular item varied.
For instance, a sack weighting 5kg of indigenous onions goes for Shs 50,000 while a 5kg sack of hybrid onions is at Shs 35,000. The same applies to tomatoes, carrots and chicken.
Alex Kiguli, a market vendor, says while most customers hardly differentiate the varieties and mostly got for the cheapest, there are still a number of keen customers who prefer indigenous products.
"Our local chicken is expensive at about Shs 40,000 but people who understand its sweetness don't mind about the price yet a broiler of the same weight goes for half the price," he says.
In the end, it is all about choice. It's just a matter of knowing where to find indigenous products even though they are priced higher.
Report links 1,600 deaths to pesticide poisoning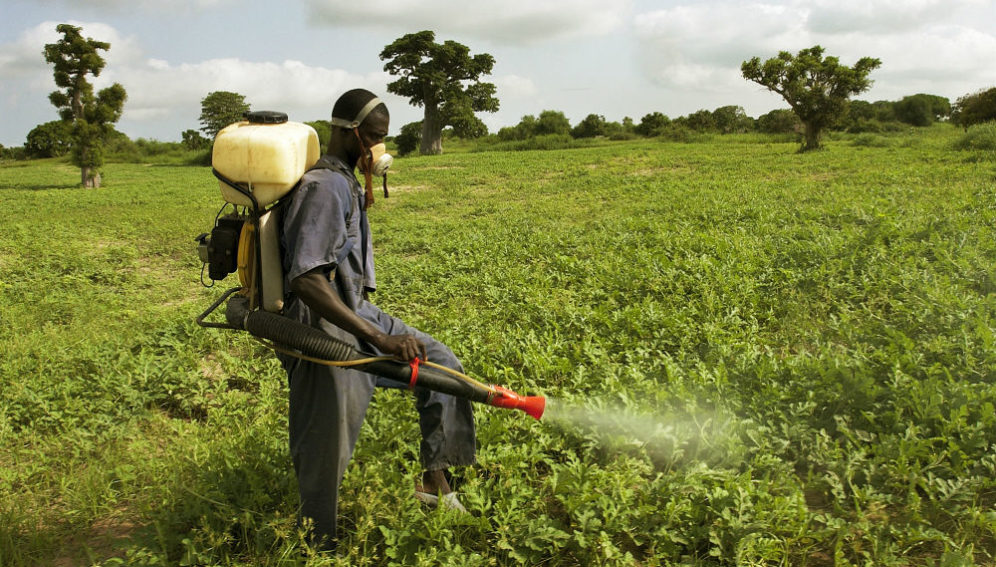 A total of 1,599 deaths between 2017 and 2022 were linked to organophosphate (pesticide) poisoning, researchers from Uganda National Institute of Public Health (UNIPH) and the Health ministry found.This information is in one of the reports presented yesterday during the 9th National Field Epidemiology Conference in Kampala.
The study led by Mr Robert Zavuga was based on the data from the District Health Information System (of the Health ministry), which is received from health facilities across the country."A total of 37,883 (average of 6,314 per year) organophosphate (OP) [health facility] admissions and 1,599 (average of 267 per year) deaths were reported," the report reads.
OP admission was defined by researchers as a hospital stay due to suspected OP poisoning. In contrast, OP poisoning death was defined as inpatient death with OP poisoning listed as the cause of death.The researchers linked the poisoning to the widespread use of OP pesticides by farmers in the country amid limited knowledge of how to use the pesticides safely.
"Uganda has an agricultural-based economy with widespread use of organophosphate-based pesticides. This elevates the risk for OP poisoning in the population," the report reads further.According to the report, the overall average incidence was 15 organophosphate admissions per 100,000 persons.
On areas, sex and age that are most affected, the report indicates, "residents of Ankole Sub-region were more affected while those in Lango Sub-region were least affected.""Males had a higher incidence of organophosphate poisoning than females. Children under 5 years had a higher incidence than persons above 5 years (20 vs 14/100,000)," the report said.
Overall, 1,599 (average of 267 per year) deaths were reported between 2017 and 2022. Residents in Kampala had the highest overall case fatality rate (CFR) while those in Teso had the lowest (CFR: 8.5 percent vs 2.2 percent)," the report reads.
According to the report released yesterday, "there was more than 3-fold decline in incidence of OP poisoning admissions per 100,000 population from 2017-2022," however, the researchers noted, "there was no significant change in the case fatality rate of organophosphate poisoning."
"The incidence of organophosphate poisoning admissions declined throughout the study period. Since 2014, Uganda has implemented periodic public awareness campaigns about safe use of pesticides for small-holder farmers and pesticide dealers," the report says.
"These campaigns have included sensitisation about responsible handling to reduce risk of poisoning and environmental pollution.
Additional campaigns targeting government pesticide regulators, non-governmental organisations, and media have also been implemented to address the dangers of organophosphate poisoning," it adds.
The report says Uganda has also implemented the Agricultural Chemical Control Act to use less toxic pesticides, which may be contributing to the reduction in organophosphate poisonings."To continue this decline, it is important to monitor and strengthen these interventions," the researchers from UNIPH and Health ministry recommended.
Source: Daily Monitor Via msn.com
Statement: The Energy Sector Strategy 2024–2028 Must Mark the End of the EBRD's Support to Fossil Fuels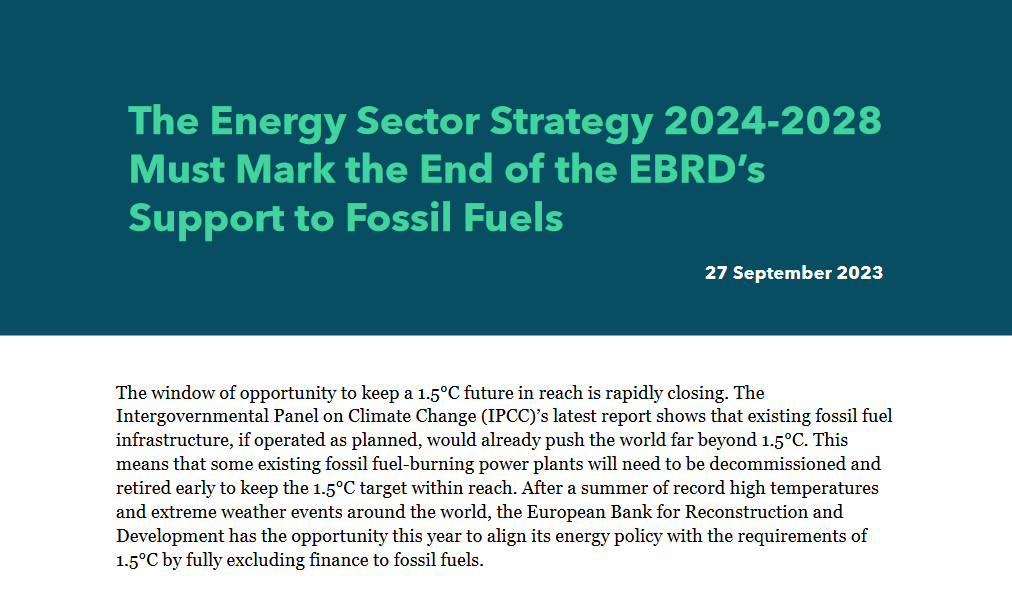 The European Bank for Reconstruction and Development (EBRD) is due to publish a new Energy Sector Strategy before the end of 2023. A total of 130 civil society organizations from over 40 countries have released a statement calling on the EBRD to end finance for all fossil fuels, including gas.
From 2018 to 2021, the EBRD invested EUR 2.9 billion in the fossil energy sector, with the majority of this support going to gas. This makes it the third biggest funder of fossil fuels among all multilateral development banks, behind the World Bank Group and the Islamic Development Bank.
The EBRD has already excluded coal and upstream oil and gas fields from its financing. The draft Energy Sector Strategy further excludes oil transportation and oil-fired electricity generation. However, the draft strategy would continue to allow some investment in new fossil gas pipelines and other transportation infrastructure, as well as gas power generation and heating.
In the statement, the civil society organizations point out that any new support to gas risks locking in outdated energy infrastructure in places that need investments in clean energy the most. At the same time, they highlight, ending support to fossil gas is necessary, not only for climate security, but also for ensuring energy security, since continued investment in gas exposes countries of operation to high and volatile energy prices that can have a severe impact on their ability to reach development targets. Moreover, they underscore that supporting new gas transportation infrastructure is not a solution to the current energy crisis, given that new infrastructure would not come online for several years, well after the crisis has passed.
The signatories of the statement call on the EBRD to amend the Energy Sector Strategy to
fully exclude new investments in midstream and downstream gas projects;
avoid loopholes involving the use of unproven or uneconomic technologies, as well as aspirational but meaningless mitigation measures such as "CCS-readiness"; and
strengthen the requirements for financial intermediaries where the intended nature of the sub-transactions is not known to exclude fossil fuel finance across the entire value chain.
Source: iisd.org
Download the statement: https://www.iisd.org/system/files/2023-09/ngo-statement-on-energy-sector-strategy-2024-2028.pdf
Kigezi In Famine Scare After Drought Hits The Region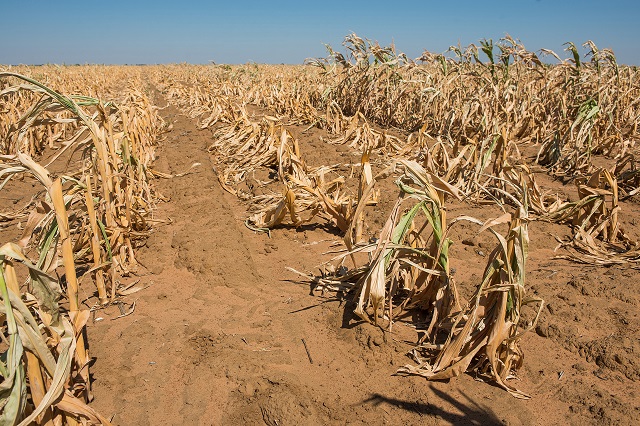 Farmers in Rubanda district are living in fear that they may be hit by famine due to the prolonged drought that has greatly affected the area. This comes after the area was hit by heavy rains in the month of May 2023, which left most of the gardens washed away, and since then the dry season has started up to date.
This is the first of its kind for Rubanda district and Kigezi at large to undergo such a prolonged drought.
According to farmers, this is the first of its kind for Rubanda to go through a long drought, adding that they are in fear that they may be hit by famine since they were used to receiving rains at the beginning of August, which is not the case this year. They add that even the seedlings that they had planted excepting that the rains would come have all dried up by the long spell.
Farmers also say that they don't know what could be the cause that has stopped the rains,adding that the government should come up with a program that provides them with seedlings.
Akampurira Prossy Mbabazi, a woman Member of Parliament for Rubanda District, says that the issue of drought is not only in Rubanda District; however, this is the first of its kind. She adds that the drought comes after the area was hit by heavy rains, which caused a lot of challenges, adding that now it is the drought that may affect the farmers.
Akampurira further says that, as a leader,she will continue to educate farmers on better methods of farming depending on climate change.
Kikafunda Evelyne, founder of Green Environment Promotion (GEP), says it's sad that farmers in Rubanda district and Kigezi at large are experiencing a long drought. She attributes it to problems of environmental degradation that include swamps being reclaimed, deforestation, and plastic pollution, adding that this is an indication that people don't mind about the environment.
Kikafunda calls upon all people to take part in protecting the environment, adding that environmentalists should devise means on how to protect the environment.
It's now been four months since it last rained in the districts of greater Kabale, that is, Rubanda, Kabale, and Rukiga districts, as well as other parts of the Kigezi Subregion.
Source: chimpreports.com