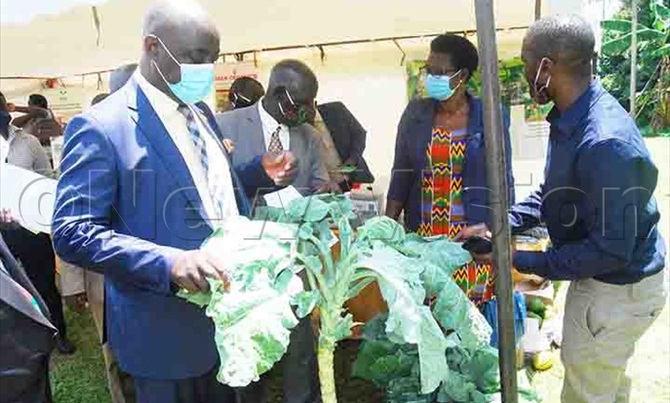 Ugandan farmers have been urged to embrace organic farming to increase the share of over $80B global market of organic produce.
While launching the long-awaited National Organic Agriculture Policy (NOAP), at the Ministry of Agriculture, Animal Husbandry and fisheries (MAAIF), offices in Entebbe, Minister Vincent Bamulangaki Ssempijja, explained the many opportunities that organic farming presents to Uganda's economy.
According to the statistics presented by MAAIF in 2016, the global market demand for organic products is over $80B where Uganda is currently earning only $291.2m per year from the exportation of organic products to the international market yet the country has the potential to increase this income.
"Although many Ugandan farmers seem to be practicing organic farming, there is much more needed, to be done, especially with the standards and agronomical practices under organic farming. Farmers also need to understand that for one to qualify to be an organic farmer, they must be certified," explained Ssempijja.
Prof. Charles Ssekyewa, the African Continental Chairman for the Ecological Organic Agriculture Initiative who is a trainer and researcher in Organic Agriculture and promoter of Agro-Ecology, says that organic farming is the best farming system to promote, protect and conserve the environment.
"With the way the environment is being destroyed, we need to embrace organic farming because it allows the interaction and healthy living of all elements of the eco-system," he said.
Alex Lwakuba who is the commissioner, crop production department with MAAIF, commended the policy formulation team for the work well done and asked the legislators to quicken the process of enacting laws that will facilitate the implementation of the policy.
"This long-awaited policy that has taken us 16 years is a very fundamental tool in the promotion of organic farming in Uganda. Now we need to teach and tell all the stakeholders of what is expected of them so that everyone is on board. There is much we can get from organic farming because we have the potential," he says.
Uganda is one of the countries with the highest comparative advantage for organic production in Uganda with the only 262,282Ha of land under organic farming, with 210,352 certified farmers producing 115,062 tons of organic produce.