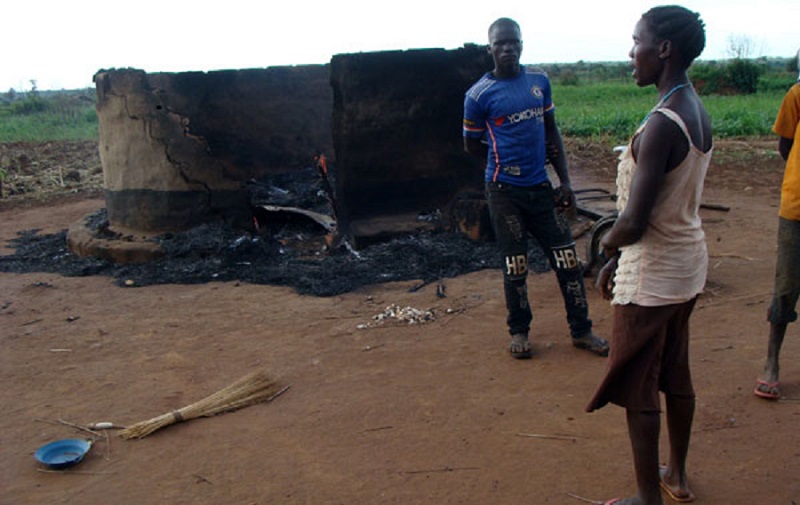 Tension is high at Bedmot village, Mutunda Sub-county in Kiryandongo District after tribal clashes erupted between the Acholi and Paluo communities over a disputed land.
Four people were severely injured and more than 10 houses torched in clashes that swept the area, prompting some residents to flee their homes.
Those injured included the LC1 chairman of Bedmot village, Mr Ismail Bongomin. Others have been identified as Mr Alfred Odong, Mr George Elel and Mr Opiyo Oguka.
What started as a disagreement and misunderstanding between two neighbours: Former Kibanda County MP Sam Otada and Mr Arafat Gadaffi Ocira in 2015, escalated into tribal clashes between the Paluo and minority tribes in the area on March 2, 2018.
Mr Ocira, whose seven houses were burnt in the conflict, has since been displaced. He is currently living with his 11 children in a rented house in Karuma Trading Centre.
More than 50 families have been caught up in this bloody dispute over a land measuring about 500 acres. Currently, the dispute is between the Paluo tribe of former MP Otada and the minority tribes: Alur, Lugbara, Acholi, Langi, Iteso and Karimojong.
Mr Ocira told Daily Monitor that his grandfather settled on the disputed territory in 1972. He said all those affected have lived undisturbed until 2016 when the former legislator sent three people to evict them.
"This land conflict started in 2015. When I was in Kampala, Otada's in-law Tom Oweka came with logic that the land belongs to them. He went ahead to make people to sign a document that they are squatters on the land," he said.
"That time his plan went successfully and the minority tribes, the Langi, Alur and Lugbara then started hiring the land from Oweka for farming."
In their petition to President Museveni and the Inspector General of Police for help, dozens of people headed by Mr Ocira claim that Mr Otada and two others wanted to throw them out of the land.
According to Mr Hitler Mukasa, the affected LC1 secretary, before they received response from President Museveni, the former MP sued them at the Masindi Magistrate's Court where they have been battling the case of trespass. The ruling on the case is expected next month.
The residents, through their lawyers from Okurut and Company Advocates on March 23, wrote to the Inspector General of Police, Mr Martin Okoth-Ochola, complaining of continuous intimidation and malicious damage of their property by Mr Otada's agents even before court decides the case.
"On March 2, 2018, they burnt all my seven houses and cut four people with panga (machetes)," Mr Ocira said.
Contradictions
The LC1 chairman of Bedmot Mr Ismail Bongomin, who was injured in the fight, said those being targeted by Mr Otada for eviction settled on the land after being displaced by the conflicts in South Sudan and northern Uganda.
"In 1985, they were brought as refugees, taken and abandoned at Karuma and their relatives who were staying at Kiryandongo refugees' resettlement camp were asked to go and identify them," he said.
"In 1989, Mr Otada went and picked one old man called Yocamo Opio whom he took and donated to him a virgin chunk of land at Karuma and the man was living there alone in the entire area and he named it 'Bim yika' (literally meaning chimpanzee will bury me)."
Mr Bongomin added that the late Opio later brought in his two daughters and son in-law and gave them some land for settlement and cultivation in 1992.
"These were the only three people living in this area with their families by then, but in the early 2000s some people who were fleeing the Lord's Resistance Army conflict in Acholi sub-region started settling in this area," he said.
Mr Johnson Odoc of Acholi tribe challenged his fellow tribe-men to appreciate those who hosted them during the conflict with the LRA.
"We should be thankful to the Paluo community for the hospitality they gave us during the war which has enabled us to educate our children," he said.
Mr Otada, who acknowledged dragging 52 households to court, disputed claims that his agents have been attacking them and destroying their properties.
He told this reporter that the recent attacks were carried out by the same group targeting "peaceful tenants" that he has been hosting on the land.
"They are the ones carrying out attacks on my peaceful tenants after knowing that they refused to join their cause of stealing my land. Those people are peasants; what can I gain from attacking them and destroying their properties? I am not a fool to sue someone in the courts of law and again attack him or her," he said.
Mr Otada said he owns 700 acres of land in the area but the contested part is about 300 acres where the people, who were running away from the LRA insurgency settled in 1987.
Kiryandongo District police commander, Mr Charles Okello, said the land conflict is causing insecurity in the area. He confirmed the recent attacks led to destruction of properties, adding they are working hard to make the matter settled.
…