Veterinary officers treat animals without proper diagnosis- Commissioner
Kampala, Uganda | A Commissioner in the Ministry of Agriculture Animal Industry and Fisheries has revealed that most veterinary officers in Uganda are administering treatment without proper diagnosis of animal diseases.
Dr. Anna Rose Ademun Okurut, who is in-charge of animal health says that many veterinary officers tend to work like witch doctors rather than professionals by treating animals without proper investigations of the causes of diseases in animals and environment where they live.
Ademun adds that lack of proper investigations by veterinary officers is partly the reason why infectious diseases have now crossed from animals to human beings.
She says that Ministry of Agriculture has tried to address some gaps including equipping the 13 regional laboratories to enable veterinary officers conduct proper diagnosis to control animal diseases but these are not yet enough.
Martha Mukisa, the Animal Husbandry Officer for Kalungu district admitted the challenge saying that it's difficult for them to conduct proper diagnosis on animals over long distances from farmers to regional laboratories.
Mukisa adds that even when samples are taken, they need close to three months to receive results and in the process the farmers resort to conduct their own treatment which leads to animal resistance to drugs.
Dr. Aloysious Lumbuye, the Luweero District Veterinary Officer says that apart from lack of tools and skills to collect samples, the veterinary officers also lack transport to reach to farmers.
Lumbuye says that Luwero district has no government laboratory and they need to transfer samples to the regional laboratory in Nakaseke district.
Antonio Querido, the country representative of Food and Agriculture Organization Uganda says that due to poor surveillance, 75% human diseases originate from animals across the globe and Uganda is now the hotspot for many of these diseases.
Querido adds that as a result, FAO Uganda and Ministry of Agriculture have embarked on training 20 veterinary officers from districts to strengthen their ability to predict, prepare, respond to critical health threats affecting animals.
Atleast 20 veterinary officers from different districts will spend a month at Luweero Diocese guest house in Luweero where they will be trained in applied veterinary epidemiology.
******
URN
A government project is pushing hundreds of families off the land without re-settlement in the Lyantonde district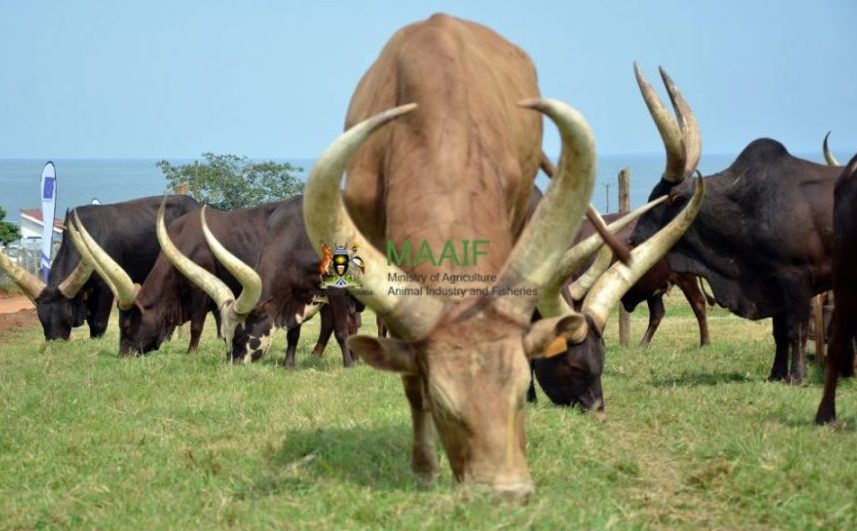 By witnessradio.org Team.
Lyantonde – Uganda – without any informed consultations or community engagements, the government of Uganda is constructing a world-class pre-export quarantine facility for animals on a piece of land which has been feedings hundreds of native families for more than three decades.
Once the project takes off, a source of food, employment, education, and a provider of finances to meet basic needs for hundreds of families will be no more.
According to the Ministry of Agriculture, Animal Industry, and Fisheries, the facility will act as a quarantine ground for animals before export for a specified period of time for veterinary observation, sampling, testing, and vaccination among others.
The project which targets land measuring approximately 98.2 Hectares, shall facilitate the export of animals and meat in bulk from Burundi, Rwanda, and DR Congo, and other neighboring East and Central African countries.
But, Grace Batine, 57 years and a mother of 12 children who has been deriving a livelihood from the targeted land says, the project is shattering the future of her family as it will deprive them of the right to food and other basic rights.
"I settled on the land in 1994, which has been a source of everything. When the government decided to develop it, why do they fear to consult us and whose responsibility is it to protect and care about our wellbeing? Do they want the European governments to care for us if they can't," a poor Batine questioned.
Benon Musinguzi, a resident of Makukulu Village, says they only want the government to compensate if not, resettle them because they have nowhere to go.
"We respect the government's move to construct the facility but it would not be fair if they evict us from our only livelihood. We think if they have no money for the compensation they should allocate to us part of the land for us to continue thriving. We admit this is not our land but for more than 30 years we have been on this land," adds Musinguzi a father of 8.
In an interview with the land desk officer at the Ministry of Agriculture, Bruce Turyatunga, claimed the move to evict residents is ready and the government shall not even compensate a single coin to them since they illegally occupied the land.
"This is a government land that was surveyed and we have a title on it, how do you compensate someone on your land, we are even consulting from the Attorney General and Administrator-General to see how these people can compensate us for using our land for all that time," Mr. Turyatunga added.
Kasolwe stock farm to revive Busoga's livestock industry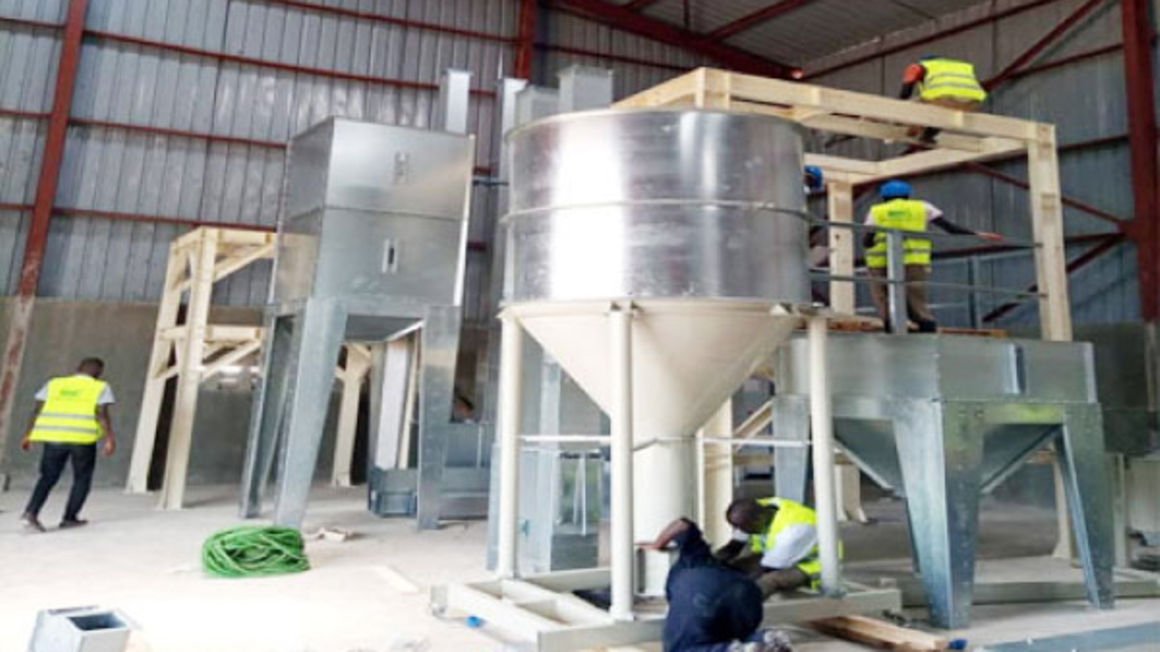 Workers put final touches on the new high-capacity feeds mill at the upgraded Kasolwe stock farm in Bugabula County, Kamuli District recently. PHOTO/PHILP WAFULA
The livestock industry is fundamental to Uganda's economy. The sector contributes 13.1 per cent of the agricultural gross domestic product (GDP) and 5 per cent of the national GDP.
The importance of livestock is set to rise further, as growing incomes lead to higher meat consumption. For example, the 2020 annual agricultural survey by the Uganda Bureau of Statistics (UBOS), indicates that demand for beef in Uganda is expected to increase by more than 150 per cent between 2020 and 2040.
Production of meat products is predominantly through smallholder farmers, who own 90 per cent of livestock in the country.
The UBOS survey further shows that in Busoga Sub-region, the livestock sector provides 15 per cent of employment opportunities and 23 per cent of family income and security.
However, a combination of irregular weather patterns, poor agricultural methods and lack of modern technology has left the sub-region playing catch-up with other parts of the country.
New lease of life
However, all that is set to change if the recently upgraded Kasolwe stock farm fulfils its mandate.
During a recent visit to the farm in Balawoli Sub-county, Kamuli District, there were significant changes at the place that had been written off.
For instance, a spray race with a loading ramp has been constructed to act as the modern disease control unit to fight tick-borne diseases.
The holding ground will be able to hold at least 150 animals and be used for practical illustration to farmers on how to mix and apply acaricides.
John Muwanga, a farmer in the area, says the spray race will greatly help in treating cows in the community since many smallholder farmers couldn't afford hiring veterinary doctors.
"Hiring a veterinary doctor is very expensive, but we now have an opportunity to bring all our cows here for treatment," he says.
Authorities say the newly-installed cattle sheds with calf pens and milking parlours will have the capacity to hold 150 cattle.
This undertaking will be used to teach farmers modern dairy practices, and be a model for replicating similar structures using locally available materials. The structure will also be a central dissemination point for dairy cattle genetics to the entire sub-region.
Furthermore, the high-capacity hay barn will hold 35,000 bales of hay. The structure will also aid in training farmers on how to make and store hay.
The most innovative technology at the site is the new high-capacity feeds mill, which will have the ability to produce 10,000kg of feeds per day.
This undertaking will enable the surrounding community in Bugabula County to be out growers of ingredients such as maize, soya bean and millet, among others, that will be mixed in recommended ratios to produce animal feeds nationally.
All this effort is part of the National Animal Genetic Resources Centre and Data Bank (NAGRC&DB) to improve livestock production, productivity and marketing in Busoga sub-region.
NAGRC&DB is partnering with Operation Wealth Creation (OWC) programme to transform agriculture from a subsistence sector into a commercial industry in line with the National Development Plan III.
Dr Peter Beine, the NAGRC&DB executive director, says the livestock sub-sector is a significant player in our economy, which must be enhanced to create more wealth and jobs for people.
"A time has come for us to adapt our cultures to the needs of today. We must embrace new technologies in order to upscale our farming for quality production, if we are to survive and compete in the global market."
About the farm
It is one of the national ranches established in 1965 to conserve the indigenous short-horned Zebu cattle. Initially, the farm was for citrus, which failed due to insufficient water for irrigation.
After an evaluation, the citrus farm was shifted to Kiige near the shores of Lake Kyoga, thus paving the way for establishment of Kasolwe Stock Farm.
The farm occupies 2,000 hectares of land and lies within the cattle corridor that stretches from Mbarara, Masaka, Nakasongola, Kayunga, Kamuli, Teso, and Karamoja.
Currently, the farm has 986 head of cattle, of which 64 are crosses of Jersey and Friesians, 922 short-horned Zebu and 740 small East Africa goats.
What next for Uganda's agricultural surplus?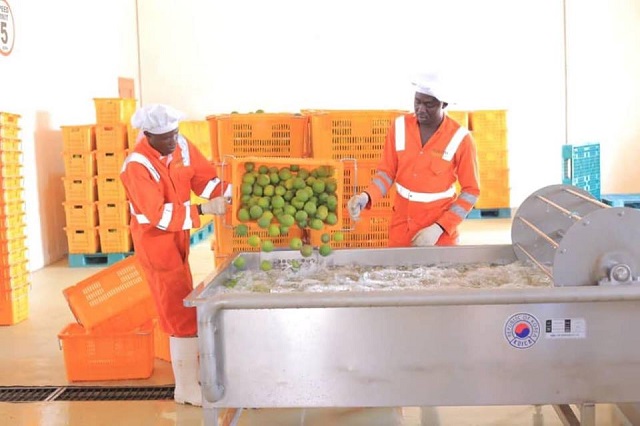 Kampala, Uganda | Government has advised farmers to take seriously complaints from regional and international markets about the quality of Ugandan produce. Ugandan products have undergone a series of rejection over the last three years from the regional markets of Kenya, Rwanda and Tanzania over quality concerns and dumping.
Finance Minister Matia Kasaijja says the country is facing a problem of market for local goods which has resulted in surplus yet farmers are ignoring calls for change. Some of the rejected products include milk, eggs, sugar and maize among others.
According to statistics from the Ministry of Trade and Industry, Uganda produces 510,000 tons of sugar. However, only 360,000 tons are consumed locally. The surplus of 150,000 tons is exported within East Africa, COMESA regions and DR Congo.
However, due to the import restrictions in neighbouring countries over quality concerns, over 50,000 tons of sugar are flooding causing a drop in the price from 150,000 to 130,000 for a 50 kg bag of sugar.
Agriculture Minister Vincent Bamulangaki Ssempijja says the surplus is temporary, adding that they have embarked on the implementation and expansion of the agro industrialization to address the quality challenges.
Pius Wakabi Kasajja, the Agriculture Ministry Permanent Secretary says that the government is investing over 200 million pounds (over a trillion Ugandan Shillings) in post-harvest handling, sensitization and value chain agenda to boost the quality of the products for export.
Wakabi says that they are now looking at taking the Nucleus farmer model to all parts of the country to ensure bulk production. The nucleus farmer's premises are designed to host a demonstration of certified inputs and best practices on input usage.
This will help farmers around them to access credit and have the same output in terms of quality for exports.
Julian Adyeri Omalla, a commercial farmer and managing director of Delight Uganda, the producers of Cheers juice is a nucleus farmer. He has signed a memorandum of understanding with government through the ministry of agriculture to train farmers in Northern Uganda.
Julia owns 1700 hectares of farmland on which he grows mangoes and citrus working with over 500 out-growers in Lungulu sub-county in Nwoya district. In this memorandum, the government is to construct a Shillings 30 billion fruit juice factory.
Gideon Badagawa, the Executive Director Private Sector Foundation Uganda advises the farmers to embrace research and work under organized groups that understand the market dynamics for countries to appreciate their goods.
Uganda has had several meetings with regional heads to forge a way out of the ban but the fruits seem slow. Recently, Kenya allowed importing several metric tons of sugar from Uganda.
*****
URN