Families left in limbo as Uganda oil project earmarks land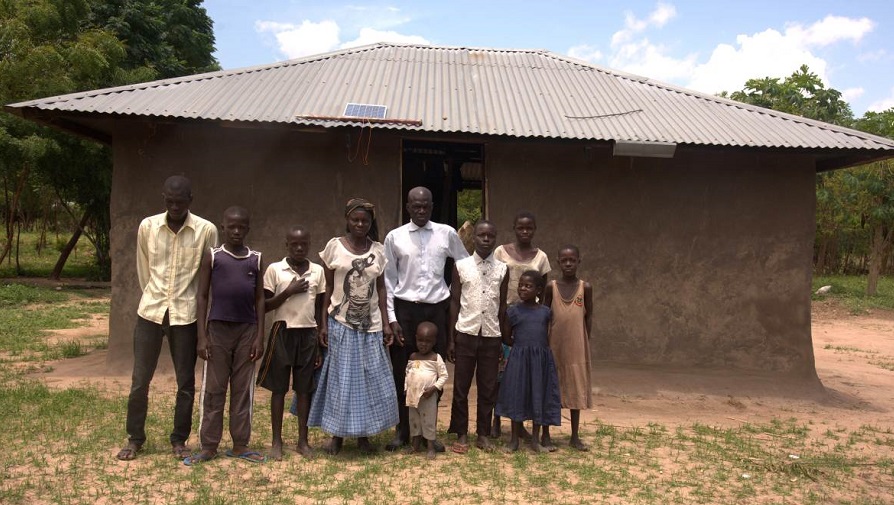 Jacckson Katama, a fisherman by trade, at his home in Bullisa District near Lake Albert in Uganda, September 15, 2020. Thomson Reuters Foundation/Isaac Kasamani
By Liam Taylor
BULIISA, Uganda, Oct 1 (Thomson Reuters Foundation) – Two years ago, surveyors came to measure a swathe of land cutting through the Bitamale family's homestead in western Uganda.
The family was not sure whether the land acquisition in their village in Buliisa district was for a road or a pipeline, but they knew it was connected to a multibillion-dollar oil project coming to the low plain beside Lake Albert.
"The surveyors told us we shouldn't use the land where they passed," Violet Bitamale told the Thomson Reuters Foundation, indicating an invisible line between a nearby tree and the house of her adult son.
But since then, nobody has come to develop the land and the family has received no compensation for it, noted her husband, Isaac.
Uganda's first major oil project has hit repeated delays, leaving families in a state of limbo that poses major risks to their livelihoods, their land rights and the environment, human rights groups said in two reports published last month.
The project is a joint venture between French energy giant Total and the state-owned China National Offshore Oil Corp. (CNOOC), in cooperation with the Ugandan government.
The companies will acquire land from hundreds of families around Lake Albert and 12,000 additional families along the 1,440-km pipeline route from Hoima district to the Tanzanian coast, according to the NGO reports.
In a speech this week, Ugandan President Yoweri Museveni said he expects the oil companies to reach a final investment decision on key parts of the project by the end of this year.
Officials say it will take another three years until the crude starts pumping, with government geologists estimating the country's reserves at 6 billion barrels.
Bitamale said before the surveyors came to her village, Total had told residents they would receive compensation for any land that was bought up – but only for the crops and structures that were already there, not new ones added later.
Families were informed they could plant seasonal crops, such as potatoes and maize, but not their staple food cassava, which takes up to two years to grow – because by that time their farmland could have become part of the oil project, she added.
"What should we eat now?" Bitamale asked.
Isaac said they are growing some cassava on a different plot, but it is not enough, so they also have to buy some.
Total said the land acquisition process follows international standards, and that "considerable efforts have been made" to keep households informed about delays, for example through radio messages and posters.
CNOOC Uganda said in emailed comments that it "complies with all the relevant Ugandan laws and regulations along with its own corporate standards that have to be met (to) respect human rights".
'PROTECTING THE PEOPLE'
Oil companies have had their eye on the Lake Albert region since commercial quantities of crude were first discovered there in 2006. The planned development is expected to attract investments of $15-20 billion over the next five years.
According to public statements by the energy ministry and the Petroleum Authority of Uganda (PAU), a regulator, the development will include more than 400 oil wells, several processing facilities, and a refinery.
It also involves building the world's longest heated pipeline, the $3.5-billion East African Crude Oil Pipeline (EACOP).
On Sept. 10, after signing a pipeline agreement with Total, Museveni said the government's share of oil earnings would support the country's infrastructure, education and health.
That agreement signalled renewed momentum, and Total said that it is starting to "resume and expedite the compensation process" for people who will lose land to the project.
The company said land belonging to more than 600 households was marked for acquisition in the first phase of the development.
But even before the first drop is pumped, the Total project and others in the venture "have been marred by allegations of human rights violations," said a joint statement by several human rights groups.
They include the global charity Oxfam, the International Federation for Human Rights (FIDH), headquartered in Paris, and the Kampala-based Foundation for Human Rights Initiative (FHRI).
Families who have been affected by the projects have complained of "slow payments, disruption of children's education, loss of traditional sources of livelihood, and opaque resettlement processes," the statement said.
Rashid Bunya, a researcher at FHRI, said that "the government should not focus on earning from the oil. It should also first focus on protecting the people who are going to live with the oil".
"The … initiative is a good project. The biggest challenge is how it has been handled. There's a problem of engaging with the community and so people's voices are not heard," he said.
Total said it had consulted with 68,000 people since the start of its component of the project and that the pipeline route was chosen so that just 488 families would need to leave their homes.
"The rates of compensation have been approved by the relevant governments based on market research," the company said.
Ali Ssekatawa, director for legal and corporate affairs at the PAU, acknowledged the development is facing delays and said affected communities were free to keep using their land "within limits".
DIVIDED FAMILIES
In Buliisa, the disruptive effects of oil development are already being felt.
Bitamale said oil companies working in the area initially registered only men as the landowners, causing families to quarrel over compensation and even fuelling domestic violence.
The FIDH report noted that Total now requires both spouses to sign compensation contracts and pays women directly for their personal crops and property.
Fred Mwesigwa, who has lost three acres (1.2 hectares) to Total's central processing facility, said the 10 siblings in his family have fallen out over whether to accept resettlement or cash compensation, at rates he considers inadequate.
"That house belongs to my sister," he says, gesturing across his garden. "You just pass by, without (her) greeting us."
In a separate project further south, in Hoima district, the government is planning to build an oil refinery and an international airport which will fly in oil equipment.
That project has so far displaced more than 7,000 people, according to the Oil Refinery Residents Association (ORRA), a community-based rights group.
Although most families took cash compensation, about 70 opted for resettlement, noted Francis Elungat, a land acquisition officer at the Ministry of Energy and Mineral Development who confirmed the figures from the ORRA.
The families who chose resettlement now live in a government-built village, in rows of geometric houses with a faintly suburban feel.
One of the residents, Innocent Tumwebaze, said it is nothing like the homesteads they left behind, which had space to graze animals or construct separate huts for adolescent sons.
"As Africans, in our culture most families are extended families – you find the grandfather is there, the son, the daughter," Tumwebaze said.
"When they were planning this settlement … we told them the kind of setting that we have in our community does not match with what we are doing here."
**Trust.org
Witness Radio welcomes the World Bank's intervention into Kawaala drainage channel project affected persons…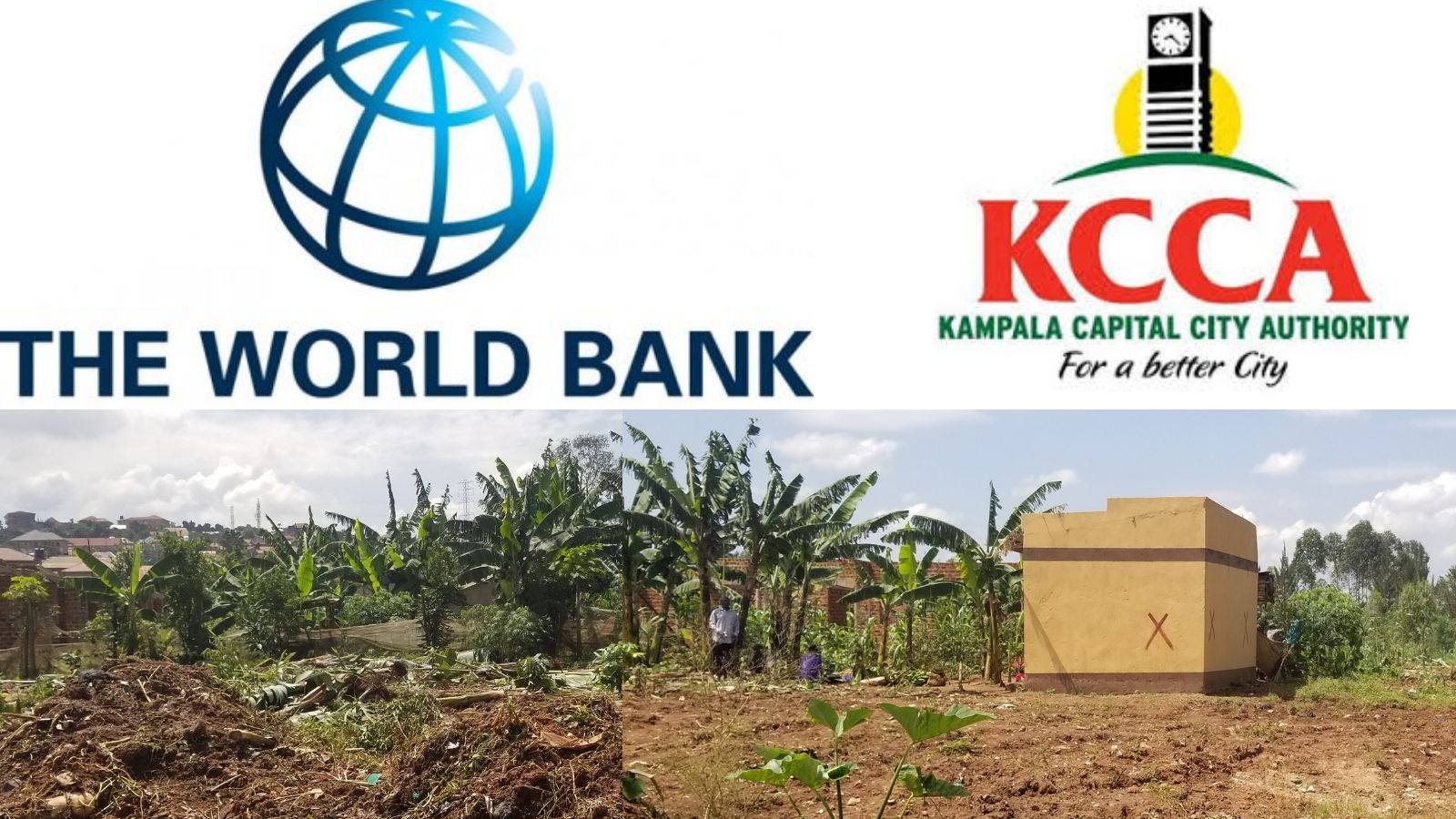 By witnessradio.org Team
Kampala – Uganda – Witness Radio Uganda has welcomed the World Bank's decision to intervene into its funded project which is dispossessing poor urban dweller at Kawaala Zone II, Lubaga division, Kampala district.
On March 4th, 2021, the World Bank Team held its first ever virtual meeting with other stakeholders including the Kampala Capital City Authority (KCCA) over a forceful implementation Kampala Institution and Infrastructure Development (KIIDP 2) project.
On top of running to court to stop an illegal eviction, the residents through Witness Radio – Uganda lawyers raised a complaint to the World Bank to restrain its grantee (KCCA) from imposing a project they (residents) never participated in from the start.
In 2015, KCCA acquired USD 175 million loan from the World Bank and the International Development Association (IDA) for Kampala Institution and Infrastructure Development (KIIDP) project. However, part of the money (USD 17.5 million, which is 63 billion Uganda shillings) was earmarked to construct Lubigi Primary Channel.
Without following business and human rights standards, KCCA started using tricks aimed dispossessing the poor urban community at Kawaala including; hiding under section 72(1) cap 281 of the Public Health Act, and issued a notice to dwellers to pull down what it termed illegal structures erected on their land or otherwise, KCCA would do so at the cost of residents, just to cause a property loss to them.
In a meeting chaired by Martin Onyach-Olaa, a Task Team Leader, Senior Urban Specialist at the World Bank, faulted KCCA for failing to engage community including taking the contractor to the ground without their notice.
"The project affected community have valid grievances, which must be attended to in the interest of Kawaala project" Said Onyach-Olaa
The representatives from the affected community accused KCCA of intimidation, undertaking a forceful survey, sidelining and usurping powers of elected local leaders, extortion and undermining business and human rights standards before and during the implementation of the World Bank project.
"I was threatened and forced to participate in KCCA valuation exercise of my properties and I never understood what was done. I was even lured to sign on certain documents that were in a language they never explained and no copy was left with me. I am opposed to the KCCA's working and I will not allow them to come back on my property: Said Segue Abbas.
He added that when he sought wise counsel from his lawyers, he just realized that he had been duped.
Among other recommendations, KCCA was advised to embark on an inclusive exercise to identity project affected persons, properties to be affected by the project and ensure that surveys and property valuation exercises are undertaken in accordance within the law.
About the Grievance Redress Committee the KCCA claims they elected, the World Bank saw it important that the Grievance Redress Committee be put in place with a complaint book and functional internal appeal mechanism.
It was further emphasized that no Kawaala resident will be forcefully lose his/her under a project being funded by the World Bank.
Oil palm growing threatening food security in Buvuma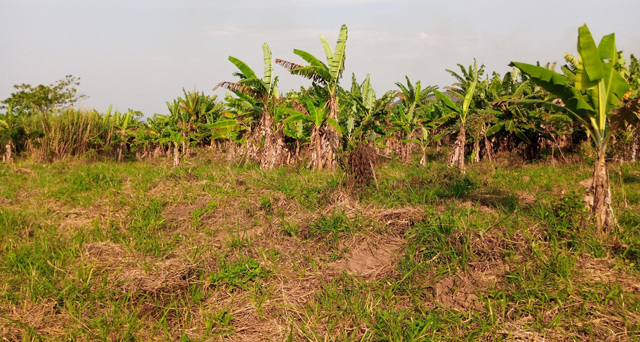 Buvuma, Uganda | Several people in Buvuma district have taken to oil palm growing at the expense of food growing. Fishing and subsistence farming were the mainstay of Buvuma residents prior to the introduction of oil palm growing.  
However, the residents have surrendered the biggest part of the land they used to plant food crops such as bananas, rice, cassava, maize and sweet potatoes on the main island to National Oil Palm Project-NOPP for the establishment of oil palm gardens. NOPP intends to operate on 10, 000 hectares of land.
The investor Buvuma – Oil Palm Uganda Limited-BOPUL, a subsidiary of Oil Palm Uganda Limited and Bidco Uganda Limited in Kalangala will use 6, 500 hectares of land while the out-growers will use the remaining 3, 500 hectares.
However, since their compensation in 2012, most of the residents have failed to secure alternative land for settlement and food production. Sarasino Namuyimba Ssekajjolo, the Buvuma District Council Speaker, says they have compiled enough information proving that most of the residents have not benefited in the first stages of the project.
He says they are considering tabling a motion halting further land acquisition in areas where NOPP has not concluded the exercise.  Ssekajjolo reveals that over 1000 residents have failed to make good use of the money they received as compensation for their land. 
A report compiled by Mary Namaganda, the Principal Assistant Curator at Makerere University Collage of Nature Sciences shows that land use change in Bugala [Kalangala] from natural vegetation to monoculture plantation has caused biodiversity loss due to the destruction of the natural habitat, soil degradation and pollution of soil and lake water resulting from the use of nitrate fertilizers, agrochemicals and effluents from the palm oil mill.  
BOPUL also intends to setup a mill. Godfrey Yiga, a resident of Kirongo says that he secured another piece of land in Jinja using the Shillings 59 million he received in compensation for his 5-acre piece of land containing a banana plantation, sweet plantains and mangoes. He, however, says that he couldn't use the remaining balance to setup a new garden.   
Nasta Nantongo Kwagala, another resident and widow of the late Yosefu Kavamawanga who cares for seven children and three grandchildren, says NOPP compensated the tenants on her late husband's land without her consent. She explains that by the time she applied for compensation, she was chased and stopped from farming on the land.   
George William Telebajo, another resident says the project took advantage of poverty in Buvuma to trick them into selling their land cheaply. He notes that several residents have ended up in jail for stealing food while others are now sleeping in wooden cubical at landing sites. 
Reports from the District Security Commit-DSC point to increased cases of food theft in different camps on landing sites and settlements in forest reserves. Juma Kigongo, the Buvuma Deputy Resident District Commissioner, says about 10 cases of food theft are reported at police and local councils-LCI every month in the four sub counties on the main island.  
These include Nairambi, Buwooya, Busamuzi and Buvuma town council. He, however, says most of the people involved in criminal activities are residents who accepted compensations but failed to put the money to good use. 
Wilson Sserunjogi, the Buvuma District Oil Palm Project Focal Person, says that many people have failed to put their compensation money to good use much as the project has tried to support them. He notes that for the past years they have been handling complaints and compensated thousands of residents fresh but they keep on coming back for more money after misusing it. 
"Residents and leaders are scared for nothing, Buvuma still has land for growing food and also NOPP is here to support them. We also compensated residents with land over 5 acres and above," he said.         
Original Post: The Independent
2,000 Karimojong flee to Teso in search for food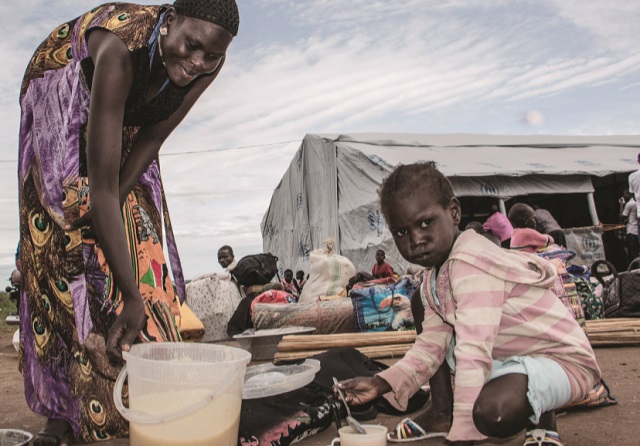 Kampala, Uganda | Several families in Napak district in the Karamoja sub-region have fled their homes into the Teso region to search for casual jobs. This follows the current food shortage which is hitting the region.
Joseph Lomonyang the Napak LC V chairperson says that over 2,000 people mainly from six sub-counties of Matany, Lopei, Lokopo, Lorengechora, Iriiri and Apeitolim have crossed to the neighbouring  Teso districts of Amuria, Katakwi, Kapelebyong and Soroti looking for food.
According to Lomonyang, the number of people to flee the district is most likely to go higher given the current hunger situation.
"Last year, very many people planted crops but all the crops got destroyed by floods making our people vulnerable," he said.
Elijah Lobucel, the Lokopo sub-county chairperson said everyday mothers and their children walk while those who can afford the costs pay for transport to Teso.
"What we are advising them is not to go to Kampala streets, but if its going to Teso for work to get food it is not bad since the Itesot are brothers and sisters under Ateker cluster," he said.
Jimmy Tebenyang, the district councillor for Ngoleriet sub-county in Napak district said many children were getting emaciated as a result of lack of enough food.
"There are families where you find children yawning from morning to evening without eating anything and that is why we are calling the government to come to the rescue of people," he said.
Robert Okitoi, the LC V chairperson Amuria confirmed the presence of Karamoja families in the district and urged the Itesot families to treat the Karimojong as their brothers and sisters.
He also appealed to other district leaders in the Teso region to receive the people of Karamoja with a good heart and share the little they have.
"This is the situation that requires to share, I call upon the people of Amuria and Teso at large that not all the Karimojong are bad people, those who are bad disturbing to raid people of Teso are few and so we should not victimise every one because the law will deal with those raiding but let's support the Karimojong families," he said.
******
Source: THE INDEPENDENT