Corporations make a killing milking Africa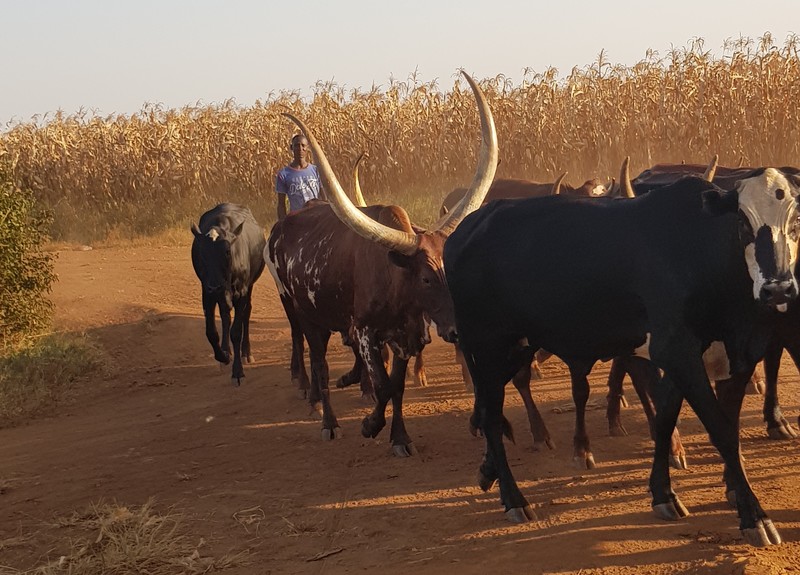 A Ugandan cattle herder with indigenous Ankole Long-horned cattle searches for pasture, in an area where local lands were grabbed by a foreign company for a plantation.
"I saw an opportunity here … and I can tell you now there is no doubt I am here for the long term," said David Higgins, a South African hired to manage the operation's milk plant, which became a supplier of fresh milk to FrieslandCampina, the Dutch dairy corporation that has dominated the Nigerian market for decades.
It turns out imported Jersey cows and white "modern" farmers were not the solution to Nigeria's dairy import woes. The problem, as every cattle herder in Nigeria knows, is the competition with the cheap imported powdered milk that companies like FrieslandCampina dump into the country. The Zimbabwean farmers and their modern methods were equally powerless against it.
Yet Nigeria has one of the largest cattle herds in the world and has a long tradition of local dairy production. By all accounts, things should be similar to Kenya, where herders and small farmers with local breeds of cows supply about 90% of the milk consumed in the country through networks of small-scale traders. The difference is that Kenya has long protected its local dairies with tariffs on imports, while Nigeria opened its market in the 1980s under structural adjustment programmes, and the government has made no real efforts to reign in the import flows ever since.
In 2016, with oil prices tanking and its foreign currency reserves badly depleted, the Nigerian government sought to put milk on a list of imported items with forex restrictions to encourage local production. But after several meetings with FrieslandCampina, in which the company assured the government that it would build up local supplies, the government-backed down.
Another big player in Africa is the French dairy giant Danone, which joined forces with the Dubai-based private equity company Abraaj Group to take over the Ghana dairy company Fan Milk. After Abraaj went bust, Danone took over the whole company in 2019, using it as a base to expand its reach across West Africa, including in Nigeria, where it has a "backward integration" project with Ogun State.
There is no justification for the billions of dollars that exit Africa every year to pay for dairy imports. Dairy can and should be produced locally. As can be seen in Uganda, and neighbouring Kenya, there is one simple, effective measure that can be immediately taken: a stop on imports of powdered milk.
There are several options that African governments can take immediately to put the brakes on imports of powdered milk if there is political will. But many African governments are going in the opposite direction, in negotiations with Europe for the Economic Partnership Agreements or even in Africa's own Continental Free Trade Agreement (AfCFTA), which undercut the possibilities their countries have to protect local dairy production. The governments of the big surplus milk-producing countries in Europe, North America and Australia/New Zealand are also maintaining their relentless pressure on Africa to absorb more dairy from their corporations, even as these policies leave their own dairy farmers in crisis.
Donors and governments have to stop pushing industrial dairy, and development banks need to stop financing companies that compete directly with smallholder dairies. What is needed are regulations, policies and programmes that support smallholder dairies, making it easier for them to supply urban markets with fresh milk. Simple measures like the provision of small cooling tanks or efficient pasteurisation burners can make a huge difference. So too can municipal regulations that provide small vendors and traders accessible and safe spaces to bring their dairy products from the countryside to urban consumers. And foreign governments and donors should start by turning their attention back home, where the industrial, corporate-controlled dairy systems are not only killing Africa's dairies but are causing numerous environmental and social problems at the source. Actions need to be taken to greatly reduce dairy production in these countries while ensuring livelihoods for their dairy farmers.
There are several inspiring initiatives already underway in Senegal, Burkina Faso and other African countries encouraging the consumption of local milk. These need to be ramped up and multiplied, while keeping dairy corporations like FrieslandCampina and supermarkets like Auchan, who are falsely advertising themselves as "local", out of the picture. It is time that Africa's diverse smallholder dairies, composed of millions of herders, farmers, vendors, and processors, utilising traditional breeds of cattle, goats and sheep, and making all kinds of yoghurts, cheeses and other healthy dairy products, are finally celebrated and supported.
Company

Countries

Private equity/corporations involved

Notes

Société Africaine des Produits Laitiers et Dérivés (SAPLED)

Côte d'Ivoire

Duet Private Equity

In 2015, the UK-based private equity group Duet acquired SAPLED from the Sifaoui Group. In 2019, workers at the company's factory in Abidjan went on strike over two months of unpaid wages. Thirteen months later, in February 2021, they were back on strike, this time over four months of unpaid wages. The General Director blamed the company's debts for the unpaid wages.

MB Plc

Ethiopia

Cerberus Capital Management

In 2016, Singapore-based SGI Frontier Capital, which was backed by the UK's CDC Group, acquired a 45% stake in MB Plc, makers of the Family Milk brand in Ethiopia. In 2018, CSGI Frontier Capital was acquired by Cerberus Capital Management of the US.

Fan Milk

Ghana, Nigeria, Côte d'Ivoire, Togo, and Burkina Faso

Danone, Abraaj Group

In 2013, the private equity fund Abraaj Group and Danone acquired Ghana-based Fan Milk, "the leading manufacturer and distributor of frozen dairy products and juices in West Africa". In 2019, Danone acquired Abraaj's stake, giving it 100% control of the company. In February 2021, Fan Milk announced an agreement with Nigeria's Ogun State to build a large-scale dairy farm.

Countryside Dairy

Kenya

DobEquity, Acumen (FMO, Proparco, etc)

In 2016, the Dutch private equity firm DobEquity purchased a stake in newly established dairy processor Countryside Dairy. In 2021, it received further investment from the Acumen Resilient Agriculture Fund, a fund managed by New York-based private equity firm Acumen and backed by the Dutch development bank FMO and the French development bank Proparco, along with the Soros Economic Development Fund.

Brookside Dairy

Kenya, Rwanda, Uganda

Danone, Abraaj Group

Kenya-based Brookside is the largest dairy processor in East Africa, buying milk daily from 200,000 farmers and operating in 12 countries. It was founded and remains majority owned by the family of the Kenya's president, Uhuru Kenyatta. Brookside's expansion has been aided by foreign investment, first from Abraaj Group of Dubai, which held a 10% stake via a fund partly owned by the Bill and Melinda Gates Foundation before its collapse in 2018, and then the French dairy giant Danone, which now holds a 40% stake.

L&Z

Nigeria

Sahel Capital

In 2015, the Fund for Agricultural Finance in Nigeria acquired a 25% stake in the Nigerian dairy processor L&Z Integrated Farms. The Kano State dairy company was founded by Muhammadu Damakka. The Fund for Agricultural Finance in Nigeria is managed by Nigerian private equity firm Sahel Capital and is backed by Nigeria's sovereign wealth fund and the development banks of Germany (DEG), the Netherlands (FMO) and the UK (CDC). In June 2021, Sahel disclosed that it was in the midst of an exit from the company.

Sosaco Nigeria

Nigeria

GBfoods Africa Holdco (jointly owned by GB Foods of Spain and Helios)

Sosaco was a subsidiary of the Honk Kong trading company Watanmal, whose main products are tomato paste imported from China and sold under the Gino brand and Jago processed milk. In 2017, GB Foods of Spain and the private equity fund Helios Investors III acquired Watanmal's African operations, alongside a USD15.5 million investment from the World Bank's IFC.

Ndoto Farms

Tanzania

AgDevCo

In 2013, Ndoto Farms, a dairy farm in Iringa with a herd of around 350 cattle, received a USD 90,000 investment from the AgDevCo, a UK private equity fund that mainly invests on behalf of the UK's DFID.

Tanga Fresh

Tanzania

DobEquity

Tanga Fresh operates Tanzania's largest dairy processing plant in the Tanga region, where the government and foreign donors have been promoting the development of dairy farming. The company received an initial investment from the Dutch private equity firm DOB Equity in 2007 and a further, undisclosed investment in 2020.

Pearl Dairies

Uganda

MIDCOM, TPG Capital

MIDCOM is a Dubai-based company run by Indian businessman Anand Kapoor, with backing from established Indian-Ugandan businessman Bhasker Kotecha, who is the owner of Midland. Pearl received an investment from the World Bank's IFC of USD 8 million in 2013 towards the construction of the powdered milk plant in Mbarara District. TPG's Rise Fund now owns 34% of the company, with Kapoor and Kotecha retaining 33% each. While TPG claimed it would help take Pearl international, targeting Algeria, Ethiopia, Malawi and South Sudan, in March 2021, Pearl Dairies shuttered its milk processing plant in Mbarara and announced it was shifting to honey production for export to Europe.

Lakeside Dairies

Uganda, Kenya

Dodla Dairies, TPG Capital

Lakeside is a subsidiary of the Indian dairy company Dodla Dairy, which entered Uganda through a purchase of Hillside Dairy and Agriculture Ltd in 2014-5. Dodla also has a milk trading company in Kenya called Dodla Dairy Kenya. Dodla is 25% owned by TPG's Rise Fund, and 5% by the World Bank's IFC.

Dendairy

Zimbabwe

Dendairy is 27% owned by the Norwegian private equity company Spear Capital, which lists Norfund and the Government of the Netherlands among its investors. It was granted lands by the government in the Chiredzi area, where about 12,500 people of the Chilonga Community live and are set to be evicted. The communities have been fighting to stop the eviction.
Report links 1,600 deaths to pesticide poisoning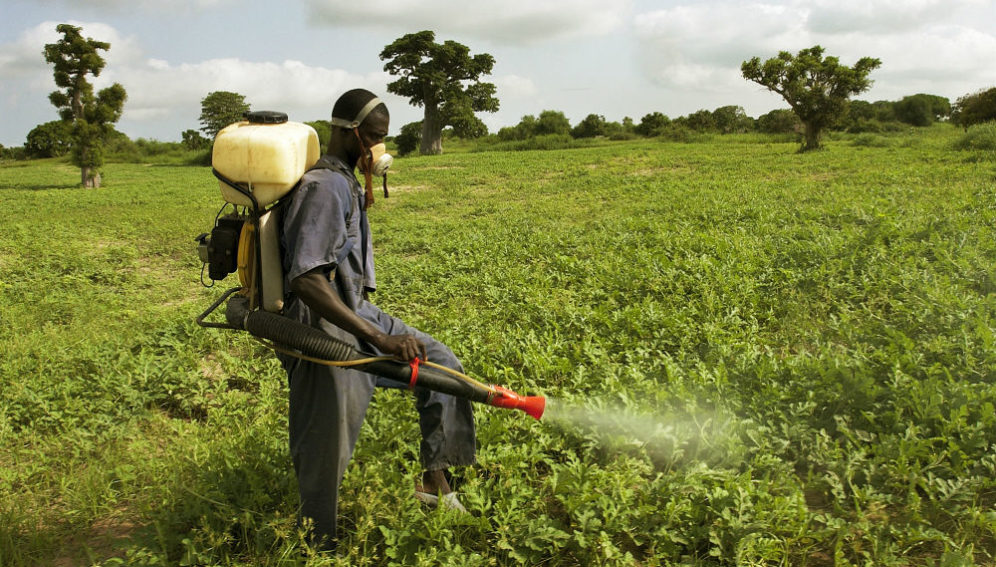 A total of 1,599 deaths between 2017 and 2022 were linked to organophosphate (pesticide) poisoning, researchers from Uganda National Institute of Public Health (UNIPH) and the Health ministry found.This information is in one of the reports presented yesterday during the 9th National Field Epidemiology Conference in Kampala.
The study led by Mr Robert Zavuga was based on the data from the District Health Information System (of the Health ministry), which is received from health facilities across the country."A total of 37,883 (average of 6,314 per year) organophosphate (OP) [health facility] admissions and 1,599 (average of 267 per year) deaths were reported," the report reads.
OP admission was defined by researchers as a hospital stay due to suspected OP poisoning. In contrast, OP poisoning death was defined as inpatient death with OP poisoning listed as the cause of death.The researchers linked the poisoning to the widespread use of OP pesticides by farmers in the country amid limited knowledge of how to use the pesticides safely.
"Uganda has an agricultural-based economy with widespread use of organophosphate-based pesticides. This elevates the risk for OP poisoning in the population," the report reads further.According to the report, the overall average incidence was 15 organophosphate admissions per 100,000 persons.
On areas, sex and age that are most affected, the report indicates, "residents of Ankole Sub-region were more affected while those in Lango Sub-region were least affected.""Males had a higher incidence of organophosphate poisoning than females. Children under 5 years had a higher incidence than persons above 5 years (20 vs 14/100,000)," the report said.
Overall, 1,599 (average of 267 per year) deaths were reported between 2017 and 2022. Residents in Kampala had the highest overall case fatality rate (CFR) while those in Teso had the lowest (CFR: 8.5 percent vs 2.2 percent)," the report reads.
According to the report released yesterday, "there was more than 3-fold decline in incidence of OP poisoning admissions per 100,000 population from 2017-2022," however, the researchers noted, "there was no significant change in the case fatality rate of organophosphate poisoning."
"The incidence of organophosphate poisoning admissions declined throughout the study period. Since 2014, Uganda has implemented periodic public awareness campaigns about safe use of pesticides for small-holder farmers and pesticide dealers," the report says.
"These campaigns have included sensitisation about responsible handling to reduce risk of poisoning and environmental pollution.
Additional campaigns targeting government pesticide regulators, non-governmental organisations, and media have also been implemented to address the dangers of organophosphate poisoning," it adds.
The report says Uganda has also implemented the Agricultural Chemical Control Act to use less toxic pesticides, which may be contributing to the reduction in organophosphate poisonings."To continue this decline, it is important to monitor and strengthen these interventions," the researchers from UNIPH and Health ministry recommended.
Source: Daily Monitor Via msn.com
Statement: The Energy Sector Strategy 2024–2028 Must Mark the End of the EBRD's Support to Fossil Fuels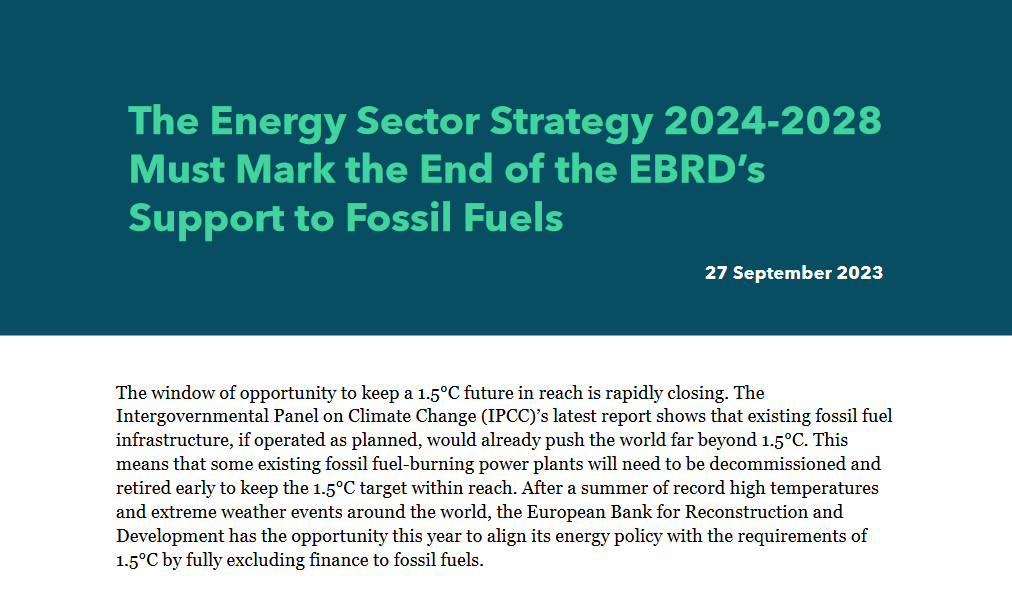 The European Bank for Reconstruction and Development (EBRD) is due to publish a new Energy Sector Strategy before the end of 2023. A total of 130 civil society organizations from over 40 countries have released a statement calling on the EBRD to end finance for all fossil fuels, including gas.
From 2018 to 2021, the EBRD invested EUR 2.9 billion in the fossil energy sector, with the majority of this support going to gas. This makes it the third biggest funder of fossil fuels among all multilateral development banks, behind the World Bank Group and the Islamic Development Bank.
The EBRD has already excluded coal and upstream oil and gas fields from its financing. The draft Energy Sector Strategy further excludes oil transportation and oil-fired electricity generation. However, the draft strategy would continue to allow some investment in new fossil gas pipelines and other transportation infrastructure, as well as gas power generation and heating.
In the statement, the civil society organizations point out that any new support to gas risks locking in outdated energy infrastructure in places that need investments in clean energy the most. At the same time, they highlight, ending support to fossil gas is necessary, not only for climate security, but also for ensuring energy security, since continued investment in gas exposes countries of operation to high and volatile energy prices that can have a severe impact on their ability to reach development targets. Moreover, they underscore that supporting new gas transportation infrastructure is not a solution to the current energy crisis, given that new infrastructure would not come online for several years, well after the crisis has passed.
The signatories of the statement call on the EBRD to amend the Energy Sector Strategy to
fully exclude new investments in midstream and downstream gas projects;
avoid loopholes involving the use of unproven or uneconomic technologies, as well as aspirational but meaningless mitigation measures such as "CCS-readiness"; and
strengthen the requirements for financial intermediaries where the intended nature of the sub-transactions is not known to exclude fossil fuel finance across the entire value chain.
Source: iisd.org
Download the statement: https://www.iisd.org/system/files/2023-09/ngo-statement-on-energy-sector-strategy-2024-2028.pdf
Kigezi In Famine Scare After Drought Hits The Region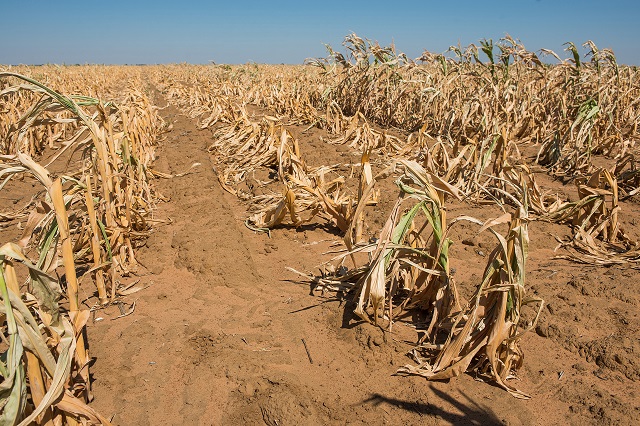 Farmers in Rubanda district are living in fear that they may be hit by famine due to the prolonged drought that has greatly affected the area. This comes after the area was hit by heavy rains in the month of May 2023, which left most of the gardens washed away, and since then the dry season has started up to date.
This is the first of its kind for Rubanda district and Kigezi at large to undergo such a prolonged drought.
According to farmers, this is the first of its kind for Rubanda to go through a long drought, adding that they are in fear that they may be hit by famine since they were used to receiving rains at the beginning of August, which is not the case this year. They add that even the seedlings that they had planted excepting that the rains would come have all dried up by the long spell.
Farmers also say that they don't know what could be the cause that has stopped the rains,adding that the government should come up with a program that provides them with seedlings.
Akampurira Prossy Mbabazi, a woman Member of Parliament for Rubanda District, says that the issue of drought is not only in Rubanda District; however, this is the first of its kind. She adds that the drought comes after the area was hit by heavy rains, which caused a lot of challenges, adding that now it is the drought that may affect the farmers.
Akampurira further says that, as a leader,she will continue to educate farmers on better methods of farming depending on climate change.
Kikafunda Evelyne, founder of Green Environment Promotion (GEP), says it's sad that farmers in Rubanda district and Kigezi at large are experiencing a long drought. She attributes it to problems of environmental degradation that include swamps being reclaimed, deforestation, and plastic pollution, adding that this is an indication that people don't mind about the environment.
Kikafunda calls upon all people to take part in protecting the environment, adding that environmentalists should devise means on how to protect the environment.
It's now been four months since it last rained in the districts of greater Kabale, that is, Rubanda, Kabale, and Rukiga districts, as well as other parts of the Kigezi Subregion.
Source: chimpreports.com