UN-Habitat policy statement on the prevention of evictions and relocations during the COVID-19 crisis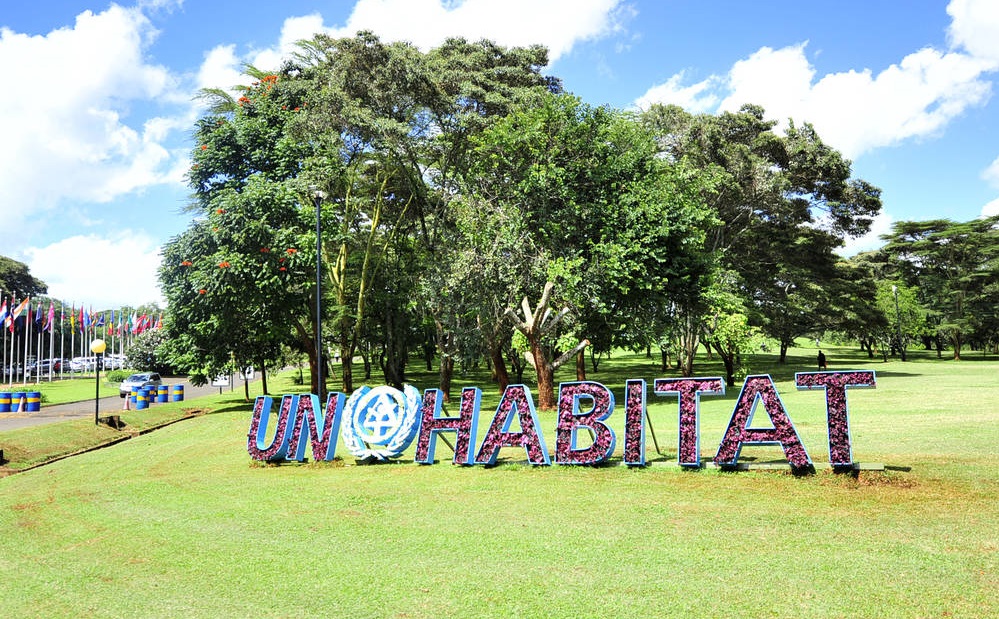 Nairobi, 14 May 2020 – As COVID-19 spreads around the world, billions of people have been told to stay at home, practice physical distancing, wash their hands regularly and wear masks. However, these simple preventive public health measures are almost impossible to follow for those who are homeless, or who live in unsafe or overcrowded conditions.
In the face of this pandemic, the lack of adequate housing has repercussions on society as a whole and is a direct threat to everyone's health and safety. Ensuring secure housing for all and the provision of essential services are crucial components of national efforts to contain the spread of the pandemic and prevent the loss of life.
UN-Habitat applauds the efforts of the numerous national and local governments that have issued bans on evictions and instituted moratoriums on payment of mortgages and rents, and those that have continued providing for the needs of their residents and communities.
However in some countries and cities, evictions and relocations continue. These principally affect the poorest and most vulnerable populations living in deprived neighbourhoods, informal settlements and slums.
Such evictions and relocations are a violation of the fundamental right to adequate housing and protection against forced eviction enshrined in the Universal Declaration of Human Rights and the International Covenant on Economic, Social and Cultural Rights. They also create significant additional risks in the context of the COVID-19 pandemic.
Member States have an obligation to respect, protect and fulfil the right to adequate housing as a component of the right to an adequate standard of living. Denying residents and communities this right during the COVID-19 pandemic can have devastating consequences.
These include increased exposure to COVID-19 and other infections in addition to exposure to insecurity and violence, the loss of income and limited access to socio-economic safety nets and basic services including health care.
The relocation and eviction of long-term residents and communities, particularly from informal settlements, during the pandemic would not only violate their fundamental rights, but could also expose both them and the rest of the local population to an increased threat of exposure to the virus.
Therefore, UN-Habitat urges Member States and governments at all levels to stop all relocations and evictions at this time.
In exceptional cases where relocations or evictions are unavoidable, for example to prevent new land invasions, they must be conducted in accordance with international human rights obligations, as well as the relevant national laws, and the maximum possible protections should be provided to ensure the health and safety of those affected. In such exceptional cases, evictions must, at a minimum:
Be proportional and provide for the evaluation of the decision's impact on and potential benefit for various groups, including through an eviction impact assessment and community consultations. Evictions and relocations justified by planned physical development, or to repossess public land, should not be carried out during the COVID-19 crisis as they would put the health of residents and the entire population at risk and disproportionately affect their right to health;
Promote general welfare and show evidence of such an outcome. Accordingly, during the COVID-19 crisis, only evictions and relocations directly aimed at preventing contagion among residents should be allowed. Furthermore, the expected benefits for affected populations and measures to mitigate the risks of contagion should be clearly and publicly outlined. UN-Habitat also urges national, regional and local governments to:
Take immediate and substantial measures to secure the right to adequate housing for all, including through moratoriums on evictions due to rental and mortgage arrears; deferrals of mortgage payments; moratoriums on forced evictions of informal settlements; introduction of rental stabilization or reduction measures; suspension of utility costs and surcharges for the duration of the pandemic; and creation of emergency funds to reduce exposure for categories at risk; Provide for the basic needs of vulnerable communities or neighbourhoods, particularly food, water, sanitation and hygiene essentials, and primary health care. Nationally appropriate social protection systems can also address causes of homelessness and inadequate housing by preventing poverty particularly associated with lack of employment and by contributing to improved health. UN-Habitat is available and ready to assist national and local government in these efforts, including by investigating and devising alternative solutions and mitigating measures for the residents of informal and low-income communities. UN-Habitat has developed tools, measures and guidelines for dealing with situations where relocation has to be carried out as a matter of last resort. UN-Habitat has also developed guidelines for local governments leading inclusive and integrated citywide response planning for COVID-19 mitigation in informal settlements.
For more information contact
Robert Lewis-Lettington, UN-Habitat Chief of Land, Housing and Shelter Section, Urban Practices Branch, Global Solutions Division
Robert.Lewis-Lettington@un.org
Original Post: UN Habitat
Tension as over 3000 people face unlawful eviction in Lwengo district.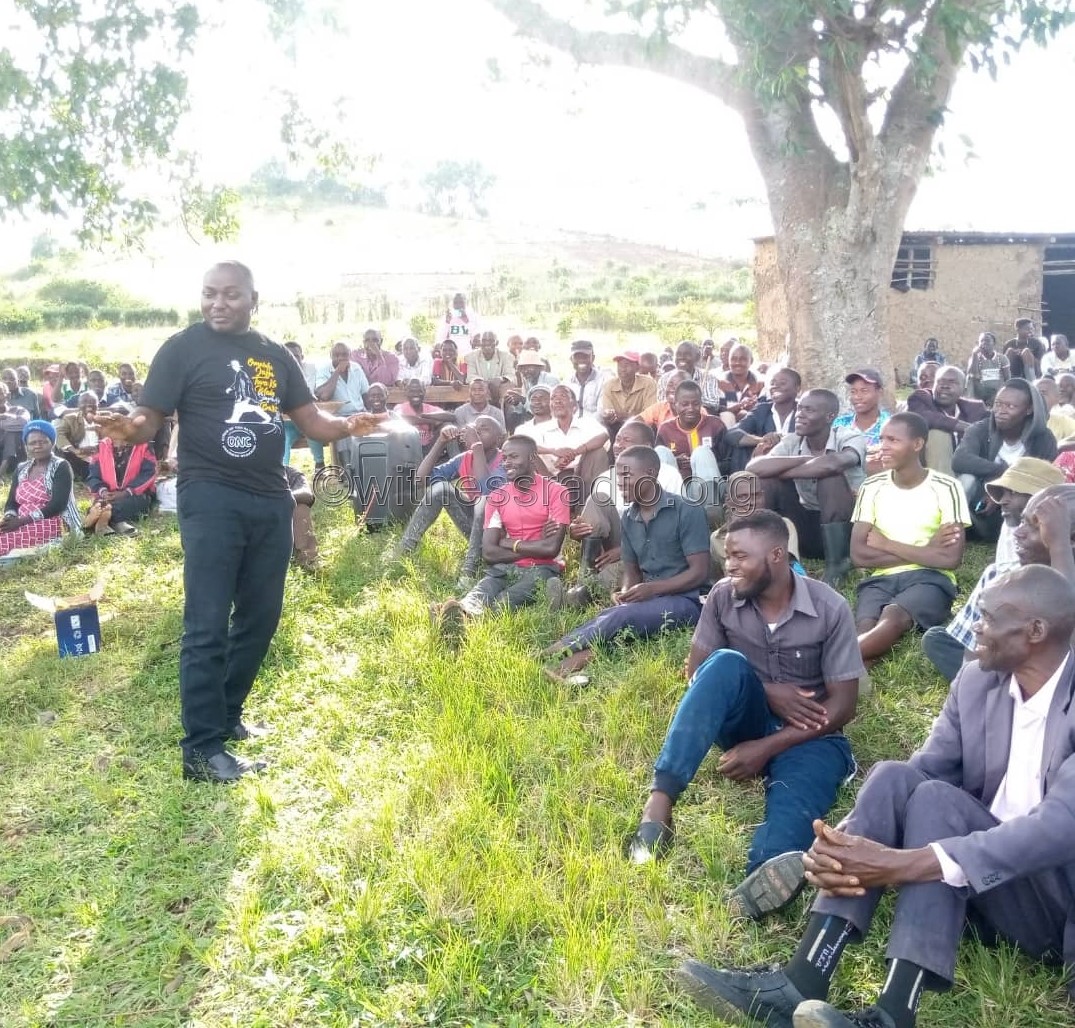 By Witness Radio team
As illegal land evictions escalate in Uganda, land speculators and grabbers with the help of District Land Boards, continue to target and grab land for the less privileged communities.
Section 60 (2c) of the Land Act CAP 22 states that the District Land Board is mandated to manage all public lands in the district, and it has powers to sell, lease, or otherwise deal with the land held by it, among others. 
Witness Radio has documented scenarios where District Land Boards give away communities' land they have lived on for decades without providing alternative settlements. 
In Kiboga district, Flavia Kizito, a Senior Secretary to the District Land Board, irregularly issued three leases on land belonging to a family of the late Edirisa Kyakulagira in 2018 and 2019. 
In yet another shocking news, there's a looming forced eviction on land belonging to over 3000 residents in three villages, Kalagala Parish, Malongo sub-county in Lwengo district whose livelihood has been entirely dependent on their land.
The subsistence farming communities have lived on the public land undisturbed for decades until February 2022, when different groups started targeting and claiming land ownership.
Local farmers accuse land speculators and brokers that have compromised with some of their peers to work for them and grab their land measuring 153 acres in Kawule, Kasagazi, and Lugologolo villages.
"We have been on this land for so long, and we are wondering how those people acquired its title. We heard rumors that the so-called Bamwesigye and Mwebesa are behind selling us, but we have nowhere to go. We are ready to defend it." Said Kosi Joseph, the Lugologolo Chairman and one of the affected persons. 
He added that he has lived on his land for over 32 years.
Residents learned of a looming eviction on WhatsApp Message sent to one of the area's Councilor Herbert Ssekabira by an unknown person, reading that "the land on which the villages sit belongs to them."
"Mr. Ssekabira, upon receiving the sad news, informed the community and prompted them to seek assistance from our leaders to stop the land grab. The WhatsApp message said the land was bought in 2014 and later acquired a leasehold in 2022." Mr. Kosi further added.
Kittatta Ibrahim, the Lwengo district Local Council Five (5) chairperson, informed the community that investigations surrounding the acquisition of their land had commenced immediately. He added that they intend to lodge a caveat on the said land.
Breaking; Lands Minister directs police chief to arrest armed mobs involved in forced and illegal land evictions.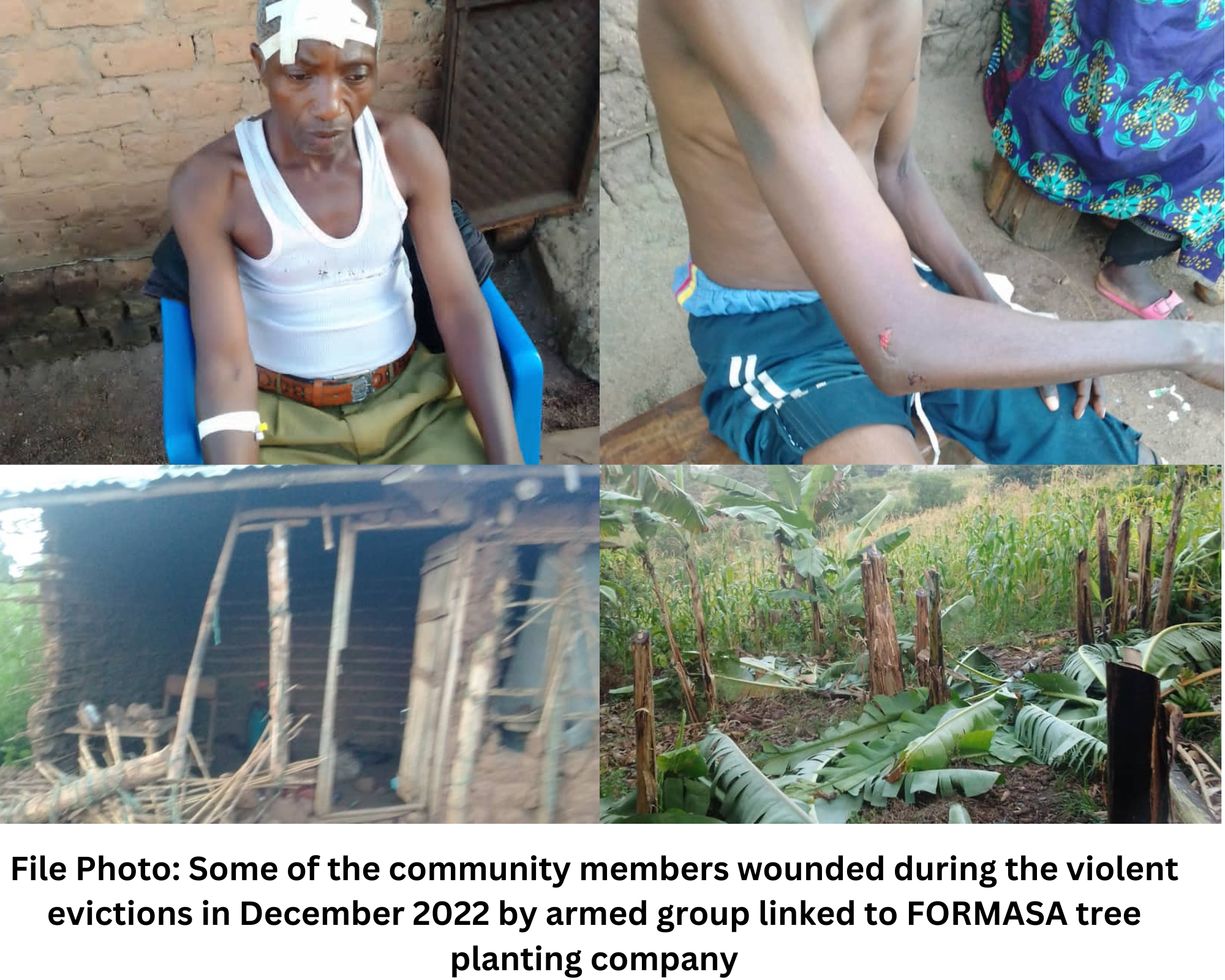 By Witness Radio team
Uganda's Lands Minister Judith Nabakooba has directed the Inspector General of Police (IGP), Martins Okoth Ochola to arrest all organized and armed mobs involved in forced and illegal land evictions.
The directive is the second one from the same minister to the police chief in three (3) months due to widespread forced and illegal land evictions in Uganda.
On February 28, 2022, President Yoweri Museveni came out and banned all land evictions in the country that are carried out without the consent of the respective District Security Committees (DSC).
The latest directive was triggered by violent scenes that occurred on the 19th of March 2023 when armed groups of men with graders invaded the St peter's Church of Uganda's land in Kibiri and started destroying crops planted on the church land. The armed group whose employer is not yet established claims the church is occupying someone's land illegally.
In an attempt to stop the unlawful eviction, Church leaders, led by Reverend Maxwell Ssebuggwawo and some faithful tried to intervene but in vain.
According to eyewitnesses, the armed group immediately attacked the Clergyman and other Christians causing severe bodily injuries. In the scuffle, Rev. Maxwell Ssebuggwawo's vestments were torn by the mob, whom the community believes was being targeted.
In response to the violent attack against the church leader and congregation, the minister observed that many land grabbers have resorted to using organized and armed mobs to evict people from their land. She further describes eviction as illegal and unacceptable since the government has capable security agencies that can effect lawful evictions.
"We have noted incidents where some crooks employ mobs to evict people yet we have security forces that can do this concerning the law. This is wrong. I have therefore directed the IGP to arrest everybody involved in these illegal acts and be brought to book", the Minister added in an interview with the local media.
Witness Radio in the recent past has documented incidents where organized and armed mobs are participating in violent land evictions.  For instance, a recent eviction of a 99-year-old Hellena Namazzi in Numugongo in Kira Municipality in Wakiso district by Sema Properties boss, Ssemakula Sulait, another ugly case involved a violent eviction of over 2000 people off 328.1 hectares by one Moses Karangwa and Abid Alam in Kassanda district among others.
Over 500 Kapapi families in Hoima district remain stranded after the district security committee fails to resettle them back on their land as directed by the minister.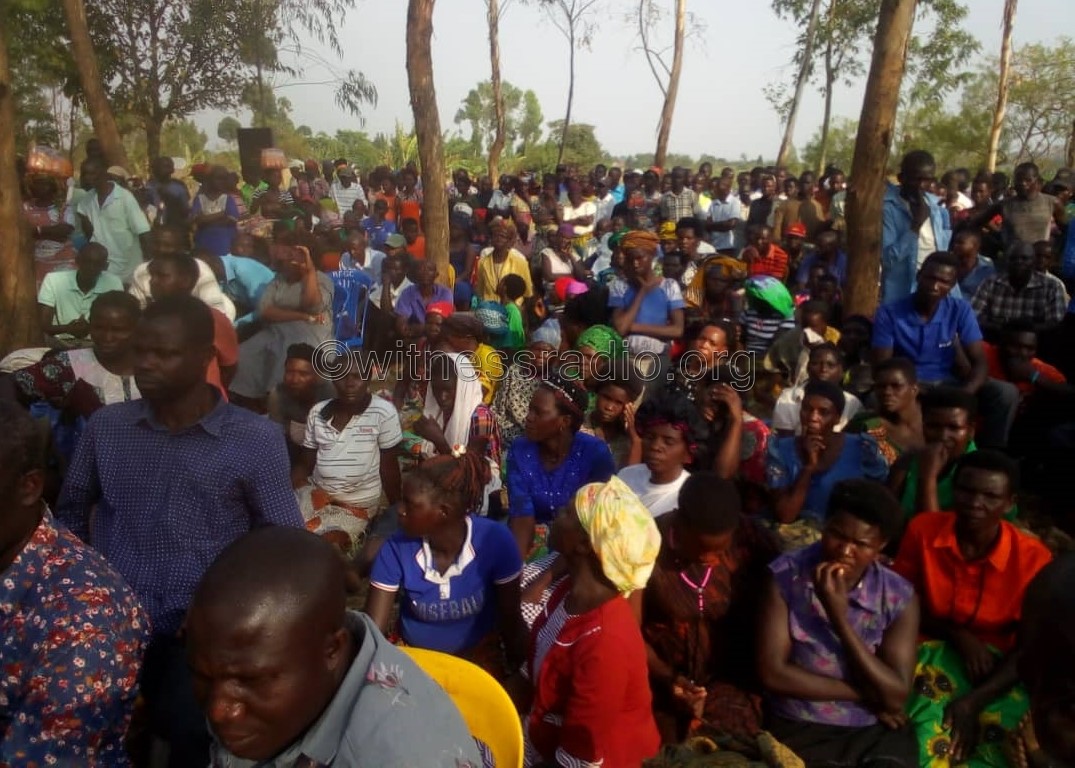 By Witness Radio team.
Hundreds of families, violently evicted from their land in Kapapi and Kiganja sub-counties in Hoima district are still pondering their next moves as efforts to return to their grabbed land remain ambiguous.
The directive came after Hoima district police and private guards from Magnum, a private security company raided people's homes in Waaki North, Kapapi Central, Waaki South, Runga, and Kiryatete villages in Kapapi and Kiganja sub-counties, Hoima district on 10th of February 2023 at 1:00 am.
The violent scenes left hundreds of children with scores of injuries, houses were torched, and property worth billions was destroyed.  The animals such as goats, sheep, and cows were butchered and others were looted.
On 22nd of February 2023, the Minister of Lands, Housing and Urban Development, Honorable Judith Nabakooba while addressing a meeting in Rukola village Kapapi sub-county, Hoima district directed the security committee to return the victim villagers back to their land.
She considered the eviction unlawful since it was conducted at night and without a court order.
In that meeting, area leaders, Hoima district police and Hoima Resident District commissioner, Mr. Rogers Mbabazi, Deputy Resident District Commissioner, Mr. Michael Kyakashari were in attendance.
The victim community accuses a group of people including Ndahura Gafayo, Aston Muhwezi, David Mpora, Monica Rwashadika, Agaba, and Wilber Kiiza of being responsible for the land grab.
The grabbed land is situated at the shores of Lake Albert adjacent to the Kabaale parish in Buseruka Sub-county where the greenfield oil refinery is to be established. In April 2018, the government selected the Albertine Graben Refinery Consortium (AGRC) as the private sector investment to finance, develop, construct, and operate the Greenfield oil Refinery estimated to cost $4b.
According to the Witness Radio research team, ever since the directive was made instead, there's increased human rights violations including arbitrary arrests, detentions and threats, and intimidation against victims of residents encamped at Rwenyana Church to vacate.
The evictees report that after the minister's directive, three community members include; Mbombo Steven, and Kalongo Steven have been arrested, charged, and remanded to Hoima government prison.
"Our families encamping at church and waiting to be resettled back as directed by the Minister are facing further threats and intimidation to go away. They say they don't want us at the church. Some of us are currently in hiding for fear of arbitrary arrests or kidnaps." A community member who preferred to be called Enos due to fear of retaliation told Witness Radio.
He further added that the community is living at the mercy of God, with no food, or shelter, and predicted an uncertain future for their children since they are not attending school.
"Families are scattered in different centers while others continue to live with their relatives. However essential services such as shelter, food, health services, and education for their children remain a challenge. These people found us on land and started claiming ownership of this land. Imagine when we went for a search at a land registry, we found out that they only have a title of 2 acres but everyone knows we have been on this land for over 30 years. We have people who were born on this land." He added.
Witness Radio contacted Mr. Rogers Mbabazi, Hoima Resident District Commissioner who heads the district security committee, to understand how far the committee had gone with the implementation of the minister's directive. He instead referred us to his Deputy Mr. Michael Kyakashari.
Mr. Michael Kyakashari, when asked about the status of the directive, told our reporter that he did not have an answer for him before he hung up.
"I don't have an answer for you" He repeatedly said.