Global agribusiness continues to displace rural communities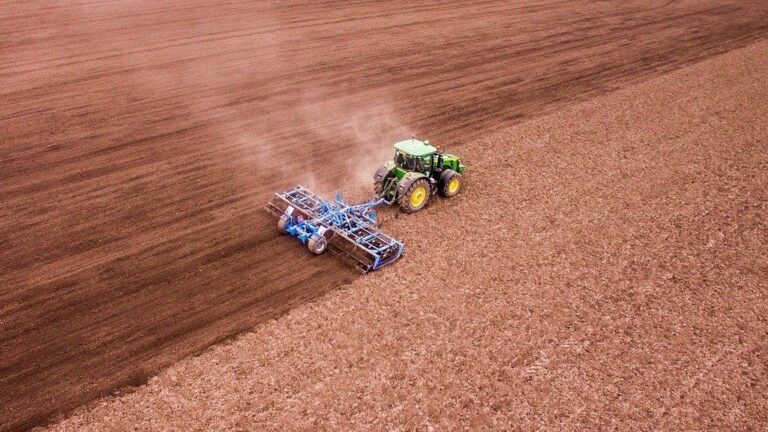 Global agribusiness continues to grow with harmful consequences for smallholder farmers and rural communities.
Land grabs facilitated by multinational corporations, foreign investors and local governments in a pursuit for agribusiness have been escalating during the last decade. Huge acquisitions of farmland have led to violent displacements of rural populations. Although reports of the practice are not as recurrent in the media, the problem is far from over.
Between 2006 and 2016, 491 land grabs(link is external) motivated by agriculture took place, amounting to 30 million hectares of land in 78 countries. The majority of where these land grabs happen are poor countries located in the global South. Although land grabbing received a lot more media attention in the early 2010s, the phenomenon has not disappeared.
According to an investigation by GRAIN(link is external), a recent example can be found in Kiryandongo, Uganda, where three foreign multinational companies, with support from the Ugandan government, have facilitated violent land grabs leading to the displacement of thousands of families.
Before their lands were taken, the locals farmed a variety of vegetables and fruit and kept animals. Now, the agribusiness companies have replaced the diverse farmlands with maize, coffee, sugarcane and soya, all of which is being exported elsewhere. One of the companies is also producing cereal for the United Nations World Food Programme whilst the local communities now suffer from hunger and malnutrition.
Many of the locals have had no other option than to start working for the very companies responsible for their displacement. Receiving inhumanely low wages and having to endure poor conditions the workers are also suffering physically from the heavy use of agrochemicals. Those who speak out about the vast injustices are being silenced through violent actions taken by company security forces and Ugandan officials.
Events like the ones taking place in Kiryandongo have not been rare during the past few decades. Multinational corporations, foreign investors and local governments are continuously putting profits before the livelihoods and rights of rural populations.
Resistance and mobilisation towards land grabs is increasingly growing on a global scale with social movements working together to question the power of corporations and governments. The most famous movement is perhaps La Via Campesina(link is external), bringing together rural communities, agricultural farmers and indigenous populations to fight for the rights of smallholder farmers in an era of neoliberal globalisation. Thanks to years of activism work by the movement, the UN General Assembly adopted the 'United Nations Declaration on the Rights of Peasants and Other People Working in Rural Areas'(link is external) in 2018, giving hope for the future of rural livelihoods.
Whilst land grabbing(link is external) is not a new phenomenon, it became globally known after 2008 when the global food crisis led to a rush for farmland. Governments and multinational corporations were looking to produce food and biofuels due to both a fear of food insecurity and an increased desire for profits.
Land grabs are defined as the acquisitions of land by investors from smallholder farmers or rural communities. Often smallholder farmers and rural populations that communally utilise land do not have legal ownership over the lands their families might have been farming on for generations. This land is then falsely viewed by investors as empty excess lands that can be sold to them by local governments seeking profits. Those living or farming on these lands receive little to no compensation for their forced evacuations.
Original Source: Land Portal
Six community land rights defenders have been set free after spending three years on remand without trial on murder charges.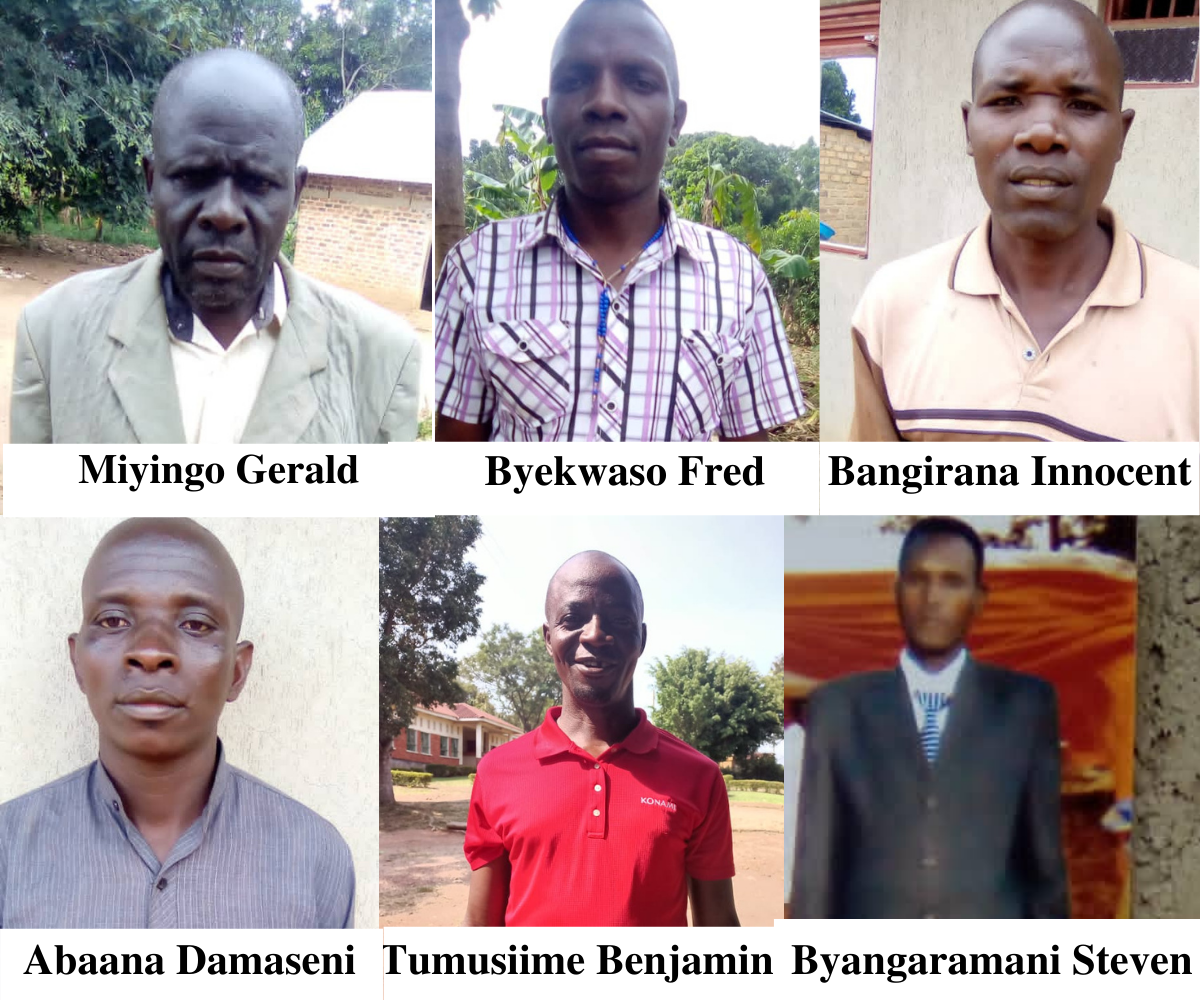 By Witness Radio – Team
The Director of Public Prosecution (DPP) Ms. Jane Francis Abodo has withdrawn murder charges against six land rights defenders who were arrested, charged, and sent to prison in 2019. 
On Friday, the 24th of June, 2022, Mubende Grade one Magistrate Her Worship Atim Harriet Okello signed a release order to free the six defenders who have been on remand without trial.
Tumusiime Benjamin, Bagirana Innocent, Habana Domoro, Miyingo Gerald, Byangaramani Charles, and Byekwaso Fred were arrested in February 2019 by armed policemen attached to Mubende police on orders of one Naava Milly Namutebi. They were accused of empowering the community to resist forced evictions. 
The defenders were fighting to stop forced eviction on land measuring 3.5 square miles covering villages namely; Kirwanyi central, Kirwanyi East, Kirwanyi West, Nakasagazi, Kituule A, Kituule B, Kibalagazi A, Kibalagazi B, Kakkanembe, Bukyambuzi A, Bukyambuzi B, Kisende, Mulanda, Kituule central, Kirwanyi A, and Butayunja in Kirwanyi and Kituule parishes in Butoloogo Sub County in Mubende district.
The current update on the grabbed land indicates that it's still raw land.
The defenders' imprisonment was intended to eliminate them after they were framed for having killed one Mbabazi Samuel who was a casual laborer to a self-claimed landlord Naava Milly Namutebi.  
One of the imprisoned defenders Tumusiime Benjamin narrated that before they were detained on murder charges, Mubende police had earlier arrested and charged them with aggravated robbery, a case that was also land-related, and released them on police bond.
On March, 2nd, 2019 while reporting on bond, they were instead re-arrested taken to Mubende magistrate court to be charged with murder, and remanded to Kaweeri Prison. 
"One day while we were being taken to court for our case mention, a prison officer told us we don't deserve to be free since we are killers, but some of us even did not know the worker they accused us of killing", Tumusiime narrated. 
Tumusiime further narrated that after six months on remand, they were taken back to the same court, which committed them to the High court to be tried, and later, remanded to different prisons which include Muyinaina, Kaweeri, and Kitalya respectively, adding that they had never been brought back to court until their release.
"As soon as we were eliminated (arrested and imprisoned), Naava found ease in grabbing more land because the community was left in cold upon learning about our arrest and imprisonment. She deployed the army and private security guards that have been protecting the grabbed land." Tumusiime added. 
Such tactics of weakening land rights defenders through abusive criminal charges are on the rise in Uganda. Not only in the Mubende district where such abusive charges are used to silence defenders but also in other areas that experience rampant land grabs namely; Kiryandongo, Kayunga, Hoima, Buliisa, Moroto, and other districts in Uganda.
"Take notice that government of Uganda intends to discontinue proceedings against 6 charged with murder" A legal notice seen by Witness Radio – Uganda and signed by the DPP on the 22nd of May 2022 reads in part
Since 2012, Naava with support from a senior officer of Uganda People Defense Forces Major Eric Kigamboha have displaced over 4000 people from their land without a court order and continues to perpetrate violence against families that are still staying on the land.
"We used to sleep in the bush to avoid being attacked at night by armed gangs employed by Naava. People were beaten, arbitrarily arrested, and accused of trumped-up charges. Since then, some have been forced to vacate the land for fear of their lives." Mr. Ssesazi Christopher another defender told Witness Radio – Uganda.
Whereas Benjamin and others were released, their lives remain distorted, their land was grabbed by Naava and they now depend on well-wishers for their survival. "My family separated. I had two wives and 20 children but all separated looking for their means of survival. My children stopped going to school and the girls were married because ideally, they had nothing to feed on or where to go. In addition to that, all 40 acres of my land were grabbed. I remained with only my little house," Benjamin revealed.
35,000 evicted residents in Kiryandongo district face starvation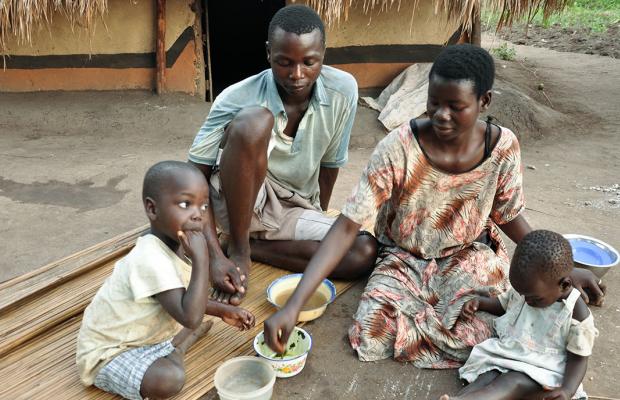 More than 35,000 people who were evicted from their land in Kiryandongo district are on the verge of starvation.
The victims mainly women, children, and the elderly from ten villages were evicted in 2020 from their land measuring approximately 9,300 acres. The residents have been feuding with three companies who are also claiming ownership of the land and are alleged to have fraudulently acquired land titles.
The companies are Kiryandongo Sugar Limited, Agilis Partners Limited, and Great seasons SMC limited. They have set up various investments on the land including sugarcane growing, soya beans, sunflower, maize, and coffee farming respectively.
The residents who had been settling on the land for generations have since dragged the three companies to Masindi High Court for illegal eviction.
Harriet Mbabazi, 60, who has settled on the land since her childhood says that life has not been the same. She says her family now depends on one meal a day and sometimes sleeps on an empty stomach. She wants the government to compel the companies to compensate them for the damages caused.
Joseph Walekula, 50 says the investors have blocked them from planting crops on the land. He adds that access to water, schools, and health services has equally become difficult to access.
Peninah Kansiime, a mother of 7 says women are struggling to fend for their families. She says all her children have been forced to drop out of school since she doesn't have money to pay school fees.
Pascal Bataringaya, 60 says her semi-permanent house was demolished and his crops destroyed during the eviction.
Wilson Tugume, the Kiryandongo sub county LC3 chairperson says the current situation is beyond their control. He has however faulted some district leaders and some members of the district security committee for allegedly conniving with the investors to forcefully grab land and evict people.
Patrick Manyuru, the Muntunda sub county LC3 chairperson wants the government to intervene and save the lives of the people.
Emmanuel Onyango, the Public Relations Officer for Agilis Partners says they genuinely acquired the land and gave people enough time to vacate in vain.
Geoffrey Wokulira Ssebaggala, the Country Director of Witness Radio says it is unfortunate that the people were evicted without being compensated by the companies.
Original Source: Uganda Radio Network(URN) Via The Independent
Kiryandongo land evictions force children out of school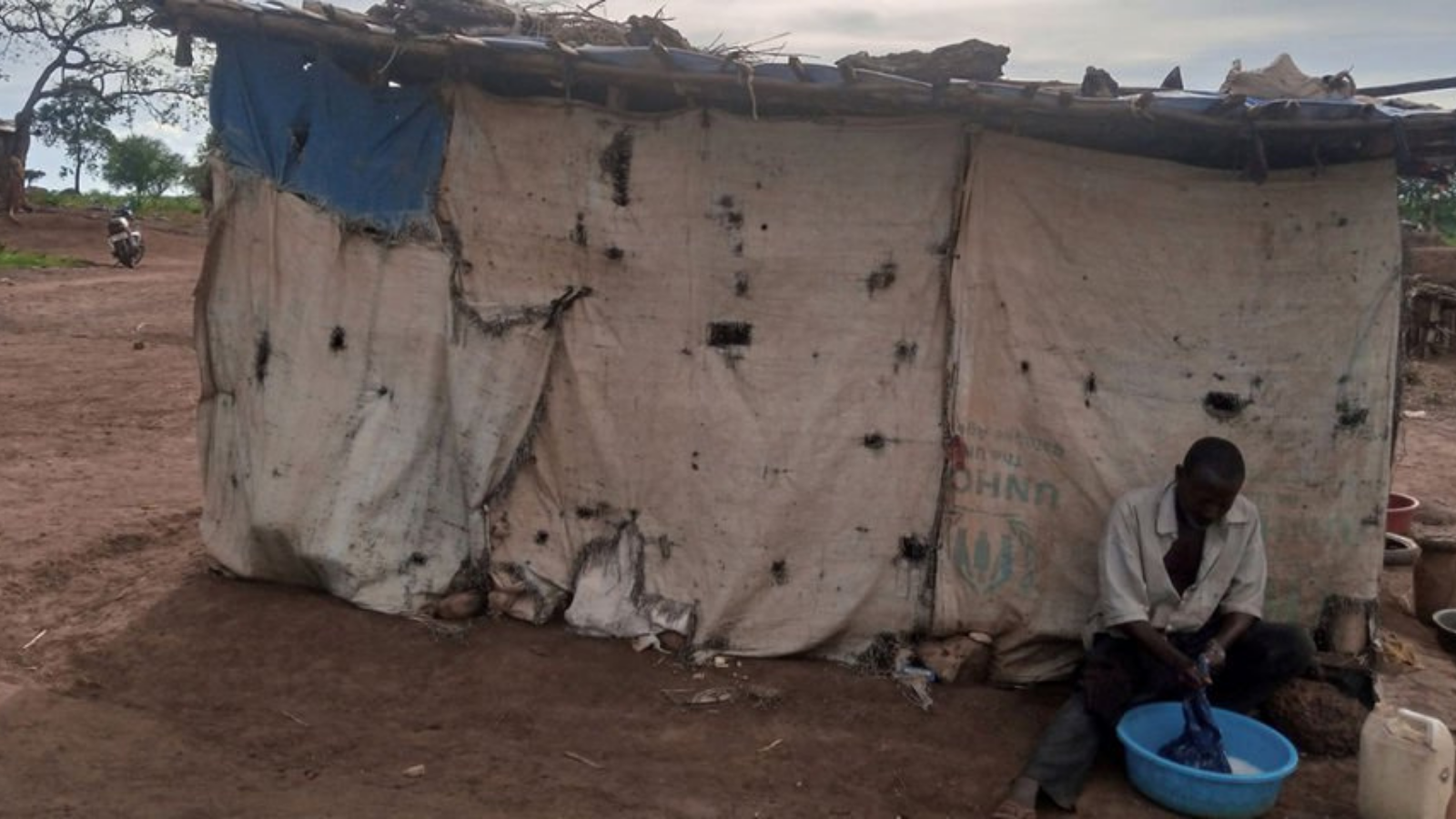 Hundreds of children have dropped out of school after the demolition of community schools established in disputed land in Kiryandongo District.
Some of the schools have been rendered non-functional.
While the children have been home since 2019, their parents are now trapped in the middle of gardens belonging to three multi-national companies – Agilis Partners, Kiryandongo Sugar Ltd and Great Season SMC Ltd – who have allegedly evicted people from the disputed land.
The ongoing disputes are happening on abandoned national ranches, which have for long been settled and farmed by people, who came to the area fleeing from war and natural calamities in neighbouring areas.
The local population claim they are being displaced without notice. As a result, it has caused untold suffering to more than 35,000 families residing in the disputed territory, which measures approximately 9,300 acres.
The evictees now live in makeshift structures at dozens of camps.
However, the former Kiryandongo Resident District Commissioner (RDC), Mr Peter Debele, said: "Encroachers took advantage of the land and settled on the vast fertile ranches''.
"They went there on their own. So, the government has come out and allocated the land for serious farming activities," he told this newspaper in February 2020.
But our investigation established that a lot has since changed. For instance, many children affected by the dispute are no longer going to school as their parents wallow in abject poverty. Majority of the evictees cannot afford two meals a day or send their children to schools.
On Monday,  we visited Spark Settlement Camp to examine the plight of out-of-school children. Ms Evelyne Nabokonde, 36, said her eldest son, Sam Majaki, dropped out of school in 2018.
The 15-year-old was among 450 pupils schooling at Alokolum Community School before the unending evictions that have left the Catholic-founded school deserted.
"The school was closed when Majaki was in Primary Three because of the eviction. Right now, all the children who were studying there are no longer going to school," the mother-of-five says.
Some 27 million children are out of school in conflict zones, according to a September 18, 2017 United Nations International Children's Emergency Fund report. Focusing on the importance of education for children who have been forced from their homes by conflict and disasters, the report notes that failure to provide learning opportunities for uprooted children has profound consequences for individuals and nations.
Residents and human rights activists say tractors started pulling down schools, churches, banana plantations and homes in the disputed Kiryandongo land in 2019.  They say the evictions were carried out by people who didn't have a court order.
By February 2020, 14 primary schools, 20 churches and eight private health units had already been demolished by the investors, according to residents.
Mr Joseph Walekula, the secretary of the affected community, says during the time of evictions, people shifted to safe places in the neighbourhood.
"So, they had constructed temporary structures, but wildfire came and burnt the settlements. Children lost their lives when their mothers and fathers had gone to look for food," he says, adding that basic needs are no longer being provided to the evictees by government or humanitarian organisations.
Mr Benon Beryaija, the area land rights defender, says they have been negatively impacted by the projects.
Agilis Partners is engaged in growing simsim (sesame), maize, sunflower, and soybean. Kiryandongo Sugar Ltd is planting and producing sugar and Great Season is growing coffee.
"Some of us are trapped in the middle of their gardens, we don't have anywhere to go. We don't have where to farm, all our land was grabbed by the companies. We don't have food and water because our boreholes were destroyed," Mr Beryaija says.
"But because of unending evictions, we ran to court seeking justice to regain our land. We are very happy that the High Court in Masindi fixed all cases and the hearing of the first group will be on April 20," he adds.
Mr Wilson Tugume, the chairperson of Kiryandongo Sub-county, said many people have suffered as a result of the unending evictions.
"They evicted people in Ranch 23, 28, 29, and 30. They demolished my house and my mother's house. They are pretending to have compensated people and yet they have not," he says.
Mr Linos Ngompek, the Member of Parliament for Kibanda North, said they have issues with Ranch 21 and 22 that was sold to Agilis Partners.
"When they (investors) came in 2017, they hurriedly paid those who had settled on the land with little compensation rate, other locals went to court," he said.
Mr Geoffrey Wokulira, the country director of Witness Radio, a non-governmental organisation, said: "We went to court to seek justice for the affected people. Even when the matter is in court, the companies are using forceful means to evict people".
However, Mr Wycliffe Birungi, a lawyer for Great Season, earlier said they followed "the right procedures" in acquiring their two-square mile farmland.
"For us, we acquired land from people. The acquisition was done two years back and we have been already in business. It is a fully-pledged commercial farm venture, but we have neighbours – there is a big farm called Agilis, there is also some other big farm," he said in 2020.
The spokesperson of Agilis Partners, Mr Emmanuel Onyango, dismissed the allegations of unending forceful evictions as baseless.
"I don't know why people accuse us of evictions, yet we still have people residing on Ranch 20 and 21. For a company that is providing agronomic support to farmers and employing hundreds of locals, this is really sad," he said yesterday.
Original Source: Daily Monitor