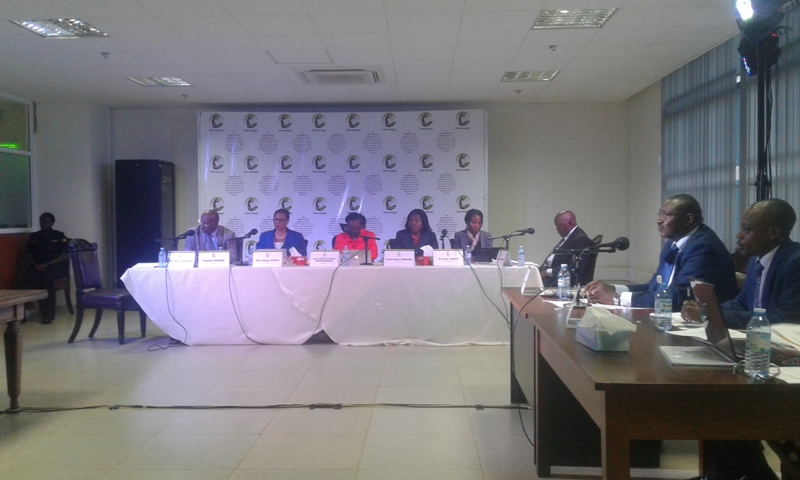 The investigations into Land management in Uganda are on-going by the judicial Commission of inquiry chaired by Justice Catherine Bamugemereire.
Among the witnesses that have appeared before a seven-member commission so far, is Yusuf Nsibambi, the chairperson, Kampala District Land Board.
But when he interfaced with the Commission on May19th 2017, Nsibambi, sounded frustrated not only for being paid peanuts with his commissioners, but also informed the committee about what he termed as a "curtail" in which land grabbers in Kampala associate themselves, thus revealing the techniques they apply to dupe his board with a view of siphoning tax payers' money in connivance with various government officials.
Although he raised many other issues, the second outstanding one is lack of financial support to the board. He revealed that whereas his board fetches more than Shs 8bn annually into Kampala Capital City Authority's coffers, the Authority fails to prioritize the remuneration of the board members to the extent that he is being paid just Shs 350,000 in his capacity as their chairperson per month.
Nsibambi thus suggested that its perhaps low earnings by his board members that leads not only corruption tendencies amongst members, but inefficiency in service delivery by his team.
witnessradio.org, brings you Nsibambi's presentation before the Commission of Inquiry on these two particular issues verbatim.
To me, I would request this Commission to investigate further the issue of land grabbers and speculators (in Kampala) even if it involves me or the board.
It is almost curtail in Kampala because I don't know about other boards elsewhere that there are people who have schemes of grabbing land of the vulnerable and public properties. This curtail  has established structures at the Ministry of lands, within city hall, it is fuelled, so powerful and they have control of all the structures to the extent that they actually have an inventory of land which we may also not be having as a board.
Specifically for land under our control, there are people who have running genuine leases but may be not in Uganda especially Asians, but members of this curtail would access information I don't know whether from Ministry of lands or registry and would hide a file to appear that this land has no claimant or the lease expired.
They would even come and even add documents to your won file giving a position which is not the true position on the ground. Given that we are not facilitated and the board basically is not a permanent board, they would support a lease application supported by the area land committee recommending that the land is available or the lease expired.
So, when you carry out a search and you go to the Ministry of Lands, you would get a folio of an expired lease. When you go on ground if you have a site visit, they would organize a site visit with the person claiming to be the chairman of LC1… So, in the process, you would issue a report of lease offer, but after two weeks, you get a person saying now I am the true owner of land.
He sues the District land board and KCCA as the party that received money and within one or two months, there is judgment yet other cases are taking years and the rewards in judgments are in billions.
So, the person who lost that land, the land grabber is also suing to be awarded billions and we have about Shs 10bn as a result of judgments of this nature, but we are still questioning them.
The speculators have titles. I know this curtail is very dangerous because the settlements are carried out by insiders in KCCA without even involving us. Actually, this is the greatest challenge that I would seek your indulgence to investigate further because cases are swiftly heard and determined by courts.
We shall provide you with those cases in camera.
Lack of financial support
The board members are paid meager allowances which are not commensurate to our workload. I raise this personally because if you look at the chairperson (me) get Shs 50,000 per sitting, retainer of Shs 350,000 per month, fuel allowance of Shs 180,000 and gratuity of 40% .
Members (of the board) get Shs 50,000 per sitting, Shs 350,000 per month, and Shs 180,000 for fuel.
So, I sometimes, find it hard to raise the quorum which slows our work and sometimes fail to convene meetings because members feel that their entitlements are not enough.
The board gets an imprest  of Shs 419,000  a month and this is supposed to cater for all procurements including site visits which makes our work quite difficult. For effective discharge of the board work, we have repeatedly requested support in the following areas but in vain
We requested for a 14-seater vehicle for us to carry out such visits which are very important in ascertaining who owns what and the nature of land. We often get assistance from the applicants which make it difficult for us to deny an application from a person who gave us a lift.
We requested for a digital camera to enable us take shots in the field but we have never received it seven years later…
We raise a lot of revenue from our work, for example last year, we rose close to Shs8bn, but that money goes to KCCA fund because we are not mandated to manage funds.
In our second part of Nsibambi's testimonies before the Commission of Inquiry, we will inform you his suggestions on Buganda Land Board and the land policy