Claims of illegal eviction in Uganda haunt German firm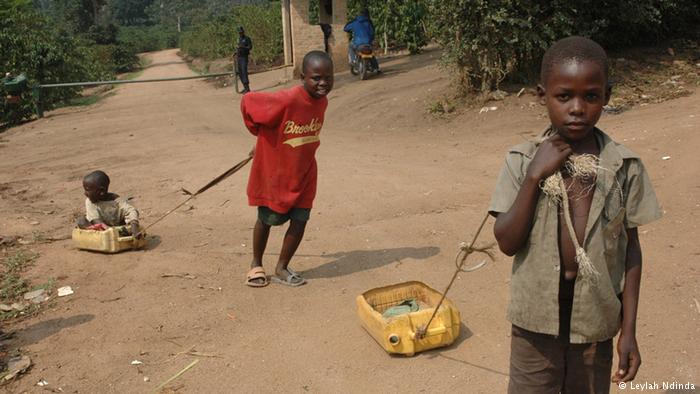 By Chrispin Mwakideu and Leylah Ndinda : 26/08/2013
In 2001, more than 4,000 people were evicted from land in Uganda after it had been acquired by a German coffee firm on a 99-year lease. The company insists the deal was above board, but an NGO is now raising doubts.
Many of the residents from Kyengeza village in Mubende district have always insisted that they were forcefully driven off from their land, which lies approximately 170 kilometers (106 miles) from Uganda's capital Kampala.
Margaret Nakiyingi, 29, is one of the evictees. She now lives in a small wooden house located close to Kaweri coffee plantation. Kaweri is a subsidiary of Neumann Gruppe based in Germany.
After the eviction came despair
Margaret's estranged husband works at the Kaweri coffee farm where he earns $1.5 (1.12 euros) a day. Margaret, who has four children, does not have a regular income but still has to find $15 a month for rent for the tiny house, an enormous amount of money by her standards.
"We don't have a life to enjoy. We move like human beings but deep down in our hearts we are not living a good life," she told DW correspondent Leylah Ndinda.
This is because she has serious financial problems. "We are now suffering because we are in rented houses and have no land to cultivate. Some of our colleagues acquired land away from the coffee farm," Margaret said.
"Water is challenge. The coffee farm managers constructed a water tap for us but we do not get water all the time, " Margaret said.
"Another problem is firewood. They kicked us out from our land, but when we go to the coffee farm to collect firewood they beat us up," she complained, saying they don't have an alternative source of firewood.
The majority of the people living in Kyengeza village were evicted from their farms with a promise from the government that they would be compensated. Twelve years later John Bosco Senginiya, a casual laborer on one of the privately owned farms, said they were subjected to physical abuse during the eviction.
"I didn't even get 100 Uganda shillings, but they paid us with a beating," he added.
When asked by DW if they knew how much compensation they were entitled to, many residents were unsure with one admitting that they "did not know the compensation rate".
Compensation
Neumann Kaffee Gruppe, (NKG in Uganda), the German coffee company behind the controversy, insists that it leased the land in good faith from the Ugandan government.
The firm claims the Ugandan government compensated 166 families.
According to Neumann, which operates in 28 countries worldwide, only 25 families in Mubende district refused to move and they were then driven off the land by the Ugandan government.
In a document posted on their website, Neumann Company has denied any allegations of land grabbing or carrying out illegal evictions.
After 12 years, this dispute over land in Uganda has resurfaced in Germany.
FIAN international, an NGO that campaigns for people's right to food, started a campaign to protest against what it calls "brutal evictions". It is also demanding adequate restitution for those who lost their land.
The protests led Germany's Development Minister Dirk Niebel to write a letter to FIAN asking them to cease their activities. The minister warned that such accusations could have far reaching consequences for Uganda's coffee industry. "It is a known fact that since last year some coffee traders in Germany have started to boycott Ugandan coffee," Niebel told the German broadcaster Deutschlandfunk.
Court asked to block gov't from paying UGX 647 billion loan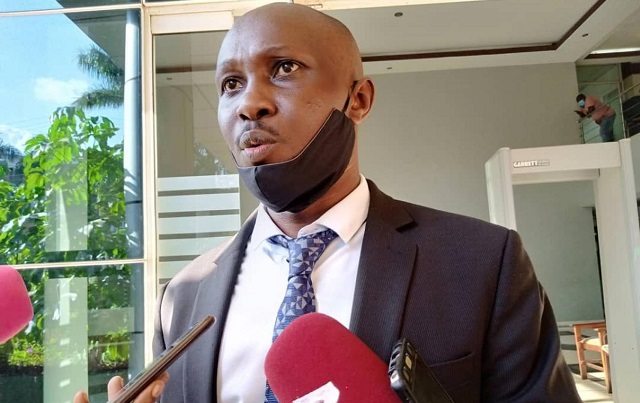 The applicant Brian Kasaija at the High Court in Kampala.
Kampala, Uganda. A concerned citizen Brian Kasaija has petitioned the High Court seeking an order compelling the government not to repay 175 Million Dollars obtained from the World Bank eight years ago.
According to Kasaija, the loan which is equivalent to 647.5 Billion Shillings was obtained illegally by the government to fund the Second Kampala Institutional and Infrastructure Development Programme Phase II because Parliament passed a resolution to borrow it without the necessary quorum way back in 2014.
The 2005 Parliamentary Rules of Procedure require one-third of all Members of Parliament entitled to vote and required at a time when Parliament is voting on any question.
But the evidence before the court shows that the Kampala Capital City Authority-KCCA which has been sued alongside the government sent a loan request to the Cabinet without a lawfully constituted authority governing body as required under the law. In the aftermath, the loan was approved and further forwarded to parliament by the then State Minister for Finance, Planning and Economic Development Aston Kajara on July 9th, 2014 for approval.
As a result, the evidence shows that Parliament on December 19th, 2014 chaired by the then Deputy Speaker of Parliament Jacob Oulanyah allegedly passed a resolution to authorize the government to borrow the loan from the International Development Association of the World Bank Group without the requisite quorum of two-thirds of the MPs.
According to the hansard that has been attached as evidence to the case, 77 Members of Parliament which is one-third of 229 MPs were supposed to vote on the matter, but only 63 members voted.
The records further indicate that the loan was to be paid for 40 years effective 2024. But the petitioner states that this continuously threatens the right to property and all Ugandans must pay it through legitimate and lawful payment of direct and indirect taxes which is their liquid asset.
Further, Kasaija also states that the actions and omissions amounted to an infringement and violation of the right to good governance.
"Absence of requisite quorum to enable the vote on the resolution authorizing government of the Republic of Uganda to borrow, made and rendered the loan resolution not only null and void but also non-binding to the humbly humbled applicant and the greatly humbled people of the Republic of Uganda as by law established hence a violation, infringement and threat to the rights nobly enumerated afore", reads the suit in part.
Kasaija now wants the court to declare that the loan was illegally passed by Parliament and an advisory opinion is issued to the government to institute an Independent Political Standards Authority -IPSA to oversee the conduct of Parliament and members with a view of safeguarding and promoting good governance in a wider public interest among other orders.
Asked why he has opted to petition court two days after Oulanyah being elected as the Speaker of Parliament to replace Rebecca Kadaga, Kasaija said that his case is not filed in bad faith because matters of holding people accountable have no expiry date.
In 2015, another concerned citizen Moses Muhumuza filed a relatively similar case before the Constitutional Court and the matter is pending determination.
Uganda's debt at the moment currently stands at more than 40 trillion shillings meaning that each Ugandan would have to pay 1.5 million shillings if the debt was to be cleared at once.
Original Source: independent.co.ug
More women are going to be sexually abused and forced to lose their land to the rich/investors as Uganda goes into a semi lockdown of 42 days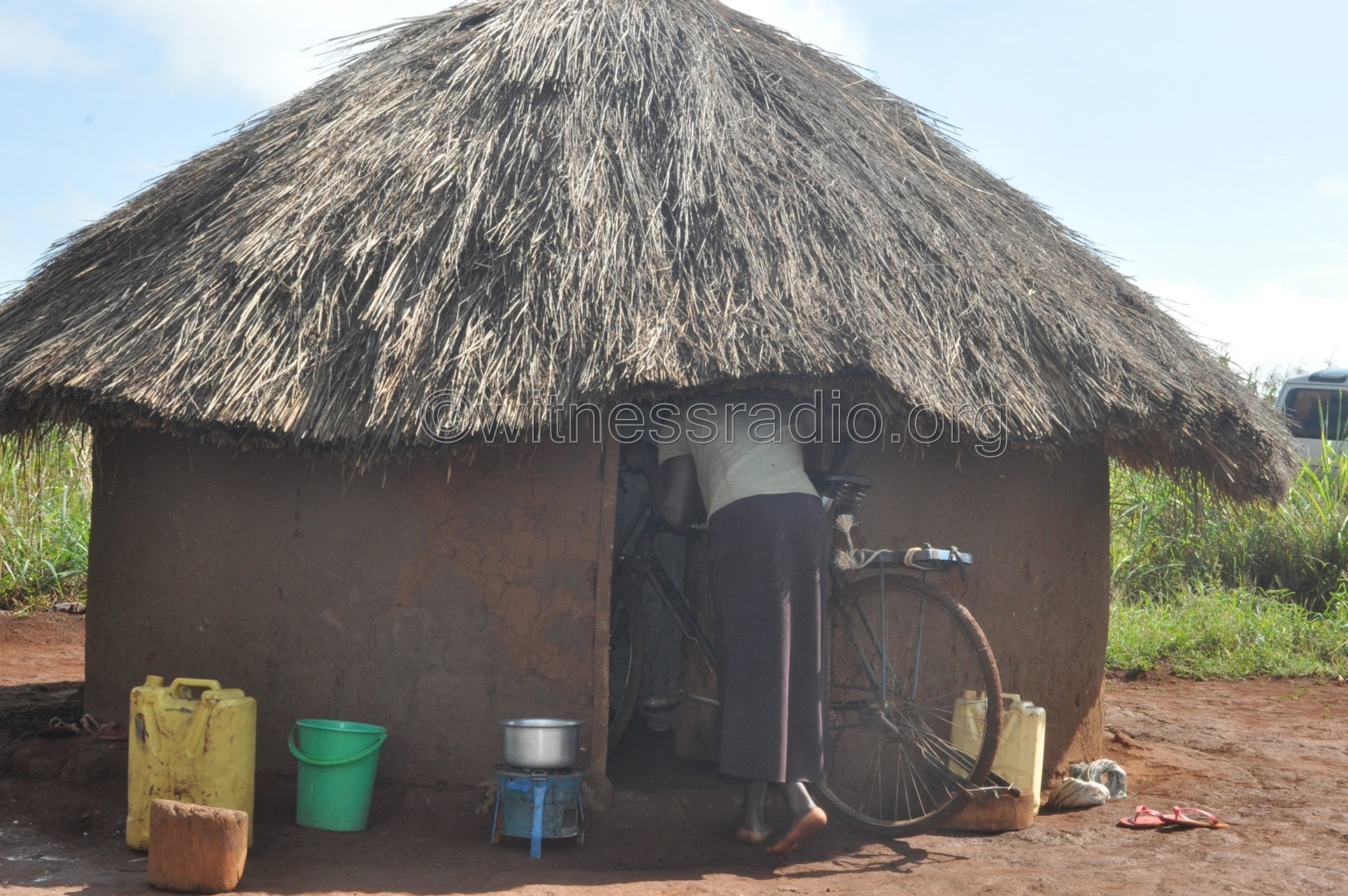 Opondo entering with a bicycle in her muddy thatched house.
By witnessradio.org Team
Opondo Cathy, (not real name due to the sensitivity of the matter), has never owned even a small radio in her entire life. This is a clear indication that the villager may not be aware of critical developments in the country. And this does not come as a shock, since the first time she heard the news of the COVID-19 in Uganda was when she visited her neighbor who's 500 meters away from her home, barely a month after Uganda had even registered a first case COVID-19.
Little did she know that land grabbers would take advantage of the lockdown to sexually abuse and humiliate, subdue demolish her house and grab her land.
Before COVID-19 misfortune struck, Opondo lived peacefully on her 6-acre piece of land, where she used to grow crops like banana, cassava, beans, and maize for both home consumption and sale. And experienced a happy life in her muddy structured house with her four children.
She could properly feed her family, and offer basic needs, but now, she rents in a nearby village, working like Trojans to find ends meet.
There were many violent attempts to evict her and others on their land but they would always resist. This time around, the grabbers resorted to sexually abuse her because she's a woman as a tool to weaken the poor lady and force her to leave the only source of income.
According to her, a dozen of women and young girls have been sexually abused and harassed in their area, because they resisted surrendering their land to the company.
"We withstood all their beatings, destruction of our property, arrests, but the rape thing was intolerable," she adds while weeping.
On the fateful day of 18th August 2020, Opondo had gone to pick her pieces of stuff at a nearby Bweyale town. While returning home at about 8:00 pm, she was attacked and sexually abused by a private security guard attached to one of the multinational companies involved in large-scale agribusinesses. The rapist attacker her from behind and tried to strangle her neck and grabbed her mouth, and hit her to the ground.
"I struggled with him, but he overpowered me, he put me down and raped me. I yelled louder for my rescue, but the neighbors were far. As soon as the rapist had them coming, he ran away," she adds.
"The louder yelling brought those nearby to come to my rescue, they did not even bother to ask me what had happened, because I already looked victimized. They decided to look for the rapist. Whereas I had a walking disability after the horrific incident, we went to the company offices where I always used to see him but unfortunately, he was not there," she further reveals.
During the first lockdown, public transport had been banned, which made it hard to reach out to a police post for help since it was distant.
After two days, Opondo managed to get to the area police to report the incident. In her own words, the officer on duty (a policeman) asked her if she had evidence and if that was not assaulted. When she asked for a police medical form to be examined, she was referred to a nearby Health Centre Three (III) with a small chit of a paper indicating that she was assaulted not raped. On meeting the medical officer, she handed over the chit and was examined on grounds of assault, not rape.
"I could hardly walk and had severe pain in my genital organs, which even a blind person could see, but because the police work with the multinational companies to evict us, they said I was only assaulted not raped, the mother of four adds.
According to Opondo, she had already received several threats and warnings from the agents of her evictors (Agilis Partners Limited). "They used to tell me, if I don't leave the land I should not regret what will happen to me. Indeed I now regret," she reveals.
Despite being raped is not even enough, her house was later torched by agents of Agilis Partners who claimed that she had illegally occupied their land. On that day they (her family) slept in cold and exposed to vagrancies of nature.
Agilis Partners Limited is among the three multinational companies that have violently and illegally evicted the poor communities off their land in Kiryandongo district without a court order or following due processes.
Other multinationals include Great Seasons SMC Limited, solely owned by a Sudanese investor based in Dubai, and Kiryandongo Sugar Limited owned by RAI Dynasty.
In the same village, Opondo and others, close to 100 were evicted to pave way for large-scale grain and oilseeds farming business. The company claimed it had lawfully acquired the land.
"I am an emotional wreck, my life was ruined, if I can't afford to provide for my family, do I have any meaning?" she angrily asks.
"I always burned the candle at both ends to be able to provide for my family, but all their dreams were shuttered, they no longer attend school. I had no money to feed them and had to transfer them to the village, they currently live with their 78 aged grandmas somewhere in northern Uganda", she adds.
Although the kids were transferred, they face a lot of destitutions due because of the grandmother who can hardly meet their basic needs.
"Even when they went to the village I still the caretaker of the family. I do distasteful works that I don't want them to know," she reveals.
While Uganda starts its 42 days semi- COVID-19 lockdown, it is notably clear that a significant number of Ugandans will be sharing the same eviction stories as Opondo's.
Research findings from Witness Radio show more than 50,000 people across Uganda were subjected to sexual and gender based violence, illegally evicted off their land during the first COVID-19 lockdown, further more women and girls suffered most.
Shortly after Uganda went into a total lockdown on March, 18th 2020, the government through the ministry of Lands, Housing and Urban Development halted all land evictions throughout the lockdown to comply with the president's directive of staying at home, but, the evictions suddenly increased as the pandemic gave a total advantage to the opportunists to easily access millions of hectares with the backing of the government and other influential politicians in the country. The first lockdown was later relaxed in mid-August, the same year.
Now, Uganda announced a second semi-lockdown on 6th, June 2021 for 42 days where schools, Worshipping places and inter-district public transport have been burned.
President of Uganda Mr. Yoweri Museveni on a televised address announced 40 new measures to curb the second wave of the pandemic. Among them include, the closure of schools, ban of communal prayers, and public gatherings/workshops all for 42 days, inter-district travel banned for 14 days, private vehicles limited to just 3 people including the driver, and many other measures.
Currently, Uganda has 53,961 COVID-19 confirmed cases, 383 deaths and 47,760 have recovered from the disease.
According to witness radio, evictions will not only live many Ugandans landless but also puts them at higher chances of being sexually abused by people who are supposed to protect them.
Experts say that in a pandemic, an eviction is particularly dangerous, leading a person to double up with friends and family in a crowded housing situation that easily accelerates the virus' speed.
With no guidelines at the moment to protect indigenous and poor people, it is evident that tens of thousands of Ugandans will be affected by the ruthless actions of the land grabbers.
"If the grabbers managed to disregard the previous guidelines and continued to carry out their dubious schemes, what will happen to people now when there are no political heads of ministries including Land? Says, Witness Radio.
In the meantime, earlier today, the Chief Justice of Uganda, Alfonse Owiny Dollo also suspended court hearings and appearances for 42 days as a measure to curb the spread of coronavirus.
The Chief Justice said the move is in line with President Museveni's directives on prevention and mitigation of the virus.
Whereas the closing of courtrooms makes sense for public health reasons, the delays are likely to create an overwhelming backlog of cases and have legal ramifications, since defendants are guaranteed a speedy and fair trial under the Constitution.
A land broker in the Kiryandongo land grab saga is charged with fraud, forgery…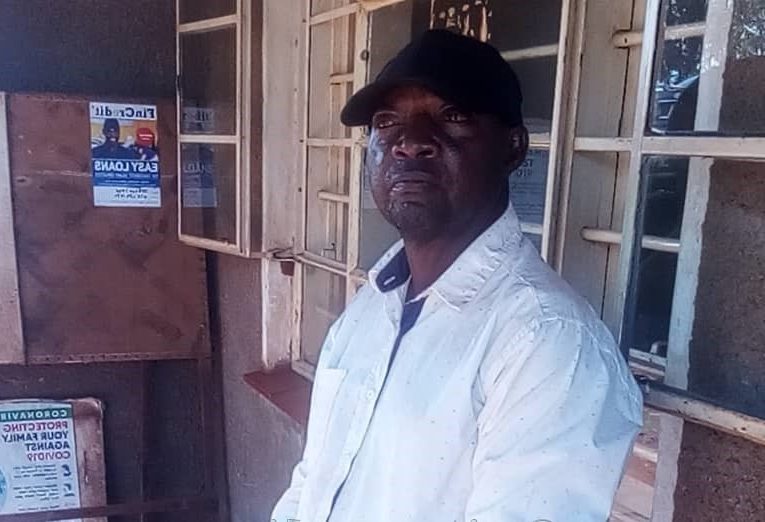 Mr. Mwesigye Reuben shortly after the hearing at Masindi Magistrate Court.
By witnessradio.org Team
Masindi – Uganda – a Chief Magistrates Court in Masindi, has charged Mwesigye Reuben, a land broker in the Kiryandongo land grab saga, which has rendered tens of thousands of poor communities landless with three counts including fraud.
The Masindi Chief Magistrate, His Worship Ssejemba Deogratius read there three (3) charges to Mwesigye Reuben all the offenses arising from land comprised in Block 7, Plots 66, 68 and 69 at Kimogora in Kiryandongo District to wit: Count One (1); Forgery contrary to Section 342 and 347 of the Penal Code Act. (Forged an application for lease in February 2015). Count two (2); Uttering a false Document contrary to Section 351 of the Penal Code Act. (Purporting that the lease application was signed by the Mutunda sub-county Area Land Committee), and count three (3); Fraudulent procuration of a certificate of Title Contrary to Section 190 of the Registration of Titles Act. (July 2015 at Masindi Zonal Lands Office).
Mwesigye, who was first arrested on May, 28th 2021, and responsible for the forced displacement of tens of thousands of poor communities off their land, entered a plea of not guilty.
Residents (victims of forced land eviction) accuse Mwesigye of using machete-wielding men, private security guards, and police officers attached to Kiryandongo district police to commit violent acts which include: sexual and gender-based violence, illegal arrest and detention, torture, kidnap, demolition of houses, cutting down their food crops, and stealing their household properties among others.
The communities plagued by the continued forced evictions comprise three categories: The first category consists of people who were born on the land since 1935; the second, those that settled on the land during and after civil wars, including the Lord's Resistance Army (LRA) which lasted for 2 decades in Northern Uganda; and lastly, those who settled on the eviction site at the instance of government in 2011 through the Nyamalebe Landless Association.
After the fraudulent acquisition of the community land, Mwesigye sold the land to Great Seasons SMC Limited for large-scale coffee and maize growing.
Great Seasons SMC Limited, solely owned by a Sudanese investor based in Dubai, is part of a group of three multinational companies consisting of Kiryandongo Sugar Limited and Agilis Partners Limited owned by an Indian family (RAI Dynasty) and the American twin brothers (Benjamin Prinz and Phillip Prinz) respectively.
The State Prosecutor, Kyaligonza Francis, and witnessradio.org legal team on the watching brief requested for adjournment of the case to allow more time for investigation.
Mwesigye applied for bail and was granted a non-cash bail of UGX 4 Million. Each of the Sureties was bound in the sum of UGX 10 Million not cash.
He's set to return to court on Tuesday 6th July 2021 for the next hearing.