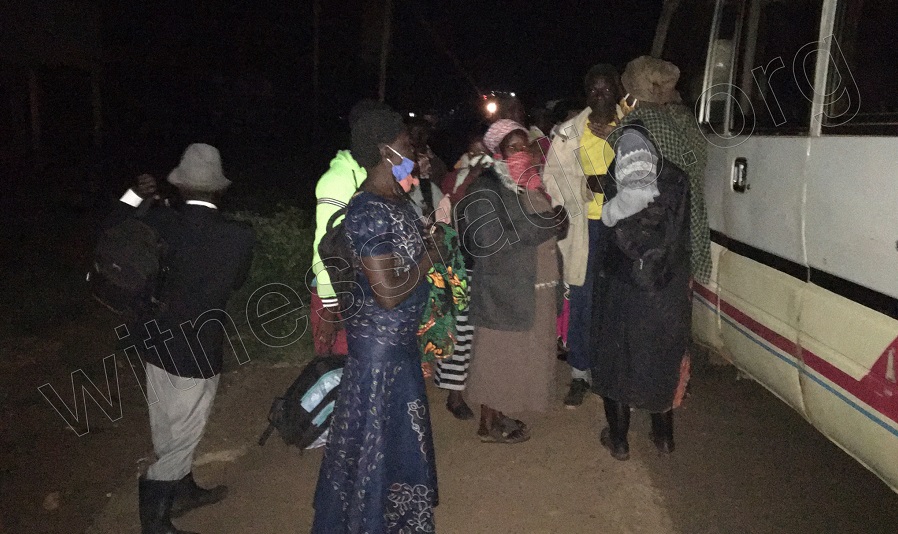 Locals starting their journeys.
By witnessradio.org Team
Masindi – Uganda – as Masindi High Court district is set hear today illegal eviction  suits filed by a community of 35000 people in Kiryandongo district against three multinational companies, victim community members have been arrested while others faced intimidation and threats from district security apparatus. Multinational companies include; Agilis Ranch 20 and 21 limited/Joseph Initiative/Agilis Farm; Great Season SMC limited; and Kiryandongo Sugar Limited, grabbing land for large-scale farming. Those affected include bonafide and Internally Displaced People (IDPs) of a 20 year-old Lord's Resistances Army (LRA) civil war in Northern Uganda.
According to locals, anti-riot police spent the entire night patrolling villages while looking for community leaders and activists, used local radios and threatened to arrest whoever would be traveling to Masindi court. Kato Peter not real name for fear of reprisal said, district police headed by one Bakaleke Joseph warned people over breaking COVID-19 lockdown rules.
Its important to note that Uganda started easing strict lockdown measures from June 2nd, 2020 and allowed public transporters to restart operations but at half their capacity, while shops in buildings that are not crowded will re-open.
Wanjala Erias and Munyasiya Martin among others were arrested from Panyadoli village on their way to court but later released after police extortion.
Court's hearing today follows certificates of urgency that were filed by lawyers for the community members after multinational companies intensified the use of violence to grab community land despite government directives that halted land evictions during the COVID-19 lockdown.
The same community members had petitioned Masindi High Court early this year and sued the three multinational companies whose lawsuits had not been attended to by the same court.
Kiiza & Mugisha Attorneys while running back to court stressed that there is an urgent need to dispose of the Miscellaneous Causes filed in Masindi High court including No. 007 of 2020, to secure several human rights and freedoms that are under attack.
Since announcement of the COVID-19 lockdown, witnessradio.org has documented pieces of evidence showing that multinational companies with the aid of Kiryandongo District Police headed by one Joseph Bakaleke, Uganda People's Defense Forces (UPDF) and other private security have orchestrated violence ranging from closing water sources for communities after filling them with soil, kidnap, torture, intimidation, illegal arrest and detention, cutting down communities' food crops and demolishing houses causing a humanitarian crisis.
One of the many victims, Sarah Apio, a mother of 9 children said, Kiryandongo Sugar limited workers ring-fenced a community borehole at Ndoyi village which had been serving over 150 families and blocked community members from accessing the water source.